Volkl Organix V1 Midplus Racquet Review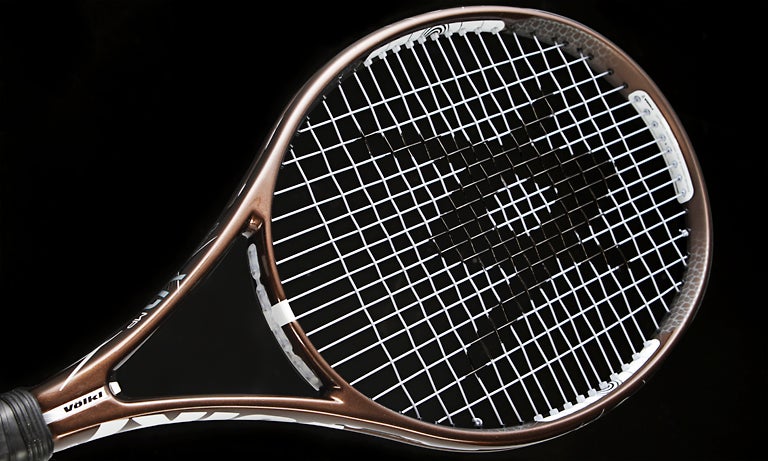 Volkl Organix V1 Midplus Scores
Comfort
85
Touch/Feel
81
Serves
83
Groundstrokes
83
Returns
83
Slice
79
Topspin
84
Volleys
83
Overall
84
Upsides
Power
Spin
Comfort
Feel
Maneuverability
Downsides
Nothing we could agree on
Summary
Players looking for a maneuverable, spin-friendly racquet with ample power and excellent comfort should definitely take a look at the Volkl Organix V1 Midplus tested here. Offering a slightly more solid feel compared to previous versions of the V1, this latest offering keeps the same light and fast feel. Our testers found it easy to add both pace and spin to their shots from all areas of the court. From the baseline, the easy access to depth helped them turn defense into offense, while at the same time limiting their opponents' ability to return the favor. At net the racquet offered a plush and comfortable response without sacrificing any of the feel we've come to expect from Volkl. Compared to similar racquets, the Organix V1 Midplus is right up there in the power and spin departments, but is a step above in feel and comfort. String it up with natural gut or a multifilament and it's a powerful and comfortable beginner through intermediate racquet. Add a polyester string to this racquet and it's a spin-friendly and comfortable player's racquet.
Groundstrokes - Score: 83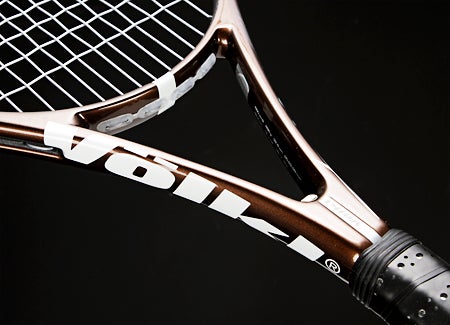 Liked by our testers for its power and spin potential, the Organix V1 Midplus was easy to swing from the baseline. Jason was surprised by the power, considering the racquet weighs 10.5 ounces strung. He said, "The racquet provided excellent ball pocketing and access to spin. I felt like my shots had tons of bite for both topspin and slice. The racquet felt very easy to swing. In fact, I thought it was a bit too easy to swing, and I found myself ahead of the ball sometimes. I added lead to one of our test racquets to increase both the swingweight and the overall weight, and I really enjoyed it."
Siobhan loved hitting from the baseline with the Volkl Organix V1 MP. She said, "I was able to hit heavy balls with very little effort off both sides. I liked my ability to easily return deep balls and hit my shots deep when I was scrambling. The racquet is extremely comfortable to play with, and I found my consistency improved because of the consistency the racquet provided on every shot. It gave me everything I wanted -- complementing my strengths of spin and depth and improving the weaker areas of my game such as power and consistency."
"I really liked this racquet on groundstrokes," said Chris. "Just like every version of the V1 I've hit, this one was supremely comfortable. Most impressively, this racquet felt comfortable without any loss in feel. No matter what string I tried (both multifilaments and co-polyesters) the response was lively and spin-friendly. I liked the racquet best when strung with a full bed of co-poly, as it allowed me to control the power of the racquet and maximize the spin. I liked how the racquet blended maneuverability and stability (a performance aspect improved on compared to the V1 Classic, the racquet I consider the original 'tweener). There was enough room in the stock weight and balance to add lead if desired, but I kept the racquet stock and enjoyed it for what it is: a maneuverable, comfortable and lively feeling racquet that also offers a lot of spin."
Brittany also noted the power of this racquet by saying, "I especially noticed the power on my backhand side, as I was really able to hit aggressively. When I was on defense, I was able to return the shot deep with ease. This racquet was really comfortable to play with and was very maneuverable. My one small knock was that I found some instability when hitting a ball that had pace or heavy spin. I felt the racquet flutter slightly upon contact."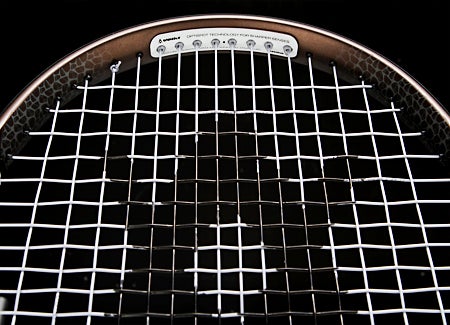 Volleys - Score: 83
Definitely a favorite at net, the racquet allowed our testers to hit powerful and controlled volleys. Brittany was a huge fan. She said, "Volleys were delightful to hit with this racquet. I had great touch and feel up at net (more than usual). The great maneuverability allowed me to find a lot of success with volley exchanges in doubles. The best part was I still was able to get depth and pace on volleys that I wanted to put away."
Finding excellent maneuverability but wanting to add some weight was Jason. He said, "Because of the maneuverability, getting the racquet in position was lightning quick, and overheads were a snap. I did notice that the racquet, in stock form, was a bit torsionally unstable. But a bit of lead tape helped with that problem."
Chris found enough pop from this racquet to punch volleys away. He said, "I liked how the power helped out on stretch volleys. Again, comfort was excellent and I was able to get the racquet into position quickly, as well as cup it under the ball at the last second to either add some slice or to drop my volley short with disguise. I liked the feel I was getting on volleys, and my touch and angle volleys were working well with this racquet."
"The V1 Midplus was very maneuverable," said Siobhan. "I felt like a powerhouse. I gained a lot of confidence at net with this racquet. There was nice control and feel as well as some big bang on higher volleys and smashes. I really liked the clean feel of it at net."
Serves - Score: 83
The Volkl Organix V1 MP's ability to consistently produce solid power and spin helped out on both first and second serves. Siobhan found two different levels with this racquet. She said, "When I wanted to keep it simple, the racquet provided a consistent solidness. When I wanted to step it up, boy oh boy, two words: huge serve. I love a racquet that gives me massive power on serve without loss of control in other areas of the court. I could create really enjoyable power and good spin without any wildness. The solid feel was a positive for me, as were the good comfort and the ability to create an aggressive bounce on my second serve."
Chris found the racquet provided similar qualities on serves as it did on groundstrokes. He said, "Just as I found from the baseline, I was able to get lots of spin and pace out of this racquet when serving. I was able to mix up my shots well, slicing out wide to the deuce side, adding pace or adding some kick merely by controlling the flick of my wrist. It really was fairly effortless to serve with this racquet."
The power in this frame gave Brittany about an extra 10 mph on serve. She said, "Since the racquet is so comfortable and so quick I was really able to get a lot of racquet head speed on my serve. I enjoyed hitting my first serve flat -- especially out wide on the ad side and up the T on the deuce side."
Jason liked the easy effortless swing he could produce. He offered, "I was able to serve with great consistency. Because I do slice 90 percent of my serves, I really liked how much bite I could get on the ball, especially when it was strung up with a full bed of polyester. Power was good, but nothing special."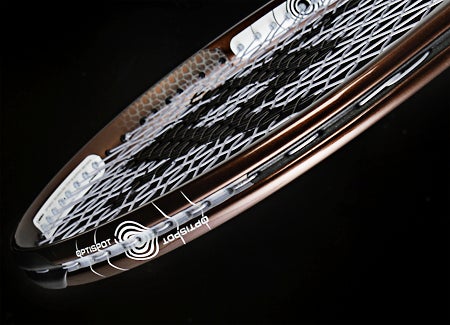 Serve Returns - Score: 83
Most of our playtesters found great maneuverability and stability on their returns. Chris attributed his strong returns to the blend of maneuverability and stability, saying, "I was returning well with this racquet. I was able to find easy access to depth when blocking the ball back and that helped me to somewhat neutralize the effects of a big serve. When I had time to take a cut at the ball the spin-friendly response helped me control the power and find my targets without having to take off any pace."
Jason wasn't as comfortable returning with this racquet. He said, "This was the area where I noticed the torsional instability the most. Against big serving playtesters like Brittany, Carol or Spencer, I could really feel the racquet twist in my hand when I didn't make clean contact. I found the power to be somewhat erratic when I was trying to be aggressive; sometimes I'd just launch the ball. But I'll go ahead and attribute that to mostly user error."
Liking the lightweight maneuverability was Brittany. She said, "This racquet really shined on serve returns. I was able to take big cuts at the ball whether I was returning a big flat first serve or taking a kick second serve early and driving the ball. I earned a lot of free points off the return with this racquet."
"Comfortable." That was the one word Siobhan used to describe returns with the Volkl Organix V1 Midplus. She explained, "The racquet was so easy to maneuver that I could whip it around to either side and hit a good solid ball. Like on groundstrokes, I found the racquet took whatever someone threw at me and allowed me to stay aggressive and dominant. I also liked the control I got, especially in doubles. I was able to place the ball exactly where I wanted."
Overall - Score: 84
Likes
Brittany - "I enjoyed this racquet for its power and maneuverability."
Chris - "This racquet felt best when strung with a co-poly, and I used Volkl Cyclone 16 for most of the test. Even with a co-poly string, comfort was still very good and I found lots of feel to go along with the very, very spin-friendly response."
Siobhan - "Power, spin and the ability of the racquet to add to my strengths without being a wild ride."
Jason - "The solid feel, maneuverability and access to spin."
Dislikes
Brittany - "I found just a slight amount of instability against harder hitting opponents."
Chris - "None. The V1 Midplus has always been a very good racquet, and this one continues that trend."
Siobhan - "Potentially a little loss of control on some groundstrokes, but I was too distracted by how much I was enjoying playing with it to notice."
Jason - "Just a bit too light for me."
Comparing the Organix V1 Midplus to other racquets, our testers said:
Brittany - "It reminded me of the Head YOUTEK IG Instinct S in terms of power and maneuverability. You also get the light weight and feel from both racquets."
Chris - "If you've liked any of the previous V1 racquets, you are going to like this one. It offers a similar power level to a Babolat Pure Drive, but whereas that racquet is crisp and solid, this one is smooth and plush feeling. This racquet has a sweetspot that feels more generous than most, which makes it even more comfortable."
Siobhan - "The power reminded me of the Babolat Pure Drive, especially on serve. Like I said, I was impressed with the Volkl's ability to let me bang a serve without it being wild."
Jason - "I feel like this racquet plays similarly to the Wilson BLX Blade Team or the Head YOUTEK IG Instinct S."
Technical Specifications

Length
27 inches
69 centimeters
Head Size
102 square inches
658 square centimeters
Weight
10.5 ounces
298 grams
Balance Point
13.2 inches
34 centimeters
2.4pts Head Light
Construction
28mm / 26mm / 23mm Tapered Beam
Composition
Organix / Carbon / Fiberglass
String Pattern
16 Mains / 19 Crosses

Babolat RDC Ratings

Score

Grade

Flex Rating
66
Range: 0-100
Swing Weight
303
Range: 200-400
Scores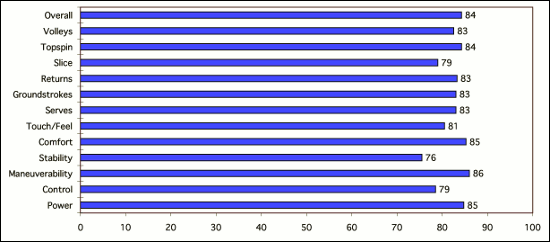 (Scores are determined by averaging individual play test scores)
Brittany's Scores
Power
8.8
Serves
8.5
Control
7.9
Groundstrokes
8.3
Maneuverability
8.6
Returns
8.8
Stability
7.6
Slice
7.9
Comfort
9
Topspin
7.6
Touch/Feel
8.2
Volleys
8.5
Overall
8.3
Chris's Scores
Power
8.3
Serves
8.4
Control
8
Groundstrokes
8.4
Maneuverability
8.3
Returns
8.5
Stability
7.9
Slice
8.2
Comfort
8.6
Topspin
8.6
Touch/Feel
8
Volleys
8.2
Overall
8.3
Siobhan's Scores
Power
8.8
Serves
8
Control
8
Groundstrokes
8.5
Maneuverability
8.5
Returns
8.5
Stability
7.6
Slice
7.5
Comfort
8.5
Topspin
9
Touch/Feel
8
Volleys
8.5
Overall
9
Jason's Scores
Power
8
Serves
8.3
Control
7.5
Groundstrokes
8
Maneuverability
9
Returns
7.5
Stability
7.1
Slice
8
Comfort
8
Topspin
8.5
Touch/Feel
8
Volleys
7.8
Overall
8.1
Playtester Profiles
Brittany: Open level player with a semi-western forehand and a two handed backhand. She currently plays with the Yonex V-Core 100S.
Chris: 5.0 all court player currently using the HEAD Youtek IG Prestige Midplus. Chris uses a full-western forehand grip, has a fast swing style and hits a one-handed backhand.
Siobhan: Open level player with a semi western forehand and a two handed backhand. She currently plays Wilson KBlade Team.
Jason: 4.0 baseliner with a semi-western forehand and two handed backhand. Currently using a Boris Becker Delta Core London.

Review date: March 2012. If you found this review interesting or have further questions or comments please contact us.
All content copyright 2012 Tennis Warehouse.