Yonex V Core 100 S Review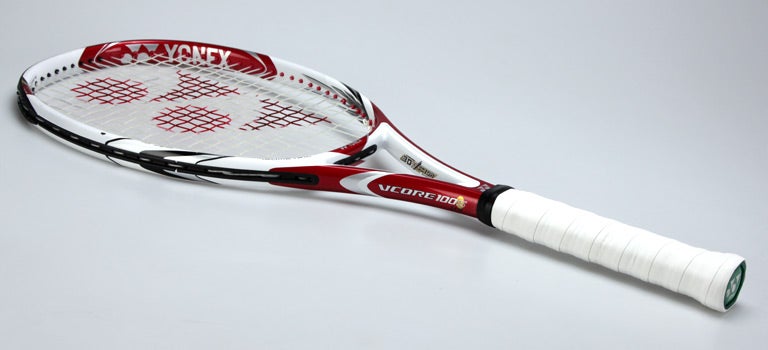 Yonex V Core 100 S Scores
Comfort
81
Touch/Feel
86
Serves
84
Groundstrokes
85
Returns
84
Slice
83
Topspin
85
Volleys
81
Overall
85
Upsides
Power
Easy access to spin
Comfort
Maneuverability
Downsides
Not enough mass for big hitters
Summary
It's no wonder Caroline Wozniacki has chosen the Yonex V Core 100 S. Most of our players found this racquet to deliver excellent performance from all areas of the court, and one of our testers has joined Wozniacki in making the switch to this racquet. As promised by Yonex, spin was created easily, which was beneficial to help control the power we found the racquet could deliver. At net, control and feel were evident. At just over 11 ounces strung, the V Core 100 S was plenty maneuverable, too, but was too light for one our testers. However, with its relatively low strung weight there's plenty of room for customization. All in all, this is an impressive offering from Yonex and a must demo for baseliners and all-court players.
In late 2010, we saw pictures of Caroline Wozniacki playing with a blacked out racquet. With the distinctive Isometric head shape, we knew it had to be a Yonex. Then, as the 2011 tennis season geared up in January, she emerged with a white and red Yonex that turned out to be the V Core 100 S.
The V Core line gets its name from the 3D Vector Shaft. In Yonex's words, this design will "improve racquet stiffness and reduce twisting for 20% more face stability than a conventional racquet." The "S" in the name stands for spin. The racquet's grommets are designed to allow greater string movement. Pairing the grommets with the open string pattern means better ball bite for increased spin.
The new V Core 100 S and all its technologies seem to be working for Wozniacki, who has retained her No. 1 ranking into early 2011. We took the racquet out for a month-long playtest to see how it fit our games.
Groundstrokes - Score: 85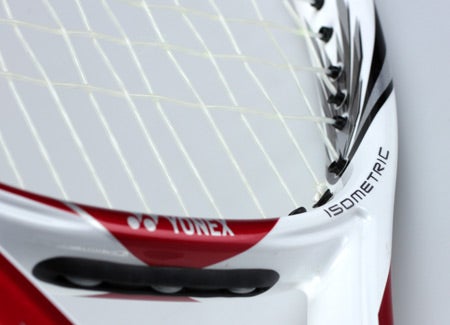 The V Core 100 S also has Yonex's X-Fullerene technology, which should increase the strength in the upper sides of the frame and create added power. Our testing team found that to be true. Brittany used that power to her benefit. She said, "This racquet has a lot of power. My groundstrokes were deep and heavy in the court. I love the power, but I had to make some adjustments to keep the ball from flying long when I hit flat shots. The problem was taken care of by adding a little spin, which allowed me to hit penetrating groundstrokes. I was also impressed with how easy it was to generate spin when I was on defense. I didn't need to swing very hard to get the ball to go where I wanted."
The sweetspot pleased Chloe, who reported, "I thought the large sweetspot made it quite easy to hit powerfully and with depth from both the forehand and backhand sides with little effort. I really enjoyed the extra spin it helped me get on my groundstrokes, and it was excellent for a deep slice ball."
Sean commented on the racquet's weight, saying, "It's not as solid feeling as I had hoped coming into this review, but after some adjustment, I was able to find some range with this racquet. With the lighter weight I was forced to find the sweetspot every time, otherwise the racquet felt flimsy and unstable. When hitting the sweetspot I found excellent spin potential and power, and I could hit either flat, powerful shots or incredible angles. With a little extra weight added to the frame, I think this would be a great all-around racquet."
Tiffani got back into the groove with the V Core 100. She said, "This is one of my first playtests back after having my baby and being off the court for several months. I ended up really enjoying this racquet off the ground. It was a perfect way for me to get back onto court because it's really maneuverable and provides loads of power. I preferred the racquet strung with a softer multifilament string with the tension in the lower end of the recommended range. I feel that as I get better, I could easily rein in some power by changing string setup. I also really enjoyed the feel of the V Core. As a former RDS 003 user, I'm a Yonex fan. I didn't like the flex of the RDiS series racquets, so I'm happy to see the V Cores provide a nice feeling flex, despite what appears to be a high stiffness rating on the RDC."
Volleys - Score: 81
The relatively light static weight and head light balance translated into excellent mobility. The racquet helped Chloe hit her targets. She offered, "My volleys were powerful, yet controlled, because of the open string pattern, which allowed for greater ball pocketing and increased spin on the ball."
Tiffani said, "Volleys have never been a strength of mine, but I felt quite comfortable at net with the V Core 100 S. I had good control, as well as feel for touch shots. Most importantly for me, I could easily move the racquet into position."
Sean again noted the weight, saying, "This racquet offered great maneuverability at net with its lighter weight and headlight balance. It was very easy to get my racquet into position for each volley and put the ball where I needed to in the court. I really felt the lack of stability when volleying hard hit balls, which affected my control over the volley. Overall, this racquet felt lightning quick around the net."
Versatility helped Brittany at net. She said, "I was impressed with the feel of this racquet up at net. I felt I had the option to punch the volley deep or hit it short and angled."
Serves - Score: 84
Power and spin were noted again by most of the testers. Big serving Sean said, "One of the better characteristics of this racquet was its ability to generate easy power and spin on serves. This racquet responded well if I decided to hit a big flat first serve or a well placed second serve. The amazing spin I was able to produce was perfect for hitting a big kicker or going out wide to keep my opponent off balance. I liked the fact that I had a lot of options when it came to hitting different serves."
Brittany also served with variety. She said, "This racquet had to add an average of five miles an hour to my serve. I could go up and after my serve and hit with pace with little effort. I also felt I could accurately place my serve anywhere in the box, whether hitting out wide on the deuce side or up the tee on the ad side. On the second serve, I found great access to spin and had a lot of confidence in my kick serve."
"My serves are definitely feeling weak after my long layoff from tennis," said Tiffani. "I got some much needed extra juice on my lackluster flat serve, and I managed average spin on my second serves. I felt like I had good directional control and could move my serve around the box without any trouble."
Chloe sought a little more on serve. She said, "The serve was probably my least favorite part of hitting with this racquet just because I am used to getting more power from my extended length Babolat racquet. I thought that the V Core 100 S still provided some pop off the racquet, but my serve speed definitely decreased."
Serve Returns - Score: 84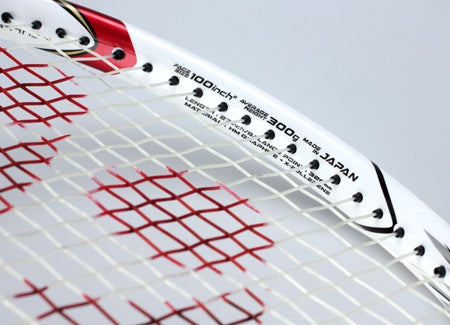 On returns, the V Core 100 S's weight and balance again came into play. It bolstered Tiffani's confidence. She said, "I felt very comfortable with the racquet when returning and was confident I could get into the point whether taking an aggressive swing at the ball or just blocking it back. I also feel like it was plenty maneuverable, so as my confidence grows on the court I'll be able to take returns earlier."
Brittany had a lot of options when returning. "I could really step in off both first and second serves," said Brittany. "I was impressed with the variety of shots I could hit off my return. I could hit deep flat returns up the line or flick my wrist and hit with more spin to angle the ball off the court."
Ease of use was a key point for Chloe, who noted, "I really enjoyed the serve returns I hit with this racquet. I thought that it was somewhat forgiving if I mis-hit the ball, but when I hit it in the sweetspot I could really get ahead in the point by hitting a deep penetrating ball, with little effort."
Sean disagreed with the other testers. He said, "I found it really tough to return any type of heavy serve because of the lack of stability and weight. I found myself having to block back most of my returns instead of taking a good cut at the ball. Luckily, this racquet performed well with slice shots on both the forehand and backhand wings for me. When I did take a full swing on the return I had a lot of trouble controlling the depth of my shot due to the amount of power this racquet offered."
Overall - Score: 85
Likes
Brittany - "I loved this racquet and its access to both spin and power from the baseline and serving."
Chloe - "I really like everything about this racquet, especially its ability to help with spin and how effortlessly it felt to hit a penetrating ball from the baseline. I really enjoyed hitting slice with this racquet because it gave extra bite to the ball and made it harder for my opponent to judge its spin."
Sean - "It's maneuverable and it was easy to generate fast swing speeds and spin."
Tiffani - "The power level is right where I need it, and the comfort is outstanding."
Dislikes
Brittany - "Absolutely nothing!"
Chloe - "I don't have any dislikes, but my least favorite part is the serve, just because I'm used to my racquet giving me a little more power."
Sean - "It's too light, not solid, and has an overall flimsy feeling."
Tiffani - "There's not too much I dislike. I like thinner beamed racquets in terms of feel, but I need the power that I get from the wider profile."
Technical Specifications

Length
27 inches
69 centimeters
Head Size
100 square inches
645 square centimeters
Weight
11.1 ounces
315 grams
Balance Point
12.9 inches
33 centimeters
5pts Head Light
Construction
24.5mm / 24.5mm / 23mm
Composition
H.M. Graphite / X-Fullerene
String Pattern
16 Mains / 19 Crosses

Babolat RDC Ratings

Score

Grade

Flex Rating
68
Range: 0-100
Swing Weight
306
Range: 200-400
Scores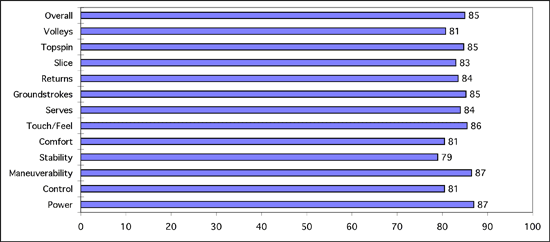 (Scores are determined by averaging individual play test scores)
Brittany's Scores
Power
9.5
Serves
9.3
Control
8
Groundstrokes
9.1
Maneuverability
8
Returns
9.2
Stability
8.2
Slice
8.5
Comfort
8.4
Topspin
8.5
Touch/Feel
9.2
Volleys
7.8
Overall
9
Chloe's Scores
Power
9.3
Serves
8.5
Control
9.2
Groundstrokes
9
Maneuverability
9.5
Returns
9.2
Stability
8.2
Slice
8.5
Comfort
8.4
Topspin
9
Touch/Feel
9.2
Volleys
8.5
Overall
9
Sean's Scores
Power
8
Serves
8
Control
7.2
Groundstrokes
7.5
Maneuverability
8.8
Returns
7
Stability
7.5
Slice
8.2
Comfort
7.4
Topspin
8.4
Touch/Feel
7.8
Volleys
7.8
Overall
7.8
Tiffani's Scores
Power
8
Serves
7.8
Control
7.8
Groundstrokes
8.5
Maneuverability
8.3
Returns
8
Stability
7.7
Slice
8
Comfort
8
Topspin
8
Touch/Feel
8
Volleys
8.2
Overall
8.2
Playtester Profiles
Brittany: Open level player with a semi-western forehand and a two handed backhand. She currently plays with the Yonex V-Core 100S.
Chloe: 5.0 baseliner with a semi-western forehand and two-handed backhand. Currently plays with a Babolat Pure Drive Plus Team.
Sean: 4.5 baseliner using the Babolat Aeropro Drive Cortex. Sean has a semi-western forehand, 1 handed backhand.
Tiffani: 4.0 level baseliner with a semiwestern grip on the forehand and hits a two-handed backhand. Currently playing with the Yonex RDS 003 (08 version).

Review date: August 2011. If you found this review interesting or have further questions or comments please contact us.
All content copyright 2011 Tennis Warehouse.