Tecnifibre Rebound Pro Racquet Review

Tecnifibre Rebound Pro Scores
Comfort
79
Touch/Feel
80
Serves
81
Groundstrokes
82
Returns
80
Slice
82
Topspin
80
Volleys
80
Overall
81
Upsides
Maneuverability
Feel
Access to spin
Power
Room to modify for big hitters
Downsides
Lacks the weight preferred by some stronger players
Summary
Endorsed by WTA pro Gisela Dulko, winner of the 2011 Australian Open women's doubles title, and sporting hot pink in its cosmetics, the Tecnifibre Rebound Pro might lead you to believe that it's just for the ladies. But you'd be wrong. Sure, it impressed our female playtesters, but the males were equally impressed. With a 95 square inch headsize, the Rebound Pro offered a nice sized sweetspot, offering plenty of power to our wide range of testers. Control, too, was easy to find through spin, which came easily with this fast-swinging racquet. Our harder hitting playtesters did find that the racquet experienced some instability. Luckily, with its low weight the Rebound Pro leaves plenty of room for customization. Overall, the Tecnifibre Rebound Pro appeals the most to intermediate to advanced level players -- male or female -- who are looking for a fast-swinging racquet that blends power and control. In the end, it appealed so much to one of our testers that she has made the switch to the Rebound Pro.
Groundstrokes - Score: 82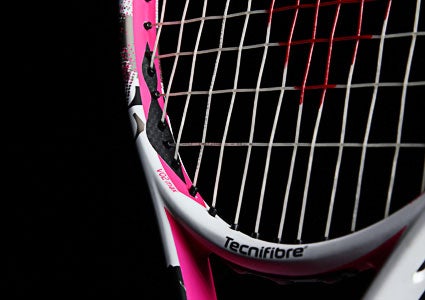 The specs of the Rebound Pro are very similar to the Tecnifibre TFight 295 VO2 Max, a racquet our testers were already familiar with. The main difference is that the TFight 295 is "Tour Prepared," meaning it has silicone injected into the handle for a more dampened feel. With the crisper feeling Rebound Pro, Brittany quickly found the groove. She said, "This racquet made it easy to generate both power and slice on my groundstrokes. Off the baseline I could accelerate through the ball to create deep, penetrating shots, yet maintain control and placement. I enjoyed hitting both my flat and angled forehand with the Rebound Pro. One of my favorite shots to hit with this racquet was the slice. Now slice is normally a tough shot for me to hit, but I was able to hit a crisp low slice off my backhand side, particularly when on the defensive."
Chris could mix it up easily with the Rebound Pro. He offered, "This was a very light and fast racquet from the baseline. I found great access to spin, and both pace and depth came easily. The sweetspot felt very healthy, and I was impressed by the racquet's comfortable response. The feel is a little crisper and cleaner compared to the TFight 295 VO2 Max. With the Rebound Pro, I felt confident when using spin and moderate pace to move the ball around the court in a rally, as well as when looking to flatten out my shot for more aggression. There was a little bit of instability on off-center hits, but that is an easy fix with the addition of a little lead tape to the hoop."
The racquet made life easier for Mike. He said, "On my groundstrokes this racquet felt really good. I was able to get a lot of power on both my forehand and backhand, but I still had the control to be consistent. My backhand felt the best because I didn't have to swing as hard, which made it easier on me."
"The Rebound Pro was a really fun hit for me," said Tiffani, who enjoyed the racquet so much she switched to it at the end of the review. "I was able to swing freely without worrying about my shots sailing long. I felt like both topspin and decent pace were easy to come by. I've been struggling with depth on my forehand, and the Rebound Pro helped me find some good depth again. The racquet comes around really easily so I rarely felt like I was getting caught late, though when I was trying to pick up a deep ball off the baseline I did notice that the free power wasn't there. To get the power from the Rebound Pro I really needed to be using my full swing."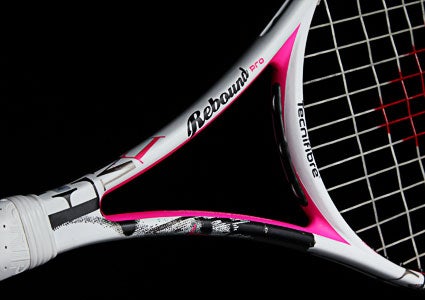 Volleys - Score: 80
The easy mobility came into play for our testing team at the net. Chris noted, "The racquet felt extremely fast and easy to maneuver at net. I enjoyed the blend of power and control the racquet offered. I could punch the ball deep with ample pace just as easily as I could bleed pace from the ball and drop it short with touch. Again, all that was missing was a little bit of additional weight to bring this racquet up to my spec preferences."
"Volleys with this racquet felt all right," said Mike, who needed time to adjust to the racquet's response. "At first the power from the racquet made it hard for me to control placement. When I hit my volleys correctly it felt really stable, and towards the end of the test I was able to place it wherever I wanted."
Tiffani felt in control at net, saying, "The racquet offered good precision at net. I could place my volleys well, and with the maneuverable feel I was able to get my racquet on most shots. Touch volleys were just so-so for me, but I liked the clean, crisp response I was finding on all my volleys."
Like Chris, Brittany was pleased with the mobility of the Rebound Pro. She said, "I found this racquet to be extremely maneuverable at net. Since I liked hitting slice and angles off the baseline with this racquet, it easily translated to my volley game. I was very comfortable coming up to the net and I found good feel on my volleys whether I was hitting a short angle or punching the ball deep into the court."
Serves - Score: 81
The serve was one of the favorite shots for our testers to hit with the Rebound Pro. Tiffani saw improvements in her serving with this racquet. She said, "I served with good consistency with the Rebound Pro. The racquet's easy mobility was also a plus here. My regular hitting partners noted that my serves had more jump on them than usual. It didn't feel like I was getting loads of power coming off the racquet, but I felt like the consistent response and added spin more than made up for the lack of power."
Chris had similar sentiments, adding, "My favorite shot with this racquet was the serve. I was able to get some really nice pace and hop on the ball. It was an easy racquet to swing, and I think that helped me generate some additional pace and kick. Both my first and second serves were consistent and aggressive."
"I had great success hitting numerous types of serves with the Rebound Pro," said Brittany. "It was quite effortless to hit a flat powerful first serve anywhere in the box. When it came time to hit second serves, I found plenty of access to spin to get the ball to really kick up off the court, especially out wide on the ad side."
There was plenty of power on tap for Mike, who offered, "On my serve I had great pop, and the maneuverability of the racquet made it easy for me to swing. I also found I could generate lots of power on both my flat and spin serve."
Serve Returns - Score: 80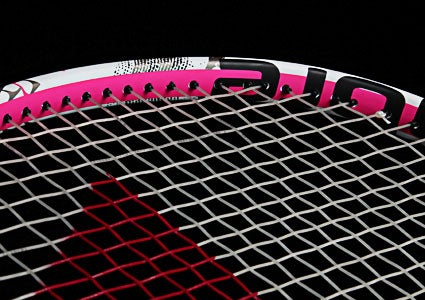 The weight of the Rebound Pro had its pros and cons on returns. For Mike, it was all about the upsides. He said, "Returns were great with this racquet. It felt stable, most likely due to the power of the frame. Whether it was a big first serve or a spin second serve, I was able to swing through the ball and return it deep with good placement."
Tiffani agreed, adding, "I felt like I was really successful returning with the Rebound Pro. I got good control and depth on my returns, and I was confident enough to be aggressive with my swings. I was impressed with the size of the sweetspot, and I didn't notice excessive fluttering, either."
For Brittany, though, the light weight posed some issues. She noted, "This was the only area where I struggled. Serve returns are normally among my stronger shots to hit, but at times this racquet felt unstable. When I was returning a strong, flatter first serve I felt some instability off both my forehand and backhand side. However, on spin and kick second serves I had no problem taking the ball early and really swinging through aggressively."
Chris said, "Because it's so easy to maneuver and very spin-friendly, I was able to take a good rip at returns with the Rebound Pro. I continued to enjoy the combination of power and control. There was enough power to help push back defensive returns with depth, yet also enough control to hit aggressively."
Overall - Score: 81
Likes
Brittany - "I liked the variety this racquet offered, from the power on my groundstrokes and serves to the feel on the slice and volleys."
Chris - "I liked the spin, comfort, feel and blend of power and control."
Mike - "First of all, I have to say I loved the cosmetics on this frame. The hot pink made me look great on the court. My favorite part of the racquet was the power and feel. Serving with this racquet was great as well, as I was able to get the pop and control I wanted."
Tiffani - "I liked the feel, and I was able to get good depth and pace on my groundstrokes. Plus, I thought the cosmetic turned out nicely."
Dislikes
Brittany - "There was a little instability for me when it came to returning hard serves."
Chris - "A bit too light for me stock, but a really nice racquet that also offers lots of room for weight/balance customization."
Mike - "I wished the racquet were slightly heavier. If I changed anything on it, it would be to add some weight to make the racquet a little more stable. At times the racquet was also a little stiff feeling."
Tiffani - "There's not much for me to complain about. I did notice a drop off in power if strung too tightly with a poly, if that can even be called a dislike."
Technical Specifications

Length
27 inches
69 centimeters
Head Size
95 square inches
613 square centimeters
Weight
11 ounces
312 grams
Balance Point
13.1 inches
33 centimeters
3.2pts Head Light
Construction
22mm Straight Beam
Composition
Graphite & Texalium
String Pattern
16 Mains / 19 Crosses

Babolat RDC Ratings

Score

Grade

Flex Rating
69
Range: 0-100
Swing Weight
300
Range: 200-400
Scores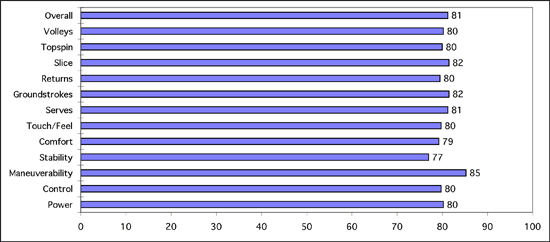 (Scores are determined by averaging individual play test scores)
Brittany's Scores
Power
7.9
Serves
7.8
Control
7.7
Groundstrokes
7.8
Maneuverability
8.4
Returns
7.5
Stability
7.4
Slice
8.5
Comfort
7.9
Topspin
7.8
Touch/Feel
8.2
Volleys
8.2
Overall
8
Chris's Scores
Power
8
Serves
8.3
Control
8
Groundstrokes
8
Maneuverability
8.7
Returns
8
Stability
7.7
Slice
8
Comfort
8
Topspin
8.2
Touch/Feel
8.1
Volleys
7.9
Overall
8
Mike's Scores
Power
8.3
Serves
8.4
Control
8
Groundstrokes
8.6
Maneuverability
8.5
Returns
8.3
Stability
7.9
Slice
8.1
Comfort
7.8
Topspin
8
Touch/Feel
7.8
Volleys
8.1
Overall
8.2
Tiffani's Scores
Power
7.9
Serves
8
Control
8.2
Groundstrokes
8.2
Maneuverability
8.5
Returns
8
Stability
7.8
Slice
8
Comfort
8
Topspin
8
Touch/Feel
7.8
Volleys
7.9
Overall
8.3
Playtester Profiles
Brittany: Open level player with a semi-western forehand and a two handed backhand. She currently plays with the Yonex V-Core 100S.
Chris: 5.0 all court player currently using the Volkl Power Bridge 10 Mid. Chris uses a full-western forehand grip, has a fast swing style and hits a one-handed backhand.
Mike: 5.0 baseliner with a semi-western forehand and two-handed backhand. His current racquet of choice is a customized Prince Triple Threat Warrior.
Tiffani: 4.0 level baseliner with a semiwestern grip on the forehand and hits a two-handed backhand. Currently playing with the Tecnifibre Rebound Pro.

Review date: November 2011. If you found this review interesting or have further questions or comments please contact us.
All content copyright 2011 Tennis Warehouse.