Tecnifibre TRebound 295 Pro Racquet Review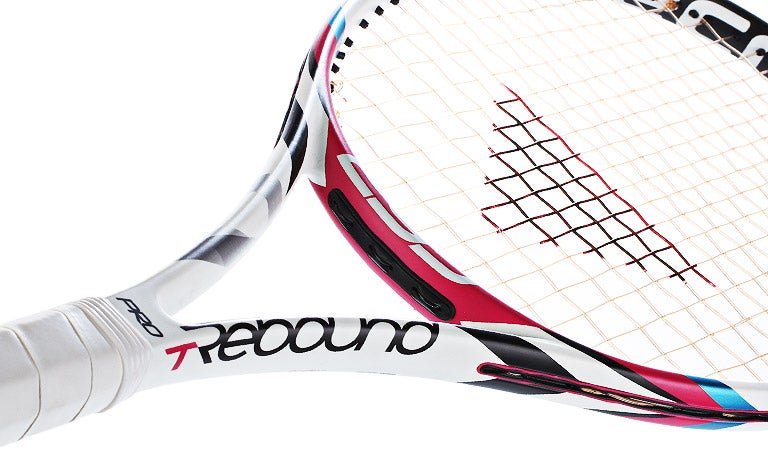 Tecnifibre TRebound 295 Pro Scores
Comfort
72
Touch/Feel
72
Serves
76
Groundstrokes
76
Returns
75
Slice
82
Topspin
77
Volleys
78
Overall
75
Upsides
Power
Stability
Crisp Feel
Downsides
Isn't like the previous version
Lacks mobility
Summary
With a higher swing weight providing extra power and a lively response, the Tecnifibre TRebound 295 Pro is very different from the previous model. Our playtesting team found a lot, and we mean a lot, of power from all over the court. While they were able to hit big serves, screaming returns and powerful volleys, they found the extra power sometimes resulted in a lack of control. Much of the added power came from the high swingweight, and the trade-off was a lack of maneuverability and lower spin potential than expected. The solid power did provide excellent stability, which benefited slice backhands and block shots. Our playtesters enjoyed volleying the most because they found more stability and a solid response. While this racquet didn't offer the same hitting experience as the last version, our playtesters had a good time unloading on their opponents while swinging the TRebound 295 Pro.
Groundstrokes - Score: 76
Despite a powerful and solid response from the baseline, our team would have liked more control and spin to tame this racquet. Power was the first word that came to mind for Karly when she hit with the TRebound 295 Pro. She said, "Generating power was a cinch! I didn't have to put much effort into getting pace behind my shots -- the racquet did that for me. However, it was also extremely easy to make the ball fly long or wide, so I really had to concentrate on control. I would've liked to have seen better stability and response. It was tough to hit consistent shots because hitting in the center of the sweetspot and hitting outside of it felt drastically different. There was a lot of power when hitting directly on the sweetspot, but if I made contact outside of the small sweetspot the response felt very dead and unstable. There was also a lack of maneuverability, which added another level of difficulty for me. I really had to focus on my timing and consistency with the TRebound 295 due to its mobility and response."
"I found this to be a very powerful and solid racquet from the baseline," said Chris. "I only needed to use a moderate swing to generate lots of pace and depth. In fact, if I took a big swing at the ball I often found I was getting too much power and struggled with control. It felt like a lot of the racquet's weight was in the head, and I could feel the mass of the racquet driving the ball deep, which meant I didn't have to. The stringbed felt lively and I thought the response was pretty forgiving. We had one racquet strung with a poly and I felt it suited the racquet, even though I imagine the majority of TRebound Pro 295s will be strung with multifilament strings. Even with a multifilament I found good bite from the stringbed. I liked the feel of the racquet more with a multifilament string as it opened up the sweetspot and offered more comfort. Strung either way, I was able to get some good hop on topspin shots as well as hit some low skidding slices."
Tiffani found herself playing with an entirely different racquet than what she was expecting. She said, "I was very excited to try this update because the previous Rebound Pro was my racquet of choice for a while. It didn't take long, however, to realize that this was not an update. This is something entirely different. The balance is way different, and I can't really compare the two. The new TRebound Pro doesn't swing as fast as I like and felt club-like as I swung it. There's good power, but I did notice that there was some instability issues, especially outside the sweetspot. On the upside, I could hit with good depth and pace when I hit the ball out in front (but I was late too often, especially when scrambling), and I enjoyed going to my slice backhand with this racquet. The feel was also nice and crisp."
Brittany enjoyed a solid response on her slice backhand but would have preferred more consistency on her groundstrokes. She said, "Being a surprise fan of the previous version, I was interested to give this update a go. The first thing I noticed was that the specs had significantly changed in a couple of areas, and these changes were definitely apparent on groundstrokes. This racquet is very powerful and sometimes unpredictable. When I could get a good rip at the ball it would land deep in the court with power. However, the racquet lacked control and had average spin potential, which made it hard for me to be aggressive. The one stroke that did shine for me was my backhand slice. I was able to hit very low penetrating slices that actually took me from defense to offense when playing matches, and I consider that an added bonus."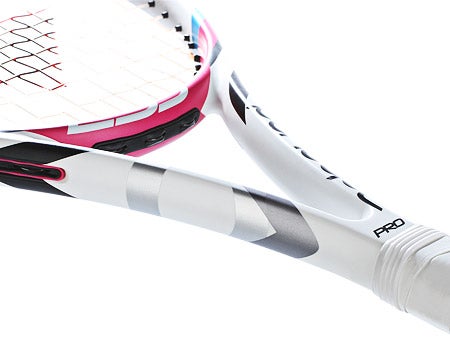 Volleys - Score: 78
Most of our testers found the groove at net with the TRebound 295 Pro. Touch and feel were better here, but more maneuverability would have helped get the racquet into place on time. Tiffani felt more comfortable on volleys, and the extra power helped her smaller stature. She offered, "Surprisingly, I liked this more at net than I had expected. It wasn't the fastest racquet for me at net, but I could maneuver it well enough, even during doubles. I could stick my volleys pretty well."
Brittany enjoyed the solid response, saying, "Like my slice backhand from the baseline, I had good plow through when I had the time to set up for a volley. I felt I could really punch the ball deep in the court to put it away. However, I struggled with maneuverability, especially in doubles. I was having a hard time getting my racquet back quickly and was often hitting the ball late on reaction volleys."
Karly was able to relax into hitting her volleys a little bit more, and like the other women, enjoyed the power. "I thought the racquet felt more forgiving on volleys than on groundstrokes, which was great. The sweetspot wasn't as erratic and my shots felt a little more consistent. I could still get a ton of power and pop, especially when hitting in the sweetspot, but the thing I was most impressed with was the touch. I thought this racquet made it easier to change up the pace for drop shots or for tapping a short ball back over the net. The biggest drawback was the stability, particularly with overheads. The frame felt very shaky and unsteady in my hand at contact. I didn't feel as confident on overheads due to the racquet's response."
Used to a lower-powered frame, Chris liked the solid feel. He said, "Wow, this racquet is powerful on volleys. It was easy for me to overhit if I got a little too eager. I had to keep my swing in check and let the weight of the racquet do the work, otherwise I lost some control. With all that weight in the head of the racquet the stability was very impressive. The TRebound 295 stayed rock solid even during some doubles play with big hitting open level players. Pretty impressive considering it has a target unstrung weight of only 295 grams."
Serves - Score: 76
Serving brought a variety of opinions from our playtesters. Some playtesters liked the power, while others would have preferred more control. Brittany said, "When I would start a hitting session or match with this racquet I had solid results. With the extra power I had to really be cognizant of adding spin to keep the serve in the box. The result was heavy, deep first serves that were especially effective into the body. As the match or practice wore on I noticed my arm getting fatigued and my serves having less spin. This resulted in my serves sitting up for the returner, and I was not getting as many free points."
Karly slowed down her serves to get the placement she was looking for. She explained, "Power was definitely the TRound Pro 295's strong suit. I could generate a ton of pace behind my serves, and it was extremely easy to do. However, there was a long transition period for my serve with this racquet. It took me a longer time to adjust to the power because I had a hard time controlling my serves. I had to take a little bit off my serves since it was so easy for the ball to fly."
Chris was able to really put the power of the TRebound 295 to good use on his serve. He said, "I liked serving with this racquet, and I could get some nice zip on the ball. Spin was easy to generate, too, and I had fun moving the ball around to various targets with different amounts of spin. When looking for some added pace down the T, it was there. That is not always the case for me on serve, so getting some added pop from the racquet was a welcome addition."
On the other end of the spectrum was Tiffani, who struggled with the specs of the racquet on serve. She said, "The performance was just middling for me on serve. I tend to like racquets with some weight in them to help me generate power. However, because of the balance, this racquet just felt heavy to swing and didn't provide any real mass I could work with. I threw in a good serve now and then, but otherwise my serving was average."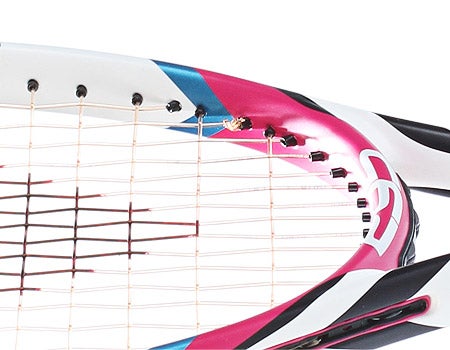 Serve Returns - Score: 75
Like a stuck record, the playtest team found power to be the most prevalent characteristic on serve returns, and they noticed the lack of maneuverability. Finding his inner Agassi but wishing for more control was Chris, who said, "Again, the power I was able to get from this racquet was the standout feature. I could really crack some returns! On the plus side, I blitzed some nice winners. On the downside, I occasionally had a return fly wildly long or nearly decapitate a net playing doubles opponent (my apologies to everyone I nearly gave a haircut). I found a deft touch was needed when looking to roll an angle or place the ball. The power was so easy to tap into that I found it easy to overhit."
Hitting some big screamers but looking for more control was Karly. She said, "There wasn't an area on the court where power wasn't the stand out feature! Again, it was extremely easy to produce a lot of power behind my shots. If my timing was right I could return bullets back with very little effort. Problem was, the racquet was pretty difficult to swing with the lack of maneuverability, especially when playing against harder hitters. I really had to concentrate on my timing because when I was late I had no control on my returns."
Tiffani got put in a defensive position more often than she would have liked with the TRebound 295 Pro. She said, "I did find myself late when hitting returns more often than I would like. In doubles that got me into trouble, leaving easy sitters for the net person to put away. When I made good contact, though, my returns could put me on the offensive right away."
"While I always appreciate a racquet's easy access to power, I had a hard time controlling my return with this racquet," explained Brittany. "I found a lot of my returns, especially those off hard hit first serves, were landing very deep past the baseline. When I tried to add spin my returns would land short and the high swingweight caused me to make contact with the ball late. I never was fully comfortable taking aggressive cuts on my return."
Overall - Score: 75
Likes
Chris - "The power was fun. I could really unload on the ball with this racquet!"
Brittany - "It definitely had access to power (sometimes too much power), and I enjoyed the plow through on slices and volleys."
Tiffani - "My slice was effective with this racquet, and there was a high power potential."
Karly - "This frame packs a ton of power with hardly any effort. Watch out!"
Dislikes
Chris - "The balance was not to my liking, but I was impressed with how solid, stable and powerful the head heavy balance made this light racquet feel."
Brittany - "I did not like the lack of maneuverability and unforgiving feel."
Tiffani - "This wasn't anything like the previous Rebound Pro, which I liked a lot. The swingweight is out of my range and felt clubby in my hands."
Karly - "The instability and small sweetspot made it hard to play consistently with this frame."
Comparing this racquet to others they've tried, our testers said:
Chris - "This racquet played nothing like the previous Rebound Pro. That racquet was more of a lightweight player's racquet -- much like the old Steffi Graf Wilson ProStaff. This one played much more like a game improvement racquet, not a player's racquet. The balance felt very Wilson Hammer like, and I thought it had similar power and stability. The closest racquet to this one would likely be a Wilson BLX 3 or 4."
Brittany - "This is very, very different from the previous version. I did like the increased head size because I tend to gravitate toward 100 square inch racquets. What I didn't like was the huge increase in swingweight (300 to 330). I found the racquet hard to control both maneuverability-wise and power-wise. I also thought the feel was significantly different with this update, and I personally enjoyed the feel of the previous version."
Tiffani - "Like I said, this isn't like the previous Rebound Pro, and I'm struggling to think of a racquet that is similar. The previous Rebound swung much more quickly through the air and allowed me to be more versatile. This version feels more powerful, but I'm unable to hit with it effectively on a consistent basis."
Karly - "The TRebound Pro 295 reminded me of the Gamma RZR 98 racquet. Lots and lots of power, with a very similar feel."
Technical Specifications

Length
27 inches
69 centimeters
Head Size
100 square inches
645 square centimeters
Weight
11.1 ounces
315 grams
Balance Point
13.2 inches
34 centimeters
2pts Head Light
Construction
24mm / 25mm / 25mm
Composition
Graphite / Texalium
String Pattern
16 Mains / 20 Crosses

Babolat RDC Ratings

Score

Grade

Flex Rating
71
Range: 0-100
Swing Weight
330
Range: 200-400
Scores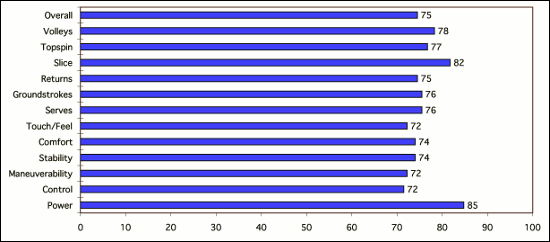 (Scores are determined by averaging individual play test scores)
Chris' Scores
Power
8.7
Serves
7.9
Control
6.8
Groundstrokes
7.5
Maneuverability
8
Returns
7.6
Stability
7.8
Slice
8
Comfort
7.8
Topspin
8.1
Touch/Feel
7
Volleys
7.6
Overall
7.7
Brittany's Scores
Power
8.5
Serves
7.2
Control
6.9
Groundstrokes
7.3
Maneuverability
6.5
Returns
7
Stability
7.1
Slice
8.5
Comfort
7
Topspin
7
Touch/Feel
6.7
Volleys
7.7
Overall
7.2
Tiffani's Scores
Power
8.3
Serves
7.4
Control
7.3
Groundstrokes
7.6
Maneuverability
7
Returns
7.2
Stability
7.5
Slice
8
Comfort
7.5
Topspin
7.7
Touch/Feel
7.5
Volleys
7.9
Overall
7.3
Karly's Scores
Power
8.4
Serves
7.7
Control
7.6
Groundstrokes
7.8
Maneuverability
7.4
Returns
8
Stability
7.2
Slice
8.2
Comfort
7.3
Topspin
7.9
Touch/Feel
7.7
Volleys
8.1
Overall
7.6
Playtester Profiles
Chris: 5.0 all-court player currently using the Volkl C10 Pro 2012. Chris uses a full-western forehand grip, has a fast swing style and hits a one-handed backhand.
Brittany: Open level player with a semi-western forehand and a two-handed backhand. She currently plays with the Yonex V-Core 100S.
Tiffani: 4.0 level baseliner with a semiwestern grip on the forehand and hits a two-handed backhand. Currently playing with the Donnay Formula 100.
Karly: 4.0 baseline player currently playing with the Wilson nCode nTour. She hits with a semi-western forehand grip and uses a two handed backhand.

Review date: March 2013. If you found this review interesting or have further questions or comments please contact us.
All content copyright 2013 Tennis Warehouse.