Topspin Cyber Flash String Review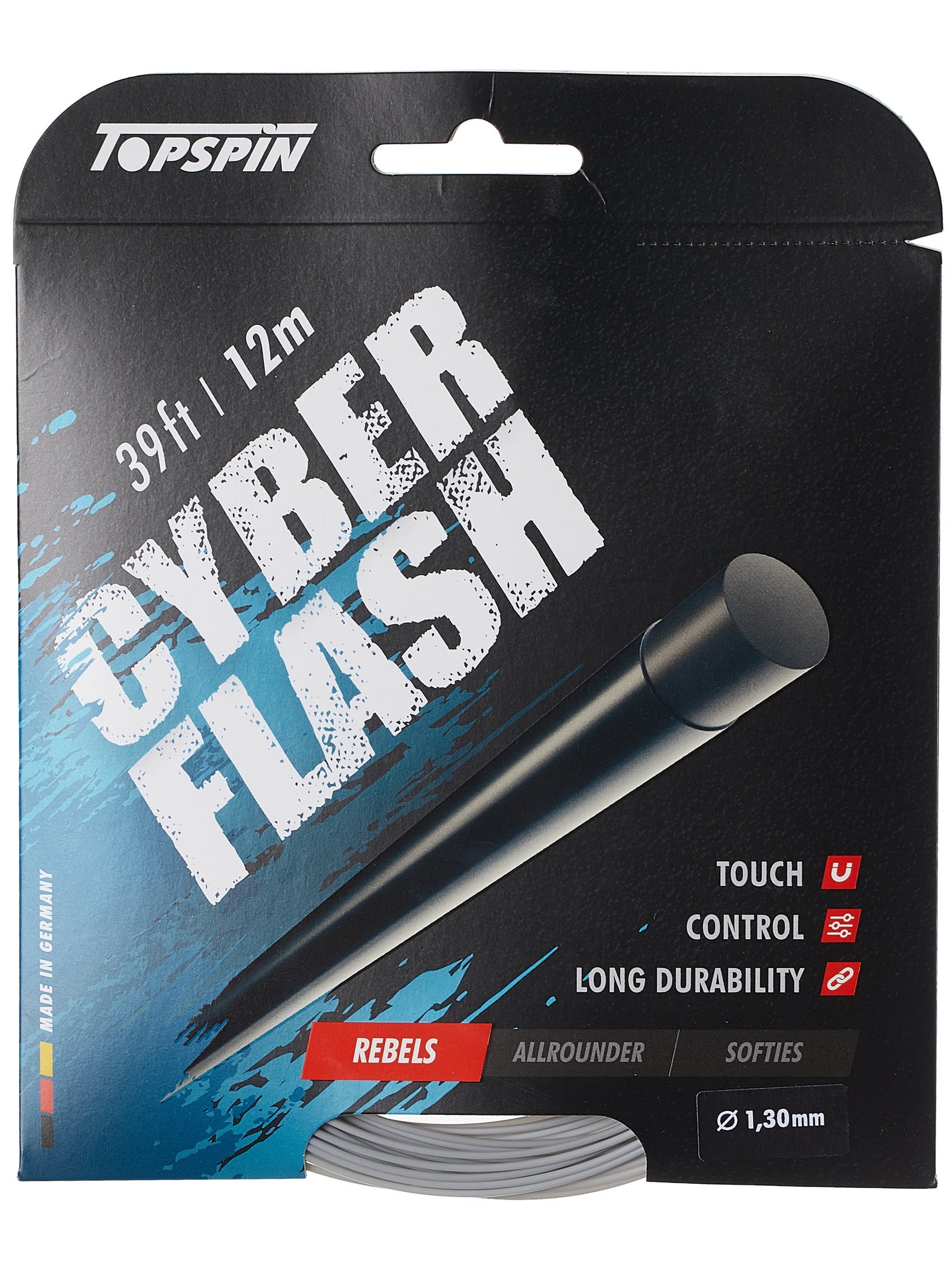 Topspin Cyber Flash String Scores
Power
59
Spin
80
Comfort
75
Control
75
Touch
83
String Movement
85
Playability Duration
78
Durability
83
Overall
83
Upsides
Control
Durability
Impressive touch for a poly
Downsides
Too firm and underpowered for beginners
Summary
Topspin Cyber Flash is made primarily from polyester, a substance known for giving players incredible control (and confidence!) on full swings. Unfortunately, this high level of control often comes with a trade-off in the form of an overly stiff and dead response on slower strokes, volleys and off-center hits. For this reason, we were pleasantly surprised by the responsiveness and feel that Cyber Flash delivered around the net, especially on touch volleys. Add to this fact the low stiffness rating Cyber Flash received in the Tennis Warehouse string lab and one thing becomes clear; this is not your father's polyester. Cyber Flash is part of a growing collection of somewhat pliable monofilaments that offer big hitters not just control and durability, but also impressive playability across a wide range of strokes and court locations. This doesn't mean Cyber Flash will work for the player who needs the soft feel and powerful response of a Tecnifibre NRG2 or Babolat VS Touch, but it does bode well for big hitters and string breakers who need a more comfortable and responsive control string.
Power - Score: 59
Our playtest team did not reach a consensus on the exact power level of Cyber Flash. For Andy, this string had some pop. He said, "Cyber Flash has some nice power and liveliness for a polyester. I'm a fan of lively polys, so this was right up my alley. However, for players (like Chris) who prefer something more controlled and dead, this may have to be strung a bit higher in tension."
Contrary to Andy, Mark didn't get much power from Cyber Flash, which is exactly what he expected from a crisp monofilament. He said, "Topspin Cyber Flash delivers what players want from a full bed of this string type: low power and high control."
Spin - Score: 80
Though our two playtesters had differing opinions on the level of spin they could generate with Cyber Flash, both men had enough bite to effectively shape their shots. Mark was the more impressed of the two, saying, "I used a full set at 56 lbs in both the Wilson Steam 99 and the 99S, and I was rewarded with easy access to extreme spin on the forehand side and copious amounts of slice off the backhand wing and on my serve. Access to spin was top notch with Cyber Flash."
Andy got decent spin from this round co-poly, but it doesn't sound like he will be switching from his shaped string any time soon. He said, "Cyber Flash has average spin potential for a polyester, but because it's lively and round in shape, this wasn't an area I was expecting it to excel in. If I strung it at a high enough tension I could still take a full cut and generate my own spin with it. There's enough spin for the big hitters out there, but I didn't get a big boost in spin by any means."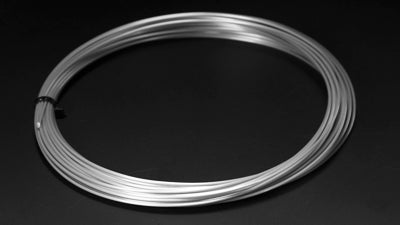 Comfort - Score: 75
When it came to the comfort of Cyber Flash, our team was in lockstep. We found it very comfortable for a poly. Andy's tendons and joints were in good shape after this playtest. He said, "It's soft and lively, so in turn that makes it extremely comfortable. I put it in my soft and plush Head MicroGel Radical, and man, it felt as smooth as butter. So comfortable for a polyester string!"
Agreeing with Andy, Mark also appreciated the comfortable response, saying, "Lately, I have been using some polys that are known to be on the stiffer side of the spectrum, and the increase in comfort Topspin Cyber Flash afforded me was definitely noticeable."
Control - Score: 75
Cyber Flash lived up to its polyester pedigree and allowed our team to swing big with impunity. Andy found a powerful response, but it was predictable enough to let him swing away. He said, "I was surprised at the amount of control I got with Cyber Flash, given how lively and powerful it is. I went up a bit in tension to achieve that precision, but once I did I felt totally confident going for my shots. As is the case for a lot of lively polys, I didn't feel like there were 'hot spots' on the stringbed where I would swing and just lose total control of the ball. It was very predictable and precise."
Mark also had great control, saying, "When you have a low-powered string you have a string that gives you a lot of control, and there is not a shred of disappointment here. Control was consistent and predictable throughout the 10 or so hours I put on both sets of strings."
Playability Duration - Score: 78
Cyber Flash lost tension and playability at a normal rate for a poly-based string. Andy started to notice some changes after a week of hard hitting. He said, "The tension will drop off after a week and a half to two weeks, but that's inevitable for a polyester. There was no out of the ordinary drop in tension or playability with Cyber Flash."
After several sessions Mark noticed some tension loss, along with a drop in playability. He said, "After four sessions with both sets of string I noticed a drop in tension that was pretty uniform. My 99 had a slightly higher pitched 'ting' and the 99S had a lower one, which makes sense due to the difference in string patterns. After 10-12 hours of use it will need to be swapped out, but that's part of its appeal as an affordable poly. It lets you keep your stringbed stiffness consistent without breaking the bank."
Overall - Score: 83
Likes
Andy - "Love the crisp, lively feel, and it's great value."
Mark - "A high level of comfort, access to spin, affordability and control. I have also always had good experiences with silver colored polys, and I know that the color of the ink used in strings does change the composition a bit."
Dislikes
Andy - "Nothing really. I do tend to prefer a shaped string for more spin potential, but that's just personal preference."
Mark - "I suppose it is not much of a dislike toward this string in particular, but there are so many high quality offerings these days that it's hard to decipher what is what."
Comparing the string to others they've tried, our testers said:
Andy - "This has a very similar feel to Luxilon ALU Power and Signum Pro Firestorm. Crisp, lively and comfortable, which is right up my alley. This was also the string I used for a good chunk of my college career. I highly recommend giving this a try. It's a great string at a great price!"
Mark - "Like I mentioned above, I do feel that the ink color of a particular string has an effect on the overall feel and performance of the string. For me, the Topspin Cyber Flash is reminiscent of playing with Tourna Big Hitter Silver, Prince Tournament Poly and Weiss Cannon Silverstring."
Scores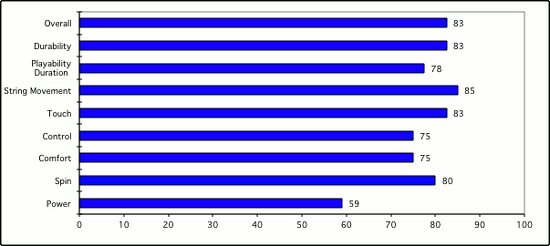 (Scores are determined by averaging individual play test scores)
Mark's Scores
Power
5.8
Playability Duration
7
Spin
9
Durability
8
Comfort
8
Control
8
Touch
9
String Movement
8
Overall
8
Andy's Scores
Power
6
Playability Duration
8.5
Spin
7
Durability
8.5
Comfort
7
Control
7
Touch
7.5
String Movement
9
Overall
8.5
Playtester String Setups
Mark:
Playtest Racquet: Wilson BLX Steam 99 and 99S
Playtest Tension: 54 lbs
Typical String: Luxilon 4G
Andy:
Playtest Racquet: Wilson Blade 98 18x20 & Head MicroGel Radical MP
Playtest Tension: 58 lbs & 55 lbs
Typical String: Volkl Cyclone 17g

Review date: November 2013. If you found this review interesting or have further questions or comments please contact us.
All content copyright 2013 Tennis Warehouse.