Tecnifibre Black Code String Review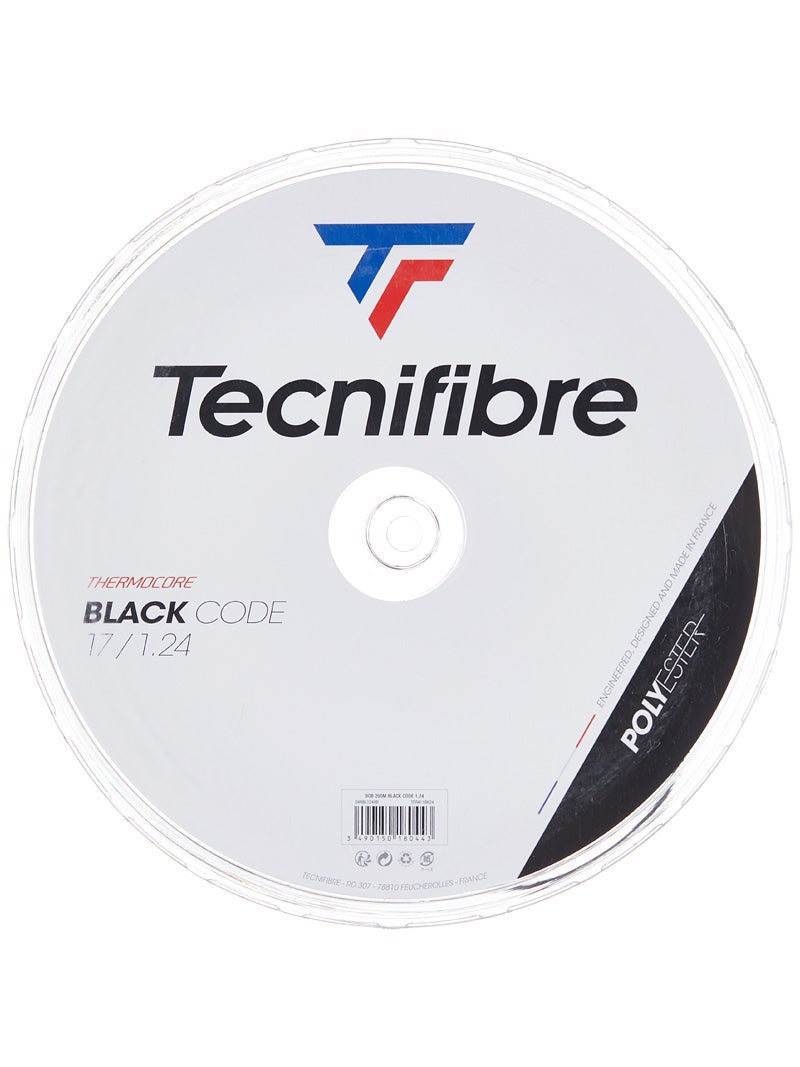 Tecnifibre Black Code String Scores
Power
40
Spin
83
Comfort
55
Control
80
Touch
65
String Movement
90
Playability Duration
80
Durability
83
Overall
79
Upsides
Spin
Control
Durability
Feel
Downsides
Too stiff and powerless for beginners
Summary
If our playtest team has it right, Tecnifibre Black Code is dangerous in the hands of an aggressive baseliner who likes to control the point with heavy spin. With its shaped profile and powerful snapback, we were more than a little impressed by how well this co-poly grabbed and rotated the ball. And though this string was fairly low-powered, we detected a slightly springy (but very controlled) launch off the stringbed. This definitely added some weight to our spin, much to the chagrin of our back pedaling opponents. Black Code's impressive response is due in part to Tecnifibre's Thermo Core Technology, which lends some welcomed flexibility and elasticity to this otherwise firm poly. Based on the relative comfort and vibration dampening we got from Black Code, this string definitely qualifies as a user-friendly poly. We think it will not only satisfy top level players in search of durability, bite and control, but it should also work well for the big swinging intermediates in search of a very playable and spin-friendly control string.
Power - Score: 40
Though not as dead as some of the traditional polys we've hit, Black Code did a great job keeping our most powerful strokes inside the lines. Michelle had zero complaints, saying, "I found this string to provide me with low to medium power (more low than medium), which was perfect for me. I don't need any extra power from my strings with my fast strokes, so I prefer to find control and spin from my strings. Black Code gave me what I wanted, and wasn't overly powerful."
Andy also appreciated the moderate power level, and he even detected a little kick. He said, "I found Black Code to have a medium power level. It's not low powered and it's not high powered for a poly. The string does feel softer and a bit elastic at impact, which gives the feeling that the ball is springing off the stringbed."
Spin - Score: 83
Our team was definitely impressed by the spin potential of Black Code. Getting some heavy ball rotation, Andy said, "The pentagonal shape gives Black Code loads of spin potential, and its elasticity really gives the feel that the string is producing loads of 'snapback' at impact, generating even more spin and some explosive bounces."
For Michelle, the bite was just right. She said, "One of the standout features of Black Code was the extra bite it gave me on my groundies. The more time I spent with this string the more I enjoyed it. I actually appreciated the fact that it didn't have as much spin as a Black or Spiky Shark. It didn't alter my game by adding crazy amounts of spin to the ball, rather, it complemented my game by adding just enough spin. I felt comfortable banging flatter balls around and was happy to see some balls I thought I may have missed by an inch or two land right inside the baseline, always something I appreciate from my strings!"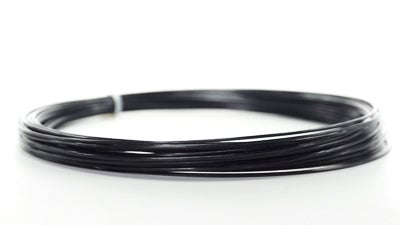 Comfort - Score: 55
Given that Tecnifibre has created some of the most comfortable multifilaments on the market (see NRG2 and X-One Biphase), it should come as no surprise that they found a way to build a friendlier feeling poly. Andy was impressed, saying, "Black Code felt soft, plush and very comfortable for a polyester string. The feel is somewhat muted at impact, so any jarring vibrations from an off-center hit don't get sent up into the hand and arm. It also has decent enough power, so you don't really have to slug the ball to get it moving."
"The other standout feature was comfort," said Michelle, in full agreement with Andy about the softer feel of Black Code. She added, "I have been known to enjoy firm ploys strung in the high 50s and low 60s, and they have a tendency to take a toll on my arm a day or two after a long hit. Black Code never bothered my arm at all and stiffness was never an issue. This string was very comfortable, but never mushy. For me, that's a good thing, as I don't love really soft strings because I feel like they don't let me supply as much of my own power. Black Code felt no where near as soft and plush as TCS (again, this is a good thing!), but it was noticeably softer than what you would expect from a poly. The best way to describe it is to say it was a very comfortable control string. My arm definitely appreciated this and I didn't feel any discomfort throughout the playtest, which I can't say about every string I've playtested."
Control - Score: 80
Though not the crispest or most controlled poly we've hit, Black Code still managed to give our team good control. It even led to a revelation for Michelle, who said, "For me, Black Code had some decent control. I never felt like balls were flying, which means there had to have been some control in those strings! Again, I usually find the most control for my game in the stiffest polys, so it was a nice surprise to find such control in a string that didn't blow out my arm. It was really nice to be able to hit big groundstrokes and take full swings without worrying about the balls flying to the back fence. Black Code has opened my eyes a bit, making me realize that I may not have to stick with the stiffer polys at high tensions to feel like I have some control in my game!"
"Medium power = medium control," said Andy, who enjoyed the predictable response. He continued, "There was never any inconsistent response off the stringbed, so for the most part I felt in control of all my shots. The soft, elastic feel at contact does cause the stringbed to morph a bit at contact, but I was still getting more than enough control."
Playability Duration - Score: 80
Black Code didn't hold any surprises for our playtesters when it came to tension maintenance. It lost tension right on schedule for Andy. He reported, "Since it's a softer string it does lose a little bit of playability over time. About average for a poly, which means I'm going to get around two weeks of playability before I start to notice a change."
Michelle noticed some tension loss, but it didn't require any serious adjustments. She said, "As with most strings, there was a dip in tension after the first couple of hours, but it wasn't horrible. I felt like it maintained its tension well after the initial drop. I wouldn't say it dropped as fast as other strings I've tested, and it definitely wasn't a deal breaker for me. Sometimes when the tension drops in strings I feel like the character of the string is compromised. I didn't feel that way with this string; I felt it maintained it's playability throughout the playtest."
Overall - Score: 79
What type or player would you recommend this to?
Andy - "This is a great string for the polyester user who wants a nice blend of power and control with a soft, muted feel. Some people like a lively poly, others like a dead poly. Black Code lands right in the middle in terms of power level. The soft, plush feel makes the string comfortable, but there is a slight disconnect in the feel at impact."
Michelle - "Any poly player who has been playing with some of the stiffer poly strings. I think this is a great string option for someone looking for a string that does everything pretty well but isn't looking for a string to do everything for them. It feels very middle of the road, which is a positive! I don't always want a plush string or a string that will add crazy RPMs to my balls. I don't want a string to make or break my game; I want a string that complements my game and lets me do my thing, which is hit big groundies and look to transition forward!"
Likes
Andy - "The soft, plush, comfortable feel, and the nice blend of power and control. Great spin potential, too."
Michelle - "I enjoyed the fact that it wasn't overly stiff or too mushy. Comfortable! It was soft in the sense that it didn't hurt my arm at all, but still felt firm enough that I could hit big. I liked the bite it had and that bit of control that I wasn't necessarily expecting from it."
Dislikes
Andy - "The feel was a bit too muted, which took away some touch and feel at contact."
Michelle - "At first I felt this string was a bit vanilla, but the more familiar I became with the string the more I appreciated its subtle qualities, such as its softer feel."
Comparing the string to others they've tried, our testers said:
Andy - "It felt a lot like MSV Focus Hex to me, with a slightly softer and muted feel. Medium power, medium control and great spin!"
Michelle - "Again, I keep coming back to comparing it to TCS - definitely not plush like TCS and not as much spin as TCS or Black/Spiky Shark. It did maintain tension better than TCS, though."
Scores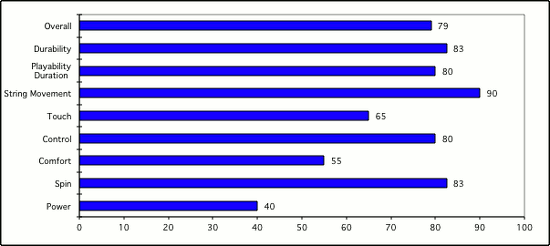 (Scores are determined by averaging individual play test scores)
Andy's Scores
Power
4
Playability Duration
8
Spin
8.5
Durability
8.5
Comfort
5
Control
7.5
Touch
6
String Movement
9
Overall
7.8
Michelle's Scores
Power
4
Playability Duration
8
Spin
8
Durability
8
Comfort
6
Control
8.5
Touch
7
String Movement
9
Overall
8
Playtester String Setups
Andy:
Playtest Racquet: Wilson Blade 98 18x20
Playtest Tension: 56 lbs
Typical String: Volkl Cyclone 17g
Michelle:
Playtest Racquet: Babolat Pure Drive Roddick
Playtest Tension: 57 lbs
Typical String: Poly 16g

Review date: July 2013. If you found this review interesting or have further questions or comments please contact us.
All content copyright 2013 Tennis Warehouse.