Slazenger V98 Tour Racquet Review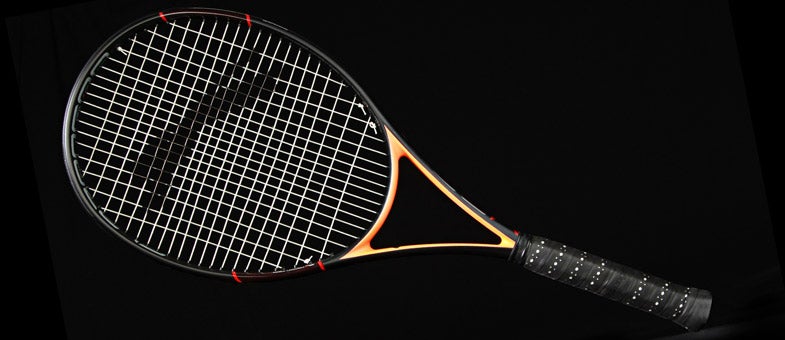 Slazenger V98 Tour Scores
Comfort
73
Touch/Feel
76
Serves
76
Groundstrokes
79
Returns
77
Slice
76
Topspin
84
Volleys
85
Overall
78
Upsides
Fast swinging
Crisp feel
Great cosmetics
Downsides
Unforgiving outside sweetspot
Summary
When we first saw the sharp cosmetics of the new Slazenger V98 Tour we were eager to take it to the court to see if the performance matched its good looks. From the first hit it was apparent that Slazenger had accomplished their goal of producing a fast, crisp and modern feeling racquet. The racquet was easy to maneuver and had enough heft and stability to really excel around the net. Each playtester found different elements about the racquet to like, further exhibiting the racquet's versatility. The one criticism our playtesters had was that the stringbed felt a little bit stiff, especially in the areas outside the sweetspot. However, we found that a soft polyester or a multifilament string setup improved this issue quite a bit. Overall, the new V98 Tour is a nice midplus racquet, with a modern feel, that has the playability to match its looks.
Groundstrokes - Score: 79
Our playtesters enjoyed the maneuverable and solid feel of the V98 Tour from the baseline. Chris particularly liked the amount of control he was receiving on his groundstrokes once he found the right string setup. He said, "I liked the solid and crisp feel of this racquet from the baseline. I found a lot of control with it, and I could take a big cut at the ball without worrying about hitting long. I played around a lot with string setups and found either a lively co-poly strung low or a multifilament just under mid tension to work best. Both setups opened up the sweetspot and made the racquet feel more forgiving. The racquet was very fast and easy to maneuver. I could take the ball early with an aggressive cut thanks to the combination of precision and maneuverability I was finding. I also liked the bite and control I got on my backhand slice. I could easily control the level of spin when I hit with topspin, and I had good touch on angles and lobs."
Mark found a stable racquet that offered easy access to spin. He offered, "I begin a playtest evaluating how the racquet feels in my hand, then I take a look at the frame and then I hit a forehand. I had a 20-ball rally on the first try, which led me into a great overall first session. I like setups in the 11 ounce range, including the lower end, as long as the swingweight indicates that there is some weight toward the top of the frame. For a mid-11 ounce racquet, the V98 Tour felt very stable with the swingweight being in the 330s. With the 18x20 pattern I had no issues at all with generating spin off either wing, although the swing speed had to be increased a little to keep my shots from landing short (the poly also influenced this)."
Andy enjoyed easy access to power when he made contact in the sweetspot, but he found that when he hit outside the sweetspot the racquet became a bit unpleasant. He explained, "This racquet feels fast and maneuverable from the baseline, with a very stiff, crisp feel. The stringbed is lively and powerful, and if I caught it just right I could crush the ball off both sides. However, when I made contact a little off-center there was a pretty significant drop in power and comfort. The racquet wasn't very forgiving and felt pretty 'brassy' and hollow if I didn't catch the ball just right."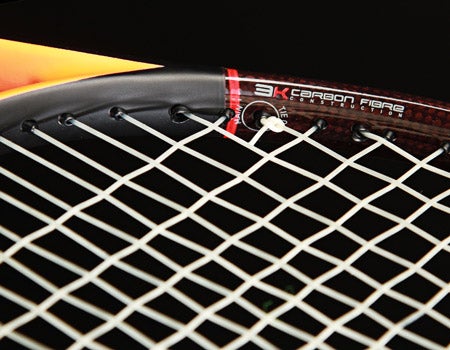 Volleys - Score: 85
One of our team's favorite places to be with the V98 Tour was around the net, where the blend of stability and maneuverability was very evident. Mark liked this combination of characteristics, saying, "Again, the higher swingweight kept the racquet stable against repeated passing attempts. The V98 Tour weighs only 11.4 ounces, so it cuts through the air with little effort."
"I felt the racquet performed better around the net than it did from the baseline, in typical Slazenger fashion," said Andy. "It felt stable on all my volleys and possessed enough pop to put high balls away. The maneuverability was nice, and I felt I could get the racquet in position at all times. I enjoyed it the most when playing from the net, where the maneuverability and stability shone."
Chris had access to a full array of volleys with this racquet. He said, "One of my favorite shots with this racquet was the volley. I felt very dialed in with this racquet at net. I could punch the ball aggressively and I just loved the very crisp and precise feel. I found excellent touch with this racquet and could drop volleys both short and/or angled. I also liked the maneuverable feel. I could react quickly with this racquet, yet there was just enough mass behind the ball to keep the contact feeling solid. Ideally, I'd add more weight to suit my personal preference, but even in stock form I found the racquet impressive."
Serves - Score: 76
Our playtest team had mixed opinions when it came to serving with this new racquet. Andy found easy access to power but felt he lacked the precision to place his serve consistently. He said, "You can bomb serves with this one! The racquet was really powerful on serves. The weight of the racquet, combined with the great maneuverability, enabled me to generate some serious pop. However, it was a little tough at times to control my serves, and I didn't feel like I could be that accurate at times. I had a hard time locating my serves with precision, but if I caught it right, the racquet definitely helped me get the fastball past my opponents."
On the contrary, Chris found ample amounts of spin and control but didn't get the kind of pop he normally likes. He offered, "I would have liked a tad more power on serve, but I loved the spin and control I found from this racquet. A little more weight would help me hit a bigger serve, and I felt there was plenty of room to add some without hurting maneuverability. Again, spin was easy to find. I was getting some nice movement from my slice serves, pulling my opponent wide or knifing my serve into the body. It was just when I was looking for a little pace going down the T that I found the racquet a little lacking."
Mark encountered a dilemma faced by many players. He said, "The bane of my tennis existence: I prefer the lighter setups when hitting groundstrokes, but I have trouble developing enough pace and depth on serves and overheads. On the other hand, I prefer the heavier racquets on serves and overheads, but I can get tired during extended groundstroke exchanges. The V98 Tour felt better off the ground than on serve."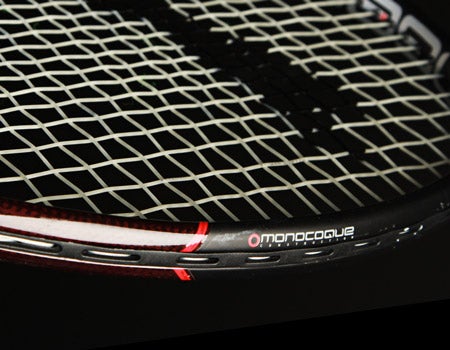 Serve Returns - Score: 77
Our playtesters opinions about returning serves with the V98 Tour were mostly favorable, but there were a few concerns. Enjoying the maneuverability and the bite he could get on the ball was Chris. He offered, "The fast and crisp response made this an easy racquet to return with. I felt like I could take a good crack at most serves, and there was ample control when I was looking to place the ball. Again, I liked the level of spin I was finding. Both slice and topspin returns felt good, and I felt confident when returning with this racquet. During doubles play, I found I was able to step in and put the precision and maneuverability to good use by taking the return early and following it to net. Everything I needed to be aggressive on returns I found with this racquet, and that made it a fun racquet to swing."
Andy also liked how easy this racquet was to swing, but he also felt a lack of confidence when trying to place his returns to specific spots on the court. He said, "The maneuverability was nice on returns, but the lack of control and forgiveness was also fairly evident. I felt I could get the racquet around my body just fine, but there were times when I felt out of control when returning. Once again, the brassy, hollow feel was there if I didn't catch it in the sweetspot, and the return would drop short. Sometimes when I did make good contact the ball would fly if I didn't add enough spin. Maneuverability was good, but the inconsistent response off the stringbed was evident when returning."
Mark felt the racquet encouraged him to take some big cuts on returns that he wouldn't normally attempt. He said, "I block many serve returns, so I depend on the overall mass of the racquet to be steady at contact. The Slazenger V98 Tour sort of forced me to swing at more serves, which I need to do anyways, but this was not the strongest part of this playtest for me."
Overall - Score: 78
Likes
Chris - "I liked the crisp feel, precision, easy access to spin and maneuverability."
Mark - "Aesthetically, it is a beautiful frame (Slazenger has always made some attractive frames), with some great construction to back it up. It is subjective, but I really benefited from the combination of the weight, balance, hoop, size, string pattern, beam flex, etc. I only played with a full set of a low tensioned poly, but the beam was forgiving enough that I feel the V98 Tour will perform well with a hybrid or a full set of a more elastic string type."
Andy - "I liked the crisp, lively feel and the maneuverability, as well as the stable feel at net, where the racquet really shone. The cosmetics are pretty sweet, too."
Dislikes
Chris - "The sweetspot can feel small if it's not strung right (I recommend stringing low and using a livelier string for best results), and I would like it to be heavier to suit my personal tastes."
Mark - "I would dial up the weight to around 11.8 ounces and try to leave the swingweight alone, for the most part. This is merely a preference, though."
Andy - "It wasn't very forgiving outside of the sweetspot, where the racquet seemed to go dead and also feel brassy and uncomfortable. I would also like a little more control out of a 98 square inch racquet."
Comparing this racquet to others they've tried, our testers said:
Chris - "This racquet reminds me of the Dunlop Biomimetic F3.0 Tour. Both are fast, crisp and very precise feeling. I find both equally spin-friendly, and I prefer both either strung very low with a poly or at low to mid tension with a multifilament string."
Mark - "The Slazenger V98 Tour will compete well with the Radical Midplus, Babolat Pure Storm GT Standard, the Wilson Blade 98s, Prince EXO3 Rebel 98 and Dunlop F3.0 Tour. The amount of flex I get from the beam is somewhere between the extremely flexible Head Radical Midplus and the firmer Blade 98 (18x20). It is hard for me to say that I liked it more or less than other similar frames, but with a little trial and error for the string/tension configuration I could turn the V98 Tour into a racquet that I love."
Andy - "It has a very crisp, lively, modern feel, very similar to the new Dunlop line of racquets. The V98 Tour felt the most like the new Dunlop F3.0 Tour, but I didn't think it was quite as solid outside of the sweetspot."
Technical Specifications

Length
27 inches
69 centimeters
Head Size
98 square inches
632 square centimeters
Weight
11.3 ounces
320 grams
Balance Point
13.25 inches
34 centimeters
2pts Head Light
Construction
22mm Straight Beam
Composition
Graphite / 3K Carbon
String Pattern
18 Mains / 20 Crosses

Babolat RDC Ratings

Score

Grade

Flex Rating
66
Range: 0-100
Swing Weight
331
Range: 200-400
Scores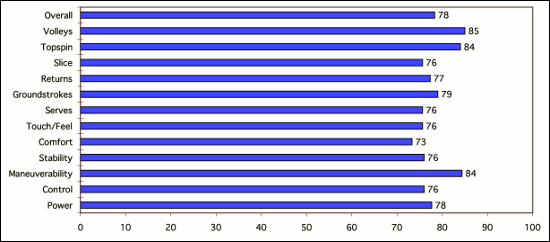 (Scores are determined by averaging individual play test scores)
Chris' Scores
Power
8
Serves
8.2
Control
8.3
Groundstrokes
8.2
Maneuverability
8.3
Returns
8.4
Stability
7.8
Slice
8.4
Comfort
8
Topspin
8.4
Touch/Feel
8.2
Volleys
8.5
Overall
8.3
Mark's Scores
Power
7.5
Serves
7.5
Control
8
Groundstrokes
8.5
Maneuverability
9
Returns
8
Stability
8
Slice
8.3
Comfort
9
Topspin
9
Touch/Feel
8
Volleys
9
Overall
8.5
Andy's Scores
Power
7.8
Serves
7
Control
6.5
Groundstrokes
7
Maneuverability
8
Returns
6.8
Stability
7
Slice
6
Comfort
5
Topspin
7.8
Touch/Feel
6.5
Volleys
8
Overall
6.7
Playtester Profiles
Chris: 5.0 all-court player currently using the Volkl C10 Pro 2012. Chris uses a full-western forehand grip, has a fast swing style and hits a one-handed backhand.
Mark: 5.0 lefty all-court player with a one-handed backhand. He currently plays with the Dunlop Aerogel 4D 200.
Andy: Open level all court player with a semi-western forehand grip and a two handed backhand. Andy currently using a Yonex RDiS 100 Mid.

Review date: April 2013. If you found this review interesting or have further questions or comments please contact us.
All content copyright 2013 Tennis Warehouse.