Slazenger V100 Team Racquet Review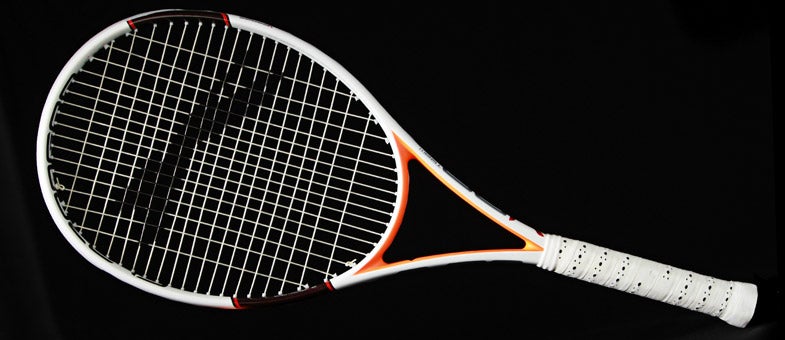 Slazenger V100 Team Racquet Scores
Comfort
75
Touch/Feel
80
Serves
84
Groundstrokes
80
Returns
78
Slice
80
Topspin
81
Volleys
82
Overall
80
Upsides
Access to power
Super maneuverable
Control
Cosmetics
Downsides
Slightly unstable
Unforgiving out of the sweetspot
Summary
After a thorough playtest, the Slazenger V100 Team proved its performance was sharp with a modern edge -- just like its beam design and cosmetic finish. Underneath the attention-grabbing paint is a racquet that is maneuverable, powerful and able to hold up against big hitting opponents. When our players made contact in the sweetspot the racquet came through the contact zone like a wrecking ball, leading to easy access to power and spin. However, when hitting outside the sweetspot it proved to be a little harsh and unstable. Most of the team really enjoyed serving and volleying, where it felt the most solid and easy to maneuver. With that said, if you're an all-court player who likes racquets with a little more weight toward the tip, we recommend giving this new offering from Slazenger a try.
Groundstrokes - Score: 80
Our playtesters found more power and stability than they thought they would get from from this 10.4 ounce racquet, but they also found that it wasn't very forgiving when an off-center shot occurred. Brittany used the easy access to power to generate depth, but also felt the discomfort of mis-hits. She said, "When I looked at the specs of this racquet I was unsure exactly how this playtest would turn out. To my surprise, I ended up impressed. The first thing I noticed was the power. It was very easy to take an aggressive cut at a ball that had pace and some spin. I enjoyed hitting nice deep balls whether I was on offense or defense. There was a little unpredictability when it came to depth, but that went away the longer I played with the racquet. Lastly, the racquet was a little on the stiff side and could be a tad uncomfortable when I hit outside the sweetspot."
Jason had a similar opinion to Brittany. He said, "I found this racquet to play with more power and stability than I would've expected from a 10.4 ounce racquet. That being said, this is not a powerful racquet relative to all other racquets on the market. I would be taking full cuts at the ball and I still found it tough to put away shots, but I think that's just from the lack of overall mass. I liked the nice spin on my topspin shots from both wings. The sweetspot was pretty generous, but if I hit outside of it, especially near the tip or the throat, there was a big drop in power. It wasn't the best on my slice shots either, and they tended to float on me."
It took little time for Karly to adjust to this racquet, and once she did she had many of the same opinions as the rest of the team. She explained, "You could say it was simple to get into the swing of things with the Slazenger V100 Team. It was easy to play with this racquet right off the bat because it felt light and maneuverable, and it generated pace easily. Aside from being lightweight and easy to swing, the thing that stood out the most at the baseline was how powerful the frame was. It was so simple to fire hard shots back. Though it was easy to produce so much power, I didn't think it was overbearing; I was still able to get an OK amount of control as well. The biggest downside for me was the consistency of the racquet. It was pretty clear when I didn't hit in the center of the sweetspot because the racquet felt extremely dead, and my shots lost a ton of pace. There was such a big difference with the amount of power from the middle of the sweetspot compared with the outside of it that it caused me to play erratically. Hitting the ball directly and consistently in the sweetspot was something I had to focus on more than usual."
Chris found the right string setup and enjoyed the feel of the V100 Team from the baseline. He offered, "I was really surprised at how much I liked this racquet off the ground. It felt very stable and solid for its weight. I was able to find good depth and pace with minimal effort. The stringbed offered good bite, and I was finding lots of spin. I tried several co-poly strings in this racquet and really liked it with a soft co-poly like Dunlop Black Widow of Topspin Cyber Flash. I liked the way I could drive through the ball with this racquet and still find lots of control and feel. My backhand slices were skidding and staying low, and I felt like I could put the ball anywhere with it. I liked the way my ball was moving through the court when I hit with topspin, and I could find some nice angles, too."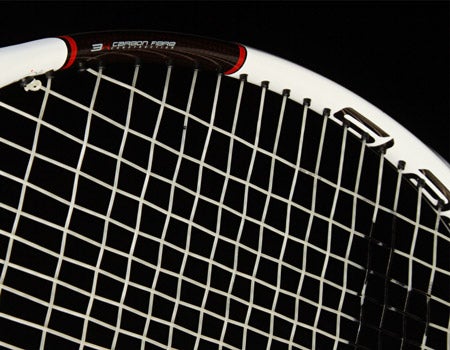 Volleys - Score: 82
Most of our team felt the V100 Team really excelled around the net. The racquet helped Chris with any volley he decided to hit. He said, "This racquet offered a good blend of stability and maneuverability. It felt light and fast, yet it was also plenty solid at contact. Feel was good, and I found myself feeling well connected to my drop and angle volleys. This racquet also had enough mass to help me find the power to punch the ball away when I wanted. I really enjoyed this racquet at net and looked for every opportunity to attack the net with it."
Brittany also had some excellent results with this racquet at net. She said, "The Slazenger V100 Team felt very crisp up at net. I could hit a variety of shots, from a reflex volley to a put-away volley. I found the racquet to be very stable, and it was never pushed around. I had some of my best pick-up volleys ever with this racquet. I can't say enough good things about this racquet at net."
"I really liked it up at net," concurred Jason. "As with my groundstrokes, I found good torsional stability. Touch and spin were impressive as well. My knock would be that the racquet does get pushed around a bit by bigger hitters, but that's understandable considering the weight."
Karly really liked the pop this racquet had to offer, along with how easy it was to wield, but she once again found the power to really die off outside the sweetspot. She said, "The maneuverability was impressive at the net. It was so simple to move the racquet back and forth to get to each volley. The access to power at net was similar to what I found from the baseline, and it came naturally. Hitting volleys with a lot of pop was extremely easy with this maneuverable racquet. I especially loved hitting overheads, with that great combination of power and maneuverability. Though the racquet was really easy to use for volleys, I thought it lost its stability closer to the net. I didn't think it felt as secure on volleys as it did on groundstrokes, and it felt more unsteady when making contact. That instability was also magnified if I hit outside of the sweetspot. Hitting near the frame of this racquet had a completely different response than hitting in the middle of the stringbed, and that made it tougher to hit consistent shots."
Serves - Score: 84
There were mixed feelings when it came to serving with the V100 Team. Karly explained that though serving was her favorite shot with this racquet, she still felt the discomfort on shots hit outside the sweetspot. "Serves were by far my favorite stroke with this racquet," she said. "The combination of power and maneuverability prevailed again, and I loved how easy it was to hit hard serves without wearing out my arm. I also found better control with serves than other areas of the court. It was really easy to hit out wide or down the T. There was also great access to spin; it was extremely easy to produce a hard hit kick serve. The only thing I wish was better was the erratic response when hitting outside the sweetspot. There was such a drastic change in feel that it was immediately obvious when I didn't hit in the middle of it. My serves felt unpredictable, and I lost a lot of pace and control."
Brittany found extremely favorable results while serving with this racquet. She said, "I loved, loved, LOVED serving with this racquet. First things first, my first serve was big and consistent. I enjoyed hitting flatter first serves, with the most success up the T on both sides. This serve was very effective in doubles, and I won a lot of free points with this racquet."
Chris got an extra boost of confidence serving with the V100 Team. He explained, "This racquet worked well for me on serve. Just as with my groundstrokes, finding pace and spin was easy. I was serving consistently, too, which made this a very good serving racquet for me. I felt confident going for broke, even when the match got tight. While I don't have the biggest serve among the testers, I felt like I was putting some good stick on the ball and starting out points aggressively."
Jason liked the precision he felt when serving with this racquet, but he wished for a little more power as well. He said, "I liked how I was able to be consistent, but I wish I had more mass to help with generating pace. I'm not a big server to begin with, so any help I can get is appreciated. Directional control and placing serves where I wanted was good, though."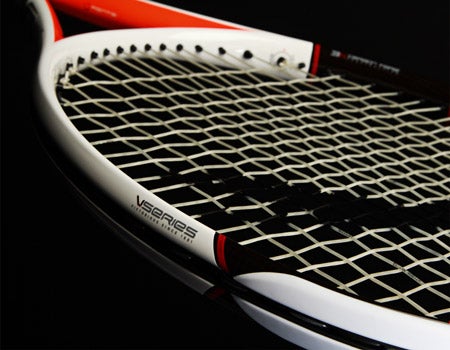 Serve Returns - Score: 78
The V100 Team was enjoyed by the testers while returning serves, but most of them had an issue or two with it. Jason felt some instability when returning against a bigger server, noting, "I could definitely feel this racquet get pushed around, and even twist in my hand, as I tried to return a big first serve. When I was pulled out wide any shot that hit around the tip of the racquet would drop in power dramatically. I found my returns to be more erratic than my groundstrokes were; some returns went 5 feet past the baseline, and with the same stroke on a similar ball, the ball would barely land past the service line."
Brittany also felt the twisting and turning of the racquet on returns. She said, "My one small knock on this racquet was, unfortunately, the return. Since this is one of my best shots I was disappointed with the slight lack of stability that I found. This was the one shot where I felt that the racquet was getting pushed around, especially when I was returning a hard or high kicking serve. It did have some positive qualities, though, and I thought I could place the return fairly accurately and really attack most second serves."
The effortless power was appreciated by Karly when returning serve. She said, "Putting the unforgiving sweetspot aside, the maneuverability and power made the racquet really easy to hit returns with. I could move the frame quickly and put loads of pace on the ball without much effort. If I had to reach out for a ball I could get excellent backspin for a hard-hit slice. I really enjoyed returning with this racquet because of the ease of power, mobility and spin. I just had to make sure to hit in the center of the stringbed, otherwise I couldn't hit much of an aggressive return and was usually immediately put on the defensive."
Chris enjoyed returning with this racquet a little more than the others. He enjoyed the maneuverability and the easy access to spin, which helped him hit different types of returns. He said, "A great racquet to return with, the V100 Team felt fast and easy to whip around. I found myself unloading on return after return with this racquet. When a tough serve came in I was able to punch the ball back while enjoying the solid feel. There was ample mass in the hoop of this racquet to help with power and stability, yet it felt so very fast. I was getting lots of spin, which helped me with consistency, as well as helping me hit some sharper angles. Down-the-line returns could be hit hard, too, because the spin allowed me to go higher over the net and still get the ball to drop in."
Overall - Score: 80
Likes
Chris - "I liked the maneuverability, spin, power, control, cosmetic and feel."
Jason - "I guess my best compliment would be to say that it doesn't play like a 10.4 ounce racquet; it plays with more stability and power than I expected."
Brittany - "I loved the feel of this racquet at the net and the ease of hitting big first serves."
Karly - "The V100 Team made for a pretty user-friendly racquet because of how easy it was to maneuver and produce power."
Dislikes
Chris - "None."
Jason - "Shots outside the large sweetspot resulted in significant drop in power. Tad too stiff for me as well."
Brittany - "If I had to be real nit-picky I would say the slight lack of stability, especially on returns."
Karly - "The racquet played pretty erratically and had no sympathy if the ball hit outside of the sweetspot; it was very unforgiving if I hit a ball near the frame."
Comparing the racquet to others they've tried, our testers said:
Chris - "This racquet is similar to the other new Slazengers. It's more maneuverable than the other new Slazengers, yet it also beats some of the others for stability. The Dunlop M3.0 comes close, as does the Wilson BLX Tour, but I think this Slazenger beats them all."
Jason - "It's similar to the Dunlop M5.0 or the Babolat Pure Drive Lite."
Brittany - "I found it played similarly to the Head Extreme 2.0 S, but I enjoyed the feel a lot more. I do think the Head is a tad more comfortable. It's also very comparable to its counterpart, the Slazenger V100 Tour, in terms of feel, control and maneuverability."
Karly - "The V100 Team reminded me a lot of the Wilson BLX Steam 100 because of how easy they are to swing and how easy it is to generate pace. However, I think the Slazenger had a little better stability than the Wilson."
Technical Specifications

Length
27 inches
69 centimeters
Head Size
100 square inches
645 square centimeters
Weight
10.4 ounces
295 grams
Balance Point
13.6 inches
35 centimeters
1 Pt Head Heavy
Construction
25mm / 25mm / 24.5mm
Composition
3K Carbon / Graphite
String Pattern
16 Mains / 19 Crosses

Babolat RDC Ratings

Score

Grade

Flex Rating
72
Range: 0-100
Swing Weight
321
Range: 200-400
Scores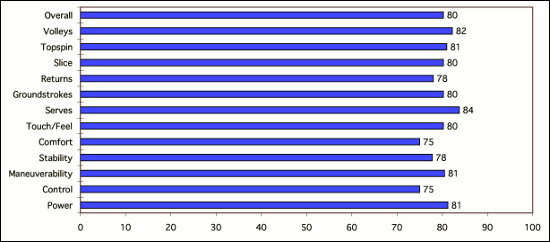 (Scores are determined by averaging individual play test scores)
Chris' Scores
Power
8
Serves
8.1
Control
7.9
Groundstrokes
8.2
Maneuverability
8.4
Returns
8.4
Stability
7.8
Slice
8.3
Comfort
7.8
Topspin
8.3
Touch/Feel
7.9
Volleys
8.3
Overall
8.2
Jason's Scores
Power
7.5
Serves
8
Control
7.6
Groundstrokes
8
Maneuverability
7.9
Returns
7.4
Stability
8
Slice
7.7
Comfort
7.3
Topspin
8.5
Touch/Feel
8.3
Volleys
8
Overall
8
Brittany's Scores
Power
8.6
Serves
9
Control
7
Groundstrokes
7.8
Maneuverability
7.7
Returns
7.4
Stability
7.6
Slice
7.7
Comfort
7.5
Topspin
7.8
Touch/Feel
8.4
Volleys
8.5
Overall
8
Karly's Scores
Power
8.4
Serves
8.4
Control
7.5
Groundstrokes
8.1
Maneuverability
8.2
Returns
8
Stability
7.7
Slice
8.4
Comfort
7.4
Topspin
7.8
Touch/Feel
7.5
Volleys
8.1
Overall
7.9
Playtester Profiles
Chris: 5.0 all-court player currently using the Volkl C10 Pro 2012. Chris uses a full-western forehand grip, has a fast swing style and hits a one-handed backhand.
Jason: 4.0 baseliner with a semi-western forehand and two handed backhand. Currently using a Wilson Steam 99 S
Brittany: Open level player with a semi-western forehand and a two-handed backhand. She currently plays with the Yonex V-Core 100S.
Karly: 4.0 baseline player currently playing with the Wilson nCode nTour. She hits with a semi-western forehand grip and uses a two handed backhand.

Review date: March 2013. If you found this review interesting or have further questions or comments please contact us.
All content copyright 2013 Tennis Warehouse.