Wilson Steam 105S 2013 Racquet Review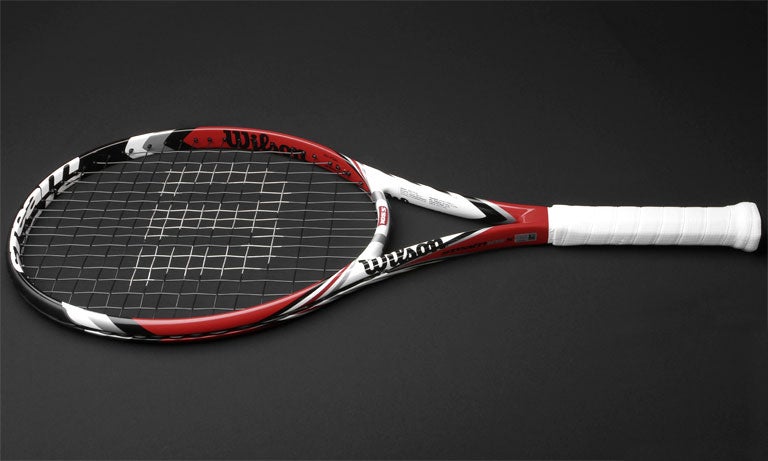 Wilson Steam 105S 2013 Scores
Comfort
77
Touch/Feel
73
Serves
80
Groundstrokes
79
Returns
77
Slice
80
Topspin
88
Volleys
73
Overall
77
Upsides
Remarkable spin potential
Power
Good stability for its weight
Summary
Wilson is bringing the heat with the Wilson Steam 105S. Designed with fewer cross strings for a more powerful snap back from the main strings, the stringbed provides more spin and a heavier kick from all areas of the court. A generous sweetspot and a larger headsize provide more than enough power, although some of our playtesters wanted a little more control. There was decent stability and feel, especially for a racquet in its weight range. With enough spin to slay any opponent, Wilson's 16x15 string pattern has opened the door for all sorts of racquets to have all sorts of spin. If you are looking to take the spin on your shots to a hard-to-believe level, then this is the racquet for you.
Groundstrokes - Score: 79
With its 105 square inch head size and 16x15 string pattern, the Steam 105 S offers excessive power and spin. Not quite finding the racquet to complement her playing style was Tiffani. She explained, "If there were ever a racquet to describe as fun and frustrating, this would be it. As Wilson promised, the Steam 105S does deliver the spin. Trouble is, I like to hit a pretty flat ball. I loved hitting crazy angle shots from the midcourt with this racquet, and the extra topspin and nice plow through (for a racquet in this weight class) were evident when I was hitting from the baseline. Although I'm more of a defensive player, I like to hit flat for a winner or to set up an easy put-away when I see a ball sit up. When I tried to hit flat with this racquet I often launched the ball way long. I also struggled with balls high out of my strike zone. It was easy for me to be late with this racquet. If I emphasized the topspin in my game and had time to set up and swing, I thought this racquet was great. Otherwise, it was just too unwieldy for my playing style."
Karly was sold on the new spin-friendly design. "It'd be a complete understatement to say the Wilson Steam 105S is spin friendly," said Karly. "Its name should be changed to 105ES for Extreme Spin. Before I even hit with this racquet I knew that it would generate a ton of spin because of the very open Spin Effect 16x15 string pattern, but I wasn't expecting this much spin. The amount of spin I could put on my shots so effortlessly was surprising, but spin wasn't the only thing it offered. The giant sweetspot packed a ton of power, and it took longer than usual to adjust to hitting with this racquet, as most of my shots were initially sailing long. The most difficult thing for me when hitting with the Steam 105S was the lack of control. I really had to rely on topspin to keep the ball in. Though the spin is what makes the racquet so much fun to hit with, the amount of spin and power that you can generate is unbelievable. "
"This definitely is one of the most interesting racquets I have ever hit with," said Brittany, who also noticed the extreme spin. "After a solid adjustment period (3-5 hours), I was able to get in a good rhythm with this racquet. With such an open string pattern it was very easy to get a ton of spin, which is needed to keep the ball in the court. This is a very powerful racquet with a large sweetspot. I found this to be a stable racquet when playing big hitters, although it was a bit stiff at times. Slice was effective, as I was able to keep it low."
Troy liked the spin potential but struggled a little with the higher power of the 105 square inch headsize. He said, "I found the larger headsize to be very forgiving on heavy spin groundstrokes. The extremely open string pattern allowed for easy spin production. This racquet was a little unstable when slicing the ball compared to some of the heftier player's frames I'm used to. The easy access to topspin was impressive, but not necessarily beneficial for my playing style. Often my forehand had so much topspin dip that the ball landed shorter than normal. I had to aim really high over the net to get the ball to land near the baseline. It was easy to hit with a lot of spin and to be consistent from the baseline, but I wasn't comfortable being aggressive. I had to hold back on groundstrokes in comparison to my Head Microgel Radical, which has a dense string pattern and a more low-powered feel."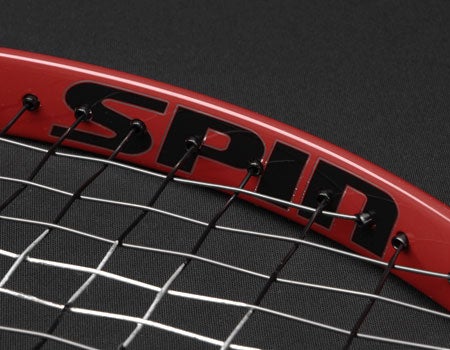 Volleys - Score: 73
There were some varied opinions about the Wilson Steam 105S at net. Some playtesters found great touch and stability, while others struggled with control. Looking for more weight and a solid feel, similar to what he normally plays with, was Troy. He said, "I wasn't getting the comfort and stability from this racquet at the net. The stability of this racquet against heavy shots was lacking for me. I felt the racquet fluttered a bit when I was stretched out and couldn't get my weight behind the racquet. On a positive note, I found the large headsize to be pretty forgiving, allowing me to get a lot of balls back in play. I didn't find the ease of depth and stick on my volleys that I get with heftier racquets. Overall, I could be consistent at net with this racquet, but I wasn't comfortable attacking and felt the racquet to be too unstable for my liking."
Brittany found more stability than Troy, but felt the racquet lacked control. "With such an open string pattern I didn't know what to expect on volleys. On the positive side, the Steam 105S felt very stable and solid at net. I definitely did not get pushed around. The big thing I struggled with was depth. I found the racquet to be a little unpredictable. When I was trying to hit deep it would go short, and vice versa. The feel was a little off when I didn't hit the sweetspot."
Tiffani felt comfortable with the amount of feel she was getting, despite a lack in control. She said, "I was surprised by the amount of touch I was finding because I was unsure what such an open string pattern would provide. I also found plenty of zing, but the racquet wasn't as mobile as I like. Because I found myself late on quick volley exchanges I didn't have good targeting or control."
"For me, volleys were the best shot to hit with this racquet," offered Karly. "I loved having the large surface area for making contact with the ball, and I thought it was really easy to maneuver at net. There was a ton of pop of my shots and the racquet felt crisp. Not to mention the sweetspot seemed unbelievably large, as I could get good power and feel when hitting outside the center of the stringbed. However, the lack of control was a downside for me. I thought that there was so much power that it was harder to place my shots. They often landed longer than I was hoping for."
Serves - Score: 80
With both power and spin evident on serve, the Steam 105S particularly excelled at letting our TW playtesters hit heavy second serves. Brittany thoroughly enjoyed serves with this racquet. She said, "My kick serve improved tremendously, as I was really able to get the ball to kick up above my opponent's shoulders. The 105S had good plow through, and I was able to hit heavy serves that landed deep in the service box. My first serve took a little getting used to, as I needed to get a feel for the combination of power and spin. I wasn't able to really go after a completely flat serve, so I needed some spin to keep it in."
It took Karly a while to adjust on serves with the Steam 105S, but she found it comfortable and forgiving. She said, "I had an especially hard time with control as well as getting used to the extreme spin. All the power it produced resulted in my first serves usually hitting long. I had to be careful when I tried to put a little bit of extra pace on the ball because it was easy to let the ball get away from me and soar long. There were several times when my second serve had too much arch and was floating in the air for too long. Once I got used to serving with this racquet I really enjoyed the comfort and very large sweetspot. The racquet allowed a lot of room for error if I hit off center. I felt like my serves still had good pop if I didn't hit directly in the sweetspot."
Finding the spin monster in himself was Troy. He said, "Serving with this racquet helped me to get more spin on my slice serves and more jump on my kick serves. I liked how my spin serves were enhanced with this racquet. The serve that I wasn't as confident hitting was the flat serve down the middle. I could get good pop on my flat serves, I just had a hard time dialing them in and hitting my targets. This is a great racquet for hitting spin serves and good kickers. In doubles I used heavy spin serves and kickers to buy me an extra second when serving and volleying, and this racquet worked great to complement that part of my game."
"This racquet's strung weight is right in my zone, but the swingweight (332 Babolat RDC) is higher than I like, and I really noticed it on serve," offered Tiffani. "I could start out strong, and when I was swinging fast enough the extra power and spin was noticeable. However, the reality is that I can't keep that up for the course of the match, so my serves began to come in weak. I also served long a lot of the time because I was not able to get enough spin on the ball to bring it down into the box. Just like on groundstrokes, it was fun but frustrating."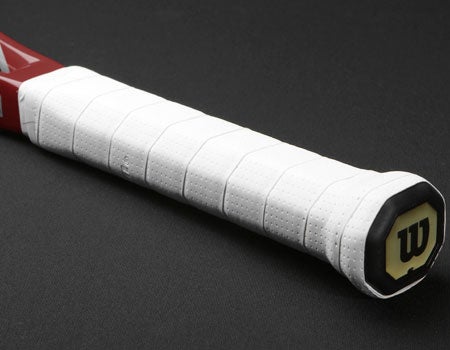 Serve Returns - Score: 77
Despite being slightly difficult to maneuver on fast serves, the Steam 105S provided more spin and a solid response for all of our testers. Karly found the spin and large sweetspot to be great on court, saying, "I felt more confident with this racquet when mixing up my shots and using different types of spins. When I wasn't able to get the racquet back in time I could still generate decent pace behind my shots, even if I wasn't able to hit the ball in the center. However, as from other areas of the court, control was difficult at times. If I hit a flat return back there was a big chance it was going long because of the racquet's high power level. Without any spin it was difficult to keep the ball in play when returning."
Tiffani was hot and cold when returning with the Steam 105S. She said, "Lately I've been playing with racquets that allow me to use a full swing on returns because they're so maneuverable. That's not the case here. I had to use a truncated stroke to be successful at all. Additional problems arose for me because I tend to hit flat, and this racquet didn't respond well unless I hit with some sort of spin. On the upside, I liked the weight and power I could put behind the ball when I made good contact. On the downside, good contact didn't come consistently enough."
Troy found the large sweetspot allowed him to return more balls than he typically would with a smaller headsize. "When playing singles I almost found myself getting lazy because the racquet was so forgiving! In doubles I had a little tougher time, since keeping the ball away from the net man is my biggest concern. I found that I could get a lot of balls back, but my placement and depth were lacking a bit compared to some of the more control-oriented sticks that I lean toward."
Enjoying the solid response, yet needing to spin her returns, was Brittany. "The stability came into play here, and the racquet felt solid when returning any opponent's serve. I did, however, need to make a mental note to add spin (which was easy to do with the open string pattern), otherwise my ball would fly at times. I felt I could hit controlled aggressive returns on second serves to get on the offensive from the start of the point."
Overall - Score: 77
Likes
Brittany - "I liked the stability and the access to spin."
Karly - "The incredible spin! This racquet blows others out of the water in terms of spin, which makes this racquet a lot of fun to hit with."
Tiffani - "When going for spin this thing is a machine, and it delivers that spin with more plow through than other racquets at this weight and headsize."
Troy - "Very user friendly from all areas of the court. I felt like I could camp out at the baseline, consistently hitting a heavy topspin ball."
Dislikes
Brittany - "The powerful racquet and the very open Spin Effect string pattern did not complement my game style."
Karly - "The longer transition period to get used to the extremely open Spin Effect string pattern. At first I really had to concentrate on controlling my shots or adding extra topspin to keep my shots from sailing long."
Tiffani - "I had to play with spin to make this racquet work for me, and that's not my natural game. Also, the butt cap really flares out and makes the grip feel big."
Troy - "The lack of feel and stability at net. The lack of control compared to the 18x20 stringbed that I usually play with. I could solve the stability issue if I were to add about an ounce of weight to this racquet."
Comparing the racquet to others they've tried, our testers said:
Brittany - "This racquet is very unique, and there are not a lot of racquets out there today like it. The closest racquet for me would be the Prince EXO3 DB Warrior Team. They both have very open string patterns, however, I found this racquet to be heavier (a good thing!) and much more stable."
Karly - "This is a tough one! The Steam 105S is like no other racquet I've tried. If I had to choose the closest, it'd probably be the Head Youtek IG Extreme S 2.0 and Youtek IG Radical OS in terms of comfort and feel."
Tiffani - "There really is nothing like this racquet in my racquet history. The closest experience to it that I have is the Wilson Steam 99S, which I prefer because it is easier for me to control. The ball flies off this stringbed and can impart more spin than anything else I've hit in this spec range."
Troy - "This racquet is unique, therefore it is hard for me to find a close comparison. I would say that the way this racquet is weighted, or as we often say, 'the way it feels in hand,' makes it feel like the Head Liquidmetal Radical Oversize; although on contact of the ball these two racquets are very different. As far as how this racquet plays, I found similar characteristics to the Prince O3 Red as well as to the Dunlop Aerogel 600. The spin potential of this racquet exceeds anything that I've tried before, but compared to a racquet such as the Radical Oversize, control was below par."
Technical Specifications

Length
27.5 inches
70 centimeters
Head Size
105 square inches
677 square centimeters
Weight
11 ounces
312 grams
Balance Point
13.06 inches
33 centimeters
6 Pts Head Light
Construction
24.5mm / 25.5mm / 25mm
Composition
Basalt
String Pattern
16 Mains / 15 Crosses

Babolat RDC Ratings

Score

Grade

Flex Rating
69
Range: 0-100
Swing Weight
332
Range: 200-400
Scores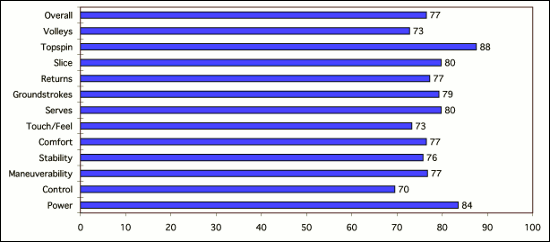 (Scores are determined by averaging individual play test scores)
Brittany's Scores
Power
8.5
Serves
7.9
Control
7
Groundstrokes
7.7
Maneuverability
7.4
Returns
7.5
Stability
8
Slice
7.6
Comfort
7
Topspin
8.5
Touch/Feel
7.6
Volleys
7.2
Overall
7.6
Karly's Scores
Power
8.4
Serves
7.9
Control
7.6
Groundstrokes
8.2
Maneuverability
8
Returns
7.9
Stability
7.8
Slice
8.5
Comfort
8.1
Topspin
8.7
Touch/Feel
7.9
Volleys
8.2
Overall
8.1
Tiffani's Scores
Power
8.3
Serves
7.6
Control
6.7
Groundstrokes
7.8
Maneuverability
7.3
Returns
7
Stability
8
Slice
8.8
Comfort
7.7
Topspin
8.8
Touch/Feel
7.8
Volleys
7.2
Overall
7.4
Troy's Scores
Power
8.2
Serves
8.5
Control
6.5
Groundstrokes
8
Maneuverability
8
Returns
8.5
Stability
6.5
Slice
7
Comfort
7.8
Topspin
9
Touch/Feel
6
Volleys
6.5
Overall
7.5
Playtester Profiles
Brittany: Open level player with a semi-western forehand and a two-handed backhand. She currently plays with the Yonex V-Core 100S.
Karly: 4.0 baseline player currently playing with the Wilson nCode nTour. She hits with a semi-western forehand grip and uses a two handed backhand.
Tiffani: 4.0 level baseliner with a semiwestern grip on the forehand and hits a two-handed backhand. Currently playing with the Tecnifibre Rebound Pro.
Troy: 5.0 lefty all-court player with a full Western Forehand and a two-handed backhand. Troy currently plays with a Wilson BLX Six.One 95 18x20 (2012 version).

Review date: January 2013. If you found this review interesting or have further questions or comments please contact us.
All content copyright 2013 Tennis Warehouse.