Prince Synthetic Gut String Review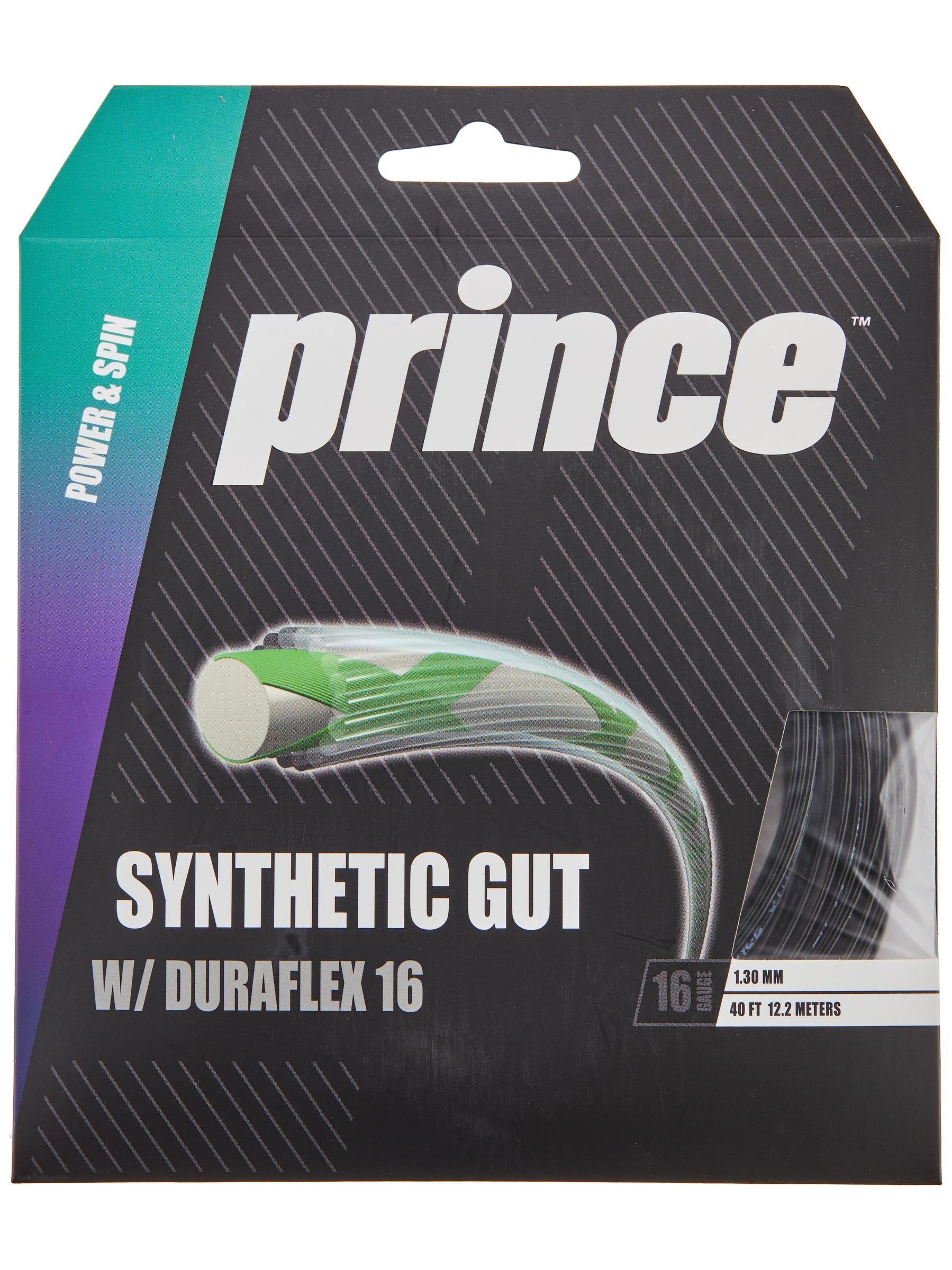 Prince Synthetic Gut String Scores
Power
79
Spin
75
Comfort
85
Control
70
Touch
73
String Movement
55
Playability Duration
75
Durability
60
Overall
72
Upsides
All around playability
Great value
Downsides
Not enough durability and control for poly players
Not enough comfort and power for multifilament players
Summary
In an industry that is always launching new strings, it is nice to see the dogged persistence of a true classic, Prince Synthetic Gut with Duraflex. Unlike Babolat RPM Blast, Prince Synthetic Gut doesn't have a high tech silicone coating to maximize spin. And unlike Wilson NXT Tour, it isn't packed with over a thousand fibers to soften ball impact and boost power. What it does have, according to our playtest team, is enough all-around playability to satisfy an impressive number of players. While our team did not give it a top score in any one category, they agreed that this string lacked the downside of many niche strings, which often force the player to sacrifice one aspect of performance to gain in another. For this reason we think Prince Synthetic Gut is the ideal "starter string" for the player who needs decent comfort, spin, power, and control, if not outright excellence in any one area. The real magic of Prince Synthetic Gut, however, is that it has a dedicated following of people who started playing with it long ago but still have not found a reason to switch to another string. Once you factor in the price, it's easy to see why this is one of the best value strings of all time.
Power - Score: 79
For our two playtesters, Prince Synthetic Gut with Duraflex not only had enough power to provide easy depth, it also had the needed comfort to allow our team to string tighter for more control. Not surprisingly, Chris, a fan of stiff polys, had the most success using higher tensions. He said, "The level of power was solid with this string. I found it to play deader than gut or a multifilament, but more powerful than a poly or co-poly. It was very easy to hit with both pace and depth. I actually increased my preferred tension around 7 lbs to dial in some of the power. Even at a higher tension, I was still able to get plenty of juice out of this string. I liked the gradual drop off of power on off center hits, and the power level felt very consistent in its decline as I moved away from the sweetspot. Back in college I used to string this stuff around 72 lbs to lower the power level, these days I'm in the low 60 lbs range since I no longer generate as much racquet head speed."
Mark also had to increase the reference tension to get the power level right. He said, "I took the tension up a little more than usual to keep the strings in place, and to drain a bit of the elasticity out of the set up to gain more control. Compared to a full set of a poly, this string provided more help (power) getting the ball to the back of the court. Compared to a full set of the Prince Premiere LT (or another top notch multi), I would say this Duraflex Synthetic gut is a little less power oriented."
Spin - Score: 75
Though not as spin-friendly as his typical polyester, Prince Synthetic Gut with Duraflex gave Mark surprisingly good spin. He said, "Access to spin was a breeze, so to speak, with either frame I tested the string in; a tight rotation of slice/topspin was the result. The 16 gauge Prince Synthetic Gut with Duraflex grabbed hold of the tennis ball pretty much the way most of the other strings I use do. Besides seeing the rotation on the ball, the other evidence of topspin is how much ball fuzz is left on the indoor court here, which is quite a bit with this string."
For Chris, the spin did not match his favored Volkl Cyclone, but it was good enough to get the job done. He said, "My level of spin was average with this string. I found better spin with a higher tension -- simply because I had reduced the power level and could swing faster without losing control. I had to get used to straightening my strings again after hitting heavy spin since the string doesn't snap back like a poly. Still, both topspin and slice shots were coming off the racquet with enough action to do their job, and I was able to swing confidently."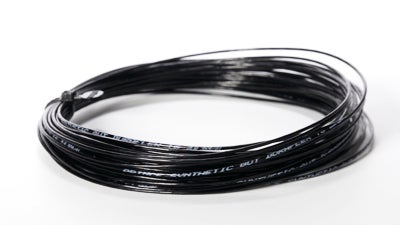 Comfort - Score: 85
Though not as soft as Babolat VS Team or Tecnifibre NRG2, our team found Prince Synthetic Gut with Duraflex to be quite comfortable. Mark was impressed by the feel, saying, "This is a very 'easy on the arm string,' as I have played with this string for much of my tennis playing life. Only in the last several years have I moved to a poly set up. Now I use lots of hybrids, and this string adds comfort to the sometimes harsh feel of a full set of poly."
"Like power, comfort for me felt midway between a poly and a multi string," said Chris, who, as usual, provided sound tension advice. He continued, "At higher tensions I liked the crisper feel of the string. I was able to firm up the stringbed nicely and get closer to a poly-like feel. Even at a higher tension, this string offered better comfort than the vast majority of poly based strings. Shanks never felt overly jarring and the string pocketed the ball decently. This string would definitely be a good (and affordable) way to soften up a poly main string as a hybrid cross string. On the flip side, it would also lower power and add some crispness as a cross string with a multi main when compared to a full multifilament stringbed. This string is likely to lower the cost of each stringing in pretty much any hybrid. It is a great way to reduce the cost of an expensive main string since you'll only be using a half set of it combined with a half set of this very affordable synthetic gut."
Control - Score: 70
Unlike Gosen Polylon or Kirschbaum Super Smash, Prince Synthetic Gut with Duraflex does not have the ultra low-powered response of the now very popular polyester based strings. This means that it's not ideal for taming the long, fast strokes of advanced poly players like Chris. He said, "I have grown to love the control of poly strings and never quite found that level of control with the Prince Synthetic Gut. Higher tensions got me close, but I never got the spin and dive on the ball that helps very aggressive shots stay within the lines with a poly string. I had to be a tad more careful on passing shots, lobs and approach shots since I couldn't flirt with the lines as much. When rallying from the baseline the control was fine. The biggest difference was when I had to go for a little extra. It was easier to miss my target long with this string than with my usual poly set up. I hit several different colors, as well as the original (non Duraflex) version. I liked the purple and black Duraflex versions the most. The difference is almost impossibly slight, but the black always felt a tad crisper."
Finding slightly more control than Chris, Mark said, "I like this synthetic gut, not only because it is comfy on the arm (it is), but also because the Duraflex string does not create too much of a launch (power) off the stringbed. This gives it pretty good control, on the spectrum somewhere between a powerful multifilament and a firm poly."
Playability Duration - Score: 75
Like all tennis strings, Prince Synthetic Gut with Duraflex eventually loses too much tension and the performance declines. This wasn't a problem for Chris, who explains, "This is a string I break before it drops too much tension and playability. The Duraflex version lasts a little bit longer, but I'm still going to break it before it goes dead."
Mark noticed some changes in performance, but also snapped it before tension loss became a real problem. He said, "I am used to the tension dropping since I play with a poly, but the tension did drop more with this string than I had expected. I always do the, 'ting test,' hitting one frame against the other's stringbed, and listen to the pitch. I strung up a few of my frames at different times, with the same gauge/tension, and the ones I strung later exhibited noticeably tighter stringbeds compared to the ones that had been played with (maybe a 2-3 pound drop). In terms of durability/playability; it played consistently and predictably until it snapped, so I really did not notice a drop in performance prior to the string snapping."
Overall - Score: 72
What type or player would you recommend this to?
Chris - "This is the string I started with. Not only is it a great starter string, it offers great performance for its value. In college I used Prince Synthetic gut, as did the rest of the team, and we would string it very tightly for enhanced control. At lower tensions it offers solid power and comfort. In that regard, this is very much a string for everyone, as it can easily be tailored to suit taste by adjusting the tension. This string also makes a great choice as a budget cross string in hybrids."
Mark - "With that middle of the road level of elasticity (string power), I feel the Prince Synthetic Gut with Duraflex string benefits a wide range of player needs. Obviously, this is a good option if a player has a chronically sore arm (tennis related), as this is not a string type that will increase the discomfort. Being that it is somewhat control oriented, it works well as a hybrid string for the stronger player, pairing it with a poly. On the flip side, my Mom is 82 and still plays, and this is a string that complements her set up/swing style perfectly. For anyone jumping into the game, or like most of us who play recreationally, this particular synthetic gut is a top notch choice."
Likes
Chris - "I like the fact there are many color options, the price is great and the all around playability is pretty solid."
Mark - "A great all-around string that performs well in a variety of different configurations (hybrids, full sets, etc.). Great price for the performance and feel."
Dislikes
Chris - "Doesn't offer the control and spin of a poly, but that is what makes poly special."
Mark - "This is something that cannot be blamed on Prince, but ink color does seem to have some effect on how a particular string plays/feels. The Duraflex Synthetic gut strings come in all the colors, like Lifesaver's candy, and they all play slightly different. I preferred the white, pink, black or platinum over the other other colors."
Comparing the string to others they've tried, our testers said:
Chris - "This is still the leader for me in synthetic gut. I like the feel and slightly longer life of the Duraflex version, but Original is not far off. Today, everyone has their own version of Prince Synthetic Gut, but this one will always hold a soft spot in my heart since I have such a long history with it."
Mark - "I am also a fan of the Gosen OG Sheep Micro natural color, which along with the Duraflex string, is underrated, and I feel they are both a great value. I do not feel that they play precisely the same, and this is because the Duraflex string has a unique feel to it, but they're still comparable."
Scores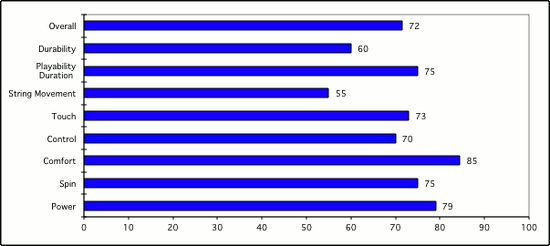 (Scores are determined by averaging individual play test scores)
Chris' Scores
Power
7.8
Playability Duration
7
Spin
7
Durability
7
Comfort
7.9
Control
7
Touch
7.6
String Movement
5
Overall
7.3
Mark's Scores
Power
8
Playability Duration
8
Spin
8
Durability
5
Comfort
9
Control
7
Touch
7
String Movement
6
Overall
7
Playtester String Setups
Chris:
Racquet: Volkl C10 Pro
Playtest Tension: 62 lbs
Usual String: Volkl Cyclone 16
Mark:
Racquet: Wilson BLX Steam 99/ 99S
Playtest Tension: 59 lbs
Usual String: Babolat RPM Dual

Review date: June 2013. If you found this review interesting or have further questions or comments please contact us.
All content copyright 2013 Tennis Warehouse.