Prince Speedport Black Tennis Racquet Review
The name is Black, Speedport Black.
With the Speedport Black you can have it shaken or stirred, as this racquet comes with two different sets of Speedport Tuning systems to better suit your taste.
Prince's latest technology - the Speedport Tuning System - helps to better accommodate an individual's preference by simply changing the grommets.
One system, the String Port Insert, allows movement of the strings for a more dampened feel, while the other, the String Hole Insert, acts more traditionally, hindering string movement while offering more string feedback. Both sets allow for the player to benefit from the aerodynamic Speedports.
The Speedport technology is an already proven success with the introduction of the Speedport Red, Blue and Silver racquets. Prince has now upped the ante with the Speedport Tuning System, offering it in both the Speedport Black and Speedport Tour models.
We sent our testers out for a three-week field assignment to see if the Speedport Black had a license to win.
Groundstrokes
Our testers found a nice solid feel and lots of spin production from the baseline with the Speedport Black. However, several testers reported having trouble finding consistent depth on groundstrokes. Spencer was surprised by the amount of power he found hitting with the Speedport Black. "The Speedport Black was a solid feeling stick from the baseline. Maybe too solid. There were some issues with feel and touch shots. On a few occasions I would hit what felt like a deep penetrating stroke that felt like it would certainly be in, only to watch it sail just beyond the baseline. This racquet offers a lot of power, seemingly more than what the specs might indicate. Strung with a co-poly string, access to spin was excellent. Again, I liked the solid feel and large sweetspot, though I was not so excited with some of the inconsistencies of my game while using this racquet." Ryan S was in agreement. "The Speedport Black was a great racquet from the baseline. I liked the feel of the racquet in my hand. The spin I generated was more than generous, too. Depth was a bit of an issue, but not a huge one. Consistency was also a little bit harder to come by with this racquet, especially with soft, powerful strings. I liked having polyester in this one. With the Speedport Tuning system, I felt the racquet was very springy and almost too lively. With the String Hole Insert my groundstrokes felt easier to control."
Granville liked the feel but had to make some initial adjustments. "The Speedport Black lives up to its potential as a true player's stick. From the first strike I could feel the ball sinking into the stringbed and launching the ball... into the bottom of the net. It felt great. That's right, I was enjoying the sensation of these unforced errors. Hey, that's what a playtest is for! After some adjustments in targeting I re-acquired my precision and was driving the ball deep into the court with comfort and precision. After an hour or so I could rally from the baseline all day long, bread and butter, with confidence. With the String Port Inserts I sensed a slightly softer response, similar to adding a vibration dampener, though not as pronounced".
Chris liked the spin production, but was more comfortable hitting flat shots for more consistency. "This felt like a very fast racquet off the ground. I was able to generate a lot of spin - both when hitting topspin and when hitting slice. I had a little trouble gauging the depth of my shots when hitting with heavy topspin and actually preferred hitting flat or with slice. When hitting my topspin forehand I had a tendency to hit a little short and it took my full concentration to be consistent. As the test progressed I started to get a better feel for the racquet and enjoyed it a little more, but I never felt like I could relax much with this stick. I thought both tuning systems had positives to offer. The String Port Insert offered some nice dampening and felt very comfortable. With the String Hole Insert I found a tad more feel from the racquet." Jason enjoyed the spin this racquet produced. "A fairly powerful racquet from the baseline, especially for an 11+ ounce racquet that's 5 points head light. The word "penetrating" comes to mind. I like how much spin I can generate with this racquet, but even with the generous topspin a few shots were landing long. I felt a loss of control when I really wanted to go for the big shots. I really enjoyed hitting slices with this racquet because I could create a lot of action on the ball."
Volleys
Offering a large sweetspot and a firm feel, the Speedport Black garnered plenty of positive feedback from our playtest team at net. Chris felt he could be aggressive and attack volleys with the Speedport Black. "My favorite shot with this stick was the volley. I liked the power level and maneuverability at net. I was able to hit my volley with some nice pop, enabling me to quickly end points. I was finding my targets with both tuning systems and really enjoyed the response from the racquet." Ryan S. felt the weight was perfect for volleying. "Volleying with this racquet was great. The weight of the racquet is pretty ideal for volleying, with just enough weight to keep it from twisting in my hand but not so much that there is no maneuverability whatsoever. Depth was easy to come by and punching volleys was very comfortable with great results. I liked volleying with this one."
Jason liked the combination of weight and string pattern for a more confident feel at net. "After hitting a few volleys with this racquet I could feel an improvement in my net game. It offered great comfort and maneuverability. The weight helped control the pace of the balls, while the open string pattern helped reduce the bounce on half volleys and pick up volleys." Spencer enjoyed the large sweetspot and maneuverability. "Volleying was one of the strong points for me with this racquet. A large sweetspot and nice stability made it rather easy to hit penetrating, fast paced shots at net. This racquet was easy to maneuver as well." Granville found the Speedport Black to fit all the requirements for net play. "This racquet was solid, firm and maneuverable, and it had a generous sweetspot. Not much to dislike here. The five points head light balance did not slow me down at the net (as I had anticipated), probably due to the lighter overall weight (11.3 ounces). The headsize is a generous midplus at 100 sq. inches. I was instantly comfortable with this racquet at net."
Serves
Serving with the Speedport Black proved to be impressive, with a noticeable increase in power and more than adequate spin being found by most of our team. Spencer was impressed with the variety of power and spin the racquet provided. "This was by far my favorite part of playing with the Speedport Black. There was plenty of power in this racquet, and unlike my groundstrokes, my serves were very consistent. Because of the tremendous spin that I was finding, I was able to hit more effective second serve kickers. With increased confidence, I was able to swing with more verve on second serves, which in turn added a more relaxed velocity to my first serve. Basically, I was much looser while serving, creating livelier, more consistent serves." Jason liked the power of the Speedport Black while serving. "Where I found too much power hitting groundstrokes, I really appreciated it on serves. My first serve was a bit inconsistent at times, but I could always rely on the nice second serve slice this racquet helped me produce."
Granville liked the controlled pace that the Speedport Black supplied. "This is probably the one shot that really got my attention. With the String Hole insert I felt like I was getting better "pop" on the ball. The ball seemed to jump off my racquet and my targeting was spot on. It seemed to be especially potent on the wide serve from the ad side. As with the String Port system, I really enjoyed serving with this racquet. I can only presume that it is the Speedport system that gives the sensation (real or perceived) of a bit more power and "pocketing", providing that extra bit of control."
Chris found success when serving up the "T". "As when hitting groundstrokes, it felt like I was generating a lot of racquet head speed with this stick. I liked the amount of pace and spin on my serves and was definitely enjoying plenty of zip. My favorite serves with this racquet was when going down the 'T' on both the ad and deuce courts. I was able to get a nice mix of pace and just enough spin for consistency."
Ryan S. had trouble finding consistency with the Speedport Black. "Serving was an interesting beast. I served well on a couple of days and not so well on others. However, spin was very good and comfort was very good, too. Pace was pretty good as well. Again, I just had problems with consistency, especially when switching between the two tuning systems. The String Holes insert felt much better for accuracy but pinged very loudly, which I found annoying. I was just all over the place with the String Port insert. Overall I found great spin and power from this racquet, but consistency was just difficult for me to find."
Serve Returns
Our team felt a bit more heft might have added a bit more stability and consistency on returns. Ryan S. felt his returns would have been more successful with weight added to the racquet. "This is the only area that I thought a touch more weight would have been better. On harder serves, this racquet was not as solid through contact as I would have liked. Overall though, when returning serves this racquet did very well. I was able to swing and get pretty good control. I found better consistency when returning, strangely, than with the other aspects like groundies and serves."
After adjusting to the maneuverability of the racquet, Chris was aggressively confident when returning. "I liked the mobility of this racquet when returning. The first few swings I was ahead of the ball, as the racquet was coming around so quickly. I soon made the adjustment and returned well from then on. I was able to return with good angle and pace during doubles matches. I enjoyed hitting hard flat returns with this stick. There was some nice pop to help out on defensive returns, too. I was able to block the ball back deep, even when stretched wide. I had fun hitting returns with this stick no matter what the situation."
Jason liked this racquet for defensive returns, though he felt the Speedport Black didn't respond as well offensively. "I was torn on the service returns. I liked it for blocking back shots to the body, where I had no other option. But for serves where I felt I could take a rip, the racquet felt sluggish." To the contrary of Jason was Granville. "As always, the serve return is largely dependent on good stroke production, and the O3 Black is no exception. It is a bit lighter than I am accustomed to so my defensive "blocking" of the ball may have been slightly diminished with the ball falling a little shorter in the court. Offensively, it was a very capable racquet offering a good solid punch on either side. I was able to do just about anything I wanted with the Speedport Black. The only thing it lacked (for my game) is an extra ounce of mass. BUT - that can be overcome with some properly placed lead tape."
Spencer felt issues of consistency on return of serve. "It was very hit and miss when returning. At times, I could make aggressive returns effectively, while other times I couldn't keep the ball in the court. Of course, this is partly the player and not the equipment, but by the same token, I have had more consistency with other racquets. Suffice it to say, I had consistency issues when returning with the Speedport Black."
Which grommet tuning system did you prefer?
Jason preferred the feel of the String Hole Insert. "I liked the string hole grommet system better. It didn't feel the same as a racquet with traditional grommets, but it had similar characteristics. The feedback and response was much better than that of the String Port system."
Granville liked the response fo the String Port Insert. "I prefer the standard String Port insert, as it provides a bit crisper response. The difference between the two grommets seems most pronounced on the serve."
Chris found likeable attributes in both. "It was a tough call for me to pick between the two tuning systems. I liked the feedback from the String Hole inserts, but preferred the sound from the String Port inserts. In the end, I was able to get the sound I was looking for by adding a vibration dampener to the racquet with the String Hole insert, making it my preferred choice out of the two."
Spencer had issues with sound and feel. "I know the String Hole inserts are supposed to enhance feel and feedback, which would make sense for me to prefer because of my comments. However, during this playtest, I actually preferred the String Port insert. I would say for the most part, it was the pingy sound and feel of the String Hole insert that I didn't like. I felt it hurt my focus and concentration, thus hurting my play."
Ryan S. was on the fence. "Personally, the String Port Insert was a little harder to control. I disliked the pinging that resulted in the version with the String Hole Insert, however, this seemed easier to control consistently for me. But to disagree with myself and complicate it more, when I played with poly in the String Port Insert I was much more consistent than with the soft, powerful strings. It's close. I'll go with 55-45% in favor of the String Hole Insert."
Overall
When it came to hitting serves, volleys and returns, the Speedport Black was a hit with our team - and is probably why it is the racquet of choice for the world's #1 doubles team, Bob and Mike Bryan. From the baseline, a nice feel with inconsistent results seemed to be the consensus. Baseline rallying aside, a noticeable increase in power on serves with plenty of controlled punch at net made for a deadly doubles stick. When it comes to selecting which Speedport Tuning system to use, it all comes down to personal preferences for sound and feel - we suggest trying both before settling on one. Whichever grommet system is preferred, there is no doubt the increased swingspeed we found from the Speedport technology provides plenty of power to each stroke.

Last Shots from our playtesters
Granville "One feature of the Speedports came to light during this playtest, that being the response near the frame edge. With a standard racquet you will not get much response at or near the edge of the stringbed where it meets the frame. With the O3 racquet, you are going to get a bit more response at the perimeter of the stringbed due to the power holes extending the stringbed to the outside of the frame. A very solid racquet with all the technical elements to offer the serious player an opportunity to take their game to the next level."

Chris "To my surprise, I much preferred this stick strung with Prince Synthetic Gut Multi over any of my usual favorite co-poly strings. I liked the increased feel from the stringbed with the Prince string and I thought it was a really good match for this racquet."

Spencer "My expectations were pretty high coming into this playtest, as the Speedport Black's specs are right in line with my preferences. I like swinging it, and don't know that I've experienced a better serving racquet, but there's not enough consistency with the groundstrokes. I would certainly recommend it as a doubles stick. Great at net as well as the serve, it makes sense."

Ryan S. "Overall I really liked this racquet. It had good weight and a nice swing weight. Swinging was effortless. Good pace and depth with a nice bonus of good spin. Consistency though? Where was it? Especially the version without the regular grommet holes."

Jason "A good stick that worked for me best during doubles and serve and volley points. I found the racquet to be too erratic from the baseline, with shots spraying a bit and landing long. I anticipate a strong response from 4.0+ players that enjoy the dampened feel, because the Speedport holes provides a softer stringbed."
Speedport Black scores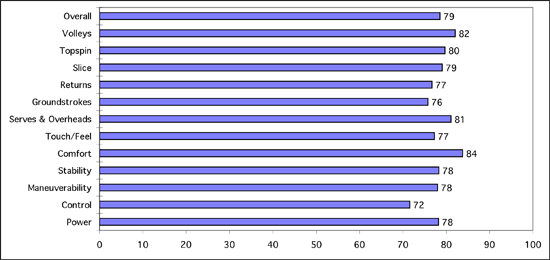 (Scores are determined by averaging individual play test scores)
Technical Specifications

Length
27 inches
69 centimeters
Head Size
100 square inches
645 square centimeters
Weight
11.3 ounces
320 grams
Balance Point
12.875 inches
33 centimeters
5pts Head Light
Construction
23-22-22 mm Tapered Beam
Composition
GraphitExtreme / Copper / Titanium / Tungsten
String Pattern
16 Mains / 19 Crosses

Babolat RDC Ratings

Score

Grade

Flex Rating
70
Range: 0-100
Swing Weight
327
Range: 200-400
Playtester Profiles

Chris
5.0 baseline player currently using the Babolat Pure Drive Roddick. Chris uses a full-western forehand grip, has a fast swing style and hits a two-handed and a one-handed backhand.
Granville
5.5 all-court player currently using a Wilson K Factor Six-One Tour 95. Granville is an aggressive player who uses an eastern forehand grip and goes continental on everything else, hits with a flat swing and a one-handed backhand.
Jason
4.0 baseliner currently using a Head Flexpoint Radical Midplus. Jason has a fairly aggressive semi-western topspin forehand and hits a one-handed backhand.
Ryan S.
4.5 all court player currently using a Slazenger Pro Braided Henman racquet. Ryan uses a semi-western forehand grip, a one-handed backhand and has a long swing style.
Spencer
4.5 Baseline player currently using a Tecnifibre TFlash 310. Spencer uses a full-western forehand grip, and hits with a one-handed backhand.
Review date: August 2007. If you found this review interesting or have further questions or comments please contact us.
All content copyright 2007 Tennis Warehouse.