Signum Pro Firestorm String Review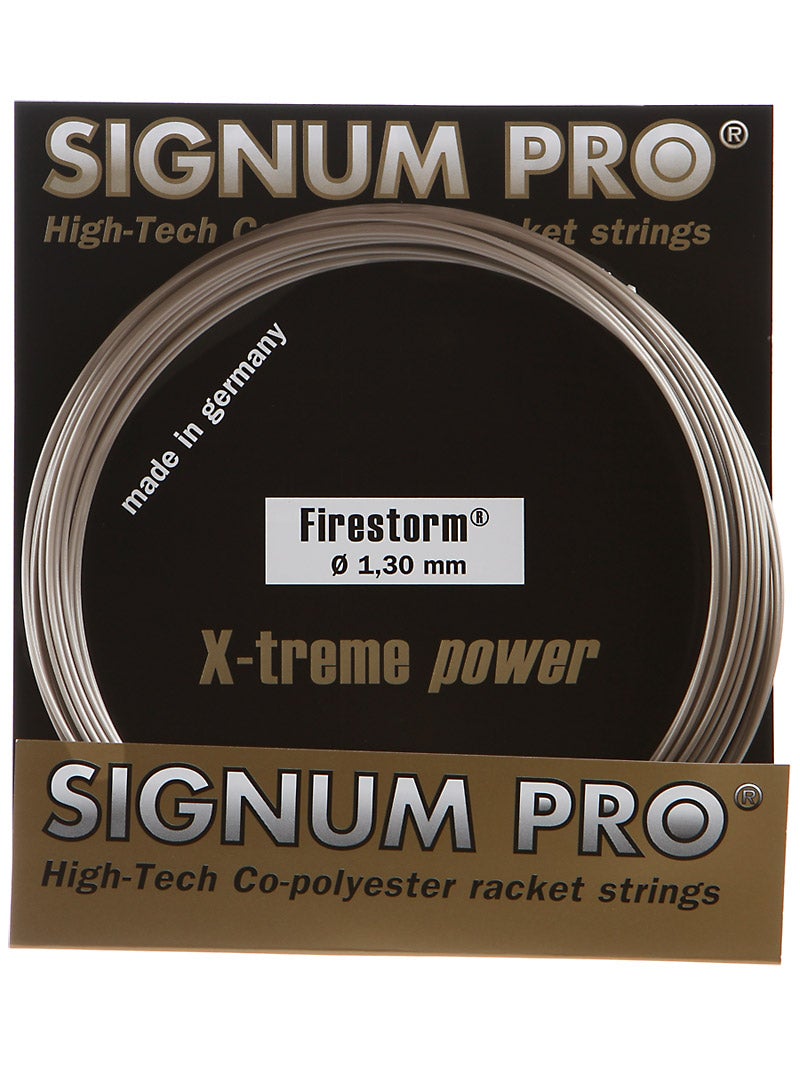 Signum Pro Firestorm String Scores
Power
70
Spin
78
Comfort
73
Control
79
Touch
86
String Movement
88
Playability Duration
73
Durability
80
Overall
82
Downsides
Too firm and low powered for beginners
Summary
Signum Pro Firestorm is made primarily from polyester, a firm and low-powered substance that delivers unmatched control, spin and durability to big hitters. However, as many recreational and club players have reported, polyester can sometimes feel too stiff and underpowered. Firestorm addresses these issues with special additives designed to increase comfort and power. According to our playtest team, those additives work, and they help explain why we experienced such impressive levels of playability, feel and pop. While this friendlier response should give Firestorm broader appeal, it is worth noting that Chris, our resident fan of traditional dead polys, discovered a downside in the form of less control. On the spin front, this co-poly gave our team good pocketing and effective spin, though neither of our playtesters liked it more than their "go to" spin strings. As for string tension, our two big hitters had to string this one tighter (especially Chris) in order to achieve the control they needed to execute full swings. All in all, Firestorm looks like a great option for the player who wants the benefits of a durable monofilament but could use a little extra comfort and power.
Power - Score: 70
Our team found Firestorm to be very lively for a poly-based string. In fact, it proved a little too lively for Chris, who said, "This was one of the more powerful co-poly strings I've hit. I found very easy access to both depth and pace with this string. On my first outing I found it too powerful and my control suffered. I subsequently strung it both tighter and in a more control oriented racquet. I liked the response much more in a racquet with an 18x20 string pattern and a low powered response. In such a set up, this string added some nice juice to my shots. Even at a higher tension, the string still felt pretty soft and powerful, especially given that this is a co-poly."
"Firestorm offers a very lively feel and is quite powerful for a polyester," said Andy, who, unlike Chris, tends to prefer livelier polys. He added, "You can really feel the ball jumping off the stringbed. I actually found I had to increase my tension a couple of pounds to harness a bit of the power and get the control that I needed. The high-powered response made it a great string to complement a low-powered, control-oriented racquet like my Yonex RDiS 100 Mid."
Spin - Score: 78
Though Firestorm doesn't have quite the bite of a Volkl Cyclone or Solinco Tour Bite, it did give our two players more than adequate spin. Requiring some minor tension adjustments, Andy said, "There is nice ball grab with this string, but the spin potential isn't anything out of the ordinary. Since the string is nice and lively I had to increase the tension a little bit in order to harness the power enough to feel confident in taking a big swing at the ball, which is the best way to generate spin. The ball sinks into the strings nicely, so when you do take a big rip at it you are rewarded with good spin."
Finding some good pocketing was Chris, who offered, "Once I had the power dialed in I was better able to access the spin potential of this string, as I was feeling confident again on a full, fast swing. I liked how this string pocketed the ball, and I was getting decent grab from it. While it was not as spin-friendly for me as my regular Volkl Cyclone, the spin I was finding was pretty solid. For whatever reason, I never found quite the hook on my shots that I expected considering how well this string pockets the ball. Spin was decent, but I didn't get the spin to explode off the stringbed like I can with other co-poly strings. As a result, I struggled occasionally with depth control on approach shots."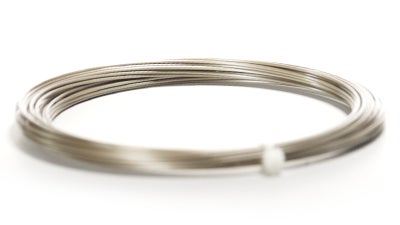 Comfort - Score: 73
Our team was definitely impressed by the comfort level of this firm monofilament string. For Andy, the friendly feel of Firestorm was simply undeniable. He said, "Comfort proved to be the most noticeable feature of Firestorm to me. It turned out to be an extremely comfortable co-poly with a great soft, plush feel. It felt great in a low-powered midsize racquet and a stiffer, more powerful frame. If you're a fan of polyesters but are looking for something soft and comfortable, look no further!"
Chris also experienced above average comfort, saying, "I found this string to be very comfortable for a co-poly. It felt like it was pocketing the ball exceptionally well. The overall response was soft and lively, and it reminded me a little of Volkl Cyclone Tour and Topspin Cyber Flash. Polyfibre Cobra offers a similarly soft feel, but is not as powerful for me. As you might have guessed, comfort was never an issue for me. I also liked the fact that this string felt comfortable for the duration of the test. I'm into week four and still hitting the string, which is almost unheard of for me with a poly based string."
Control - Score: 79
As a lively co-poly, Firestorm did not provide our team with the ultra low-powered control they typically get from the firmer, more traditional polys. As a result, Chris had to tinker with the tension to tame the pop. He said, "I didn't find quite the control I was seeking with this string. I like poly based strings for their low power and their very control oriented feel. This one was just a tad too lively for me, and I had to find a suitable racquet with which to dial down its power. I was able to adjust to the string's response for the most part, but I still had issues with the ball flying deeper than expected. I like polys because I don't have to worry about the ball flying on me. However, I found myself adjusting the tension higher in order to chase that feeling with this string."
Andy also increased the tension but was decidedly more enthusiastic about Firestorm's control. He said, "I was surprised at the level of control I was receiving with this string given how soft and powerful it was. I never felt like the string had any "hot spots," where I'd just lose the ball off the strings, so I always felt confident knowing where the ball was going. Increase the tension a couple of pounds to harness the added power and you'll find a great blend of power and control from this co-poly."
Playability Duration - Score: 73
Firestorm maintained its playability remarkably well for Chris, who said, "This turned out to be one of the longer playing co-polys I've tested. The longevity may be due to the higher reference tension I used, but comfort was never an issue for me over a four week test -- very impressive for a poly. Also, I didn't lose much control and the string had a gradual drop in its response that required little adjustment. If I had continued to use a powerful racquet with a more open string pattern then control may have been more of an issue, but in the 18x20 pattern with a 95sq. inch head, it played solid throughout."
Contrary to Chris, Andy noticed a drop in playability toward the end of the playtest. He said, "The trade-off for softness and comfort is typically playability duration, and Firestorm is no different. I did feel like the string lost playability, especially it's lively feel, in a little under two weeks. It seemed to go a bit dead, which wasn't necessarily bad because I got a little added control as the strings dropped in tension over time. However, there was a noticeable change in playability in a somewhat short period of time."
Overall - Score: 82
What type of player would you recommend this to?
Chris - "I would recommend this to the player who wants the durability of a poly but with a bit more pop and comfort. If you are looking for a co-poly that pockets the ball well and offers some nice jump off the stringbed, this is for you. It would also make a great hybrid with a firmer poly to help liven and soften a firmer, deader playing string."
Andy - "This is an awesome string for the player who likes softer, livelier polyester strings. It's also a great "starter poly" for people taking their first dive into the world of polyesters. This one is soft, comfortable, and extremely accessible to a wide variety of players."
Likes
Andy - "I loved the lively response and soft, comfortable feel. You feel very connected to the ball with Firestorm."
Chris - "I liked the comfort and how long it lasted."
Dislikes
Andy - "Other than wanting the playability to last a little longer, nothing really! I really enjoyed this string!"
Chris - "Just not enough control for me. This string was powerful and I ended up 10lbs higher in tension than I normally use to help add control."
Comparing the string to others they've tried, our testers said:
Andy - "This felt a lot like Topspin CyberFlash to me in that they are both soft, comfortable and very lively strings. Also, it's a little like Luxilon ALU Power Silver, but Firestorm is softer, more powerful and doesn't feel as crisp. Great string, and definitely worth a try!"
Chris - "Other strings that offer some pop like this one would be Cyclone Tour and Topspin Cyber Flash. Gosen Sidewinder is just a tad crisper, but almost as lively. On the other hand, Polyfibre Cobra feels equally soft to me, but is lower powered."
Scores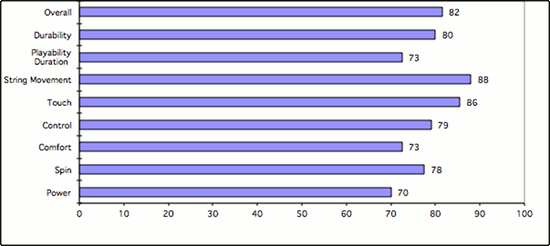 (Scores are determined by averaging individual play test scores)
Chris' Scores
Power
7.5
Playability Duration
8.5
Spin
8
Durability
8
Comfort
7.5
Control
7.8
Touch
8.1
String Movement
8.6
Overall
7.8
Andy's Scores
Power
6.5
Playability Duration
6
Spin
7.5
Durability
8
Comfort
7
Control
8
Touch
9
String Movement
9
Overall
8.5
Playtester String Setups
Andy:
Playtest Racquet: Yonex RDiS Mid
Playtest Tension: 52 lbs
Typical String: RPM Blast 17g
Chris:
Playtest Racquet: Custom Wilson Innovation Center Racquet
Playtest Tension: 56 lbs
Typical String: Volkl Cyclone 16g

Review date: May 2013. If you found this review interesting or have further questions or comments please contact us.
All content copyright 2013 Tennis Warehouse.