Babolat RPM Dual String Review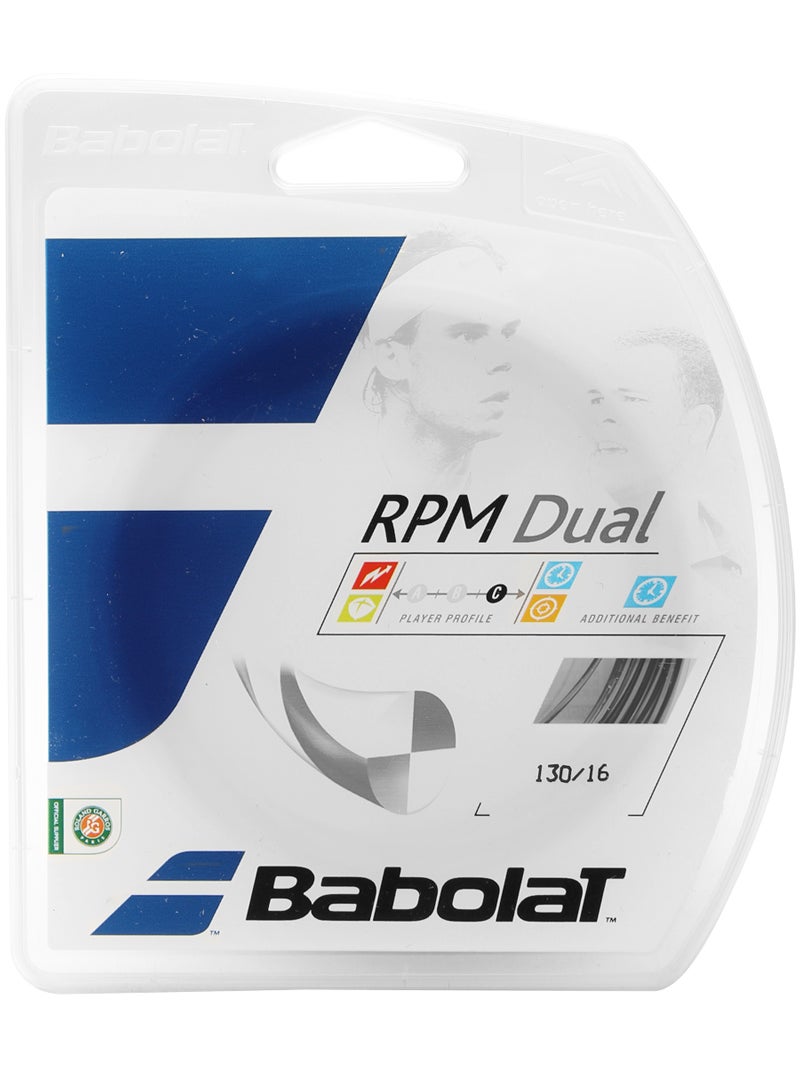 Babolat RPM Dual String Scores
Power
45
Spin
88
Comfort
60
Control
94
Touch
78
String Movement
92
Playability Duration
84
Durability
97
Overall
80
Upsides
Control
Durability
Playability Duration
Downsides
Too firm and underpowered for beginners
Summary
Babolat RPM Dual has some awfully big shoes to fill. This is because it has a very famous older sibling named RPM Blast. To distinguish itself, RPM Dual comes colored in a black and white swirl. It's also infused with titanium, which makes it the most durable member of the RPM family. For our playtest team, RPM Dual not only provided excellent control, but it also retained its playability longer than a great many of the polys we've hit. And since this string is treated with the same spin-friendly coating found in RPM Blast, it should come as no surprise that one of our playtesters gave it a 9.8 out of 10 for spin. As for the feel, we found this string played firm and crisp, with one player needing only a minor tension drop to achieve sufficient comfort. Ultimately, RPM Dual looks like a promising option for the big hitter who wants excellent control and durability but also wants longer lasting playability than the average poly.
Power - Score: 45
Though our team did not agree on the exact power level of RPM Dual, neither playtester found it completely dead (like the stiffest polys) nor super lively (like the most elastic co-polys). For Troy, RPM Dual was decidedly low powered. He said, "Though some may view the low power as a negative, I enjoyed it throughout this playtest. This string is about as low powered as you can find in a modern co-poly string, though I didn't find it to feel dead or muted like some first generation polyesters. The firm, low-powered feel let me swing freely without fear of overhitting. I definitely noticed a drop in power compared to the original RPM Blast, which I feel is a good thing."
Chris said, "I found this to be a fairly low-powered co-poly. I was taking big cuts at the ball and getting solid depth and pace. While not as dead and low powered as a traditional poly, this string was firm and crisp on flat shots. When I was hitting with a lot of spin the string opened up a bit and offered a tad more pop. I was surprised with the power I was getting on both heavy slice and topspin shots. I felt like I was getting the ball to push through the court very well, yet the firm nature of the string offered lots of control. I hit this string in two very heavy racquets and felt I could have strung both higher to lessen the power level -- a first for me with a Babolat poly-based string."
Spin - Score: 88
Like RPM Blast, RPM Dual is constructed with a slippery silicone coating to allow the main strings to slide out of position before snapping back with great force. The result for Chris was exceptional spin. He said, "I was getting solid spin from this string. Just as I found from RPM Blast, this string grabbed the ball very well and spat it out with lots of spin. I was getting all the bite needed to bend in a down-the-line passing shot, carve an angle or roll a lob. I liked how I could confidently stay on the gas with this string and trust in its grab to spin the ball in. The high level of control and the grab this string offered allowed me to swing fast all the time and get even more spin on the ball."
Unlike Chris, Troy didn't find the magical spin potential of RPM Blast, saying, "I found the spin potential of this string to be lower than I would have expected for a string with RPM in the title. I'm not a huge stickler on the spin potential of poly because I feel that I can generate enough spin with almost any poly. In comparison to RPM Blast, this string seemed to have significantly less string snap-back. It felt 'sticky' -- not slick like RPM Blast. I didn't feel that this was a detriment to my game because I can generate lots of spin on the ball with my swing style, but spin wasn't accentuated as much as it was with strings like RPM Blast or Volkl Cyclone."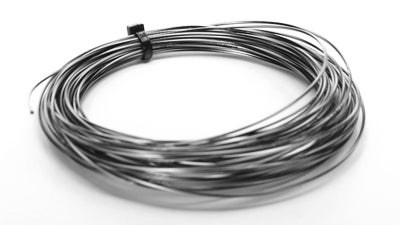 Comfort - Score: 60
As a firm string, RPM Dual is not likely to satisfy the player whose tendons and joints require the pillowy plush response of VS Team or Xcel. However, for poly veterans like Chris, this one felt great. He said, "I thought RPM Dual played with impressive comfort for a firm-playing string. I tried the string in two heavy racquets, one stiff and one very, very flexible, and in both the weight of the racquet took away any shock from the stringbed. I actually felt I could have upped the reference tension of both string jobs for even more control without the stringbed getting too harsh. I liked how the string opened up on spin shots. It pocketed the ball decently, and that added some comfort to heavy spin shots."
Troy needed to drop the tension a little to find this string's comfort zone. He said, "RPM Dual has a very crisp and firm feel to it; therefore comfort is lower than many of the softer co-polys. I initially strung my racquet at 45 lbs, and I felt the firm-feel this string possesses. The second time around I strung it at 42 lbs, which softened the stringbed just enough without any drop in control. I found this to be the right fit for me."
Control - Score: 94
RPM Dual gave our team such a precise and predictable response that it nearly earned a perfect control score from Troy. He said, "I never once questioned the precision or the connectedness I had when ripping groundstrokes. As I mentioned earlier, I am not a big stickler on spin potential or stiffness of polyester strings, but when it comes to control I am a tough critic. This is about as good as control gets for poly strings. Strings like these are what poly lovers look for when they want to drop bombs from the baseline!"
Although he didn't find quite as much control as Troy, Chris still scored RPM Dual well above average. He said, "The level of control was solid with this string. To find even more control I'm going to see how high I can string it without losing comfort. At 2 lbs over mid (57 lbs) in my weighted up Organix 7 (now 12.3 ounces strung) the string felt livelier than expected. While I was finding my targets well, I was tapping into the spin potential of this string to find added control. With a higher tension I think I could flatten things out a little to hit a faster ball without fear of hitting long."
Playability Duration - Score: 84
RPM Dual held up remarkably well for our team. Troy said, "Tension maintenance was pretty impressive for a co-poly string. I found a definite increase in tension maintenance compared to RPM Blast. With RPM Blast the tension dropped significantly after about 6-8 hours of play; with RPM Dual the tension held up pretty well beyond 10 hours of play. The only co-poly on the market to impress me more in terms of playability duration is Luxilon 4G."
"The playability duration was great with this string," said Chris. "As the test wore on I found the same crisp feel and solid level of control. I was also impressed by how the spin quality lasted. Some polys start out offering good spin but die out as the string ages. RPM Dual remained very spin-friendly for the duration of the test."
Overall - Score: 80
Likes
Troy - "Control, control and control. Tension maintenance was top-notch. Did I mention control? The lack of power in strings like these is what has taken the modern baseline-bashing style of play to the next level."
Chris - "I liked the level of spin and was surprised by how long it lasted and the comfort it offered."
Dislikes
Troy - "Spin potential wasn't its best attribute. I wasn't a huge fan of the multi-color initially, but after a while it grew on me."
Chris - "I didn't find any weaknesses in this string, but then there was no real standout feature to separate it from the pack, either."
Comparing the string to others they've tried, our testers said:
Troy - "I played with Gosen Polylon Ice in junior college for the simple fact that it gave me durability and control -- and it was cheap. RPM Dual reminds me of Ice, but with much better tension maintenance. It doesn't make me feel warm and fuzzy inside like Luxilon 4G does. 4G has the best feel and pop in my opinion."
Chris - "More forgiving than Hurricane Tour and longer lasting than RPM Blast, Dual is a solid addition to the Babolat string lineup."
Scores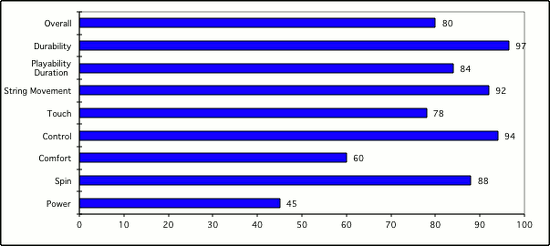 (Scores are determined by averaging individual play test scores)
Troy's Scores
Power
4
Playability Duration
8.8
Spin
7.8
Durability
9.5
Comfort
5.5
Control
9.9
Touch
7.2
String Movement
8.5
Overall
7.7
Chris' Scores
Power
5
Playability Duration
8
Spin
9.8
Durability
9.8
Comfort
6.5
Control
8.9
Touch
8.4
String Movement
9.9
Overall
8.3
Playtester String Setups
Troy:
Playtest Racquet: Wilson BLX Six.One 95 (18x20)
Playtest Tension: 42 lbs
Typical String: Luxilon 4G 16L
Chris:
Playtest Racquet: Snauwert Brian Gottfried Wood/Volkl Organix 7 295g (customized)
Playtest Tension: 55 lbs
Typical String: Volkl Cyclone 16

Review date: August 2013. If you found this review interesting or have further questions or comments please contact us.
All content copyright 2013 Tennis Warehouse.