Prince EXO3 Rebel 95 Racquet Review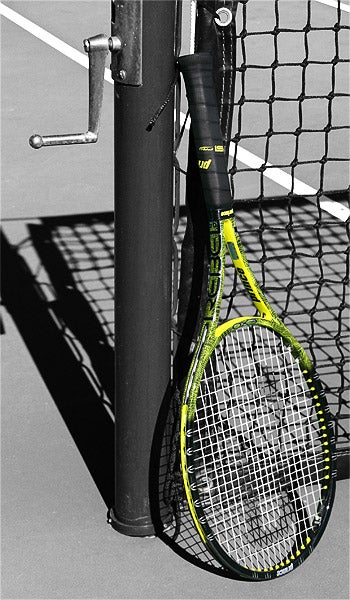 A Rebel goes against the grain. A Rebel chooses to defy conventional thinking and societal norms. A Rebel chooses his own path.
With the EXO3 Rebel 95, Prince has continued the evolution of its already unique O3 technology. The EXO3 Rebel 95 defies convention by featuring Energy Channels, a sculpted groove within the frame designed to increase ball control and spin.
Already making the switch to the EXO3 Rebel 95 is ATP pro Gael Monfils of France. Monfils got off to an exciting start to 2009 with wins over Rafael Nadal and Andy Roddick.
To see if the EXO3 Energy Channels could help us tap into the finesse and flamboyant play of Monfils, we took the EXO3 Rebel 95 for a month-long playtest.
Groundstrokes - Score: 79
The EXO3 Rebel 95 impressed our playtesters with its solid and stable response from the baseline. Finding the racquet to be a perfect fit for his game was Chris. "I really enjoyed this racquet off the ground. I immediately found the groove with it and was swinging away with confidence. The level of power, combined with a soft and plush feel, was a perfect fit for my game. I was able to generate lots of spin and loved the results when hitting with either slice or topspin. The weight and balance of the EXO3 Rebel also felt spot-on for me. The racquet seemed to offer that elusive blend of stability and maneuverability. I was loving the solid response and plow-through provided by the racquet's heft, yet found I could still whip it around with ease."
Danny found an emphasis on control and feel when hitting with the EXO3 Rebel. "The Prince EXO3 Rebel was a great racquet from the baseline. I wasn't surprised that I liked this racquet. Most Prince racquets have the dampened feel that I am looking for. I enjoyed good control and feel, but spin was somewhat lacking. Spin usually comes harder for me with a dense string pattern. However, I was able to control the ball even without spin."
Enjoying the way the racquet pushed through the ball during contact was Jason. "Talk about plow-through! I thought this racquet was great for crushing balls that were sitting up, but also effective for hitting back shots that were smashed hard at me. I found there was a definite advantage for early preparation and anticipation when swinging this stick. When I was late on my take back, though, I either hit a weak shot or sprayed the ball wide. This was especially noticeable on running forehands."
Hitting offensive slice backhands with great success was Spencer. "The EXO3 Rebel 95 had a hefty feel coming through the ball off both wings. Though it had good plow-through, I had problems with aggressive groundstrokes and consistency. I found more success using an easier swing, letting the heft of the racquet work the ball. Unfortunately, when I would try to hit a flatter, higher paced shot, my shots suffered more than I'm used to when on the offensive. I didn't find as much spin off topspin groundies as I like, which is most likely due to the tighter string pattern. The backhand slice, however, was deadly when I hit it right. This racquet could definitely carve the ball into the opponent's court, creating favorable results many times. I favored the slice on the backhand with this one."
Volleys - Score: 81
The EXO3 Rebel 95 continued to impress our testers at net, with most finding a high level of precision on volleys. Danny enjoyed the control-oriented response of the racquet at net. "The Prince EXO3 Rebel 95 was a great racquet for my net game. Again, the control of this racquet was good and the feel was superb. I hit some great touch volleys with this stick. I wish I could have spent more time at net with this racquet, but I have been having a hard time with my transition game lately. I just need to play more doubles. That would be the answer!"
Chris was loving the response of the racquet at net. "The racquet felt great off the baseline, and it was even more dynamite at net. I loved the plush feel. I was getting a full sense of the racquet flexing at impact and the result was a very comfortable feel. I was able to find my targets with pinpoint accuracy when volleying with this stick. I could also use the racquet's mass to punch volleys deep with authority."
Jason found the weight of the racquet a better fit for his net game. "Very solid! The weight of the racquet was an asset here, able to absorb shots and put away balls that were floated to me. I also found touch to be pretty good."
Spencer said, "I found a very nice feel when hitting volleys. The EXO3 Rebel 95 produced crisp volleys, as the stability of the racquet was very good. Though it's not the most maneuverable of sticks, it didn't take a lot of racquet movement to get a good punch on the ball."
Serves - Score: 81
Our testers found the EXO3 Rebel 95 to provide a surprisingly maneuverable feel on serve, considering its 12.3 ounce weight. Enjoying a combination of control and power on serve was Spencer. "I thought the EXO3 Rebel 95 shined most on the serve. A nice and easy swing produced a good, heavy ball. The weight felt good coming through the ball, and in contrast to groundstrokes, I felt I was producing more spin when serving. When cranking it up a bit, the racquet responded. This one had a great combination of control with power. I really enjoyed serving with this stick."
Chris was surprised at how well he served with the EXO3 Rebel 95. "I served better with this racquet than any other 27-inch player's racquet I've used in the last few years. I was hitting the ball very consistently. I was able to find lots of grip on the ball from the stringbed, and I was getting a lot of spin on my serves. I was very, very close to finding the hop on the ball I get serving with my Becker Pro, which was very impressive considering the added control I found from the EXO3 Rebel 95. I felt very in-tune with my targeting and I was extremely confident on serve."
Danny said, "I enjoyed serving with the EXO3 Rebel 95. I had a consistent first serve, and when I wanted to kick a serve in the court I was able to put it in the box with a decent amount of pace. At first, I was concerned about the weight. I have a history of shoulder problems from serving with racquets that are too heavy for me, but I had no problems with this racquet. There was very little shock or vibration."
The serve proved to be an effective shot for Jason, too. "This was probably my favorite shot to hit with this stick. Where I found it a tad sluggish on groundstrokes, I had the opposite sensation on serve. Once the racquet got moving it seemed effortless to go from backswing to striking the ball to following through. There was a nice level of consistency serving with this racquet that instilled confidence in my game."
Serve Returns - Score: 78
The controlled response of the EXO3 Rebel 95 shone through on returns for our testers. Blown away by the results when returning was Danny. "My returns were awesome with this racquet! I could take a bigger cut at the ball due to its impressive control. My backhand return in the deuce court was special. I like to hit my backhand return down the line on the deuce side, and it was working with this stick."
Chris continued to find his confidence growing with the EXO3 Rebel 95. "The control, stability and comfort made this an excellent racquet for me on returns. I was taking a good bite out of anything that looked even remotely tasty. Even when stretched wide or forced to play a defensive return, I found the racquet to offer excellent stability, allowing me to chip the ball back with depth and control. With my confidence soaring, I felt my return game got a little boost with this stick."
Returning with the EXO3 Rebel 95 was a mixed bag for Jason. "I had good success returning big first serves , though I was frustrated at times. I was successful when blocking shots back. I was able to keep my shots deep and they had decent pace. Again, if my backswing or anticipation was late, I couldn't muscle the racquet into the correct position to hit the shot I wanted. "
Spencer found his best results when hitting block returns. "The lack of mobility kept me from being aggressive on serve returns. Chipping and blocking back returns proved to be the most successful tactic for me with this one. Maybe that's a good thing, because when I tried to get aggressive my timing was often late and I would miss my mark."
Overall - Score: 81
Providing a high level of feel, excellent stability and plenty of plow-through for big hitting, the EXO3 Rebel 95 makes a very attractive choice for 4.5+ level players. Those with the technique and strength to put the 12.3 ounce strung weight to good use will be rewarded with excellent feel and enough grip from the stringbed for precise groundstrokes. Our testers were very impressed with this racquet at net and when serving. The stable response made this a solid option at net, while our testers found this racquet surprisingly maneuverable on serve. With two of our testers also raving about this racquet's performance from the baseline, the EXO3 Rebel 95 is well suited to all-court play and is a must demo for the advanced level player.
The "Likes" of the racquet.
Chris "For me, there were many likes with this racquet. I liked the comfort, stability, control, spin and feel I found from all areas of the court. This was, by far, the best hitting Prince racquet I've ever used."

Danny "There isn't much that I don't like about the Prince EXO3 Rebel. The two most important attributes of this racquet for me are feel and stability. This would be a racquet that I would recommend for advanced players seeking a stick that would be good on the arm. This racquet was surprisingly stable and solid when hitting off-center shots."

Jason "I really enjoyed the feel and feedback I got when striking the ball. I like to feel the ball on the strings, which is why I don't use dampeners and why I was never a huge advocate of the O3 racquets. But with this EXO3 Rebel 95, I got the feel I love from traditional grommet racquets. This stick was also a joy to serve with."

Spencer "I liked the heft when serving and the solid feel at net."
The "Dislikes" of the racquet.
Chris "None. I liked everything about this racquet."

Danny "The weight was a tad heavy for my game."

Jason "A bit too weighty for me. I felt that it magnified my sluggishness. I felt that if I wasn't fully prepared to hit my shots they would tend to go wide."

Spencer "I experienced a lack of consistency when hitting groundstrokes."
Technical Specifications

Length
27 inches
69 centimeters
Head Size
95 square inches
613 square centimeters
Weight
12.3 ounces
349 grams
Balance Point
12.375 inches
31 centimeters
9pts Head Light
Construction
20 mm Straight Beam
Composition
100% Graphite
String Pattern
18 Mains / 20 Crosses

Babolat RDC Ratings

Score

Grade

Flex Rating
60
Range: 0-100
Swing Weight
337
Range: 200-400
Prince EXO3 Rebel 95 Scores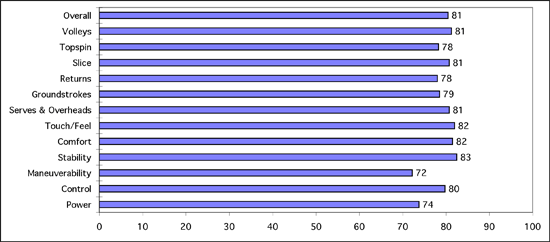 (Scores are determined by averaging individual play test scores)
Chris's Scores
Power
7.6
Serves & Overheads
7.8
Control
8.3
Groundstrokes
8.4
Maneuverability
7.5
Returns
8.3
Stability
8
Slice
8.2
Comfort
8.2
Topspin
8.1
Touch/Feel
8
Volleys
8.6
Overall
8.1

Jason's Scores
Power
7.5
Serves & Overheads
8.5
Control
8.1
Groundstrokes
7.7
Maneuverability
7.1
Returns
7.7
Stability
8.5
Slice
8.1
Comfort
8.2
Topspin
8.1
Touch/Feel
8.4
Volleys
8
Overall
8

Spencer's Scores
Power
7
Serves & Overheads
8.5
Control
7.5
Groundstrokes
7
Maneuverability
7
Returns
7
Stability
8
Slice
8
Comfort
7.2
Topspin
7.4
Touch/Feel
7.4
Volleys
7.8
Overall
7.6

Danny's Scores
Power
7.4
Serves & Overheads
7.5
Control
8
Groundstrokes
8.3
Maneuverability
7.3
Returns
8.2
Stability
8.5
Slice
8
Comfort
9
Topspin
7.7
Touch/Feel
9
Volleys
8.1
Overall
8.5
Playtester Profiles

Chris
5.0 All court player currently using the Becker Pro. Chris uses a full-western forehand grip, has a fast swing style and hits a one-handed backhand.
Spencer
4.5 Baseline player currently using a Wilson K-Blade Tour. Spencer uses a semi-western forehand grip, and hits with a one-handed backhand.
Danny
Open baseline player currently using a Wilson K Factor [K]Tour. Danny uses a semi-western forehand grip, a two-handed backhand and has a long swing style.
Jason
4.0 baseliner currently using a Wilson K Blade Tour. Jason has a fairly aggressive semi-western topspin forehand and hits a one-handed backhand.

Review date: February 2009. If you found this review interesting or have further questions or comments please contact us.
All content copyright 2009 Tennis Warehouse.