Prince Warrior Women's Shoe Review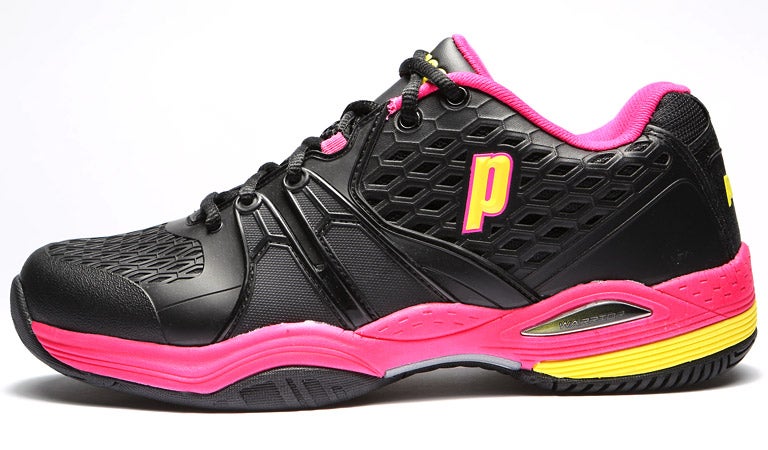 Prince Warrior Women's Shoe Scores
Comfort
4.0
Ventilation
2.9
Arch Support
3.4
Foot Support/Stability
4.1
Overall Sole Durability
3.8
Toe Durability
4.5
Traction
4.2
Weight
3.0
Overall
3.8
Upsides
Cushioning
Stability
Traction
Downsides
Heavier feel
Heel slippage
Summary
Designed for competitors who battle day in and day out, the Prince Warriors are a fresh take on comfortable and durable footwear. We found these shoes to be a good fit for our own TW warriors, as they are designed to leave your feet well supported and cushioned on court. Initially, all four of our playtesters enjoyed the plush support from these shoes, but after several hours on the court our team found a few issues that held the Warriors back. These issues were with the durability, the weight and the individual fit. However, our team was happy to report that the positives outweighed the negatives. There were no doubts that when our warriors hit the courts for battle, all four enjoyed the ultra cushioned, stable ride of these Prince shoes.
Comfort - Score: 4.0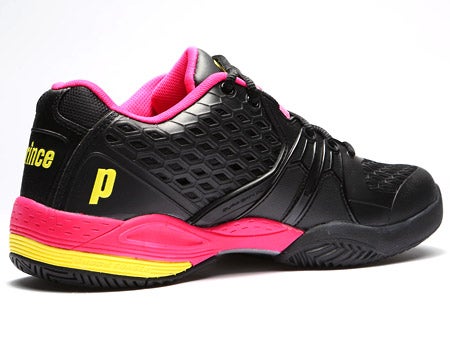 Prince has a history of providing players with ultra-comfortable shoes, and the Warriors proved to be no exception. Our playtesters noticed the plush padding surrounding their feet when first trying these shoes on. Tiffani was excited to playtest this offering because she has wider feet and generally enjoys Prince shoes. She began, "The Warriors had plenty of step-in comfort for me. The shoes did require a slight break-in, however. It took about an hour for me to feel like the heel-to-toe strike was where I wanted it, but I enjoyed the cushioning from the first time I tried them on. This shoe is soft underfoot and the uppers are pretty pliable, even though they're mostly plastic. I also like the padded ankle collar, although it did make it tougher to cinch down the shoe around my heel and ankle. Overall, this is a very comfortable shoe."
Michelle who appreciates cushioned, stable shoes, found the first standout feature to be all the padding. However, she did experience some comfort issues with the Warriors. She explained, "I like to feel snug in my shoes, and I think these shoes could have used an extra eyelet, because it didn't feel like my heels were completely locked in. The slipping led me to tie my shoes a bit on the tighter side, resulting in some rubbing at the top of my ankles. It became pretty painful and frustrating because each time I wore them I ended up with raw spots, even when I was wearing high socks. I thought the rubbing would end after I broke the shoes in, but it got worse. I finally figured out that if I loosened up the laces at the top I eliminated the rubbing, but I also lost that locked-in feel. This could be a bit of a deal breaker for me because I prefer feeling locked in."
The Warriors were comfortable from the very start for Karly. She said, "There was no need wait for the shoes to loosen up before hitting in them because of how soft and cushioned they were. I loved the plush padding around the ankles and how the bottom of the shoes molded to my feet. They absorbed shock extremely well, and I never experience any discomfort on the court. I was happy to play in these comfortable shoes over and over again."
"The first thing I noticed when I stepped into these shoes was the cushioning," said Brittany. "There was a ton of padding underneath my feet and around the ankle collar. The tongue also had a good amount of cushioning. There was too much padding for me, but that is a personal preference. Also, the tongue slipped to the side at times while I was playing, which would force me to stop and adjust my shoes."
Ventilation - Score: 2.9
Our team playtested the Warriors toward the beginning of summer, which meant they really put the ventilation to the test. Unfortunately, the Duraskin and synthetic materials were not very breathable, and this was one area where the shoe fell short. Michelle thought it was one of the warmer shoes she has worn, and said, "They weren't all that ventilated and they lacked some perforations. These shoes are made of thick materials to increase the comfort, which also contributes to them being hotter to wear. Wearing black shoes in the summer sun didn't help, either. The Warriors were definitely on the hotter side of the spectrum."
Karly believes there is room for improvement with the breathability of the Warriors. She noted, "They heated up once I started to move around and then felt noticeably warm at the end of the hit, although I wouldn't say it was too much of a nuisance. The warm temperature was something I was able to play through just fine, but I wanted to take them off once the hit was over."
Brittany agreed, and added, "We are getting into the warmer summer months, and unfortunately, I overheated in my Warriors. There is some mesh on the uppers to help with circulation, but the Duraskin material overlaps with the mesh and blocks some of the ventilation. I found myself taking these shoes off as soon as I was done with a tennis session."
The lack of ventilation actually held back Tiffani's comfort score. She said, "There is no way around it: The Warriors were hot. As soon as I was done hitting I wanted to take them off to let my feet breathe, or at least change my socks."
Arch Support - Score: 3.4
Offering lower support in the arches, the Warriors proved to be good enough for most of our playtesters. At first, Karly didn't have any problems with the support. She explained, "The arches were lower than average, but that generally doesn't bother me because I have flat feet. My feet didn't start to ache until I had to tighten my laces to improve the fit around the ankles. These shoes didn't have the best flex, and I think the stiffness aggravated my arches after I tightened the laces. I just had to tie my laces tight enough to feel secure, but loose enough to avoid hurting my feet."
Brittany's medium arches were pretty easy to please. She said, "Even though it was a slightly lower support than I'm used to, I never had any problems. No complaints from me in this area!"
Despite Michelle's higher arches, the lower arch support worked fine for her. She added, "No problems or issues for me in this area Ð my arches are pretty low maintenance, though."
Tiffani wore aftermarket insoles for this playtest due to some foot strain issues she has been struggling with. She didn't experience the stock insoles and instead wore the berry color Superfeet insoles with built in arch support.
Foot Support/Stability - Score: 4.1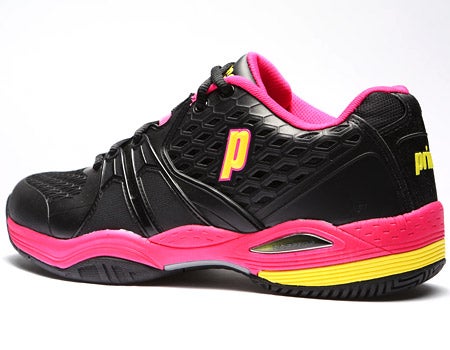 The heavier weight of the Warriors helped keep our players stable and supported on the court. Brittany struggled a bit because her narrow feet were moving around inside the shoes at the beginning of the playtest. She was able to adjust by wearing two pairs of regular socks or one pair of very thick socks. She said, "I found good stability when moving side to side and never felt like the shoes were going to roll over. I would have given them a higher score, but I was having some issues with keeping my heels locked in place. I would have liked one more eyelet because no matter how tightly I tied my shoelaces I was slipping out of my shoes; mostly during forward and backward movements."
The Warriors were a solid on-court performer for Tiffani. She explained, "I felt comfortable making all my movements on the court, and I was never in jeopardy. There were just a couple of minor things that bothered me. I never felt like I could lock down my heels, so I could feel them moving around. I didn't think that my heels would pop out of the shoes, but it was an irritation nonetheless. I also had an issue with the laces that exacerbated the problem. They never seemed to stay tight. They didn't come untied, but they loosened up enough that my heels started to move around more."
"For me, these shoes were pretty supportive and stable," began Michelle. "My feet felt well supported, aside from the issue I had with not feeling completely locked in at the heels. I felt pretty good moving aggressively in these shoes. Lateral stability was spot on, and I was never worried about twisting an ankle or anything like that."
Karly found the material around the ankles loosened up after the first couple of hours, but she was still pleased with the stability. She said, "The Warriors' support was more traditional than most tennis shoes today, meaning the supportive feel comes from the weight of the shoes. They were heavier than most of today's shoes, which helped them feel very stable. Their heft made my feet feel anchored to the ground, and my movements were never unstable. The uppers were also stiff enough to add a little extra support. I liked the stable feel of the Warriors and I was confident that I wasn't going to hurt myself while playing in them."
Overall Sole Durability - Score: 3.8
The Warriors' outsole is made of a durable rubber compound and backed up by a six-month outsole durability guarantee. With that being said, our team found these shoes to be about average when it came to the wear of the outsole. Tiffani was surprised by the amount of wear she saw on her outsoles, and commented, "Typically, I like the durability of Prince shoes, but after about five hours I saw the tread under the ball of my foot start to wear. Now, after about 15 hours, the pivot point is smooth."
These weren't the most durable shoes Michelle has worn, but they weren't the least durable, either. She explained, "After 20 hours or so, I'm seeing some solid smoothing and wear on the outsoles, especially under my big toes. It's a good thing they have the outsole guarantee because I definitely would take advantage of that warranty!"
Brittany found the Warriors to be about average when it came to durability. She said, "I had some wear in the usual spots under my toes after three to four weeks of playing in them. Fortunately, the Warriors come with a six-month outsole durability guarantee."
Karly had a different experience, finding that not only did the hefty outsoles offer a stable feel, they held up great for her, too. She said, "My pair of Warriors look as though I've only play for two hours, when in reality I've played in the shoes for more than 25 hours. There's hardly any wear or smoothing to the outsoles so far, and it looks like it'll be a while until these shoes wear out."
Toe Durability - Score: 4.5
Although our two toe draggers were not thoroughly impressed with how the outsole held up, they were happy to report that their toe dragging did little damage to the Warriors. Brittany thought the toe durability held up great, saying, "Being a toe dragger, I can do some damage to shoes, but the Warriors held up to my abuse. The toe bumper is thick, but not very wide or high. However, the Duraskin material on the uppers added extra protection against toe dragging."
"The Duraskin material is pretty durable," added Tiffani. "I've smoothed the texture of my toe down, especially on the left foot, but there's lots of material left to burn through. It's very durable, and the shoes are hiding their marred toes well enough."
Traction - Score: 4.2
In addition to the high levels of cushioning, the traction of the Warriors was another strength. Michelle said, "There was a good amount of grab from these shoes. I never felt like I was going to slip or roll an ankle. I was very happy with the traction!"
The Warriors' traction found a great median between grip and give for Karly, who offered, "I never had any issues sliding, and I never felt stuck to the court, either. These shoes made it easy to start and stop easily, so I was pleased with the traction they provided."
Tiffani never had an issue with slipping or feeling stuck to the court. She said, "The level of traction is right where I like it, and it stayed constant for me throughout the playtest."
Rounding out the positive feedback was Brittany, who thought she was gripping the court well in these shoes. She said, "The traction was probably my favorite aspect of playing in these shoes. While the Warriors don't have the low-to-the-ground feel I prefer, I thought they had the perfect amount of grab. I was able to move in all directions with ease."
Weight - Score: 3.0
It was no secret to our team that the Warriors were going to weigh in heavy. Our playtesters have come to expect shoes loaded with cushioning and stability to be on the heavier side. With that being said, the weight affected some of our playtesters more than others. Karly noted she did not feel as light on her feet in the Warriors, and her footwork felt slower than normal. She said, "They definitely added some weight to my feet, and I had to work harder to move quickly on the court. They did feel lighter than their actual weight of 14 ounces and played faster than shoes with a similar weight, but I would still consider them heavy."
The shoes were just plain heavy for Brittany, who tends to prefer speedier offerings. She said, "It's not necessarily a bad thing, but I prefer a quicker, lighter shoe. I definitely found the Warriors to be clunky on the court, and I felt a little slower than usual. Since they are heavier shoes, I would have liked a little more durability."
Tiffani agreed that the Warriors weren't light, but she was not particularly bothered by the added weight. She said, "These shoes are supportive and sit higher off the ground, so I wasn't feeling my fastest. These days I prefer light 'speed' shoes, but I enjoyed these for their comfort and stability. Something has to give when a shoe offers this much cushioning, and it's usually the weight."
Michelle said, "These shoes weigh in on the heavier side, but they never felt too heavy, which is important. They are built to be durable, stable, sturdy and cushioned shoes, so I expected them to be on the heavier side. They're definitely not 'quick' or 'fast' shoes, but considering the comfort, the weight was worth it. The weight didn't hinder my movement too much, so it wasn't a deal breaker for me."
Overall - Score: 3.8
Likes
Tiffani - "The comfort and stability for my wider feet was nice. I also like the black colorway that I tested. It's definitely among my favorite Prince cosmetics."
Michelle - "Lots of cushioning, fun colors, good traction and stability."
Karly - "The cushioning and durability. These comfortable shoes were designed to last a while."
Brittany - "I'm a big fan of black tennis shoes so I was impressed with the cosmetics. I also liked the traction. These shoes did a lot of things well, but were not great in any area."
Dislikes
Tiffani - "The ventilation was not there, so I would like some perforations in the uppers."
Michelle - "I felt like I needed one more eyelet to feel really locked in and supported, and I had comfort issues when tying my shoes tightly. I wouldn't mind a bit more durability and ventilation."
Karly - "The heavy feel. My footwork felt slower than usual on the court."
Brittany - "I was having trouble locking my heels into the shoes. They also play hot and feel heavier than I would have liked."
Comparing the Warrior to other shoes they've worn, our testers said:
Tiffani - "The Warriors have a slightly generous forefoot width that is similar to other Prince shoes. They fit into the same family to me as the T22s and T24s. The fit feels slightly snugger than the T22s, but it's still plenty wide for me. The forefoot TPU straps are also improved over the T24, so there's added comfort over that model."
Michelle - "These remind me of the Babolat Propulse 4 -- both are very cushioned and both are heavier stability shoe. They're similar in terms of durability and comfort, as well as fit."
Karly - "The Warriors reminded me of the Head Sprint Pros. I thought they fit very similarly to each other, with the only difference being the extra padding and heavier feel of the Warriors."
Brittany - "Shoes that are similar to the Warriors would be the Babolat Propulse 4, KSwiss Bigshot II and Nike Air Max Cage. They all feel slightly heavy to me, but they offer durability and stability."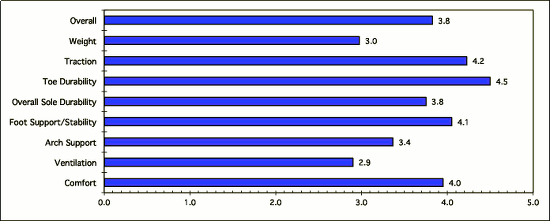 Playtester Foot Types:
Tiffani - Wide width / Low arch
Michelle - Medium width / High arch
Karly - Medium width / Medium-low arch
Brittany - Narrow width / Medium arch

Review date: July 2014. If you found this review interesting or have further questions or comments please contact us.
All content copyright 2014 Tennis Warehouse.