Prince Warrior 100 Pro Racquet Review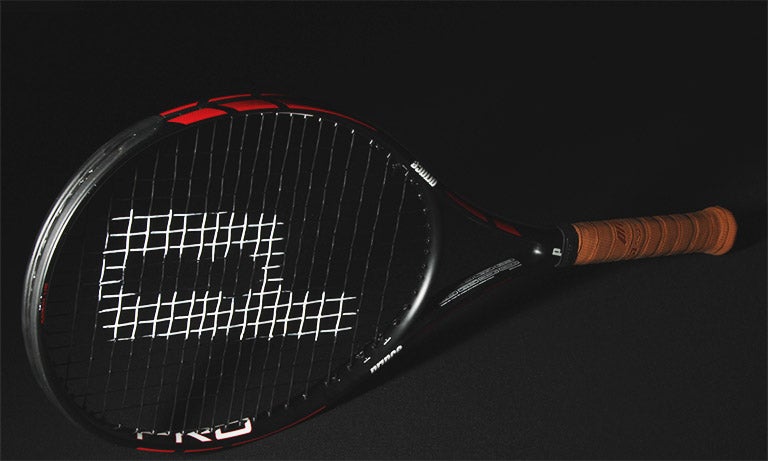 Prince Warrior 100 Pro Scores
Power
83
Comfort
76
Touch/Feel
74
Serves
80
Groundstrokes
81
Returns
81
Slice
80
Topspin
82
Volleys
80
Overall
80
Upsides
Power
Spin
Maneuverable
Stability
Downsides
Unforgiving outside the sweetspot
Summary
The Warrior 100 Pro is perfect for the player searching for a racquet with a modern feel. The most noticeable feature (non-feature?) of this new racquet is the absence of EXO3 technology. Yes, you read that right, the Warrior 100 Pro is a straight beam racquet with a traditional grommet system. Our playtesters found plenty of power from all areas of the court, and enough control and access to spin to keep the ball inside the lines. The crisp and solid feel of this racquet made hitting volleys a breeze. It was so easy that we think the Warrior 100 Pro could become a favorite for doubles specialists. Lastly, our playtesters raved about the stability, especially on service returns. Players, take note: The Warrior 100 Pro is an impressive addition to the Prince racquet line.
Groundstrokes - Score: 81
Our playtesters found the Warrior 100 Pro to be extremely maneuverable, and it provided added power to their groundstrokes. Chris compared it to the Warrior 100 ESP, saying, "Easy access to pace and spin pretty much sums up my experience with the Warrior 100 Pro from the baseline. I liked the solid response of the racquet, yet it still had some of the maneuverability I loved so much with the Warrior 100 ESP. I was also getting close to the same amount of spin. While I liked the ESP just a little bit more, this Warrior 100 Pro is a very spin-friendly racquet. I hit some powerful groundstrokes with it and felt connected to where the ball was going. When I made contact outside of the sweetspot the response got a tad firm and the power dropped, but I actually liked that aspect of the racquet because it helped my slightly off shots to still land within the court. I thought this racquet offered a great blend of power, control and spin when strung with a medium soft co-poly like Volkl Cyclone or Prince's Tour XT. It was a lot of fun to trade groundstrokes with the Warrior 100 Pro, and I felt very solid from the baseline."
"This racquet felt solid on groundstrokes," Michelle began. "I was worried that I wouldn't love this one after not gelling with the Tour Pro 100. Luckily, I was wrong. I could generate good power and spin off the ground and had no problem consistently banging big groundstrokes with this racquet. I found it to be stable and quick off the ground, with a nice blend of control and power. I did feel a bit of an erratic response when the ball hit outside the sweetspot, and the stringbed could play a bit lively at times, especially when strung with a multifilament."
Andy said, "It's much different from the more control-oriented racquets that I would typically use, so it took me a little while to get used to it. It's pretty powerful and offers a really crisp, lively feel. My first instinct was to start slugging away, but when I tried that the ball was flying on me. Instead, I took smaller swings and let the racquet do the work for me. When I did that I had much more success. You can turn defense into offense quickly with its easy access to power and spin. I did find, however, that when I made contact outside the sweetspot the feel was not very forgiving, and it got a bit jarring."
Karly was surprised, in a good way, by how the Warrior 100 Pro played. She explained, "With its 100 square inch headsize and slightly stiffer RA rating, I was expecting more power than control, but it was actually the opposite for me. It played like a control-oriented racquet, yet it was extremely stable and had exceptional plow through, so I could use the weight of the racquet to generate my own power. I felt I had more control of the direction and pace of the ball because I was the one producing the power, and I loved it. The only thing that could be a little better is the forgiveness. It wasn't terrible, and I think because of the exceptional stability it didn't really bother me too much, but if I hit outside the sweetspot my shots weren't nearly as lively."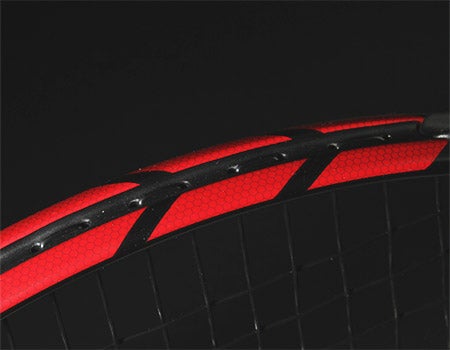 Volleys - Score: 80
The Warrior 100 Pro really shone at net for our playtesters, who enjoyed the maneuverability, feel and stability. Karly raved, "This is exactly the type of racquet I like to have at the net. The solid and stable feel of the Warrior 100 Pro was perfect. My shots felt crisp and powerful, yet the power wasn't overbearing because I could still get good control and place the ball where I wanted. I also thought it was more maneuverable at net than any other area, and with the larger headsize there was more margin for error. It was really easy to get the racquet on the ball and hit an aggressive shot. Really, I have nothing but good things to say about volleying with this racquet."
Andy found success with the "less is more" strategy. He offered, "As with groundstrokes, the racquet is easy to use around the net. Put the racquet out there and it will do the work for you. Try to do too much and the ball will most likely fly on you. I didn't like that there wasn't a whole lot of feel and responsiveness, so I never felt like I could use finesse and put the ball on a dime. Also, it twisted a little too much outside of the sweetspot."
"I liked that I could easily maneuver this racquet into position, yet I also found enough stability when the going got heavy," said Chris. "It was easy to add spin to the ball when I cupped under my volley or cut an angle. The feel was crisp and decently lively even when using a co-poly string. I found a solid enough response to help me get tough low volleys back with depth, and there was ample touch when I wanted to hit a drop volley."
Michelle found the Warrior 100 Pro was maneuverable and stable enough for her to volley well. She said, "I wouldn't say that anything I hit outside the sweetspot was great, but when I hit the sweetspot my volleys were good."
Serves - Score: 80
The easy access to spin and power combined with the good maneuverability to make this a good serving racquet. Andy said, "Power and spin were very easy to come by when serving, and control wasn't all that bad either. I felt I could be effective and consistent while moving my serves around the box with lots of different paces and spins. The weight and balance put enough weight behind my shots, too."
Chris had no issues with his serve. He offered, "There was some solid power and spin to be had on serve. I was able to get plenty of pace on first serves, and it felt like I was able to get the ball to push through the court nicely. The response was crisp and clean, and I felt well connected to where my serves were going. I was able to easily add some spin to first serves to ensure my shot would drop within the box, and I didn't have to sacrifice much pace to do it. I was getting all the spin I needed on second serves, and I was happy with my pace and accuracy."
Michelle praised the Warrior 100 Pro on serves, saying, "I wasn't expecting much help on my serve, and I was pleasantly surprised. I could generate a great blend of power and spin, depending on what type of serve I wanted to hit. I could hit big flat first serves, but I could also tap into some good movement on my slice and kick serves."
Karly was left wanting more control while serving. She said, "The Warrior 100 Pro offered more control on most of my shots, but when serving I found it was easier to hit with more power. The ball popped off the stringbed nicely for a hard serve, but the racquet also offered good access to spin. When I hit my second serve it was easy to hit a powerful serve with a lot of spin. Though it was easy to hit really aggressive serves with this racquet, I would've liked to have seen the same precision and control I had from other areas of the court. The increase in power made it tougher to control my serves."
Serve Returns - Score: 81
Our playtesters were unanimous when describing the excellent stability the Warrior 100 Pro offers on returns. Michelle was impressed, saying, "I found this racquet to be stable enough for me to take big cuts at the ball. It was quick and easy to accelerate, while still being stable."
"Again, I loved the solid and stable feel of this racquet," Karly offered. "I was swinging confidently and aggressively on my returns because of its feel, control and power. It was easy to hit the ball deep and hard, with good placement, as long as I got the racquet back in time. If I had to be nit-picky, it didn't feel quite as maneuverable when I was hitting returns, but it wasn't an issue as long as I sped up my stroke against harder servers."
Chris enjoyed returning with the Warrior 100 Pro. He explained, "The Warrior 100 ESP was an absolute blast to return with. This racquet wasn't quite there, but it did offer better stability on defensive block returns. I was able to get some nice power, and I felt like I could control the ball well, too. I did miss some of the insane spin and fast feel of the ESP version, but I still felt like I was returning very well."
Andy was happy with his returns, as long as he didn't try to do too much with them. He said, "Similar to my groundstrokes, if I took too big a swing I lost control of my shot at times. However, when I let the racquet do the work I could take compact swings and re-direct my opponent's serve at will, putting them on the defensive. Chip returns were nice as well, as the racquet had enough mass to get them back consistently deep."
Overall - Score: 80
Likes
Chris- "I liked the power, spin and solid feel. I liked how I could attack the ball even when I was deep behind the baseline or flat out on the run."
Michelle- "I was pleasantly surprised with this one. There was a nice amount of power and spin in a pretty stable package."
Andy- "It was very easy to use, with a crisp, lively response. I could play 'First Strike' tennis effectively, or turn defense into offense quickly."
Karly- "It made for a great doubles racquet! The solid feel, with the great combination of power and control, was perfect for volleys."
Dislikes
Chris- "The Warrior 100 Pro gets a little too firm outside the sweetspot if it's strung with a stiffer poly, or if the tension is in the upper third of the range."
Michelle- "It wasn't the most forgiving frame when making contact out of the sweetspot; it was a bit erratic when that happened."
Andy- "There wasn't enough touch and feel for my liking, and I also felt that the racquet was jarring and unforgiving outside of the sweetspot."
Karly- "Nothing really. The maneuverability felt a little sluggish at times, but it wasn't terrible."
Comparing it to other racquets they've used, our testers said:
Chris- "I would put this racquet up against the Head YOUTEK IG Extreme Pro 2.0 for spin, power and control. The Extreme Pro 2.0 offers a softer and plusher feel thanks to its S-Tech grommets and its beefier static weight. However, they swing similarly and what I get on the ball from each is pretty close. Compared to the other Warriors, this one offers the crispest and cleanest response, which had me feeling very connected to the ball. While the EXO3 and ESP versions offer more comfort and forgiveness, the Warrior 100 Pro had more touch and feel."
Michelle- "The Warrior 100 Pro is almost Babolat Pure Drive-ish, but with less power and a less forgiving stringbed. It's also a bit softer than the Pure Drive. I preferred the Warrior 100 Pro over the Warrior ESP. They both gave me great access to spin, but the Warrior 100 Pro was just a bit more stable."
Andy- "I felt the Warrior 100 Pro played similarly to the O3 Speedport Black and the Head YOUTEK IG Extreme Pro 2.0. However, it wasn't as comfortable as those two racquets and it didn't feel as forgiving outside of the sweetspot."
Karly- "The Prince Warrior 100 Pro reminded me of the 2013 Wilson Blade 104. I was expecting more power than control from both racquets, but they both offered good precision with decent power, and they both had a great solid feel. I think the Prince Warrior 100 Pro offers more stability than the Blade 104."
Technical Specifications

Length
27 inches
69 centimeters
Head Size
100 square inches
645 square centimeters
Weight
11.3 ounces
320 grams
Balance Point
13.06 inches
33 centimeters
4pts Head Light
Construction
24mm / 25.5mm / 22.5mm
Composition
Graphite
String Pattern
16 Mains / 19 Crosses

Babolat RDC Ratings

Score

Grade

Flex Rating
65
Range: 0-100
Swing Weight
323
Range: 200-400
Scores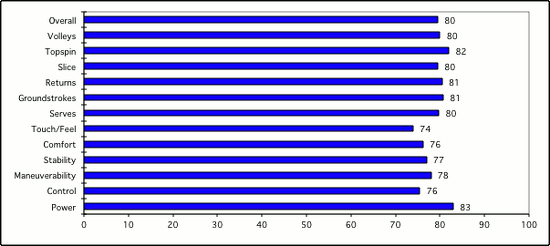 (Scores are determined by averaging individual play test scores)
Chris' Scores
Power
8.3
Serves
8.2
Control
7.8
Groundstrokes
8.4
Maneuverability
8.1
Returns
8.3
Stability
7.8
Slice
8.4
Comfort
7.7
Topspin
8.4
Touch/Feel
7.9
Volleys
8.2
Overall
8.3
Michelle's Scores
Power
8
Serves
7.8
Control
7
Groundstrokes
7.9
Maneuverability
8
Returns
7.9
Stability
7.5
Slice
7.5
Comfort
7.8
Topspin
8
Touch/Feel
7.8
Volleys
7.9
Overall
7.7
Andy's Scores
Power
8.7
Serves
8
Control
7
Groundstrokes
7.7
Maneuverability
7.5
Returns
8
Stability
7
Slice
7.7
Comfort
7
Topspin
8
Touch/Feel
6
Volleys
7.5
Overall
7.5
Karly's Scores
Power
8.2
Serves
7.9
Control
8.4
Groundstrokes
8.3
Maneuverability
7.6
Returns
8
Stability
8.5
Slice
8.2
Comfort
8
Topspin
8.4
Touch/Feel
7.9
Volleys
8.4
Overall
8.3
Playtester Profiles
Chris: 5.0 all-court player currently using the Wilson Six.One 95S. Chris uses a full-western forehand grip, has a fast swing style and hits a one-handed backhand.
Michelle: Open level baseline player with a semi-western forehand and a two handed backhand. She currently plays with the Babolat Pure Drive Roddick.
Andy: Open level all court player with a semi-western forehand grip and a two handed backhand. Andy currently using a Wilson Blade 98 18x20.
Karly: 4.0 baseline player currently playing with the Volkl Organix 10 Mid. She hits with a semi-western forehand grip and uses a two handed backhand.

Review date: January 2014. If you found this review interesting or have further questions or comments please contact us.
All content copyright 2014 Tennis Warehouse.