Prince Warrior 100 Racquet Review

Prince Warrior 100 Scores
Power
84
Comfort
85
Touch/Feel
74
Serves
82
Groundstrokes
84
Returns
82
Slice
78
Topspin
81
Volleys
81
Overall
82
Upsides
Swings fast
Power
Lots of spin
Comfort
Summary
For 2014, Prince adds an updated Warrior to the line with the sleek-looking Warrior 100. This edition retains the Prince EXO3 technology, which keeps the traditional forgiveness and dampened feel of the large port grommets. With many of our testers having playtested the previous version, the EXO3 Warrior, they were excited to swing this update. With a more consistent response and ample power off the stringbed, this quick swinging racquet was comfortable and easy to hit. From the baseline our playtesters channeled their inner warriors to amp up their offensive games. Although all the playtesters agreed that the Warrior 100 trumps the EXO3 Warrior, we still found that it was getting pushed around slightly and was difficult to control at the net. Still, we think that this is an ideal racquet for players looking to bang big groundstrokes, and with its lighter weight the Warrior 100 is also a great starting point for customization.
Groundstrokes - Score: 84
The maneuverability of the Warrior 100 and easy access to pace and spin from the baseline were a perfect combination for the modern strokes of our playtesters. Having played with the previous Warrior, as well as the O3 and EXO3 Black racquets, Brittany knew she was in familiar waters. She began, "The feel of the Warrior 100 is very similar to the EXO3 Warrior. I felt very comfortable playing with this racquet because it is right in my spec range. It was easy to maneuver, and I had plenty of access to spin when needed. There is some power to this racquet, which I enjoyed. I was able to tame that power with a full bed of poly, which added a touch of control. Lastly, I found this racquet to be very comfortable to hit with. Even when I mis-hit the ball, I never felt any vibration or discomfort."
Jason was pleasantly surprised at the power he got from a racquet that weighs only 11 ounces. He said, "I felt like I was able to get tons of spin on my shots, especially on my forehand cross court shots. The racquet felt quite maneuverable, which was helpful when I had to hit shots on the run."
Echoing Jason was Tiffani, who said, "I tested this racquet without knowing the specs, and I thought it played like it had a swingweight in the low 300s rather than closer to 320. The Warrior 100 swung very quickly through the air, allowing me to step inside the baseline when I wanted to play more offensively. I enjoyed the amount of spin and power I could generate as well, and it felt pretty stable even outside the sweetspot. The comfort level was high with the EXO3 ports. The feel with the ports is something I've never quite fallen in love with, but I'm more used to them after playtesting them over the years. I still think that they rob me of some feel, so at times I have trouble sensing how hard I'm hitting the ball."
Mike, a longtime Prince user, found this update to be a very easy racquet to swing on both the forehand and backhand sides. He offered, "I felt like the racquet had tons of power, so I had to really focus on controlling the ball. I don't have the best backhand in the world, and the Warrior 100 really seemed to help. This racquet definitely gave me some added MPHs, and I was hitting some shots I don't normally hit. I did have some trouble being consistent on certain shots, and I also felt like I was getting pushed back at times."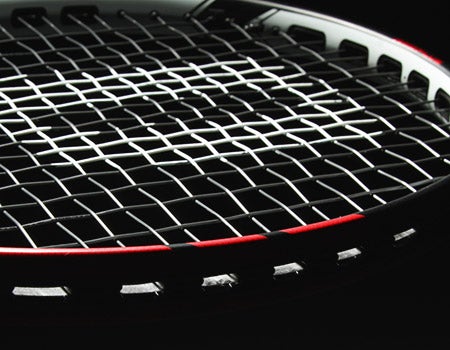 Volleys - Score: 81
Although maneuverability was a standout feature of the Warrior 100, some of our playtesters felt that the lighter weight of this racquet allowed it to be pushed around, and they noticed an erratic response from contact outside of the sweetspot. Tiffani, who doesn't always feel completely comfortable up at the net, found this racquet helped boost her confidence when she came forward. She said, "There wasn't too much flutter at impact, and I enjoyed the combination of good pop and maneuverability at net. I like this combo because it helps me put away points at net -- something I struggle to do on my own."
There was plenty of put-away power for Jason at the net. He offered, "The Warrior 100 had great mobility for those quick reaction volleys, but it was a little erratic outside of the sweetspot -- not too bad, but noticeable. The one big downside for me was the lack of feel. I thought the feel was too dampened, even with a full bed of poly."
Mike enjoyed the maneuverability of the Warrior 100 at net, but the lack of stability caused some control issues. "It was hard to place or control my volley when the ball was hit at me hard," he said. "I was just able to get the ball back and somewhat place it in the court. The racquet was a little unstable at times but very fast, and reaction volleys were key."
Brittany had mixed feelings when it came to volleys. "The maneuverability helped me get the racquet in place for any volley that was hit at me. The racquet was stable enough for me to have a quick reflex exchange and punch the volley back deep for a put-away. I did struggle with the feel, however. I felt very disconnected when the ball was making contact with the stringbed. This caused me to struggle when I was hitting short angles or drop volleys."
Serves - Score: 82
Our playtesters were able to add pace and spin to their first and second serves with the Warrior 100. Mike found it easy to access a lot of pace with little effort. "My favorite serve with this racquet was the flat serve down the T. I thought it was pretty arm-friendly, so off-center shots felt pretty good and didn't bother my arm at all. The Warrior 100 gave me more power and was very maneuverable."
Jason, who usually likes a heavier racquet, would have preferred more weight when serving. He explained, "For a person like me, who doesn't serve with much pace and relies on more spin, any extra MPHs help. With how whippy it is, I could really generate great racquet head speed to put more action on my serves, and I appreciated the great access to spin. Still, I would like a heavier racquet for even more power."
"I was able to get a lot of racquet head speed when serving," offered Brittany. "With the EXO3 technology, I was very comfortable serving both first and second serves with this racquet. I had plenty of options when it came to hitting first serves; flat up the T, slice out wide or kick into the body. Second serves were just as blissful. I had a ton of confidence going up and after my second serves because there was plenty of spin to keep the ball in the service box."
Unlike the other playtesters, Tiffani didn't think that this Warrior 100 was boosting the power of her serves a whole lot. She said, "I prefer heavier racquets to give me the power I'm lacking on serve. Even though I didn't find a lot of power I did find more spin, so I wasn't a sitting duck too often. I saw some better hops on my serve, even if I wasn't hitting with tons of power."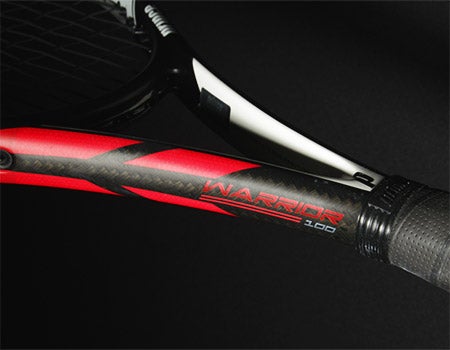 Serve Returns - Score: 82
Because the Warrior 100 was so easy to swing our playtesters were able to attack with their returns. Jason really enjoyed the Warrior 100 on his return game. He said, "It packs more punch than an 11-ounce racquet typically does. Even when I only had time to block a shot back, my shots would, for the most part, land with enough depth to keep me from being put on the defensive."
Tiffani found it easy to start off points aggressively. She said, "The Warrior 100 excelled here, just like it did from the baseline. Actually, that's where I liked to stand to return with this racquet, up near the baseline. Because it swings quickly, I had more confidence to step up closer to hit returns. I really didn't try varying my returns too much with this racquet because I felt best taking a good swing at whatever was coming at me."
"Any racquet that is maneuverable will always score high marks from me in this area," raved Brittany. "The serve return is one of my favorite shots to hit, and this racquet definitely met my standards. Along with the great maneuverability, this racquet offered enough stability that I had no problem stepping in and attacking any serve that came my way."
"At the beginning of this playtest the Warrior 100 felt a little weird to me," added Mike. "The more I hit with it the more I got used to the maneuverability. I realized I had to take the ball early and on the rise since I could generate a lot of power and really strike through the ball. I was able to attack from the start of the point."
Overall - Score: 82
Likes
Brittany - "I liked the power and maneuverability this racquet offered. It had a classic Prince feel that brought back memories."
Jason - "The spin from all areas of the court, the maneuverability and the ball pocketing."
Tiffani - "There was a lot of effortless spin on my shots. I also enjoyed the maneuverability and comfort."
Mike - "Power, power, power and maneuverability were my favorite features."
Dislikes
Brittany - "Like previous models, I felt a little disconnected when trying to hit volleys."
Jason - "The drop in power when I hit outside the sweetspot. It was a little light for my preference and lacked feel (too muted)."
Tiffani - "The feel of the EXO3 ports is just not my cup of tea. It's too muted."
Mike - "The lack of stability and consistency."
Comparing it to other racquets they've used, our testers said:
Brittany - "It felt very similar to the previous Warrior, with almost identical specs. It's also an ideal replacement for those players who loved the Black series. Like the previous version, it provides power, is very maneuverable and has the Prince feel from the EXO3 ports."
Jason - "It's similar to the Babolat Pure Drive or Head Instinct MP."
Tiffani - "The EXO3 Black and EXO3 White are comparable in terms of power, spin and maneuverability. The Warrior 100 feels like a blend of those two. The Warrior 100 has been a more consistent racquet for me than the previous EXO3 Warrior 100. I had trouble controlling my depth with the previous EXO3 model, so I was happier with this version."
Mike - "This updated Warrior felt more comfortable than the previous version, and I felt the sweetspot was a little bigger."
Technical Specifications

Length
27 inches
69 centimeters
Head Size
100 square inches
645 square centimeters
Weight
11.1 ounces
315 grams
Balance Point
13.06 inches
33 centimeters
4pts Head Light
Construction
24mm / 25.5mm / 22.5mm /
Composition
Graphite
String Pattern
16 Mains / 19 Crosses

Babolat RDC Ratings

Score

Grade

Flex Rating
66
Range: 0-100
Swing Weight
317
Range: 200-400
Scores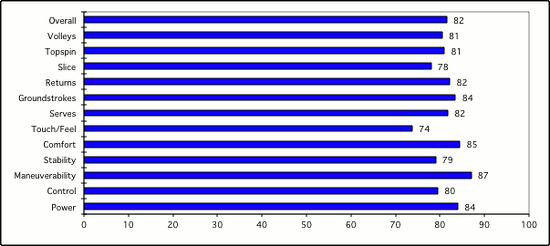 (Scores are determined by averaging individual play test scores)
Brittany's Scores
Power
8.7
Serves
8.3
Control
8
Groundstrokes
8.8
Maneuverability
8.5
Returns
8.4
Stability
8
Slice
7.9
Comfort
7.8
Topspin
7.8
Touch/Feel
7.7
Volleys
7.9
Overall
8.4
Jason's Scores
Power
7.8
Serves
8.1
Control
8
Groundstrokes
8
Maneuverability
8.8
Returns
8.3
Stability
7.7
Slice
7.8
Comfort
9
Topspin
8.4
Touch/Feel
6.8
Volleys
8.1
Overall
8
Tiffani's Scores
Power
8.1
Serves
7.7
Control
7.9
Groundstrokes
8.1
Maneuverability
8.4
Returns
8.1
Stability
7.9
Slice
7.7
Comfort
8.5
Topspin
8.2
Touch/Feel
7.5
Volleys
8
Overall
8
Mike's Scores
Power
9
Serves
8.6
Control
7.9
Groundstrokes
8.5
Maneuverability
9.1
Returns
8.1
Stability
8
Slice
7.8
Comfort
8.5
Topspin
8
Touch/Feel
7.5
Volleys
8.2
Overall
8.2
Playtester Profiles
Brittany: Open level player with a semi-western forehand and a two-handed backhand. She currently plays with the Yonex V-Core 100S.
Jason: 4.0 baseliner with a semi-western forehand and two handed backhand. Currently using a Wilson Steam 99 S.
Tiffani: 4.0 level baseliner with a semiwestern grip on the forehand and hits a two-handed backhand. Currently playing with the Donnay Formula 100.
Mike: 5.0 baseliner with a semi-western forehand and two-handed backhand. His current racquet of choice is a customized Prince Triple Threat Warrior.

Review date: January 2014. If you found this review interesting or have further questions or comments please contact us.
All content copyright 2014 Tennis Warehouse.