Prince Tour XC String Review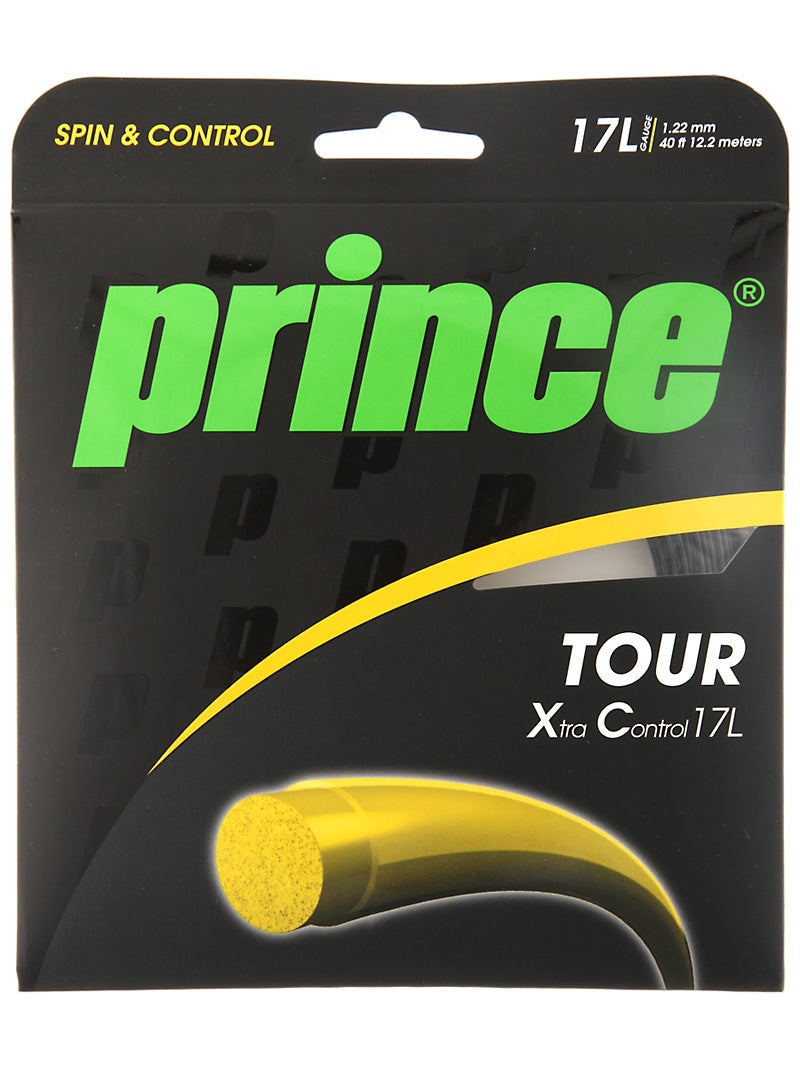 Prince Tour XC String Scores
Power
45
Spin
79
Comfort
55
Control
85
Feel
65
Playability Duration
76
Durability
89
Overall
76
Downsides
Too firm and underpowered for beginners
Summary
According to our playtest team, Prince Tour XC is perfect for big hitters who don't want to worry about overhitting when they're attacking the ball. In other words, we found this poly to be quite low powered and very well suited to the aggressive stroke speeds needed for heavy spin. Predictably, the durability turned out to be absolutely top notch. This string's ability to remain fresh over several sessions of heavy hitting was due in no small part to its slippery coating, a feature that not only helps with spin, but also protects the stringbed from frictional wear. Our playtesters biggest complaint against Tour XC was that it didn't provide much "free" power. One of our playtesters found it a little too firm outside the sweetspot, a familiar complaint against polys. Ultimately, Tour XC does exactly what a heavy duty poly should do. With its exceptional control on big swings, Tour XC gives big hitters the confidence to punish the ball.
Power - Score: 45 | Control - Score: 85
Prince designed Tour XC to be a firm, low-powered control string for players with long, fast strokes. For Troy, this string definitely lived up to its design. He said, "This is the type of co-poly string that definitely errs on the side of control, rather than power. For tennis string advocates, it is a well-known fact that poly strings are made to maximize control in a racquet. With that being said, Tour XC has less power than most poly strings. This string felt a bit more 'dead' than I would have preferred, but its lack of power enhanced its control and predictability."
With the extremely open string pattern on his racquet, Mark definitely appreciated this string's extra control and durability. He said, "Tour XC was an ideal string for adding control to the super open 16x15 string pattern in my Wilson Pro Staff 95S. It also helped with durability. This string seemed to make the ball come off the stringbed very predictably, which is a definite plus with an extremely open string pattern. With its blend of low power, low friction and ultra high control, I loved how the 15 gauge Tour XC paired with my Pro Staff 95S."
Spin - Score: 79
Our team appreciated the way the slippery surface of Tour XC snapped the ball out of the stringbed with plenty of spin. Mark explained, "With its slick exterior, I was able to hit with lots of effective/predictable spin with the Prince Tour XC 15 gauge. I played a tournament over the weekend, and after eight hours of play the strings were still snapping back effectively and putting extra spin on the ball. I was impressed by how well these strings held up to the extra sliding."
Although Tour XC wasn't the most spin-friendly string he has hit, Troy took advantage of the low power level to swing bigger and ratchet up the ball rotation. He explained, "I found the spin potential to be pretty average for a co-poly string. Out of the two gauges I tested (16L and 17L), I preferred the thinner 17L because I got a bit more bite on the ball. This string was gripping the ball and snapping back into place, which most co-polys tend to do, but this sensation wasn't as noticeable as it is with strings such as Babolat RPM Blast or Kirschbaum Spiky Shark."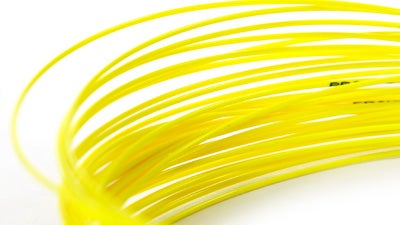 Comfort - Score: 55
Despite its relatively low stiffness score in the TW string lab, Tour XC is not designed to offer high comfort. This explains why Troy found it a little too unforgiving on some shots. He said, "I rate the comfort of this string slightly below average. I found this string to be a bit unforgiving due to its firmness. The response of this string made the racquet feel dead or board-like. I initially set the tension on this string at 48 lbs and then gradually dropped the tension to 43 lbs. I didn't felt comfortable even at the lower tension."
Unlike Troy, Mark had zero comfort issues with Tour XC. He said, "Much of the talk about polys being hard on a player's arm, I feel, has to do with the string tension. As long as the tension isn't too high the poly/arm pain thing is almost an urban legend. That said, there are polys that are known to play stiffer than others. I could tell the Prince Tour XC 15 was going to play a little softer than many other string by the way it felt when I strung up my racquet. I never once had a twinge of pain while playing, and it was very comfy despite being a control and durability string."
Feel - Score: 65
Although Tour XC is made from a firm polyester material, Mark found the feel to be relatively soft for the breed. He said, "I would say the Tour XC feels and plays like it is on the softer side of the stiffness spectrum for monofilaments. It's not Polyfibre or Topspin Cyberflash soft, but it's close to some of the polys from Yonex (Poly Tour Pro). I was able to produce some effective shots on off-center contact, without excessive vibration, with Tour XC in my Wilson Pro Staff 95S."
Unlike Mark, Troy found this string's response a tad boardy. He said, "The feel of this string was firm and rather dead, probably because of the relatively low elasticity. I didn't find a high level of shock when the ball hit outside the sweetspot, although the power level was on the dead side."
Playability Duration - Score: 76
Despite the typical changes in tension over time, our playtest team was satisfied with how long Tour XC remained playable. Troy scored this string above average for playability duration, saying, "One of the benefits of this string is that it maintained consistent playability throughout the playtest. I played with various gauges of this string for roughly 5- to 10-hour increments before cutting it out. I found that tension maintenance was better than average compared to similar co-poly strings. The spin potential may have decreased slightly over time, and I found the slickness of the string to diminish toward the end of the test."
Detecting some minor changes over time, Mark said, "The stringbed started off feeling pretty soft, and after 12 hours of play (I have a medium-fast swing style) I can now detect that the tension has dropped, but it's nothing compared to leaving my racquet in a hot car for one afternoon."
Overall - Score: 76
What type of player would you recommend this to?
Mark - "Anyone who likes to use a softer control-oriented poly in a full set or in hybrid form. It is a round poly, so it won't prematurely saw the other string of the hybrid set-up. Of course, players who likes wider string patterns will probably love the extra control and durability they'll get from the 15 & 15L versions."
Troy - "I recommend this string for players who have long strokes and are looking for a low-powered response."
Likes
Mark - "Tour XC is middle of the road in terms of poly stiffnesses, it has a great price point and works great in either full or hybrid form. My personal test question is to ask myself if I would pay more for it than the asking price; I would for this one."
Troy - "I enjoyed the high level of control and durability, as well as the better than average tension maintenance."
Dislikes
Mark - "I suppose all good things must come to an end, but if I get 12 hours of play out of a full set of a poly with my super open string pattern, it is hard to complain."
Troy - "The overall lack of ball-pocketing, or what I tend to refer to as a 'dead' feeling string."
Comparing the string to others they've tried, our testers said:
Mark - "Yonex Poly Tour Pro, Luxilon Savage Lime and WeissCannon Matchpower all play similarly to Tour XC."
Troy - "I found Tour XC to have similar characteristics to Wilson Ripspin. I would also compare Tour XC to ISOSPEED Black Fire."
Scores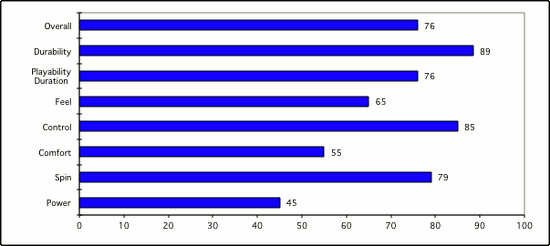 (Scores are determined by averaging individual play test scores)
Mark's Scores
Power
5
Playability Duration
7
Spin
8
Comfort
7
Control
8
Touch
8
Durability
9
Overall
8
Troy's Scores
Power
4
Playability Duration
8.2
Spin
7.8
Comfort
4
Control
9
Touch
5
Durability
8.7
Overall
7.2
Playtester String Setups
Mark:
Playtest Racquet: Wilson Pro Staff 95S
Playtest Tension: 56 lbs
Typical String: Kirschbaum Pro Line X 1.30
Troy:
Playtest Racquet: Babolat Pure Control Tour +
Playtest Tension: 45 lbs
Typical String: Luxilon 4G 1.25

Review date: June 2014. If you found this review interesting or have further questions or comments please contact us.
All content copyright 2014 Tennis Warehouse.