Wilson Pro Staff 90 Racquet Review

Wilson Pro Staff 90 Racquet Scores
Power
76
Comfort
85
Touch/Feel
83
Serves
80
Groundstrokes
80
Returns
76
Slice
84
Topspin
80
Volleys
89
Overall
84
Upsides
Solid
Stable
Improved feel
Plow through
Summary
Possibly the ultimate player's racquet, the Wilson Pro Staff 90 gets an update in 2014 to carry on the heritage. Given the success Roger Federer had had with the 90 series, our playtesters were excited to see how their strokes would measure up to this demanding racquet. With its braided graphite and Kevlar composition, the Pro Staff 90 gave our team a classic, enhanced feel from all areas of the court. Stability, precision and plow through were key words in our team's description of this racquet. We found this update to be very rewarding when we had the time to set up for our shots and play offensively, but this heavy 90 square inch racquet was very demanding when we were rushed or on defense. Volleys were perfect with the Pro Staff 90, but a little more work was needed to really key in and find the first and second serves our playtesters were looking for. Returns felt rock solid and effective. Wilson has added a built-in weight ruler to the paint job to make customization easier... but why mess with an already good thing?
Groundstrokes - Score: 80
Longtime fans of the Pro Staff 90 will find this update picks up right where the BLX Six.One Pro Staff 90 left off. Our team found enhanced feel and power when it came to striking balls from the baseline. For Chris, the Pro Staff 90 checks all the right boxes. He said, "When the stars align and everything comes together with this racquet, it provides pure hitting nirvana. However, it is a harder racquet to defend with. I can't just stab at the ball or flick my wrist and expect instant pace like I can with more modern designs. What it does offer, though, is great feel. There was a ton of Pro Staff heritage in every hit. The general hitting experience has not changed much since the KFactor version, and I can switch between any of the last three iterations without missing a beat. The others have all been sweet sticks; this one is sweeter still."
Granville stepped into this playtest with a bit of a conundrum. He explained, "When I'm on my game, this racquet is butter. But I'm getting older (and recovering from injuries more than I'd like to admit). I'm more often a step slower and now looking for an ounce lighter. Thus my issue -- take an ounce out of a Pro Staff (or Six.One), and you have a different racquet. As it is, it remains one of the finest racquets on the market for the performance player, and it is a worthy successor to my old Six.One 95, which I have had to abandon as a competitive option." When it came to speaking strictly about groundstrokes, Granville kept it simple by saying, "Stable, plush sweetspot with excellent targeting. I know that it -- and I -- are capable of just about any shot in the book. In addition to its precision, the 12.5-ounce weight offers excellent power. I've been playing with these racquets for so long I know exactly what to expect. I'm never thinking about the racquet in my hand -- it becomes part of me, an extension of my arm. With good racquet speed you can expect deep penetrating shots. This racquet is not for everyone -- it is heavy, so your balls may not land with depth if you are unaccustomed to the weight."
"I found pinpoint precision when hitting groundstrokes with this racquet," Troy began. "Anytime my opponent gave me a chance to be offensive, I was stepping into the court and ripping a forehand with full confidence. The stability and plow through were second to none when facing heavy hitters. I could generate plenty of topspin from the open string pattern and angle my passing shots with ease. The backhand slice feels like a hot knife through butter. I have always enjoyed the scalpel-like feel when hitting slice backhands with all generations of the 90; I think Fed feels the same. However, with the headsize of this racquet being smaller than the typical 95-98 square inches that I'm used to, I found it harder to come up with defensive shots when off balance or on the run. I love how this racquet feels like an extension of my arm when I'm able to attack, but at the same time I find it hard to believe I could consistently play a high level of tennis without my defensive game."
Mark, who has loved all iterations of the Pro Staff 90, expected to feel the same about this one. He said, "It felt familiar from the get-go, and within 15 minutes of play my confidence level was high enough for me to start playing out points. I played the first tiebreak and groundstroke game with the Pro Staff 90 after less than a half-hour of testing. My shots had some force to them when I was redirecting the ball, even my inside out forehand. I quickly dialed in the slice backhand, which I was able to keep low and deep."
Volleys - Score: 89
Our playtesters unanimously enjoyed volleying with the Pro Staff 90 and felt like they could do anything they wanted at the net, whether it was sticking volleys deep in the court, dropping touch volleys or placing angled volleys in the corner. Granville had some fun at the net, saying, "Once again, stable and plush with the added benefit of maneuverability. It fits well in what I call the 'scalpel' category with its smaller 90 square inch headsize. This racquet delivers touch, power and spin at the net, but at 12.5 ounces I'd prefer a more generous 12 points head light balance -- but will leave that for customization."
"Please show me the fellow who does not like to volley with the Pro Staff 90, because I would like to meet that individual," began Mark. "I'm not certain that person even exists! I believe he is a myth, like the Loch Ness Monster. All of the various examples of the Pro Staff 90 that I have played with have exemplified stability, but they have never had great mobility. Get it there on time, and the Pro Staff does the rest. That said, I have to say that the latest version felt a bit easier to maneuver and finesse, even with the measured 12.5 strung weight and the 325 swingweight."
Chris was able to punch volleys away or caress angles at will when wielding the Pro Staff 90 at net. He offered, "I loved the solid feel and precise control of this racquet at net. Drop volleys were made easier thanks to the stability. I could really loosen my grip and wrist for added feel, while letting the mass of this racquet handle the impact. I also loved this racquet on tough low volleys because I was able to still get plenty on them. While it was harder to defend with this racquet from the baseline, I found that to be one of its strengths at net. I was able to put all of the plow through and mass of this racquet to good use at net. This is simply a superb racquet to volley with."
"I have played with many player's racquets that provided a solid and stable feel on volleys," said Troy. "I typically think of my Six.One 95 as one of the best volleying racquets, but this stick provides pure feel at net. I found rock solid stability when facing heavy shots hit at me. I enjoyed the combination of maneuverability and stability when playing doubles, and I found it easy to react during quick exchanges and to deflect heavy returns hit at me. I really enjoyed the feel when hitting drop volleys and short angles, and I once again found this racquet to feel like an extension of my arm. I enjoy a racquet with this type of mass, where the racquet does most of the work and I can stick volleys with ease."
Serves - Score: 80
A couple of our playtesters did yearn for a bit more from the Pro Staff 90 on their serves. Mark, who finds that heavier racquet set-ups are usually right up his alley, thought this racquet benefited his serve. He offered, "I did get tired if I served a basket or two of nothing but serves, but overall, this racquet helps me on serve. Once it is pointed/moved in a certain direction, not much stops it, and a good number of my serves not being returned backed up that notion."
Troy instantly found pinpoint accuracy using this racquet with his lefty serve. He said, "I was surprised by the amount of spin and kick I could generate when serving with this racquet. My kick serve was really enhanced by the open string pattern and head light balance. It did feel a bit hefty on my flat serves down the middle compared to some of the other racquets I have tested lately, such as the Head YOUTEK Graphene Prestige Pro and the Prince Response 97. Although I didn't get quite as much pop on my first serves, I really enjoyed how well my kick serve was jumping off the court."
For Granville, there was "comfortable power with excellent control" with the Pro Staff 90 on serve. "There is no substitute for playing with confidence and knowing you have the right racquet in your hands. The Pro Staff 90 is one of those racquets. It can (and should) intimidate your opponent (if your game is up to it)!"
Chris expected more from this racquet on serve, and he found that it took until the end of the playtest to feel fully dialed in. He said, "I tend to favor heavier racquets when serving, but it took a while before I could put the mass of this one to good use. After spending some time back with the Pro Staff 6.0 85 I got back in the groove, and that carried over to this 90. My first serve started to get more punch and I was hitting a very solid flat delivery. I never tapped into the inherent spin potential and my second serves sat up a tad. Still, my opponents didn't seem to take advantage of my second serves, and I was starting points off aggressively."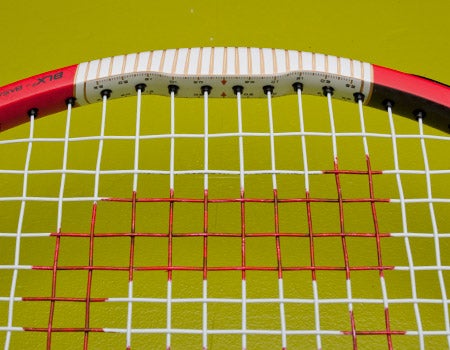 Serve Returns - Score: 76
It seemed to us that the return of serve was just another area where this classic feeling Pro Staff 90 really was near perfection (especially when knifing a slice return). Placing his returns with a lot of accuracy, Troy saw the payoff when he was playing doubles. However, he did struggle a bit with his two-handed backhand return. He explained, "I could rip forehand returns that sat in my wheelhouse. Slice backhand returns came with easy depth and skidded low near the server's feet, but when I was stretched-out on my returns I found it harder to get easy depth compared with racquets with a slightly larger, more forgiving sweetspot."
"Despite the heavy spec, I really liked this racquet on returns," stated Chris. "I was able to keep my strokes compact and let the mass of the racquet do the work. My backhand slice return felt rock solid. I was able to drive my slice returns and force my opponents to dig out a low skidding ball. On the forehand side, the precise control gave me the confidence to attack the ball at every opportunity."
For Mark, it is always a personal balance between optimal stability and maneuverability. He said, "To me the Pro Staff errs on the side of stability. The chip style return, which I rely heavily on, was great. On the other hand, I was not able to get much follow through racquet head speed."
"I'm confident when playing with the Pro Staff 90," said Granville, who clearly felt at home when returning with this racquet. "I'm confident that I can hit the ball on the rise for an offensive return. I'm also confident that I can feather a cross court return low to tie up my opponent on his serve and volley approach."
Overall - Score: 84
Likes
Chris - "I loved the control, feel, plow through and rock solid response. The feel was awesome and this would be a no brainer update for me if I were a Pro Staff 90 player."
Troy - "The feel and stability of this racquet is second only to the Pro Staff 6.0 85. I felt like I could place my forehand on a dime. The sweetspot felt a bit bigger than previous versions."
Mark - "I like the way this racquet challenges me. It is heavier than most other stock weighted setups. I feel like it almost helps my game a little. Due to the fact that the new Pro Staff 90 is so heavy, it sort of restricts the range of motion I can use on groundstrokes and does not allow me to get away with crappy stroke mechanics the way the lighter racquets do. It feels great in the hand and cutting through the air. The Pro Staff 90 is a breeze to string, too. Lastly, I know everyone, including me, is clamoring for the extremely open patterned frame types, but access to spin with the Pro Staff 90 did not feel too much different than with my Steam 99S setups, which are very spin friendly."
Granville - "The solid and stable feel."
Dislikes
Chris - "It took me a while to get back in the heavy midsize mindset, but that was me, not the racquet. This racquet felt great. By the end of the test I was serving as big as I can and loving the control and feel from baseline to net. Defense remained tough, though."
Troy - "The 90 square inch headsize made it hard for me to stay in the point whenever I was in a defensive position."
Mark - "Technology aside, nothing beats good old fashioned mass, and the Pro Staff 90 has no shortage of it. I suppose it is not so much of a dislike of the racquet, but it is a fact that after the 90-minute mark I wasn't able to swing it effectively."
Granville - "The new price. Looks too much like the Six.Ones."
Comparing it to other racquets they've used, our testers said:
Chris - "Any of the Pro Staff 90s from the KFactor version on compare closely. Other racquets I'd be demoing along with this one would be the Volkl Organix 10 Mid, Head YOUTEK IG Prestige Mid and the Wilson Blade 93. The Pro Staff 90 feels the most solid out of all of those to me, but it is also the one that takes the most effort to swing and, for whatever reason, is the most demanding. Even the Pro Staff 6.0 85 cuts through the air better, and it wasn't until after I went back to that racquet that I finally got this 90 dialed in."
Troy - "Feels just as solid and stable as the previous iterations of the 90. This version felt closer to the iconic Pro Staff 6.0 85 than the previous BLX version did for me. Not much else compares to this racquet on the market. I would have a dream racquet if they could pack this type of solid and responsive feel into a 98 square inch headsize."
Mark - "Compared to the other examples of the Tour 90, I have to say this particular one is my favorite so far, but there's not a vast contrast between them either. I'd compare the newest Pro Staff 90 to the Prince Graphite Mid, the Head IG Prestige Mid, and although the Yonex V-Core 89/ Pacific X Feel Pro Vacuum 90 both have dense patterns, they should also be included in the conversation."
Granville - "This Pro Staff 90 feels very much the same as previous models, but only after I adjusted to it. Coming off my regular 95, the 90 felt very soft with low power, so the change in feel must be more related to my game than the racquet. The specs confirm this conclusion, much to my dismay. All that being said, this Pro Staff 90 remains one of the performance jewels in the category today."
Technical Specifications

Length
27.0 inches
69 centimeters
Head Size
90 square inches
581 square centimeters
Weight
12.5 ounces
354 grams
Balance Point
12.5 inches
32 centimeters
8pts Head Light
Construction
17.5mm Straight Beam
Composition
Basalt / Kevlar / Graphite
String Pattern
16 Mains / 19 Crosses

Babolat RDC Ratings

Score

Grade

Flex Rating
66
Range: 0-100
Swing Weight
325
Range: 200-400
Scores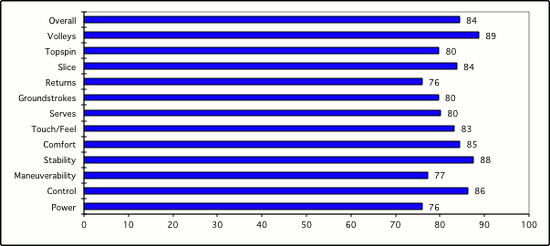 (Scores are determined by averaging individual play test scores)
Chris' Scores
Power
7.7
Serves
7.8
Control
8.5
Groundstrokes
7.8
Maneuverability
7.4
Returns
7.9
Stability
8.5
Slice
9
Comfort
8.3
Topspin
8
Touch/Feel
8.3
Volleys
9
Overall
8.4
Troy's Scores
Power
7.2
Serves
8.5
Control
9
Groundstrokes
7.8
Maneuverability
8
Returns
7.5
Stability
9
Slice
9
Comfort
9
Topspin
8
Touch/Feel
9
Volleys
9
Overall
8.4
Mark's Scores
Power
8.5
Serves
8
Control
8.5
Groundstrokes
8.5
Maneuverability
7
Returns
7.5
Stability
9.5
Slice
9
Comfort
8.5
Topspin
8.5
Touch/Feel
8
Volleys
9
Overall
9
Granville's Scores
Power
7
Serves
7.75
Control
8.5
Groundstrokes
7.75
Maneuverability
8.5
Returns
7.5
Stability
8
Slice
7.5
Comfort
8
Topspin
7.5
Touch/Feel
8
Volleys
9
Overall
8.25
Playtester Profiles
Chris: 5.0 all-court player currently using the Wilson Six.One 95 S. Chris uses a semi-western forehand grip, has a fast swing style and hits a one-handed backhand.
Troy: 5.0 lefty all-court player with a full Western Forehand and a two-handed backhand. Troy currently plays with a Wilson BLX Six.One 95.
Mark: 5.0 lefty all-court player with a one-handed backhand. He currently plays with the Wilson Steam 99S.
Granville: 5.5 all-court player currently using a Babolat Pure Drive 107. Granville is an aggressive player who uses an eastern forehand grip and goes continental on everything else, hits with a flat swing and a one-handed backhand.

Review date: December 2013. If you found this review interesting or have further questions or comments please contact us.
All content copyright 2013 Tennis Warehouse.