ProKennex QTour Racquet Review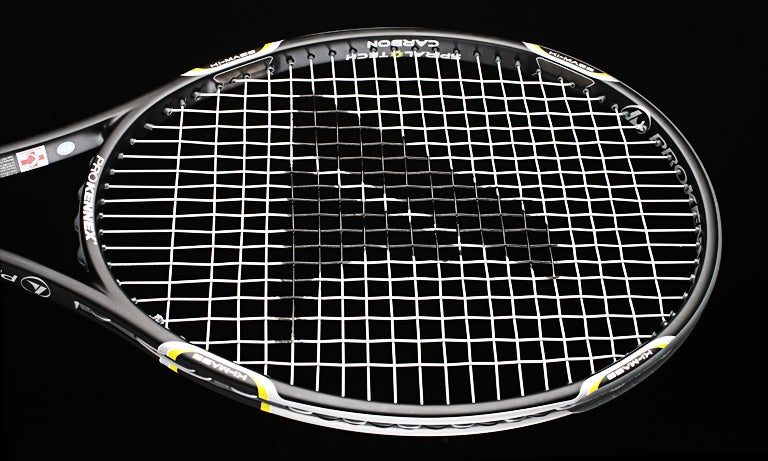 ProKennex QTour Scores
Comfort
84
Touch/Feel
77
Serves
80
Groundstrokes
75
Returns
76
Slice
82
Topspin
80
Volleys
79
Overall
76
Upsides
Control
Stability
Comfort
Summary
ProKennex's newest addition to its player's racquet line, the QTour offers exceptional feel and control in an arm-friendly frame. The QTour features ProKennex's unique K.I. Kinetic technology, designed to dramatically decrease shock and vibrations, thus making the racquet extremely easy on the arm. Most of our playtesters confirmed ProKennex's claim and found the racquet to be very soft and comfortable at impact. The supple feel also provided our team with great touch all over the court, especially on drop shots. Everyone also agreed that the racquet provided excellent control from all areas of the court. All of the playtesters felt they could put their shots on a dime. The one downside we noticed was the hefty weight, making it somewhat difficult to generate a lot of racquet head speed. However, the added heft helped with knifing deep, penetrating slices. If you're looking for a heavier racquet with a soft, "pillowy" feel, look no further than the QTour.
Groundstrokes - Score: 75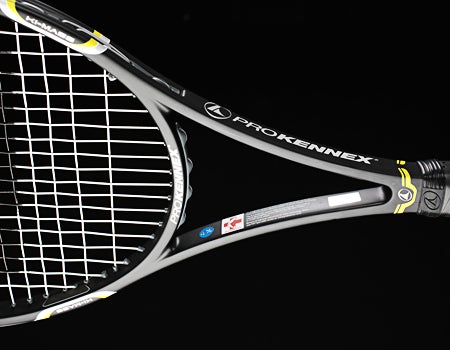 Our playtesters had mixed emotions about the QTour from the baseline, but everyone enjoyed the soft feel and great control the racquet provided. Chris loved the precision and comfort. He said, "I found this to be a very controlled racquet from the baseline. While I didn't feel like I was getting any free power, I enjoyed being able to control the amount of pace my shots had as well as their direction and depth. I found I played very consistently with this racquet. I was able to get a decent amount of spin and move the ball around from target to target to get my opponent on the run. The racquet felt solid and the response was very comfortable. I hit the racquet with several different co-polys and found I could string it very low for even more comfort and a tad more power without sacrificing control. Big Hitter Black felt great in this racquet."
Mark felt the racquet was perfectly suited to his game. He said, "It is amazing how just a slight increase or decrease in the weight of a racquet is so noticeable for tennis players. At first it was a challenge to get the groundstrokes feeling comfortable, but I always err on the side of adapting to a slightly heavier racquet, rather than getting a racquet that is really maneuverable. After a few hour-long hitting sessions I felt like I owned the groundstrokes off both wings, and this frame was definitely made for the way I generate slice."
Andy also enjoyed the feel and control, but he found it difficult to generate lots of racquet head speed. He said, "I liked the soft, buttery feel and control I had with this racquet off the ground. The QTour has an exceptional dampening system built into the racquet, which was very noticeable when hitting groundstrokes. I also found the tight 18x20 string pattern provided me with excellent control. However, I did feel that it was a bit clunky through the hitting zone. I'm thinking it may be due to the flat beam style, but the racquet felt very 'un-aerodynamic' and it was difficult to generate fast head speed. I found myself late on a lot of shots because I couldn't get the head through the swing quick enough."
Carol also found this racquet to be a little difficult to swing. She said, "I really liked this racquet when I hit balls right in my strike zone. The balls felt very controlled and I was able to maneuver the racquet very well with stability. The racquet felt heavy and sluggish on balls up and out of my strike zone, and I had a hard time creating power and depth, which also created fatigue in my arm. I also noticed that balls out of the strike zone caused a little vibration in the racquet off the stringbed, which didn't give me confidence in my shots."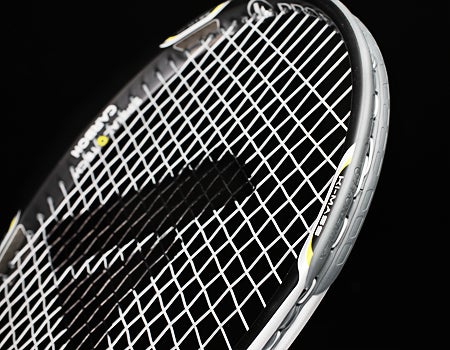 Volleys - Score: 79
Mixed emotions was the theme once again when it came to volleys. Chris loved the soft, yet solid feel at net with the QTour. He said, "A very precise racquet at net, the QTour had me feeling dialed in on my volleys from the first hit. I liked how the racquet felt solid even when the pace picked up, and how it offered enough mass to punch volleys deep. The tight string pattern offered a ton of feel and control. I was hitting all my targets and had an immediate sense of where each volley was going. While it felt a tad slower to maneuver compared to the YOUTEK IG Prestige Midplus I have been hitting with, it offered better stability on off-center shots."
Stability was the most noticeable attribute for Mark, who said, "I usually swing racquets that are just barely lighter than the QTour, and I immediately noticed how stable it was on half volleys. Once I caught up with its heft, my volley was dominant."
Andy once again noticed the soft feel and precision, but he found the racquet lacking in maneuverability at net. He said, "The QTour felt solid at net, with its soft feel and nice precision. However, I thought it felt a little flimsy and I would have liked a little more stability, especially when stretched out wide covering a passing shot. In addition, the lack of maneuverability was apparent once again. I sometimes struggled when the ball was hit hard at me and I had to react quickly."
Carol experienced good accuracy, but with slight discomfort. She said, "My volleys felt controlled, but like the groundstrokes, I felt a little vibration off the stringbed with each volley."
Serves - Score: 80
Our testers found one of their favorite shots to hit with the QTour was the serve, as once again everyone experienced great precision and spin. Carol was a sharpshooter on the serve with this racquet. She said, "This was my favorite shot to hit with this racquet. I do tend to hit with more spin on my serve, so I think this racquet complemented that aspect of my game. The control here was great and I was hitting my targets comfortably."
After a slight adjustment period, Mark felt the racquet helped his serve quite a bit. He explained, "My serve finally benefited from the QTour during the third hitting session. I generally do not feel as though I crush the serve, but I did hit some amazing serves with this racquet, which had a full set of a low tensioned poly."
Chris also shared in the opinion that the racquet provided good placement and access to spin while serving. He said, "Serving with this racquet was all about control and consistency for me. I was finding my targets well and found I had to supply my own pace. All the control I had meant I could serve aggressively without fear of over-hitting. While I kept my foot on the gas, I'm not the biggest server so the pace I was finding was not exceptional. I think I would have to dip into the low 40 lbs range with a co-poly to maximize both the pace and spin on my serves with this racquet. We kept the racquet strung in the 50s to make it tester friendly for all. For me, that made the control and spin the strong aspects on serve."
Andy liked the control, but he once again struggled generating racquet head speed on some of his serves. He said, "I had great control over my serve and could generate lots of spin on my slice serve. On the other hand, I once again struggled with maneuverability, and therefore had trouble getting good action on my kick serve or blasting a big flat serve."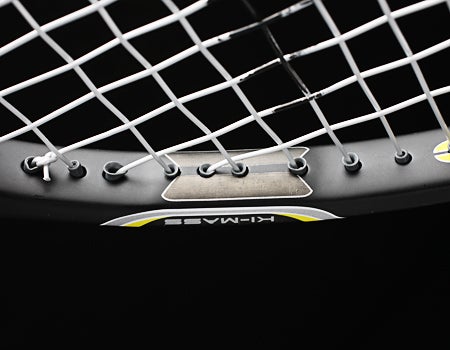 Serve Returns - Score: 76
The lack of maneuverability manifested itself when our team put the QTour to the test on the return of serve. Andy was again unable to generate the kind of racquet speed that he wanted on returns. He said, "The same lack of maneuverability showed through on the returns. When I kept my swing short and compact, I had good control and could put the ball where I wanted, but when I took a big cut at an aggressive return I often found myself late on contact, losing control. Like on the volley, I would have liked a little more stability when I was stretched wide playing a defensive return."
Carol also experienced a little discomfort on the tougher returns. She said, "Like groundstrokes, I felt a little vibration off the stringbed when hitting returns, especially when the ball was out of my strike zone. I never felt super comfortable in the point after my return, and I think that can be attributed to the shock and vibration I felt with this racquet."
Mark noticed the lack of maneuverability but was still able to hit knifing returns. He said, "It's not as maneuverable as I'm used to, but I was still able to place the return, keeping it low with my traditional chip return."
On the other hand, Chris enjoyed the heft of the racquet on returns, saying, "The control and stability of this racquet felt great on returns. I was able to take a good crack at the ball and use the pace of the incoming serve to hit strong returns. I was finding lots of bite from the stringbed on both topspin and slice to up my level of control. I really enjoyed knifing my backhand slice return with this racquet, and I was able to hit it strong enough to follow it into the net at times."
Overall - Score: 76
Likes
Chris - "I liked the control, stability and comfort the most."
Mark - "Stability would be its middle name, if it had one, and although it was just barely out of my comfort range because of its overall mass, it is a racquet that I could move into without having to do too many extra pull-ups or bar-dips. ProKennex has made a name for itself by making some high quality frames that are easy on the arm, and the QTour follows that heritage without diminishing performance. The low key paint scheme is also something that is easy on the eye, which I like."
Andy - "I liked the very soft, comfortable feel, as well as the control I got from the tight string pattern."
Carol - "I really liked my shots that were in my strike zone with this racquet. As long as my strike point was there, I was aggressive and confident off the baseline. My favorite shot with this racquet was the serve. I believe the 327 swingweight really helped the racquet do a lot of the work, and I felt the most control when serving. I also liked the clean cosmetics. This is a sharp looking racquet."
Dislikes
Chris - "Not quite as fast through the contact zone as I'd like, and I'd have to string this one a fair bit lower to get my desired level of power."
Mark - "The only dislike I had for this racquet would be aimed at myself for being not quite strong enough to swing it effortlessly. The way the racquet performed was great."
Andy - "Maneuverability is a really important attribute for me in a racquet, and the QTour felt really clunky and slow to swing."
Carol - "I got really frustrated with the vibration. I love a cleanly hit ball and I play with more confidence when the ball strike is crisp off my stringbed. This racquet didn't allow for a lot of that."
Comparing the racquet to others they've tried, our testers said:
Chris - "This racquet reminded me of a cross between the old Volkl Powerbridge 10 Midplus and the current Wilson BLX Six.One 95 18x20. It felt quite a bit slower to swing than the Prestige Midplus I've been hitting and not as powerful as the Volkl C10 Pro I've also been hitting a lot. Like the Powerbridge 10 and the BLX Six.One, the QTour was very comfortable."
Mark - "I would say the QTour felt the most like the Volkl Powerbridge 10 Midplus, the Redondo MP and the older Radical Tours, like the Flexpoint."
Andy - "When I was a junior I played with the old ProKennex Kinetic 5G, and the QTour had the same super soft and comfortable feel as the 5G. In terms of how it felt to swing, it was a lot like the BLX Pro Staff Six.One 95 (similar beam style), but it was a lot slower through the hitting zone compared to the Pro Staff."
Carol - "I used to play with a ProKennex in college and really loved that racquet. I think this racquet missed the mark a little bit in comparison to my old one."
Technical Specifications

Length
27 inches
69 centimeters
Head Size
98 square inches
632 square centimeters
Weight
12.2 ounces
346 grams
Balance Point
12.5 inches
31.75 centimeters
8pts Head Light
Construction
20.5mm / 20.5mm / 20.5mm
Composition
Spiral Tech Carbon
String Pattern
16 Mains / 20 Crosses

Babolat RDC Ratings

Score

Grade

Flex Rating
63
Range: 0-100
Swing Weight
327
Range: 200-400
Scores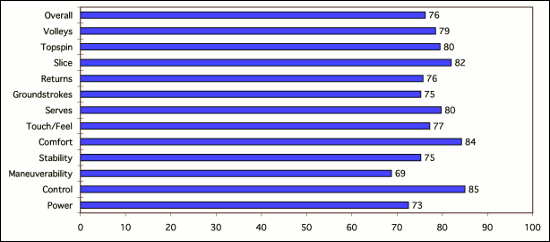 (Scores are determined by averaging individual play test scores)
Chris' Scores
Power
7.2
Groundstrokes
8.1
Control
8.7
Returns
8.3
Maneuverability
7.5
Slice
8.6
Stability
8.2
Topspin
8
Comfort
8.7
Volleys
8.4
Touch/Feel
8.6
Serves
8
Overall
7.8
Mark's Scores
Power
8
Groundstrokes
8
Control
9
Returns
8
Maneuverability
7
Slice
8.6
Stability
8.5
Topspin
8.5
Comfort
9.5
Volleys
8.5
Touch/Feel
8.5
Serves
8.5
Overall
8.7
Andy's Scores
Power
6.7
Groundstrokes
7
Control
8.2
Returns
7
Maneuverability
5
Slice
7.8
Stability
6
Topspin
6.5
Comfort
8.5
Volleys
7
Touch/Feel
7.8
Serves
7
Overall
6.8
Carol's Scores
Power
7.1
Groundstrokes
7
Control
8.1
Returns
7
Maneuverability
8
Slice
7.8
Stability
7.4
Topspin
8.8
Comfort
7
Volleys
7.5
Touch/Feel
6
Serves
8.4
Overall
7.2
Playtester Profiles
Chris: 5.0 all-court player currently using the Volkl C10 Pro. Chris uses a full-western forehand grip, has a fast swing style and hits a one-handed backhand.
Mark: 5.0 lefty all-court player with a one-handed backhand. He currently plays with the Dunlop Aerogel 4D 200.
Andy: Open level all court player with a semi-western forehand grip and a two handed backhand. Andy currently using a Yonex RDiS 100 Mid.
Carol: Open level baseliner currently using a Wilson BLX Six.One 95 (16x18). Carol is an aggressive player who uses an eastern forehand grip and a two handed backhand.

Review date: September 2012. If you found this review interesting or have further questions or comments please contact us.
All content copyright 2012 Tennis Warehouse.