Prince EXO3 Tour Team 100 Review

Prince EXO3 Tour Team 100 Scores
Comfort
80
Touch/Feel
78
Serves
79
Groundstrokes
81
Returns
81
Slice
80
Topspin
83
Volleys
76
Overall
80
Upsides
Maneuverability
Access to spin
Comfort
Control
Downsides
Feel takes time to adjust to
Summary
It works for WTA pro Daniella Hantuchova, and it works for the TW playtesters. The Prince EXO3 Tour Team 100 had our testers swinging fast, resulting in loads of spin on groundstrokes and serves, as well as a lightning quick response at net. The flexible feel in this lightweight EXO3 racquet provides plenty of comfort and creates a control-oriented response. At 10.6 ounces it may be too light for big hitters, but there's plenty of room for customization. Even in stock form, though, there's plenty of fun to be had for intermediate and stronger players seeking excellent maneuverability, comfort and spin with moderate power.
With the release of the EXO3 Tour series of racquets, Prince rolled out three models with full EXO3 technology. Two were player's frames and the third was the EXO3 Tour Team 100, which we review here.
Both the 16x18 and 18x20 versions of the heavier EXO3 Tour were a hit with our playtesters, but some players might find them too demanding for their games with their strung weight of 11.6 ounces. Enter the EXO3 Tour Team 100, weighing in at a full ounce lighter.
We took out the EXO3 Tour Team 100 to see how this lighter version of the EXO3 Tour would perform. Could it retain the comfort and control of its heavier counterparts? After a month of testing, here's what the team had to say.
Groundstrokes - Score: 81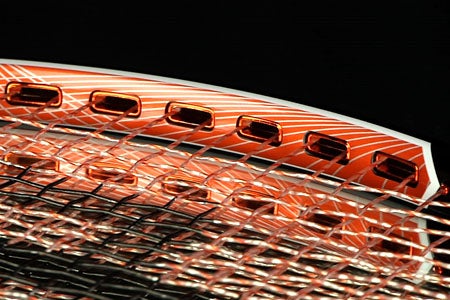 The light static weight of the EXO3 Tour Team 100 had our team swinging aggressively. Brittany noted, "The first thing I noticed was the amount of extra spin I could generate off the baseline on both forehands and backhands. The racquet was a little lighter in weight than I'm used to (it only weighs 10.6 ounces strung), but I was able to swing fast through the ball and could produce heavy and deeps shots. Slice was a bonus for me, as I was able to hit low shots when I was on the defensive."
Agreeing, Chris added, "It's a very light and maneuverable racquet, and I found lots of spin. The racquet felt comfortable and had some nice flex to it. Combined with the light weight the softer flex sapped some power, but I was still able to find decent pace. There was a ton of room to add weight to this racquet without hurting its fast and maneuverable feel. However, I left it in stock form and enjoyed the spin and control. I was able to hit some nice angles and found lots of touch on drop shots."
Kana felt right at home with the EXO3 Tour Team 100, saying, "The specs were right where I like them, making the Tour Team extremely maneuverable. I found ample control from the baseline, especially hitting winners off my forehand side. The backhand side is where I could really flatten it out, and I could put more spin than usual on my slice backhand. I could move the ball around the court with plenty of power and spin, giving a little more kick to my shots than usual."
"The first time the ball left the stringbed I was really surprised by the power level," said Tiffani. "I thought the EXO3 Tour Team was going to have a much more control-oriented feel. However, when strung with a multifilament this racquet has a decent power level. While I usually play with only moderate spin, I was finding extra topspin off both sides. I did find that I really had to go after the ball to get it to stay low when hitting with underspin, perhaps because of the low weight. Lastly, this felt like the most flexible of the EXO3 racquets I've tested -- the Black and White are the other two. There was a dampened feel, and I could feel the racquet's flex."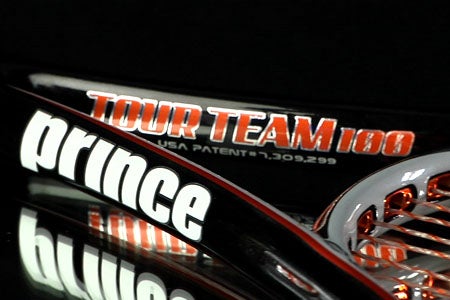 Volleys - Score: 76
Weight and feel again came into play, but this time with mixed results. Chris was pleased with his performance with the racquet, saying, "I enjoyed the fast feel of this racquet at net. I was also impressed by the comfort for such a light racquet. It was fun to hit drive volleys from the mid-court, sneaking in when my opponent was trying to float the ball deep. The control and feel allowed me to be aggressive with my volleys without fear of overhitting."
The performance met Tiffani's expectations. She said, "I felt pretty comfortable at net with this racquet because of the extremely maneuverable feel. I didn't notice as much put-away power on my volleys as I did with groundstrokes, but my net play isn't as strong as my ground game. I felt like I could feel the racquet flex a bit too much when hitting higher in stringed, but I felt there was good stability from a racquet weighing less than 11 ounces strung."
Brittany also noted the racquet's flex. She offered, "I had a bit of an adjustment period when it came to volleys. The racquet was extremely flexible and took some getting use to. After a couple days of playtesting and slightly altering my stroke, I found my best volley was one that I could punch deep into the court."
Kana added, "The frame felt a little too flexible at net. I had to adjust my strokes to obtain the control I wanted. Once I found it I got a better feel of the ball and placement, but still would've favored a little more stability in the hoop."
Serves - Score: 79
Again, our testers were able to get the racquet moving quickly, and they used this to their advantage when serving. Kana said, "The racquet was very maneuverable, but I didn't get much variation on my first serves. I noticed more spin when I wanted it. This came in handy when I was going for my second serves, giving my shots more hop."
Brittany was able to serve with variety, saying, "I was pleasantly surprised with the combination of spin and pace. I was easily able to generate enough pace off my first serve, and I loved my kick serve out wide on the deuce side on my second serve."
Tiffani had similar experiences. She said, "I was creating more spin than usual on my serves, and it was coming effortlessly. I didn't change my swing path or technique, and this extra spin came in handy. The power level was not disappointing, but again, I didn't find the same level of power as I did off the ground."
"I would have liked a little more pop on serves," said Chris. "Again, spin was the story I was telling, and I found a good amount of both topspin and slice. The racquet came through the contact zone quickly, with little effort. I felt like the pace was there on my serves, I just didn't have the court penetration I would have liked."
Serve Returns - Score: 81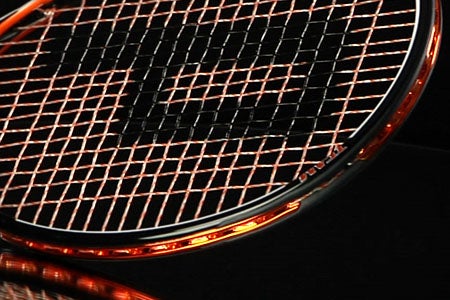 The fast feel worked to our testing squad's advantage on returns. Tiffani said, "Returning was fun with this racquet. I was confident in my ability to swing it, so I enjoyed picking my spots and going for it on returns. The spin that I was seeing impressed me, so I tried to mix up my returns when given the chance."
Chris let it all hang out. He offered, "My favorite shot with this racquet was returning serve. I could take a good rip at the ball and get lots of spin and all the control I needed to find my targets. I had good success both floating the ball deep on a defensive return and stepping in and taking a good crack at the ball. Lots of fun!"
"The return was an easy transition for me," said Brittany, who has a strong return game. "I was able to swing through very fast on my returns, hitting a deep and aggressive ball. The racquet felt stable when I was returning a hard first serve, and I had the ability to generate a flat and hard second serve return to start the point."
Kana noted, "My returns felt solid with this racquet. It's so whippy that if I was out of position reaching for a hard serve I could flick it back defensively to get back into position. I loved it on my backhand side -- especially with the pocketing I got from the stringbed."
Overall - Score: 80
Likes
Brittany: - "I liked how easy it was to hit with a solid combination of power and spin on both my groundstrokes and serves."
Chris: - "I liked the maneuverability, comfort, spin and feel I found from all areas of the court."
Kana: - "I first noticed the feel and maneuverability, and how comfortable it was when hitting aggressive shots."
Tiffani: - "I liked how easy it was to generate spin, and the more flexible feel I got compared with some other EXO3 racquets."
Dislikes
Brittany: - "I didn't like the feel of my volleys up at net."
Chris: - "A bit light for me, but that's an easy fix with some lead tape."
Kana" - "I had to reacquaint myself with my control at the net because I felt the racquet was too flexible in the hoop."
Tiffani: - "I like this racquet pretty much as is for my style of play."
Technical Specifications

Length
27 inches
69 centimeters
Head Size
100 square inches
645 square centimeters
Weight
10.6 ounces
301 grams
Balance Point
13.4 inches
34 centimeters
1pt Head Light
Construction
21mm / 22mm / 21mm
Composition
Graphite
String Pattern
16 Mains / 18 Crosses

Babolat RDC Ratings

Score

Grade

Flex Rating
60
Range: 0-100
Swing Weight
314
Range: 200-400
Scores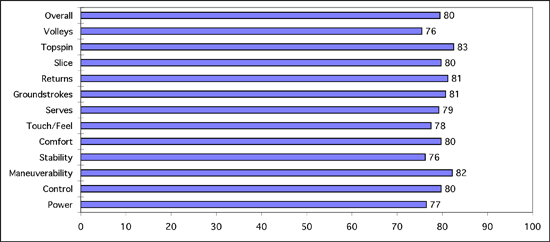 (Scores are determined by averaging individual play test scores)
Brittany's Scores
Power
7.9
Serves
8.1
Control
7.7
Groundstrokes
8.2
Maneuverability
7.9
Returns
8.1
Stability
7.5
Slice
7.7
Comfort
7.8
Topspin
8.1
Touch/Feel
7.3
Volleys
7.1
Overall
7.9
Chris's Scores
Power
7.5
Serves
7.8
Control
8.3
Groundstrokes
7.9
Maneuverability
8.5
Returns
8.4
Stability
7.6
Slice
8.2
Comfort
8.1
Topspin
8.4
Touch/Feel
8
Volleys
7.9
Overall
7.7
Kana's Scores
Power
7.5
Serves
7.9
Control
8
Groundstrokes
8
Maneuverability
8.2
Returns
8
Stability
7.8
Slice
8.3
Comfort
8
Topspin
8
Touch/Feel
8
Volleys
7.6
Overall
8.1
Tiffani's Scores
Power
7.7
Serves
7.9
Control
7.9
Groundstrokes
8.2
Maneuverability
8.3
Returns
8
Stability
7.6
Slice
7.7
Comfort
8
Topspin
8.5
Touch/Feel
7.7
Volleys
7.6
Overall
8.1
Playtester Profiles
Brittany: Open level player with a semi-western forehand and a two handed backhand. She currently plays with the Yonex V-Core 100S.
Chris: 5.0 all court player currently using the Volkl Power Bridge 10 Mid. Chris uses a full-western forehand grip, has a fast swing style and hits a one-handed backhand.
Kana: Open level baseliner with a western forehand and two-handed backhand. Currently using a customized Volkl V1 Classic.
Tiffani: 4.0 level baseliner with a semiwestern grip on the forehand and hits a two-handed backhand. Currently playing with the Yonex RDS 003 (08 version).

Review date: August 2011. If you found this review interesting or have further questions or comments please contact us.
All content copyright 2011 Tennis Warehouse.