Prince EXO3 Tour 100 (16X18) Racquet Review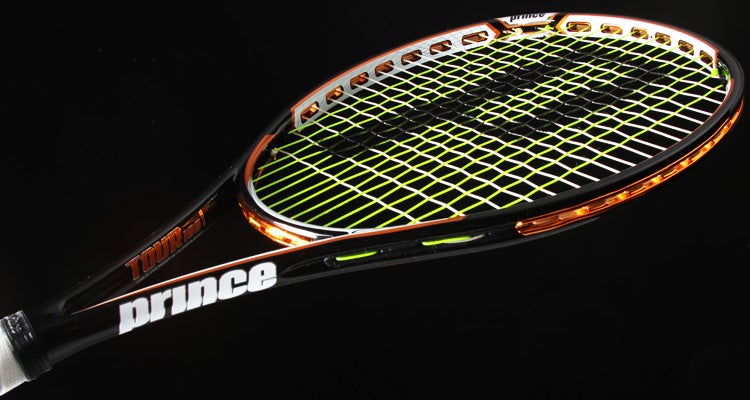 One of the top players on the ATP Tour, David Ferrer, commands and demands respect on the court. His superbly consistent baseline play, his ability to turn defense into offense, and his deadly attacking groundstrokes make him a player to be feared. Don't forget that he is arguably the best serve returner in the game today. It's easy to understand why he is consistently in the top ten and was recently a semifinalist at the 2011 Australian Open.
When Ferrer hits the courts there's only one racquet he trusts to get the job done, the Prince EXO3 Tour 16x18.
What makes the EXO3 Tour 100 (16x18) so special? Well, there's the excellent ball response of the EXO3 technology. The EXO3 String Suspension Inserts suspend the string, allowing for a larger sweetspot, a consistent response, plenty of forgiveness and ample power.
Sounds impressive, right? We definitely thought so. Read on to see how pleased our testers were with the EXO3 Tour 16x18 from Prince.
Groundstrokes - Score: 80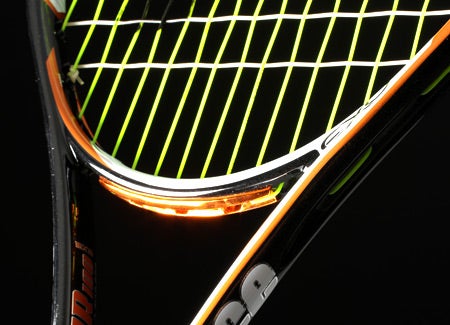 The EXO3 Tour 16x18 offered a very soft, comfortable feel from the baseline. Chris found the soft feel promoted spin. He said, "I was amazed at the incredibly soft feel of this racquet from the baseline. It felt very, very flexible. The response was extremely dampened, with a major emphasis on comfort. I find flexible racquets to be spin-friendly, and that rang very true here. I was able to get a lot of topspin, and that allowed my to keep my foot on the gas and pressure my opponents. When hitting with slice I found enough bite to allow me to knife the ball deep or pull it short for an angle. It was a fun racquet to rally with, and I never felt like I had to work hard to stay in the point. I found enough power when pushed deep or wide and enough control to take a good cut at the ball when the opportunity arose. The racquet was also very maneuverable. I felt like I could always get the racquet head speed needed to do what I wanted with the ball."
Agreeing with Chris was Troy, saying, "I found this racquet to be very comfortable to hit with from the baseline. The comfort came from the fact that it felt very dampened, which is a common characteristic I find from Prince racquets with the Ports. With very little vibration, and seeming to have a ton of ball pocketing, this racquet is very arm friendly. I found this open string pattern to provide a lot of pop, almost to a fault. I was finding that my shots tended to catapult off the stringbed, reducing the control on put-away shots from the baseline. I felt like I had to overcompensate with topspin to keep my shots from landing beyond the baseline. However, I could strike with an offensive approach or put-away shot when needed by adding spin. The 100 sq. in. headsize provided a large sweetspot, which proved to be good on my arm but did not give me the response I was looking for from a control aspect."
Having to adjust to the feel was Spencer. He said, "On the first hit with this racquet I felt I struggled to get any type of feel. The stringbed felt so soft and forgiving, it seemed the ball was getting lost in the racquet. However, as I continued to play with it I began to get a better feel for the ball and enjoyed the results I was garnering. I was immediately comfortable with the weight, quickly dialing in my timing. I felt I could control the direction very well off both wings. Ironically, I felt more effective control with the open string pattern than with the EXO3 Tour 18/20. Usually, it's the other way around. Though livelier coming off the stringbed, I could take full swings at the ball, imparting plenty of spin to help to keep the ball within the lines. This seemed to put more action on the ball, making ball retrieving and timing a little more difficult for my opponent."
Volleys - Score: 77
Though not as control oriented as the 18x20, the 16x18 offered excellent punch and maneuverability at net. Taking advantage of the large sweetspot was Troy. He said, "I was finding a nice flexible feel at the net from this stick. The ball pocketing felt really good, providing a large sweetspot. The downfall of the large sweetspot was that it didn't provide a lot of feedback. It was almost as if every shot felt good, no matter where contact was made on the stringbed. This often times lead to my volleys missing the mark. I wasn't feeling the connectedness to the ball that is a must for me when hitting volleys."
Spencer liked the put away power and stability. He said, "Much like groundstrokes, the different feel of this stick took some getting used to. Once adapted, I was more comfortable with touch and placement volleys. The punch volleys were a no-brainer. The racquet handled incoming shots with ease. It was stable and plenty maneuverable. I liked this racquet at the net when playing doubles, where I could take advantage of the livelier feel and speedy response."
Finding the maneuverability to work well for him was Chris, who said, "The very soft feel of this racquet worked well at net. I didn't feel quite as dialed in when punching the ball deep as I did with the 18x20 version of this racquet, but my control was still good. The racquet felt light and very maneuverable. There were several instances where I was able to flick a half-volley from around my feet and make a good shot. During quick doubles exchanges at the net I felt very confident that I could get this racquet into position and stick my volley with authority."
Serves - Score: 76
Our playtesters had mixed results when it came to serving with this racquet. Chris was happy with the extra velocity and dampened feel. He said, "I found some nice pop on serve with this one -- more so than with the 18x20 version. I found the same spin-friendly response on serve that I had from the baseline. I was able to move the ball around and pull my opponents off court (or off balance) to help me finish the point with a one-two punch. Again, I found a very, very comfortable feel from the stringbed. The racquet felt very dampened."
Troy felt the open string pattern hurt his consistency.. He said, "The overall lack of control made it hard for me to maintain consistency on my serve. I was having a hard time placing my serves, and sometimes just getting them in the service box was a struggle (Though I know it usually isn't the racquet's fault when shots are being missed). I also had a hard time controlling depth, either finding my serve hitting the top of the net or landing past the service line. I really had to force myself to hit my serve with more spin and aim higher over the net to get the serve in. At this point I wasn't thinking about placement, but rather, not double-faulting."
Spencer was surprised he couldn't generate more power, saying, "I didn't have the same success serving as I did with groundstrokes. I struggled a bit with consistency, but more so with power. With the 16x18 string pattern and 100 square inch head, I thought there would be more supplied power. Though it offered slightly more pop than the 18x20, I just couldn't seem to muster any effective velocity. If there was one serve I did enjoy hitting, it was an out wide kicker in the ad court."
Serve returns - Score: 76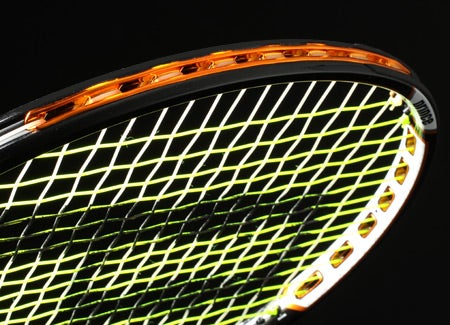 The maneuverability was the shining characteristic all playtesters agreed on when returning serves. Feeling he could get aggressive on returns was Chris, who said, "I returned well with this racquet. I was taking a cut at anything that looked even remotely tasty. There was a lot of spin to be had thanks to the easy acceleration and the bite from the stringbed. I played with a full poly string set up and found no reason to change, as it felt pretty darn good."
Troy would have liked more consistency. He said, "What I found most beneficial from this racquet was the maneuverability and the added power. The maneuverability helped me get the ball back on returns where I was out of position or off balance, while the added power helped land the ball deep. When I was able to take a larger cut at the ball my returns tended to fly deep, and I couldn't control them as well as I would have liked. I also didn't find the control I rely on when having to slice the backhand return. I liked this racquet the most on returns, but I wouldn't be consistently confident in it."
Spencer had to be careful about being tempted to go for too much, saying, "I was very comfortable when returning with the EXO3 Tour 16x18. The stability and forgiveness handled pace well, and when opportunities came, I felt I could generate some good penetrating returns, allowing me to go on the offensive. That being the case, I had to be careful not to go for too much, too often. That whole risk/reward thing, and all. I preferred returning with the 18x20 string pattern, as it seemed to provide more consistency."
Overall - Score: 78
The EXO3 Tour 16x18 offered excellent performance with a unique feel. The suspended stringbed and expansive sweetspot provided a non-traditional type of feedback that some may mistake for a lack of feel. Over the course of the playtest our testers adapted to that unique feel and learned to trust the results this stick would muster. There was a noticeable difference compared to the 18x20 version when it came to spin and liveliness, working better for some, and not as well for others. Those that were looking for some added pop and ball action found it with this one, while those seeking a more tempered response found it in the 18x20 version. All in all, the EXO3 Tour 16x18 offered a very impressive balance of attributes, proving effective from all areas of the court.
Likes
Chris - "I liked the spin, maneuverability and comfort, and the blend of power and control."
Troy - "Comfortable feel and arm-friendly from the baseline."
Spencer - "The control and comfort I felt from the baseline."
Dislikes
Chris - "Nothing really, except I might prefer the 18x20 version over this one. I'm not 100 percent sure yet, so I'm going to hit both a lot more to find out!"
Troy - "Lack of control from all areas of the court."
Spencer - "Adapting to the unique feel of this racquet took time."
Technical Specifications

Length
27 inches
69 centimeters
Head Size
100 square inches
645 square centimeters
Weight
11.6 ounces
329 grams
Balance Point
12.625 inches
32 centimeters
7pts Head Light
Construction
19 - 20 - 19 Tapered Beam
Composition
Graphite
String Pattern
16 Mains / 18 Crosses

Babolat RDC Ratings

Score

Grade

Flex Rating
52
Range: 0-100
Swing Weight
323
Range: 200-400
Scores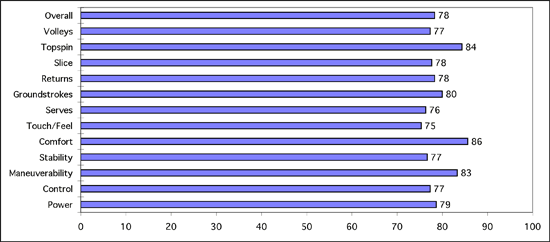 (Scores are determined by averaging individual play test scores)
Troy's Scores
Power
8.1
Serves
7.2
Control
7.4
Groundstrokes
7.8
Maneuverability
8.5
Returns
7.8
Stability
7.5
Slice
7.5
Comfort
8.6
Topspin
8.3
Touch/Feel
7.6
Volleys
7.5
Overall
7.7
Chris' Scores
Power
7.7
Serves
8.1
Control
7.8
Groundstrokes
8
Maneuverability
8.2
Returns
8
Stability
7.8
Slice
8.1
Comfort
8.6
Topspin
8.7
Touch/Feel
7.6
Volleys
8.2
Overall
8
Spencer's Scores
Power
7.8
Serves
7.6
Control
8
Groundstrokes
8.2
Maneuverability
8.3
Returns
7.7
Stability
7.7
Slice
7.7
Comfort
8.5
Topspin
8.3
Touch/Feel
7.4
Volleys
7.5
Overall
7.8
Playtester Profiles
Chris:5.0 All court player currently using the Volkl Power Bridge 10 Mid. Chris uses a full-western forehand grip, has a fast swing style and hits a one-handed backhand.
Spencer: 4.5 Baseline player currently using a Wilson Kobra Tour. Spencer uses a semi-western forehand grip, and hits with a one-handed backhand
Troy:5.0 lefty all-court player with a full Western Forehand and a two handed backhand. Troy currently plays with the Wilson K-Blade 98.

Review date: March 2011. If you found this review interesting or have further questions or comments please contact us.
All content copyright 2010 Tennis Warehouse.