Babolat Pure Control Tour Racquet Review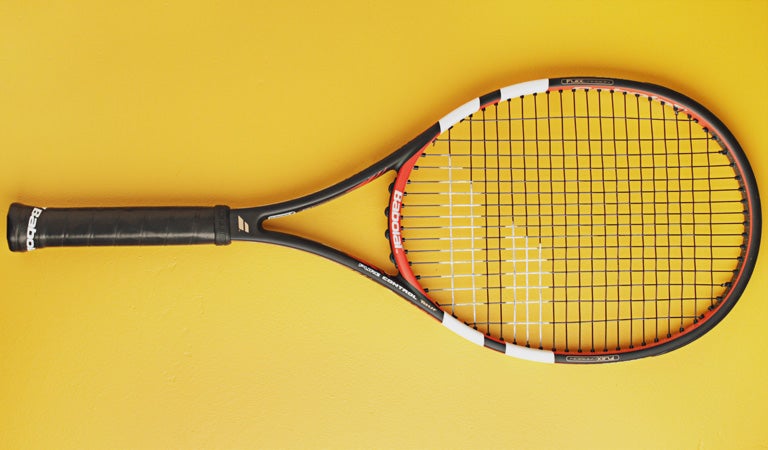 Babolat Pure Control Tour Scores
Power
78
Comfort
83
Touch/Feel
87
Serves
81
Groundstrokes
84
Returns
81
Slice
82
Topspin
82
Volleys
84
Overall
85
Upsides
Precise
Maneuverable
Spin friendly
Summary
The Babolat Pure Control Tour lives up to its name, providing exceptional control with above average maneuverability and feel. Our playtesters found themselves in total command of their shots from all areas of the court. Little effort was needed to generate racquet head speed, leading to lots of pace and spin. There were mixed feelings among our playtesters regarding where the Pure Control Tour performed the best, but they all agreed that it performed very, very well. Players looking for a control-oriented racquet that's easy to swing will appreciate the precision and feel of the Pure Control Tour.
Groundstrokes - Score: 84
Our playtesters really enjoyed the Pure Control Tour from the baseline, particularly its level of precision and maneuverability. One knock that almost everyone had, though, was that a slight lack of plow through made it harder to produce a heavier ball on groundstrokes. This didn't stop Chris from dialing in all his baseline shots. He said, "This racquet was a great fit for me from the baseline. It had some mass to it, which I liked, but it also had a very head light feel, which I loved. I felt like I could accelerate this racquet through the ball very, very well. I was getting lots of racquet head speed, which resulted in excellent pace and spin. The stringbed -- strung with a full bed of poly -- felt very controlled. My shots were dipping nicely inside the lines thanks to all the spin I was getting. Getting depth on defense required racquet tip speed, but once I realized this, it was not an issue. I would likely add some more weight, but keep it very head light with a low swingweight since I loved how this racquet felt. The feel on drop shots and lobs was excellent. I was able to control the ball very, very well, and that gave me the confidence to attack with both pace and touch."
Andy shared a similar opinion, offering, "I really enjoyed this racquet from the baseline! I thought it offered excellent maneuverability, great control and a nice crisp feel that reminded me of my Wilson Blade 98. It doesn't get pushed around like its lowish swingweight would suggest, either. It does have stability, but a little more heft would give it more plow through and added pop, which it needs to be a standout racquet off the ground."
Troy was able to swing the Pure Control Tour produce some nice pace and spin with his fast swing, but he also wished for a bit more heft to give the racquet a more familiar solid feel. He explained, "The combination of maneuverability and a solid feel on impact allowed me to be confident in my groundstroke game. Knowing that this racquet is essentially replacing the Babolat Pure Storm line (which I have tested and played with many times), I had some preconceived ideas of how this racquet would play. What I noticed was a more maneuverable feel than the previous three generations, but the stability of the racquet wasn't sacrificed. I was able to generate tons of racquet head speed, which was allowing me to hit heavy topspin. The maneuverability was also beneficial when I was hitting passing shots on the run. The one downside to this racquet was a slight lack of plow through, which mostly bothered me on my backhand slice. This racquet wasn't knifing through the ball on the slice backhand the way my hefty Wilson Six.One 95 does."
Mark also noticed that the Pure Control Tour felt faster than its predecessor, but it took him a little while to achieve consistent depth from his groundstrokes. He said, "I first tried the standard version of the newer Babolat Pure Control and loved it, so I was really looking forward to the extra weight applied to the same basic frame recipe. I knew that the prior Pure Storm Tour had the higher swing/static weight, and from the first forehand I felt how much faster the Pure Control Tour flew through the air. I adapted quickly to the 16x20 string pattern with a full set of a low tensioned poly, and I was able to generate plenty of spin from almost anywhere on the court. I was ready to play points within one half-hour of play, however, it actually took a while to get the ball consistently deep in the court. Perhaps it was my swing plus the polyester string."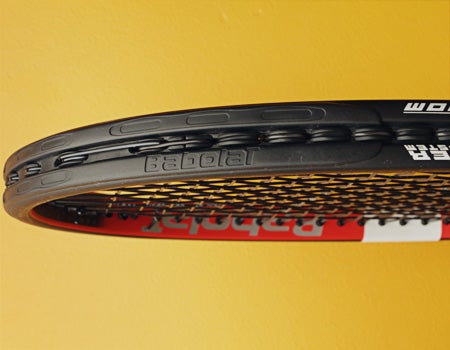 Volleys - Score: 84
Our playtest team found plenty of feel and control on their volleys with the Pure Control Tour, but a couple of them wanted a little more weight to make it easier to hit penetrating deep volleys. Troy explained, "The maneuverability made this racquet easy to volley with. It was easy to get the racquet in place and react to hard shots hit at me. I could also flick the racquet anytime I was stretched out or off balance to get the ball back and get myself back into the point. I found plenty of feel and control, which helped me place my volleys near the lines and hit the drop volley when needed. I found it difficult at times to get enough depth or 'stick' on my volley; it comes easier with my Six.One 95 or a racquet like the Babolat Pure Strike Tour."
Mark was also able to combat his hard-hitting opponents with controlled aggression at net. He raved, "This was the second area that the new Pure Control Tour shone. The strung weight of around 11.8 ounces, combined with the lower swingweight, let me stick the tough passing shots back deep in the court. Fellow playtester Austin was launching the ball at me, and I was finessing the half volley in response. The Pure Control Tour was a winner in the volley department."
Chris was able to use his exceptional feel around the net quite well with this racquet, too. He said, "Fast and easy to maneuver, the Pure Control Tour proved to be a fun racquet at net. There was a lot of feel from this racquet, and I felt very connected to the ball. I hit some great touch volleys, and I felt my placement was as good as ever. There was so much control I felt I could be very firm on punch volleys without hitting the ball long. The Pure Control Tour offered a plush feel that was comfortable without disconnecting me from the hit. I was very impressed."
Echoing the other's sentiments was Andy, who shared, "The Pure Control Tour was very easy to use around the net. The maneuverability made it easy to get it into position, and the racquet stayed surprisingly stable for its low swingweight. The control and feel kept me in total command of the ball as it left the strings, too. Like I mentioned in the groundstrokes section, a little more heft would make it a little easier to stick a volley deep and get the ball moving through the court."
Serves - Score: 81
The low swingweight and exceptional feel of the Pure Control Tour allowed most of our playtesters to serve really well with it. The racquet worked surprisingly well for Mark. He said, "The Pure Control Tour I was playing with had a sub-310 swingweight, and admittedly, I did anticipate it affecting my serve in a less than beneficial manner. I was wrong; the Pure Control Tour pretty much felt like a pair of shoes that exhibit that out of the box comfort. Within 20-30 serves I felt dialed in enough to add this frame to my list of racquets I would consider switching to."
This was one of Chris' favorite racquets of late to serve with, and he was stepping up to the line with total confidence each and every time. He said, "Everything clicked for me on serve with this racquet. I was serving huge! I have been dedicating some added time to my serve recently, and I was serving very, very well with this racquet. I was getting a lot of pace and my serves were really pushing through the court. I was amazed at how much penetration my serves had considering the light swingweight of this racquet. I was able to add spin at will and was getting the ball to kick and move more than usual. Everything just came together, and I was swinging at full speed on every delivery."
Troy found the Pure Control Tour very easy to swing, enabling him to generate some nice spin to go along with the already excellent control. He did find himself wanting a bit more weight, however, to produce a heavier serve. He explained, "I was getting lots of racquet head speed on serve, and that was allowing for some heavy spins. The maneuverable feel helped on my kick serve, and an easy wrist snap put good jump on the ball. The control had me feeling dialed in. The only knock I had was minimal, but I would have liked more mass in the hoop of the racquet to get more pop on my first serve."
Andy was really thrown off by the light swingweight and really wanted more weight in the racquet to help him hit a heavier, more consistent serve. He offered, "This is the shot I didn't hit well with this racquet. I felt like I lost control of the tip of the racquet at times because it came through contact a little too fast. I could get some nice pop on the ball, but I didn't have the command I'd like, and I didn't feel like the spin potential was terribly exceptional, either."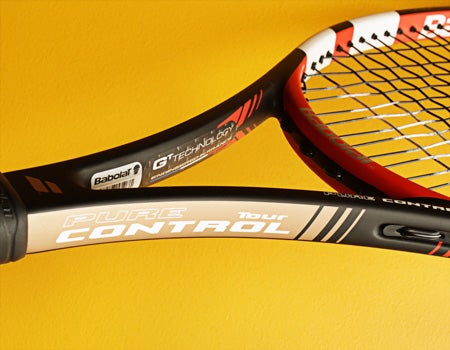 Serve Returns - Score: 81
There were mixed results for the team when it came to returning serve with the Pure Control Tour. Some playtesters really got dialed in, while others wished for a bit more heft for more stability and easier access to depth. The Pure Control Tour checked all the right boxes for Andy's return of serve game. He said, "I really enjoyed returning serve with this racquet! Control, maneuverability and stability are what I look for when returning serve. Check, check and check with the Pure Control Tour! I could take the ball early and redirect it with precision, or I could step back and take a big cut without fear of the ball flying on me."
Chris also had access to his full array of returns. He said, "Because this racquet was so fast, I felt confident taking the ball early and returning aggressively. I also liked the control and feel I had. Again, I was able to be very creative and hit a variety of shots with this racquet, and I just really enjoyed the confidence I had in my shots. I was also getting some nice topspin and slice to assist with control. The stringbed pattern is tight enough to allow me to swing fast and hit fairly flat without fear of hitting long."
Like on serve, Troy enjoyed the maneuverability and control but longed for a bit more heft. He explained, "I was getting a lot of serves back in play due to the maneuverability. I was able to take a big swing at serves in my wheelhouse and keep them in the court, and I found enough stability to redirect the pace of heavy first serves. The negative on returns was the lack of plow through when I had to keep my swing short and compact. I left a lot of returns short."
This was also the one shot Mark struggled with. He said, "OK, there had to be one challenging aspect for this playtest. I was successful hitting returns, but at times they were landing pretty short (like some of my groundstrokes). This got me thinking that a hybrid string setup might be a better match for me in this racquet."
Overall - Score: 85
Likes
Chris - "A fantastic racquet! I loved the spin, control, feel and maneuverability. The balance felt great, and I loved how I could accelerate the racquet through the ball for maximum pace and spin."
Mark - "I love the grip shape, along with just about every other aspect of this particular frame. The feel of it is deserving of the name. I was generating some excellent pace as long as I wasn't exhausted from too much play."
Troy - "Pure Control is a very fitting name, since I felt in command of the ball at all times. There was good stability during heavy exchanges. I like the feel of this racquet more than the previous Pure Storm Tour."
Andy - "It has a nice crisp feel, it's maneuverable and surprising stable for its swingweight. I found excellent control and responsiveness as well, which kept me connected to the ball."
Dislikes
Chris - "None. This racquet felt great, and I played very well with it in stock form. I could add some weight since I like heavy racquets, but there is really nothing wrong with this racquet for me."
Mark - "I would go to a poly mains hybrid setup to incrementally add a bit of power to my swing."
Troy - "Not much, besides a slight lack of plow through. I would add lead tape to the hoop and then put on a leather grip. If I could get the swingweight to about 325 then this could definitely be a go to racquet for me."
Andy - "A little more weight would add enough plow through and pop to make it a super solid offering."
Comparing it to other racquets they've used, our testers said:
Chris - "This is my favorite Babolat racquet ever. I loved the control and feel I found with it from all areas of the court. The head light feel and low swingweight was reminiscent of the Head YOUTEK IG Prestige Midplus. The old Dunlop Biomimetic 200 Plus offered similar access to spin on serves but not nearly as much feel and control as this racquet. It has more touch and feel than previous Pure Storms and the old Pure Controls that preceded them. The previous offerings had me feeling a little disconnected from the ball (Pure Storm Ltd excepted), but this one offered a sublime connection."
Mark - "I can favorably compare the newer Pure Control Tour to frames like the Head Graphene Speed Pro, the Donnay Pro One 97, the Wilson BLX Blade 98 (18x20), the Prince Response 97 and the Yonex VCORE 97 (310g)."
Troy - "There are some definite similarities with its predecessor, the Pure Storm Tour, when comparing control and spin. I found the feel of this Pure Control Tour to be a little crisper, and I felt more connected to the ball than I did with the previous Pure Storm Tour, although the Pure Storm Tour had a bit more power and plow through, and a more muted feel. I found similarities with racquets like the Dunlop Biomimetic Max 200G, the Yonex VCORE Tour 97 (310g) and the Volkl Organix 10 (325). All of these had great control, feel and stability but were lacking some plow through. I am very swingweight-sensitive, and all these racquets have near identical swingweights."
Andy - "This racquet is in the same weight class as the Head Graphene Prestige Pro, the Dunlop F3.0 Tour and the Babolat Pure Strike. They are all modern-feeling control-oriented sticks with an emphasis on maneuverability. With a little more weight I could definitely get totally dialed in with the Pure Control Tour. Impressive playtest!"
Technical Specifications

Length
27 inches
69 centimeters
Head Size
98 square inches
632 square centimeters
Weight
11.8 ounces
335 grams
Balance Point
12.63 inches
32 centimeters
7pts Head Light
Construction
21mm Straight Beam
Composition
Graphite/Tungsten & Flex Carbon
String Pattern
16 mains / 20 crosses

Babolat RDC Ratings

Score

Grade

Flex Rating
63
Range: 0-100
Swing Weight
317
Range: 200-400
Scores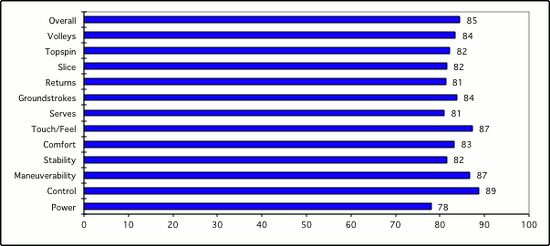 (Scores are determined by averaging individual play test scores)
Chris' Scores
Power
8
Serves
8.9
Control
9
Groundstrokes
8.5
Maneuverability
8.4
Returns
8.5
Stability
7.9
Slice
8.6
Comfort
8.3
Topspin
8.3
Touch/Feel
9
Volleys
8.4
Overall
8.4
Mark's Scores
Power
8
Serves
7.5
Control
9
Groundstrokes
8
Maneuverability
8
Returns
7.5
Stability
8
Slice
8.5
Comfort
9
Topspin
8.5
Touch/Feel
9
Volleys
9
Overall
9
Troy's Scores
Power
7.5
Serves
9
Control
9.3
Groundstrokes
8.3
Maneuverability
9.5
Returns
7.7
Stability
8.7
Slice
7
Comfort
8.5
Topspin
8.3
Touch/Feel
8.9
Volleys
8
Overall
8.4
Andy's Scores
Power
7.7
Serves
7
Control
8.2
Groundstrokes
8.7
Maneuverability
8.8
Returns
8.8
Stability
8
Slice
8.5
Comfort
7.5
Topspin
7.8
Touch/Feel
8
Volleys
8
Overall
8
Playtester Profiles
Chris: 5.0 all-court player currently using the Wilson Six.One 95S. Chris uses a full-western forehand grip, has a fast swing style and hits a one-handed backhand.
Mark: 5.0 lefty all-court player with a one-handed backhand. He currently plays with the Wilson Steam 99S.
Troy: 5.0 lefty all-court player with a full Western Forehand and a two-handed backhand. Troy currently plays with a Wilson BLX Six.One 95.
Andy: Open level all court player with a semi-western forehand grip and a two handed backhand. Andy currently using a Wilson Blade 98 18x20.

Review date: January 2014. If you found this review interesting or have further questions or comments please contact us.
All content copyright 2014 Tennis Warehouse.