Babolat Pure Control 95+ Racquet Review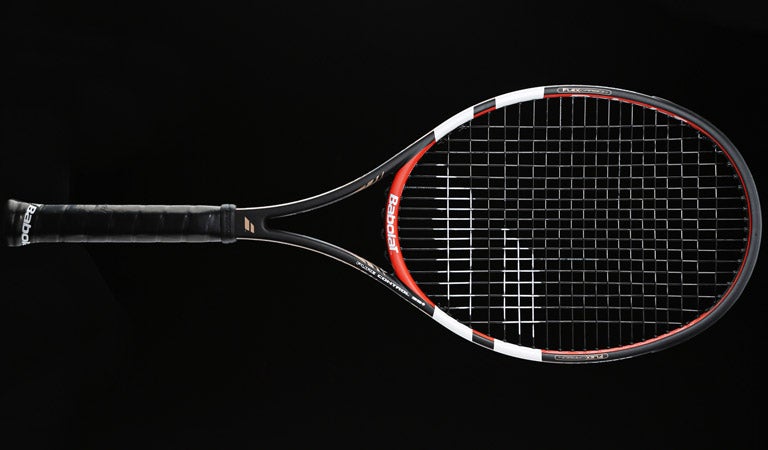 Babolat Pure Control 95+ Scores
Power
85
Comfort
85
Touch/Feel
87
Serves
90
Groundstrokes
87
Returns
82
Slice
87
Topspin
81
Volleys
79
Overall
88
Upsides
Plush feel
Control
Power
Swings easily for extended length racquet
Downsides
Nothing we could agree on
Summary
What do you get when you take a 95 square inch racquet loaded with feel, precision and maneuverability and then increase the length to make it 27.5 inches long?
The Babolat Pure Control 95+!
With the extra length, our team found enough leverage to hit winners and enough consistency to wear their opponents down. At the net our team was split, with certain playtesters really enjoying the feel and touch while others just couldn't connect as well. Our team did agree that the extra length helped their serves, allowing them to hit a variety of serves with good pace. Overall, the Pure Control 95+ received high regards from all four of our playtesters despite their different playing styles. This racquet will complement players with long, fast strokes who are looking for comfort, control and accuracy from a racquet that can still rev up some power and spin.
Groundstrokes - Score: 87
The Pure Control 95+ offered an exceptional blend of power and control from the baseline for our playtest team. With an extra half-inch of length, the racquet offered more power -- something all four of our playtesters enjoyed. Chris explained his high groundstrokes score by saying, "The entire racquet felt engineered for touch and control, but the added length also helped me find lots of useful power. I could rally all day with this racquet. I just felt very, very consistent with it. I found enough pace and depth to be able to relax and focus on where I wanted to move my opponent. I was getting solid amounts of both topspin and slice from this racquet, and that added even more control to my shots. The best part was all of the power that was there when I wanted it. I was able to step in and attack short balls and put them away. I also liked the power when going from defense to offense. Thanks to the added length I found I could drive my balls deep with power even when I was stretched wide."
"I really liked this racquet from the baseline," said Andy, who found the racquet complemented his aggressive baseline game. "I enjoyed having the extended length for some added power and plow through, while the soft flex and smaller (95 square inch) head size allowed for plenty of control, feel and responsiveness. It also doesn't play as sluggishly as some other extended length racquets. It isn't the most forgiving racquet because it has the smaller head, but it offers every attribute I want for my ground game."
Mark admitted to being a little wary of this playtest since he's used to playing with a open patterned, standard length racquets. He said, "Sometimes it feels good to be wrong. Even with a full bed of poly, I was able to get a hold of the ball from the short court, and although I did have to adjust my swing a little, my groundstrokes really shone. It may not have been my best shot with the Pure Control 95+, but my backhand slice dug in much better than with any of the racquets I currently play with."
Michelle doesn't ever seem to find common ground with racquets with tighter string patterns, but she found this to be a surprisingly fun playtest. She explained, "I really loved this racquet and started gravitating toward it when we were initially playtesting the new Pure Controls. That extra length really generates some added oomph on the ball, but because of the 95 square inch head size and 18x20 string pattern, I could hit big while still finding ample spin. I could throw in mix-up balls in the middle of rallies with ease or I could attack and drive balls through the court for winners. I never felt like the racquet head was too small and never noticed a small sweetspot. The only small issue I had was hitting a little late sometimes due to the extra length. I fixed this by forcing myself to go cross-court on my backhands unless I was really set up to put the ball away and I knew I had enough time to get around the ball. Aside from that, I loved this racquet for singles and doubles and really had fun playing with it."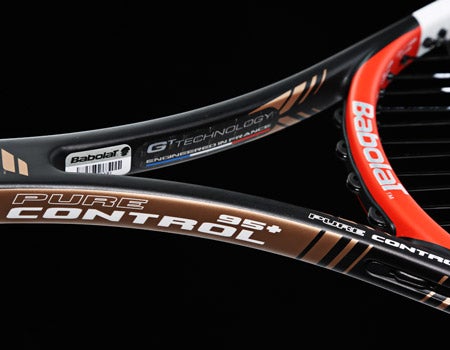 Volleys - Score: 79
The specs of the Pure Control 95+ made us think that this racquet would be a weapon at the net. However, it all depended on which playtester was using it. Andy didn't find quite as much success around the net as he did from the baseline. He said, "I found the racquet a little unstable on off-center hits. The extended length also came into play, as it didn't allow me to maneuver the Pure Control 95+ quite as well on my volleys as I did with a full swing. It has nice precision and feel, and when I caught the ball right I felt totally connected to where the ball was going. It took a lot of focus, though, to volley consistently with it."
With the tighter 18x20 pattern of the Pure Control 95+, Mark found that the stringbed did not catch the ball on his volleys the same way as his open patterned racquets do. He said, "I changed where I was making contact on the stringbed a bit, and within 10 volleys I was hitting my volley the way I like. I then went back to one of my open patterned racquets, volleyed with it, and I could definitely see that the grip of the ball on the strings is a little different, but really no less effective either way."
On the other hand, Michelle felt very connected to this racquet at the net and sang its praises, saying, "What a dream this racquet was to volley with! Super maneuverable and precise, yet I still felt I had enough power to put it away. Because of the extra length I really felt like I had a good span at the net, too. No complaints whatsoever at the net from me."
Chris also loved the touch and feel he found from this racquet at net. He offered, "It had a soft and plush feel, which had me feeling very connected to where my shots were going. My drop volleys and angles felt very dialed in. The racquet also had ample mass to help me punch volleys deep with pace. I found it easy to maneuver and really felt like I was volleying well."
Serves - Score: 90
One wouldn't expect a half-inch to make that much of a difference to a racquet, but when serving with the Pure Control 95+ our playtesters all felt they benefited from the extra length. Michelle enjoyed the precision and power she could get on her serves. She explained, "I felt like I could disguise my serves well and hit my targets on a dime. In particular, I loved my flat serves down the tee and my slice serves off the court and into the body. I found good access to kick as well, and I could really go after any serve and be rewarded. It definitely helped me start the point off in an aggressive manner."
Other than feeling like he had to swing faster, Mark said, "My serve definitely benefited from the new Pure Control 95+ in terms of both power and placement."
According to Chris, one of the big differences between the Pure Control 95+ and the standard Pure Control 95 was that he was able to get a lot more pace and hit a heavier serve with the longer racquet. He explained, "I still enjoyed the comfortable, flexible and plush feel, but it came with more power thanks to the longer frame. Again, maneuverability was good, and the racquet felt very fast through contact. I liked the amount of spin I was getting on the ball and I was getting some solid movement on my slice serves. When upping the pace, I was getting good heat on my flat serves and I was also serving a good fast slice serve into the body."
"Serving was awesome with this racquet," said Andy. "The extended length just made me that much taller and gave me more leverage than what I'm used to. This resulted in more power and spin, and better angles. The racquet also had enough control for me to feel confident hitting my spots. The boost in power and spin and the precise feel had me feeling good during my service games."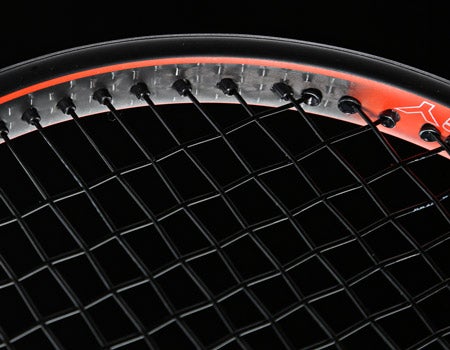 Serve Returns - Score: 82
Our playtesters continued to take advantage of the controlled power and precision from the Pure Control 95+ when it came to their return games. Returning better than he expected with this racquet was Chris, who stated, "It never felt hefty or tough to maneuver -- not always the case for me with longer racquets. I found I could take a good crack at most serves, and I enjoyed the feel and response. I liked the level of control I had on drive returns, and I was also knifing slice returns very well. Again, this was just a good feeling racquet, and I felt very connected to where my shots were going."
Mark said, "I liked how my slice stayed nice and low off my backhand wing. This resulted in a pretty demanding shot for my opponents, which put me in a good position when starting the point off."
The bigger the swing, the more maneuverable this racquet felt to Andy, and he realized that this translated well for his return game. He offered, "I could get the racquet around my body easily and I used the precision and feel to put the ball where I wanted consistently. The extended length, once again, gave me improved reach and more leverage, resulting in a bit more power. The 95 square inch head isn't the most forgiving, but with a little added focus I was returning well with it."
Michelle continued to feel very rewarded when returning with this racquet. She said, "Again, just a slight lag off the backhand side, but that was quickly sorted out, and I was able to hit amazing cross court angle returns to pull my opponent off the court. I really felt dialed in and controlled. I enjoyed the soft response while still generating big returns. I could also mix things up and throw in heavy spin if I needed to. I found that to be an effective way to give my opponents a different look off my return."
Overall - Score: 88
Likes
Chris - "I liked the spin, power, control, feel, response and maneuverability of this racquet."
Andy - "I loved the added length for better power, spin and plow through, while the frame itself offered excellent precision and feel. This was a great all-around racquet."
Mark - "I liked the Pure Control 95+ more than I expected to considering the 18x20 string bed and the extra half-inch of leverage. The sweetspot was generously sized, and contact outside of it was still producing effective shots for me with no signs of instability. Like the other Pure Controls, this feels great in the hand and looks great to the eye.
Michelle - "Pretty much everything! I enjoyed the soft, controlled response I found while still hitting big, effective shots. I felt like I could do anything and be successful from anywhere on the court with this racquet in my hands."
Dislikes
Chris - "None. I'm not always a fan of longer racquets, but I really liked this one."
Andy - "I would've liked a little more stability up around the net, but that's about it."
Mark - "Yet another frame I would consider switching to or adding to my quiver of existing favorite frames. Top notch; I know, not really much of a knock. If this was my racquet I would probably try out a natural fiber/ poly hybrid, just to get that extra plush feel off the stringbed (extra power, too)."
Michelle - "The only issue I had, which was more my own problem, was if I made a poor shot selection and went for a low percentage down the line backhand, I felt like I wasn't getting around the ball quick enough, but that's user error more than anything."
Comparing it to other racquets they've used, our testers said:
Chris - "The power level I found with the Pure Control 95+ was a cross between the Prince Original Graphite Longbody and the Babolat Pure Control Tour. I found much more pace and penetration on my shots compared to the standard length version of this racquet. Both feel great, but fewer of my shots came back with this one, and I found it harder to finish the point with the standard length Pure Control. I found it was easier to adjust to this racquet compared to the Prince, and I found it easier to maneuver compared to another 27.5 inch player's racquet, the ProKennex Ki Q5X."
Andy - "The Pure Control 95+ reminded me a lot of the Prince Original Graphite Longbody, but the Pure Control 95+ was a little easier to maneuver and control. I could hit a bigger ball with the Original Graphite, but I was more consistent and preferred the Pure Control 95+. Very nice frame!"
Mark - "I am bringing out my Head IG Prestige MP for the playtest review today, so I definitely feel it's comparable to the Pure Control 95+ since it has a bit of a softer feel. The Pure Control 95+ is also comparable to the Babolat Pure Storm Ltd., the Volkl Organix 10 Mid, Tecnifibre TFight 315 Ltd. (18x20), and Head Graphene Speed Pro (firmer beam though). After making this list, I am a bit surprised that I did not come up with too many more examples of similar frames, which sort of highlights the fact that the Pure Control 95+ stands somewhat alone."
Michelle - "I would compare the Pure Control 95+ to the Prince Graphite Original Longbody because the Graphite Longbody was another favorite of mine to playtest. Surprisingly, this Pure Control 95+ wasn't as taxing to use on serves, and I felt the extra length never hindered my game, it only rewarded me. I think I actually like this one better than the Pure Control 95 (standard length), although that is a great racquet as well. It's tough to say which I'd give the edge to."
Technical Specifications

Length
27.5 inches
70 centimeters
Head Size
95 square inches
613 square centimeters
Weight
11.9 ounces
337 grams
Balance Point
12.63 inches
32 centimeters
9pts Head Light
Construction
19mm / 19mm / 19mm
Composition
Graphite/Tungsten & Flex Carbon
String Pattern
18 Mains / 20 Crosses

Babolat RDC Ratings

Score

Grade

Flex Rating
62
Range: 0-100
Swing Weight
321
Range: 200-400
Scores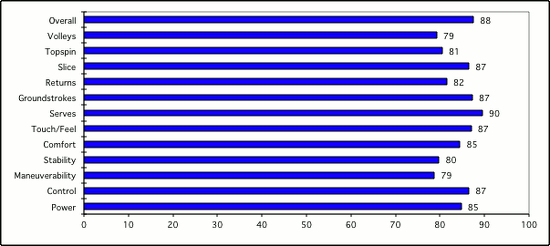 (Scores are determined by averaging individual play test scores)
Chris' Scores
Power
8.4
Serves
9.1
Control
8.6
Groundstrokes
8.4
Maneuverability
8
Returns
8
Stability
8.1
Slice
8.8
Comfort
8.3
Topspin
8.4
Touch/Feel
8.8
Volleys
8.2
Overall
8.4
Andy's Scores
Power
8.5
Serves
9.3
Control
8.5
Groundstrokes
8.5
Maneuverability
7.5
Returns
8
Stability
7.5
Slice
8
Comfort
9
Topspin
7
Touch/Feel
9
Volleys
6.5
Overall
8.5
Mark's Scores
Power
9
Serves
8.5
Control
9
Groundstrokes
9
Maneuverability
8
Returns
8
Stability
8.5
Slice
9
Comfort
8
Topspin
8
Touch/Feel
8.5
Volleys
8
Overall
9
Michelle's Scores
Power
8
Serves
8.9
Control
8.5
Groundstrokes
9
Maneuverability
8
Returns
8.6
Stability
7.8
Slice
8.8
Comfort
8.5
Topspin
8.8
Touch/Feel
8.5
Volleys
9
Overall
9.1
Playtester Profiles
Chris: 5.0 all-court player currently using the Wilson Six.One 95S. Chris uses a full-western forehand grip, has a fast swing style and hits a one-handed backhand.
Andy: Open level all court player with a semi-western forehand grip and a two handed backhand. Andy currently using a Wilson Blade 98 18x20.
Mark: 5.0 lefty all-court player with a one-handed backhand. He currently plays with the Wilson Steam 99S.
Michelle: Open level baseline player with a semi-western forehand and a two handed backhand. She currently plays with the Babolat Pure Drive Roddick.

Review date: May 2014. If you found this review interesting or have further questions or comments please contact us.
All content copyright 2014 Tennis Warehouse.