Volkl Power Bridge 10 Mid Racquet Review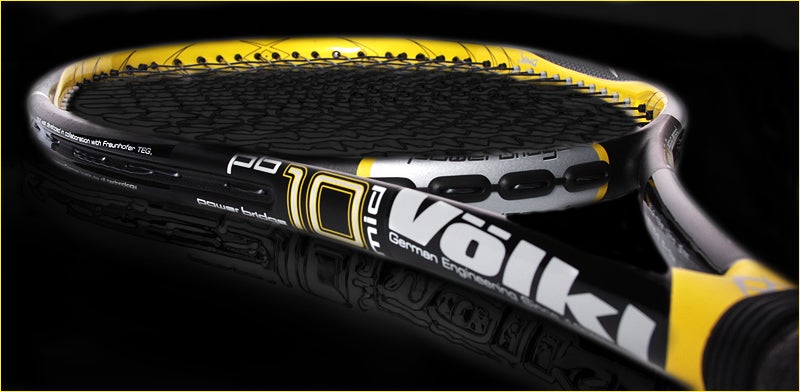 When we reviewed the Power Bridge 10 Midplus in 2008, the team praised the racquet for its control and feel. Now the team headed out to test another player's racquet from Volkl, the Power Bridge 10 Mid, to see how it measures up.
On paper, this racquet has several similarities to its midplus sibling, despite only having a 93 square inch headsize. With a strung weight of 12.1 ounces, a flexible 59 RA rating, a generous 10 points head light balance and a thin 19 mm beam, this Mid offers just as enticing a spec sheet as the Power Bridge 10 Midplus. Both racquets also wear a yellow and black cosmetic in classic Volkl 10 Series tradition.
We lined up some of our playtesters who love player's racquets and armed them with the Power Bridge 10 Mid. Here's what the team had to say.
Groundstrokes - Score: 85
The Power Bridge 10 Mid garnered praise from our playtesters for its performance at the baseline. Danny found it had just about everything he looks for in a racquet. The combination of specs was right up his alley on groundstrokes. "I don't know what the Power Bridge 10 Mid didn't have from the baseline. That's how much I liked it. What I liked most was the stability, plow through and lightweight feel. I was able to achieve power from this racquet better than any other racquet that I have tested this year. Despite its 12.1 oz weight, it was very easy to swing. I could play with this racquet all day long and not worry about my arm fatiguing. My shot variety was there if I needed it. I was able to spin the ball, loop the ball, hit angles and flatten out the ball. And let me add, I am now the proud owner of two of these frames."
Granville struggled a bit as he returned to the court after an injury, but he liked the flex of the racquet and the spin it created. He said, "It has that scalpel feel when you pick it up. But is the Doctor in? You better bring your A-game when you play with the Power Bridge 10 Mid, as it is soft and very flexible. I was driving the ball deep off both sides with consistency, and there was little to no transition time from my regular racquet. When really slapping the ball from the baseline, I could feel the narrow beam flexing and whipping the ball. It's a clay court player's dream stick! Topspin was an easy tool, as I was getting the ball to drop deep into the court. Alas, my game proved a bit inadequate at this point in my return to the court, as I struggled with the midsize head. It's just slightly reduced from my 6.1 95, but different enough to give me pause. In particular, I was struggling with high topspin forehands. I was regularly hitting off-center on what is usually a bread and butter shot for me. The sweetspot seems to be one string above the middle cross, putting it higher in the stringbed compared to a classic player's stick. I will need to work on my game a bit and try this racquet again, as it left me wanting more."
"Amazing," summed up Kana, who loved how the racquet's mass was helping with power. " This is one of the most stable sticks I've hit with. If the ball is low to the ground I'm not afraid to go for it. My shots stay flatter and are heavier than usual, so hitting it deep into the court makes it harder for my opponents to hit an aggressive shot. The mass of the racquet makes it easy to plow through the ball, but the mass was also to my disadvantage because it required more energy."
So impressed that he made the switch, Chris had high praise for the racquet, saying, "This racquet offers me amazing control and feel from the baseline. I'm currently using this racquet as my main racquet and I've tried about 40-50 different strings in it while testing them for TW. My preference is to string the racquet low for some added pop, which is about 53 pounds for a poly type string and 55 pounds for a multifilament or natural gut. At that tension the racquet plays silky smooth and offers excellent ball pocketing. What I like most about the racquet is the fact that it is stable and solid, yet I can whip it through the contact zone to generate pace and spin. That is an elusive attribute I've found in only a handful of racquets, and this one has it in spades."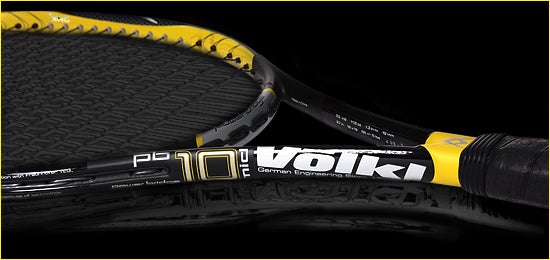 Volleys - Score: 85
It was another impressive outing when it came to volleys. Feel and touch impressed the team overall. Granville was right at home with the Power Bridge 10 Mid at net. He said, "The racquet provides that mix of mass and balance that allows the racquet to do a lot of the work for me. I was volleying with confidence, whether hitting a short angle or deep down the line. Touch volleys felt soft and familiar. The headlight balance allowed me to move the racquet with speed and confidence."
With the Power Bridge 10 Mid, Chris felt in complete control, and he sung the racquet's praises. "The feel from this racquet at net was incredible for me. It just felt so smooth and precise at contact. I could punch volleys deep, drop them short or cut them for a fine angle. As far as volleys go, this is a very nice tool to help me get the job done."
Danny said he always felt confident in the racquet's response. "I found very nice feel and control at the net. I could stick or cut the ball with confidence. Besides the control and the feel at the net, I also liked the maneuverability. Just like my experience from the baseline, the maneuverability and lightweight feel was surprising. Two thumbs up."
With a strung weight of 12.1 oz, the racquet's weight left Kana struggling with maneuverability. She said, "This felt great on volleys, but again I felt slower because I wasn't used to handling the mass of the racquet. If I had time I could execute a solid volley, but I think this would be hard for me to use in a fast doubles game."
Serves - Score: 85
The accuracy of their serves impressed our playtesters. Chris raved, "One of my favorite shots with this racquet was the serve. As I found with groundstrokes, I was able to whip the racquet through contact for lots of pace and spin, yet it felt solid and stable at the same time -- which improved accuracy. For me, serving with pace and spin with this racquet was about as effortless as possible. Needless to say I continue to be impressed with this one."
Additional power helped Kana, who had the most success with a flat serve. She said, "Fast and flat was a consistent serve with this racquet. The mass of the racquet could generate more power than the lighter racquets I hit with."
The Power Bridge 10 Mid stands out as a favorite for Danny, who reported a jump in confidence. "This is probably the best serving racquet that I have ever tested. "The access to power and spin was exceptional. My confidence is at an all-time high when I am serving with the Power Bridge 10 Mid. I usually don't get many free points when serving, but I did with this racquet."
Granville was finding his mark, but he says the racquet doesn't offer any free power. "As expected, the Power Bridge 10 Mid was all about pace and placement. I didn't get any additional power here. I found a consistent stringbed and flexible shaft offering precision placement on my best serves. I was especially enjoying the slice serve wide on the deuce side and the slice down the middle on the ad side, opening up the court for the follow-up volley to the open court."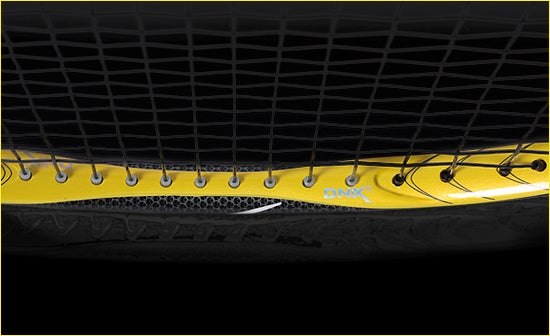 Serve Returns - Score: 82
The playtesters again gave their seal of approval, this time for returns. With the hefty mass of the racquet, Kana let the Power Bridge 10 Mid do the dirty work. She said, "I could stick the racquet out in the right position and it would do the work for me. If the serve was a sitter I had no problem putting it away with a sharp, heavy angle shot."
Granville was returning with ease. He attributed that to the specs. "Another luxury of perfectly matched mass and balance is the benefit of solid returns when either defensively blocking the ball or taking a full swing. I was not going to be late to the shot with the maneuverable balance of 10 points head light."
The racquet allowed Chris to return with variety. He said, "There's just so much control and feel with this racquet that I felt I had a lot of options when returning serve. I was able to take a rip at the ball and still find lots of accuracy. I also liked the solid response when looking to chip the ball back. That stability enabled me to either punch or float the ball to an intended target depending on what I wanted to achieve with my return."
Danny noted his consistency when using the Power Bridge 10 Mid. "My serve returns were pretty standard. They were good, but nothing stood out like it did when I was hitting groundstrokes, volleys or serves. My serve returns were consistent and solid."
Overall - Score: 85
Our test squad was truly impressed with the performance of the Power Bridge 10 Mid, so much so that two of them have made the switch. The racquet allowed our players to hit with confidence from all areas of the court. Outstanding feel and control teamed up with solid stability, allowing the playtesters to hit through the ball with authority. With a performance like that, the Power Bridge 10 Mid should move to the top of the demo list of any intermediate to advanced level player.
Likes
Danny - "I liked everything. What I liked most was its stability, plow through and lightweight feel."
Granville - "I liked the narrow beam; it just feels right in my hand. I also liked the shape of the grip, as it is very similar to what I am accustomed too. Nice cosmetic, too."
Kana - "This is one of the most stable and solid sticks I've hit with. My shots feel heavier and more aggressive than usual. The feeling on every shot is amazing."
Chris - "I liked the spin, control, feel, comfort, stability and plow through. I loved the confidence I had on every shot."
Dislikes
Danny - "Nothing."
Granville - "Flex at 59 really makes for a whippy racquet."
Kana - "The racquet is too heavy, which requires me to spend more energy to swing, causing me to get winded earlier than usual."
Chris - "Nothing. This is my racquet of choice and I'm very happy with it."
Technical Specifications

Length
27 inches
69 centimeters
Head Size
93 square inches
600 square centimeters
Weight
12.1 ounces
343 grams
Balance Point
12.2 inches
31 centimeters
10.4pts Head Light
Construction
19mm Straight Beam
Composition
Graphite
String Pattern
16 Mains / 19 Crosses

Babolat RDC Ratings

Score
Grade
Flex Rating
59
Range: 0-100
Swing Weight
320
Range: 200-400
Volkl Power Bridge 10 Mid Scores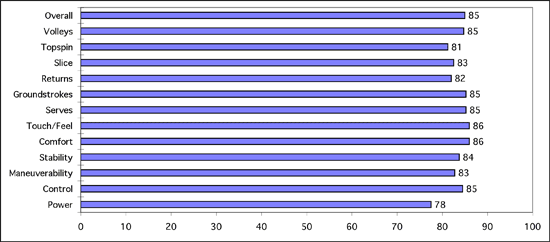 (Scores are determined by averaging individual play test scores)
Danny's Scores
Power
7.8
Serves
8.8
Control
8.5
Groundstrokes
8.9
Maneuverability
8.6
Returns
8.3
Stability
8.7
Slice
8.2
Comfort
8.9
Topspin
8.5
Touch/Feel
8.4
Volleys
8.4
Overall
8.8
Granville's Scores
Power
7.5
Serves
8.8
Control
8.8
Groundstrokes
8.5
Maneuverability
9
Returns
8.5
Stability
8.8
Slice
8.5
Comfort
9.3
Topspin
8.5
Touch/Feel
9.0
Volleys
9.3
Overall
8.8
Kana's Scores
Power
7.8
Serves
8
Control
8
Groundstrokes
8.7
Maneuverability
7.5
Returns
8
Stability
8
Slice
8
Comfort
8
Topspin
7.5
Touch/Feel
8.5
Volleys
7.8
Overall
8.1
Chris' Scores
Power
7.9
Serves
8.5
Control
8.5
Groundstrokes
8
Maneuverability
8
Returns
8
Stability
8
Slice
8.3
Comfort
8.2
Topspin
8
Touch/Feel
8.5
Volleys
7.8
Overall
8.1
Playtester Profiles
Danny: Open baseline player currently using a Volkl Power Bridge 10 Mid. Danny uses a semi-western forehand grip, a two-handed backhand and has a long swing style.
Granville: 5.5 all-court player currently using a Wilson K Factor Six-One Tour 95. Granville is an aggressive player who uses an eastern forehand grip and goes continental on everything else, hits with a flat swing and a one-handed backhand.
Kana: Open level baseliner with a western forehand and two-handed backhand. Currently using the Yonex RQis 1 Tour Light.
Chris: 5.0 All court player currently using the Volkl Power Bridge 10 Mid. Chris uses a full-western forehand grip, has a fast swing style and hits a one-handed backhand.

Review date: January 2010. If you found this review interesting or have further questions or comments please contact us.
All content copyright 2010 Tennis Warehouse.