One Strings Carbon NRG String Review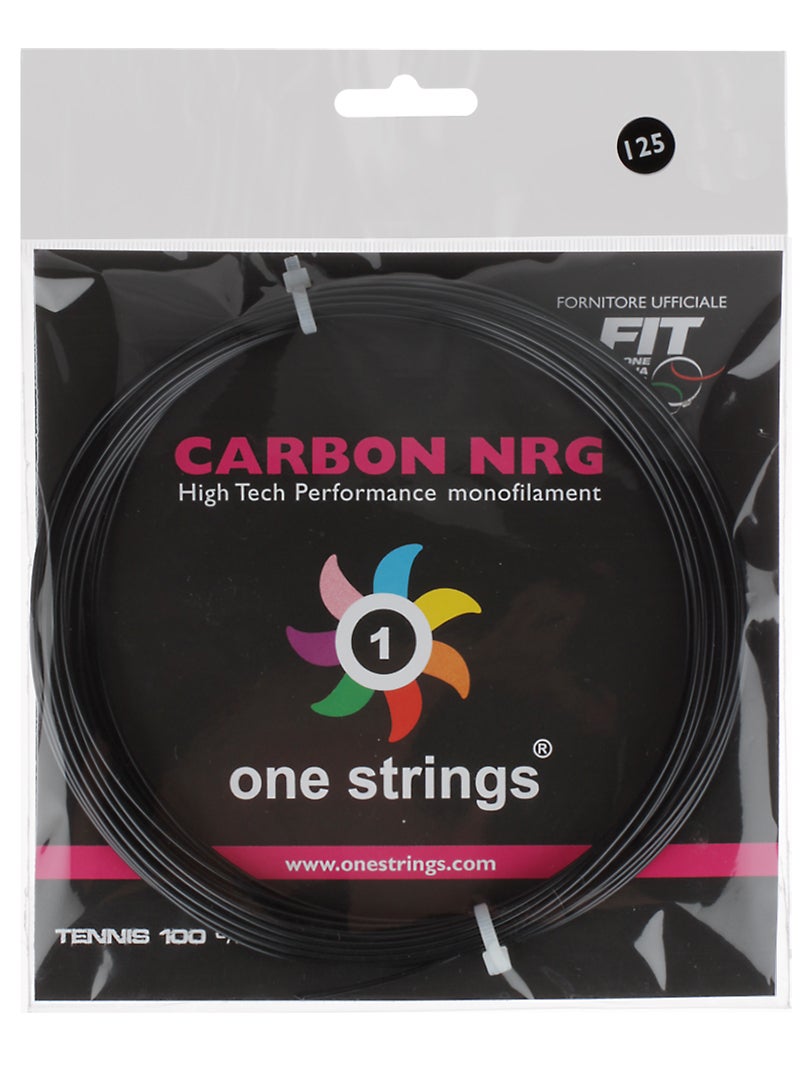 One Strings Carbon NRG String Scores
Power
45
Spin
77
Comfort
61
Control
91
Feel
81
String Movement
79
Playability Duration
68
Durability
79
Overall
77
Downsides
Too firm and underpowered for beginners
Playability drops slightly over time
Summary
From a new Italian manufacturer named One Strings comes a sleek black co-poly called Carbon NRG. Like most poly-based strings, Carbon NRG is designed to provide a firm and controlled response to players with long, fast strokes. Not surprisingly, our playtest team awarded this string an outstanding score for control, and with that control came the confidence to take explosive upward cuts at the ball, a fact that helps explain why our playtesters reported such excellent spin. Another notable feature of this co-poly was the feel, which was firm but comfortable, and muted enough to keep harsh vibrations to a minimum. The only slight downside, reported by one of our playtesters, was a noticeable drop in playability after several sessions of hard hitting. Ultimately though, Carbon NRG, with its user friendly balance of features, signals a very promising start for this young Italian brand.
Power - Score: 45, Control - Score: 91
For our team, Carbon NRG provided phenomenal control. Chris explains, "The controlled response of this string worked perfectly for me. I immediately found a level of comfort and confidence hitting with this string that allowed me to play aggressively. I never had to worry about the ball flying on me since the string offered so much control. The level of power is somewhat low and very predictable -- making it a perfect choice for the player who likes to provide his/her own power. Depth and angle control was spot on with this string for me. I was finding enough ball pocketing to get a controlled feel without excessive launch off the face of the racquet."
Also appreciating the control was Andy, who said, "I found this string to have a fairly low-powered response compared to other polys. It offered little power but loads of control, making this great for big hitting players who like generating their own power. I was able to go for my shots with confidence, knowing that I was going to get a consistent, controlled response off the stringbed."
Troy found great control, especially at the beginning of the playtest. He said, "I found the power level of this string to be medium on the co-poly spectrum. I felt that there was a decent amount of pop coming from this string, most notably on big forehands and flat first serves. The control was very good, enabling me to pick my spots and stay on the gas with my groundstrokes and serves without fear of an unpredictable response. I found the medium power level to be evident for the first 5 hours of play, but after that I started to notice a more muted and less lively feel to the stringbed."
Spin - Score: 77
With its very predictable response on full swings, Carbon NRG gave Andy all the ingredients he needed to grab and rotate the ball. He said, "The low-powered response let me really unleash and generate some good racquet head speed, resulting in some nice spin potential. It's not going to have the same kind of bite as a shaped or textured string, but it's going to offer some above average spin potential for a round poly."
Chris also found this string's control essential to its spin potential. He said, "There are strings out there that offer better grab and/or kick off the racquet than this one, but I still found it very spin-friendly. The biggest impact on getting spin with this string for me came from its control oriented response. I was able to take big swings at the ball, and that resulted in big spin. When strung up in a spin-specific racquet, like my Wilson Six.One 95S or the One Strings Spin Deeper 300g, Carbon NRG complemented the spin potential of each racquet quite well. After a couple of hours of play the surface of the string did rough up a little, which hindered its ability to snap back for added spin."
"I found the spin potential to be slightly higher than average compared to other 1.25mm co-poly strings I have tried," said Troy. "For the initial part of this test I felt that I was getting good dip on my cross-court shots and good kick on spin serves. For the first five hours of play the ball-pocketing allowed me to manipulate the shape and angle of my groundstrokes well, even though the strings didn't seem to have that snapback sensation that I found with other co-polyesters like Babolat RPM Blast and Wilson Ripspin. After the first five hours of play the ball-pocketing wasn't as noticeable and the overall performance dropped slightly."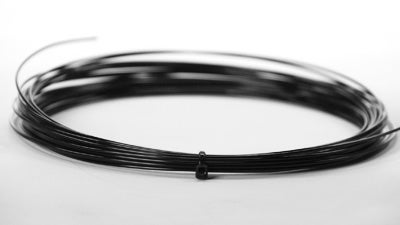 Comfort - Score: 61
Like the vast majority of poly-based strings, Carbon NRG is not built for players who want the pillowy comfort of a natural gut or a multifilament. However, none of our playtesters complained of excessive shock on off-center hits. In fact, Troy found it quite comfortable right off the stringer. He said, "The comfort of this string was high during the first five hours of play. The first things that stood out to me when I started hitting groundstrokes was the nice ball pocketing and the comfort throughout the stringbed. Prior to this playtest I had been playing predominantly with Luxilon 4G/4G Rough, and although 4G is my current favorite string, it's not what I would recommend for high levels of comfort. This Carbon NRG felt similar to Kirschbaum Pro Line II, Signum Pro Hyperion and Babolat RPM Blast in terms of the ball pocketing and comfort that I was getting."
With his racquet strung at 57 lbs, Chris had zero problems with comfort. He said, "On a comfort front, Carbon NRG didn't feel that far removed from the Volkl Cyclone I usually play. Softer playing than a traditional poly, but not as soft as something from Polyfibre like High Tech or TCS, this string ranked closer to the middle for softness among the polys and co-polys I've hit. I have to say I liked the feel. I was getting enough ball pocketing to enhance control and feel, and the string didn't feel too lively."
Appreciating the comfort, Andy said, "This string has a comfortably firm feel. Even though it's lower-powered, the feel is dampened and not harsh. You can unload on the ball without fear of unwanted vibrations up through the arm. I felt this was a strength of this string compared to other polyester strings."
Feel - Score: 81
Carbon NRG not only gave our team a smooth ride with minimal vibrations, but the firm feel connected them to the ball and helped with shot execution. Andy was impressed, saying, "This string has a comfortably firm, dampened feel to it. It's also very responsive, so you feel very connected to each shot as it leaves the string. Some polyesters can make the ball feel distant from your hand, but not this one! For a poly, this string is very responsive."
"The feel from this string was pretty solid," said Chris, who also appreciated the feel. "I liked that I knew exactly how much power and pace I was getting on the ball. I also felt like the level of spin was predictable, all of which enhanced the feel I had for my shots. I was able to get drop shots to land on target and to die quickly, and I found good touch and control on drop volleys and angles."
Troy was able to get the right feel by stringing his racquet at a low tension. He said, "When I strung my racquet at 45 lbs the string had a soft and somewhat muted-feel. The ball pocketing was excellent and made me feel very connected to the ball. Not having to worry about discomfort on off-center hits gave me the confidence to swing freely."
Playability Duration - Score: 68
Like all strings, Carbon NRG loses tension over time, after which the response changes. In fact, Troy noticed a drop in feel and playability. He said, "Playability was slightly less than average among other co-polys I have tried. I felt this string was exceptional up to about five hours of play. Between about five and seven hours of play this string was losing some of the ball pocketing and overall feel. After about seven hours of play this string felt as though it lost its soft feel and exceptional ball pocketing."
Andy was able to get his standard two weeks out of this string before it snapped. He said, "The playability and tension lasted me for about two weeks, at which point I broke it during a tournament. With its softer makeup I'd expect it to start losing tension and playability soon after the two-week threshold."
"I found the feel of the string to be pretty consistent when it came to control, " said Chris, who noticed some slight changes over time. "There was no sudden drop-off in feel or playability, and the string passed the two-week test for me. The snap back diminished after a couple of hits and the surface of the string got roughed up some. However, I was still able to get plenty of spin out of the string since I could swing fast and take advantage of the controlled response."
Overall - Score: 77
What type of player would you recommend this to?
Chris - "Like any poly-based string, this one is best suited to advanced players. Those seeking a control focused poly will like this one. I found it to sit pretty center in terms of its stiffness -- not too stiff and not too soft, but about just right for me."
Troy - "Those players who are seeking a comfortable co-poly that has a predictable response. This string is slightly cheaper than the other two strings that I think are similar: Kirschbaum Pro Line II and Signum Pro Hyperion."
Andy - "This is for players with long, fast strokes who can generate their own power. It's ideal for players who have used polyester strings in the past and like the deader feel, but want something a little more comfortable. Players who are looking to try polyesters for the first time should look for something a little livelier."
Likes
Chris - "I liked the control and feel of the string. This is definitely a string I'd be comfortable playing tournaments with because I did not have to worry about the ball flying on me."
Troy - "It has a soft and comfortable feel, with good ball pocketing for the initial five to seven hours of play."
Andy - "It has great control, responsiveness and feel for a poly. it's quite comfortable for being so low-powered."
Dislikes
Chris - "The surface lost its ability to slide against itself after just a few hours, so snap back spin potential dropped off slightly."
Troy - "The tension maintenance and the lack of feel after about seven hours of play."
Andy - "A little too dampened and low-powered for my liking, but that's just my personal preference more than anything."
Comparing the string to others they've tried, our testers said:
Chris - "I'd put this one between Volkl Cyclone Black and ISOSPEED BlackFire. It felt more forgiving than BlackFire but offered similar control and spin. I find Cyclone to feel a tad softer, but what I get out of the two in terms of control and feel is similar. The one exception with Cyclone is its surface keeps its slickness longer so I get better snap back over the duration of the string's life."
Troy - "I found similarities with Kirschbaum Pro Line II and Signum Pro Hyperion, although I felt that Pro Line II has a slightly longer playability duration. Luxilon 4G is my favorite string because it has good tension maintenance for about 10 to 15 hours."
Andy - "This is similar to ISOSPEED BlackFire with its comfortably firm, low-powered feel. It's also kind of similar to Luxilon ALU Power Ice and Head Hawk, but slightly livelier."
Scores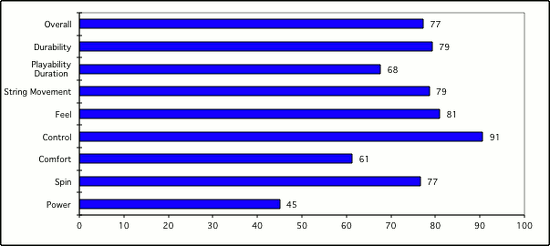 (Scores are determined by averaging individual play test scores)
Troy's Scores
Power
5
Playability Duration
6
Spin
7.5
Durability
8.3
Comfort
6
Control
8.9
Feel
7
String Movement
7.7
Overall
7
Chris' Scores
Power
5.5
Playability Duration
6.8
Spin
8
Durability
8.5
Comfort
7.4
Control
9.6
Feel
9.3
String Movement
7.4
Overall
8.4
Andy's Scores
Power
3
Playability Duration
7.5
Spin
7.5
Durability
7
Comfort
5
Control
8.7
Feel
8
String Movement
8.5
Overall
7.8
Playtester String Setups
Chris:
Playtest Racquets: Volkl C10 Pro, Prince Original Graphic OS, Wilson Six.One 95S, One Strings Spin Deeper 300g
Playtest Tension: 57 lbs
Typical String: Volkl Cyclone 16
Andy:
Playtest Racquet: Wilson Blade 98 18x20
Playtest Tension: 54 lbs
Typical String: ALU Power Spin 16L
Troy:
Playtest Racquet: Wilson Six.One 95 (18x20)
Playtest Tension: 42 lbs
Typical String: Luxilon 4G 1.25L

Review date: April 2014. If you found this review interesting or have further questions or comments please contact us.
All content copyright 2014 Tennis Warehouse.