Wilson NXT Tour String Review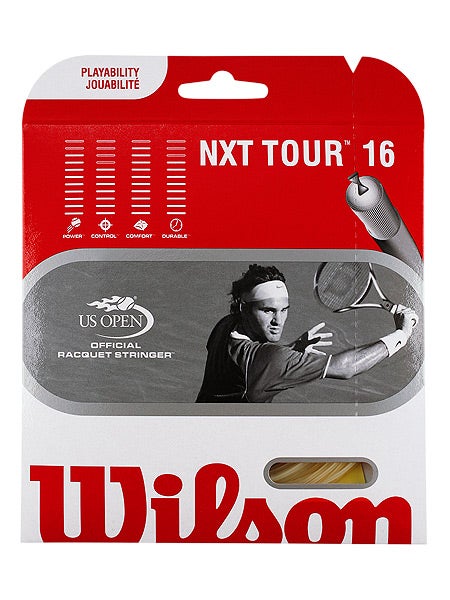 Wilson NXT Tour String Scores
Power
85
Spin
75
Comfort
93
Control
70
Touch
80
String Movement
70
Playability Duration
81
Durability
65
Overall
76
Upsides
Comfort
Touch
Feel
Power
Tension Maintenance
Downsides
Not as much spin and control as a poly-based string
Summary
While nothing can replicate the comfort of natural gut, Wilson NXT Tour, according to our team, comes awfully darn close. For our playtesters this multifilament delivered simply outstanding comfort and feel. It also made a modern, stiff frame feel perfectly dampened, giving our tendons a welcomed vacation from the stiff polys we typically use. NXT Tour's soft feel is no accident. Wilson has packed it with even more shock absorbing fibers than the original NXT. The pop we found on serves and the feel around the net made this a phenomenal doubles string. When it came to spin and control, however, our team rendered a split decision, with one player getting surprisingly good bite and precision, while the other was left wanting the stiff and dead response of his favorite poly. Ultimately, though, both our playtesters agreed that for the non-poly player or the hybrid user, NXT Tour is one of the most complete strings available. Lastly, did we mention the comfort?
Power - Score: 85
Compared to their typical control strings, NXT Tour gave our testers easy access to power. For Troy, with his penchant for very low powered polys, this string had a little too much pop. He said, "As expected from previous encounters with multifilaments, this string possessed a launching capability that is foreign to me, being a poly addict. I noticed the added power mostly on groundstrokes where I tried to hit flat. Sometimes this added power on flat shots was a benefit, allowing me to slap winners that usually wouldn't go past my opponents; on the other hand there were times where the ball would sail long. On my volleys I noticed the ball coming off the stringbed with a bit more depth than I'm used to. I had to adjust my strokes on certain shots, which also led to me keeping the ball further away from the lines than I would have liked."
Unlike Troy, Mark, had no problems managing the power. He said, "Wilson NXT Tour did not offer the unwieldy power I thought it would, which was perfect for my strokes. I got a little assistance (launch) off the stringbed, but it was the pocketing that I noticed the most, as it held the ball on the strings for a good period of time and offered easy spin control - a trait I do not always get from high-end multifilaments, especially compared to my usual poly set up."
Spin - Score: 75
Even though NXT Tour doesn't possess the bite of a stiff monofilament, Mark experienced an impressive level of spin with it. He said, "When paired with the 18x20 pattern of the Prestige MP the 17 gauge NXT Tour strings were held in place, which consistently provided a predictable flight off the stringbed, and easy access to spin."
"Spin was below par compared to my favored co-polys" said Troy, who had a little trouble adjusting to the stringbed response. He added, "The biggest adaptation for me was the lower launch angle of the ball off the stringbed compared to polys. I found that I had to aim higher over the net to get good net clearance, but at the same time the ball did not dip down towards the court like polys do. I felt like I couldn't get the ball to kick on topspin shots like I am used to. I found it hard to hit sharp angles cross court, and I didn't feel as comfortable going for passing shots."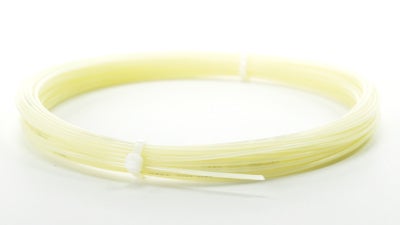 Comfort - Score: 93
Loaded with an army of shock-absorbing fibers and infused with stretchy polyurethane, NXT Tour is built for comfort. In fact, Wilson designed this string to offer an even juicier sweetspot than its other NXT offerings. According to Mark, job well done. He said, "Comfort personified! Like with natural gut, this string is plush, but it also made me feel connected to the ball, and very dialed-in. Even on off center contact of the ball, I felt like I got some of the sweetspot."
Troy definitely appreciated the comfort and vibration dampening of NXT Tour, saying, "The arm-comfort and shock absorption is where this string truly excelled. I strung this 10 pounds tighter than my typical poly tension and it still felt much softer on the arm. I could feel the ball-pocket more than I am used to, even on shots where I didn't take a big swing. Being that my racquet is moderately stiff for a player's frame, it was a nice change to have something to comfort my arm a bit more. If I were teaching tennis and feeding balls all day long, I would definitely enjoy a string like this, which is definitely more forgiving than polyester - especially the Luxilon 4G I favor."
Control - Score: 70
With its lively response, NXT Tour definitely errs on the side of power over control. While this is a great thing for players with shorter strokes, it proved less than ideal for Troy's high swing speed. He said, "As a poly player who prefers firmer and deader strings, the control of this soft multi was another area that was sub-par for me. This has better tension maintenance than other multis I've tried, but in comparison to my polys, I didn't feel like I could put the ball on a dime. There were times at net when my typical drop or angle volleys would land a few inches out. Overall, I was able to adapt to the extra launch, but I never felt fully dialed in.
Mark, known for his extremely consistent play, had no problem keeping the ball on target with this string. He said, "Like I mentioned before, I expected to make an adjustment in stroke mechanics to keep from hitting home runs, but no such action was needed. I felt like I was in control, in the way I like to be."
Playability Duration - Score: 81
Compared to his typical poly, NXT Tour gave Troy impressive tension maintenance. He said, "I found the playability to be pretty consistent throughout this playtest. The stringbed became a bit softer toward the end of this test, but there was not nearly as much tension loss as most polys I play with."
The tension held up pretty well for Mark, but he did run into some durability issues. He said, "Notching is inevitable, but the dense 18x20 pattern held the strings in place better than if they had been applied to a open patterned frame. The performance was there all the way until close to the end, when the string was severely notched. Perhaps 8 hours of hard play."
Overall - Score: 76
What type or player would you recommend this to?
Mark - "I am a huge fan of almost all things poly, and this review sort of renewed my appreciation for multifilament strings. The NXT Tour pairs beautifully with the tighter patterned player's frames, like the Prestige MP, in the same way polys match perfectly with open patterned frames like the Steam 99S and Pure Drive GT. For the advanced player, control, comfort, and access to spin were personified with this string. Also, any level of player wanting a stringbed with a plush feel, for any reason, will benefit from the NXT Tour."
Troy - "Anyone who's looking to add comfort to his or her racquet of choice. Players who have a classic (flatter) style, who are well accustomed to the elasticity and feel of strings such as natural gut."
Likes
Mark - "I like how it made my Prestige feel and perform better overall than when it is matched with a poly (this is what my Prestige MP will have in it from now on). I felt like I was rewarded with a noticeably deep ball pocket, along with the surprising level of control and comfort, which left my arm feeling pretty fresh after long sessions."
Troy - "Comfort and nice ball-pocketing."
Dislikes
Mark - "I feel the same about the Vapor 9 Tour shoe as I feel about the NXT Tour 17 string; if you discount the durability a bit, it is among the finest options available in its class (is that a dislike?)."
Troy - "Spin and control were not quite up to the standards I find from most co-poly strings."
Comparing the string to others they've tried, our testers said:
Mark - "With the claimed increase in the amount of Xycro Micro fibers per gauge of string, I noticed that the standard NXT felt different from the Tour version. The standard NXT felt crisper, but the NXT Tour maintained its performance a bit longer than the standard. It also compares well with X-One Biphase, NRG2 from Tecnifibre, Babolat Xcel and Prince Premier LT."
Troy - "I found similarities to Tecnifibre NRG2, Gamma Professional and Babolat XCel Power. About as soft as natural gut, but not quite as responsive and with a slightly more muted feel."
Scores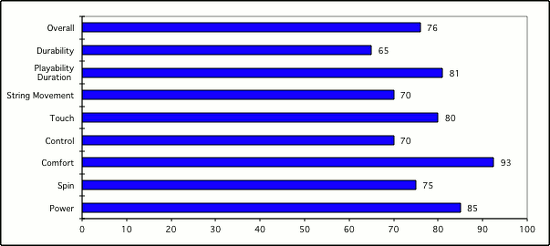 (Scores are determined by averaging individual play test scores)
Mark's Scores
Power
8
Playability Duration
8
Spin
9
Durability
7
Comfort
9.5
Control
8
Touch
8.5
String Movement
8
Overall
8
Troy's Scores
Power
9
Playability Duration
8.2
Spin
6
Durability
6
Comfort
9
Control
6
Touch
7.5
String Movement
6
Overall
7.2
Playtester String Setups
Mark:
Playtest Racquet: Head IG Prestige MP
Playtest Tension: 54 lbs
Typical String: Babolat RPM Dual 16
Troy:
Playtest Racquet: Wilson BLX Six.One 95 (18x20)
Playtest Tension: 52 lbs
Typical String: Luxilon 4G 16L

Review date: July 2013. If you found this review interesting or have further questions or comments please contact us.
All content copyright 2013 Tennis Warehouse.