Wilson NXT Control String Review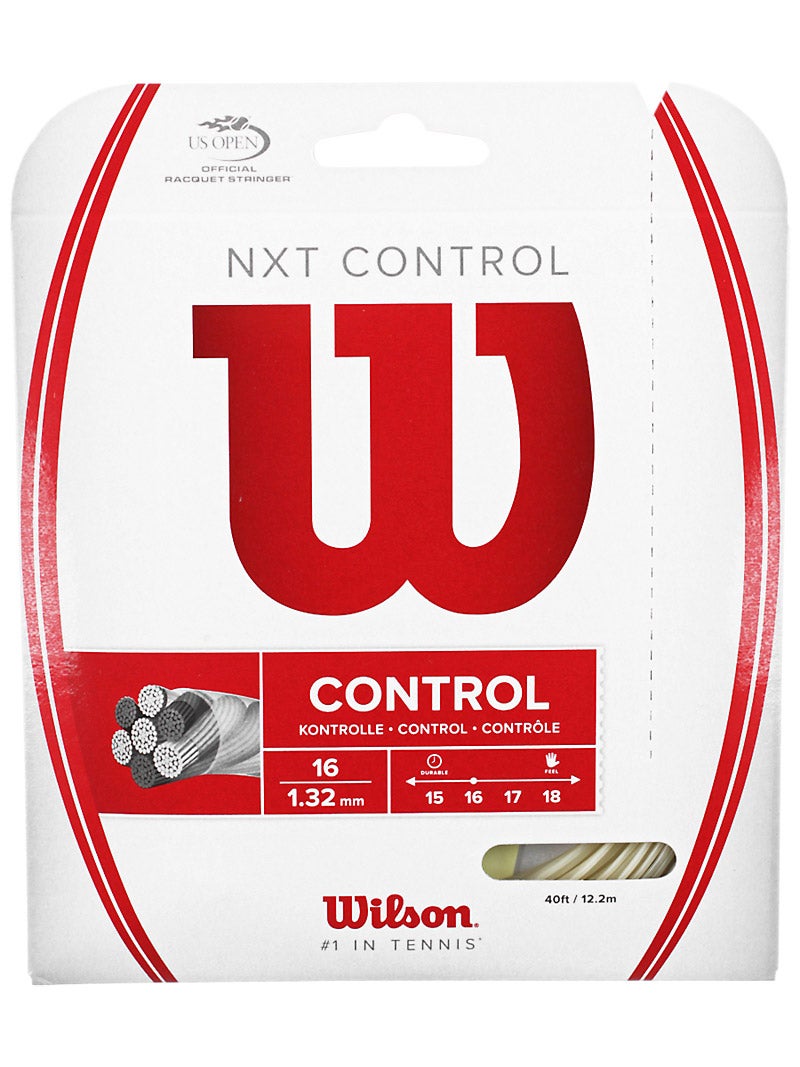 Wilson NXT Control String Scores
Power
75
Spin
76
Comfort
84
Control
83
Touch
84
String Movement
75
Playability Duration
83
Durability
74
Overall
82
Upsides
Control
Touch
Comfort
Playability Duration
Downsides
Tends to shred with heavy topspin
Summary
Wilson NXT Control brings the crisp precision of polyester to the iconic NXT string line, home to some of the most popular and comfortable multifilaments of all time. With its alternating bundles of firm polyester filaments and soft nylon fibers, NXT Control gave our playtesters something they don't always get from a multifilament: excellent control on their biggest swings. In addition to the control, we were also impressed with the feel. Though quite comfortable, this firmer and refreshingly crisp version of NXT came with a heightened connection to the ball. The upshot for our playtest team was more confidence when adding pace or flirting with the lines. Ultimately though, we think NXT Control offers an impressive level of control while still managing to retain much of the touch, comfort and responsiveness for which the NXT franchise is known.
Power - Score: 75
NXT Control gave our two playtesters decidedly less power than they typically get from the standard version of NXT. The lower power level worked well for Brittany and her aggressive strokes. She said, "I was quite surprised with how low powered this multifilament string played. I was a little nervous putting it in the more powerful Volkl Organix 7 295, but all of my worries disappeared during my first hit. To be honest, it felt like I was playing with more of a hybrid (polyester/multifilament) than with just a multifilament. While I definitely consider it low powered for a multifilament, there was still enough power to satisfy me."
Chris had sufficient but not overwhelming power, saying, "This string offers decent pop but is the least powerful version of NXT. It plays with a crisp and solid feel. The firmer response seemed to encourage the ball to flatten out more on the stringbed, robbing the ball of some of its energy. The result for me was a very controlled level of power -- similar to that of a poly/multi hybrid. I was still able to get ample zip on groundstrokes and serves, I just felt more in control than I typically do with a multifilament."
Spin - Score: 76
Even though NXT Control didn't give us the sharp bite of a stiff monofilament, Chris was sold on the RPMs he was getting. He said, "While the level of spin I got from this string was less than I expect for a poly, it outshone any multifilament string I've hit. I could feel the string digging into the ball, and it felt like I was getting some nice bite on the ball. I felt confident swinging through the ball and keeping my racquet head speed up. A quick swing resulted in good spin, and I was able to move the ball around the court with good pace. A little of the hook that makes aggressive shots drop just inside the lines with a poly was missing here, but not so much as to deter me from using this string. As far as multis and spin go, this one is at the top of the pile for me."
Brittany also found enough spin. She said, "Because of my flatter game style I don't necessarily need or look for strings that have a lot of spin potential. However, I do need a little spin to keep my flat shots in the court, and this string delivered. It did not have as much access to spin as a poly, but I was able to get enough spin from this string to complement my game style."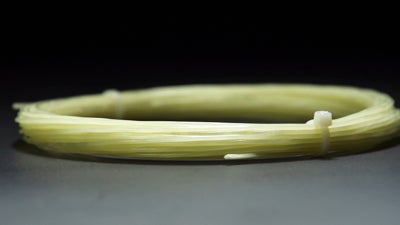 Comfort - Score: 84
Constructed partly with polyester filaments, NXT Control is definitely a little firmer than the other members of the NXT clan. For Brittany, who typically plays with a heavy duty poly, this string was quite comfortable. She said, "My favorite feature of this string was the comfort. It was very comfortable to play with and absorbed any potential vibrations. I never felt any jarring or uncomfortable sensations when hitting. I was also impressed with the feel. I enjoyed the crisp feel from all areas of the court, but I took advantage of it the most at net."
"The firmer, crisper feel of this string detracts a bit from its comfort," said Chris, who was ultimately very pleased with the feel. "It is crisper and cleaner feeling than other multifilament/poly core strings I've hit, like ISPOSPEED Axon Multi and Tecnifibre X-Code. While those strings offer a more muted and comfortable response, they don't get close to the feel of NXT Control. This string is also way more comfortable than a full poly setup. While the feel from the sweetspot is comparable, it's when contact moves closer to the edge of the frame that NXT Control rewards with far greater comfort."
Control - Score: 83
NXT Control gave our two playtesters the predictability and precision to execute their biggest swings without a hitch. Even Chris, who tends to prefer stiffer, more traditional polys, had great control. He said, "I found this string to live up to its name from all areas of the court. I found way more control here than with NXT, NXT Tour or NXT Max, etc. The firmer and crisper response really had me feeling connected to the ball, and I was very confident when hitting my touch and placement shots. I also found better control on very aggressive swings than I've found from any multi. Overall, I thought the level of control was top notch and closer to that of a poly than a multi."
"I had complete confidence taking full swings at the ball with NXT Control in my racquet, and I was able to hit the ball exactly where I wanted it to go," said Brittany. "The control on this multifilament was definitely noteworthy. I was able to string it in a very powerful racquet without the fear of balls launching in every direction. There was more than enough control for me to aim closer to the lines."
Playability Duration - Score: 83
NXT Control held its playability quite well for Brittany, who noticed a little bit of fraying after the first week. She said, "I playtested this string for three weeks and thought the durability held up well. I didn't notice any drop in playability and I think the string will continue to last for a couple more weeks. I did start to notice some fraying, but it did not affect the durability."
Given that he usually cuts his polys out after two weeks, Chris was impressed with the distance he got from NXT Control. He said, "This string lasted very well for me. I played with it for three weeks and found a very consistent response over the entire test. I was impressed by the durability, and there was no excessive notching, fraying or drop in performance. The feel was definitely more consistent than I find with a poly over a three-week period. I was very impressed."
Overall - Score: 82
Likes
Brittany - "I liked the control and comfort. It didn't even feel like I was playing with a multifilament!"
Chris - "I liked the crisp feel, the control and the playability duration."
Dislikes
Brittany - "The fraying of the strings would be the only downside to this string."
Chris - "None. This is my favorite multi by far."
Comparing the string to others they've tried, our testers said:
Brittany - "I would compare this string to another multifilament that I just playtested: Babolat XCel. Both surprised me with how low powered they were for multifilaments, but they both had excellent control and a crisp feel. Additionally, they were both very comfortable to play with."
Chris - "Compared to the other multis built of a similar material blend, this one offers a crisper, cleaner feel. Tecnifibre's X-Code and ISPOSPEED's Axon Multi both feel much more muted and disconnected than this one. I really enjoyed the crisp response of NXT Control."
Scores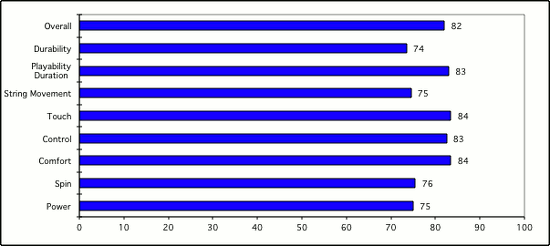 (Scores are determined by averaging individual play test scores)
Brittany's Scores
Power
7
Playability Duration
7.9
Spin
7.5
Durability
7.5
Comfort
8.8
Control
8.5
Touch
8.3
String Movement
8
Overall
8.1
Chris' Scores
Power
8
Playability Duration
8.7
Spin
7.6
Durability
7.2
Comfort
7.9
Control
8
Touch
8.4
String Movement
6.9
Overall
8.3
Playtester String Setups
Brittany:
Playtest Racquet: Volkl Organix 7 295
Playtest Tension: 55 lbs
Typical String: Polyester 16g
Chris:
Playtest Racquet: Volkl Organix 7 295
Playtest Tension: 55-57 lbs
Typical String: Volkl Cyclone 16g

Review date: September 2013. If you found this review interesting or have further questions or comments please contact us.
All content copyright 2013 Tennis Warehouse.