Nike Zoom Vapor 9 Tour Women's Shoe Review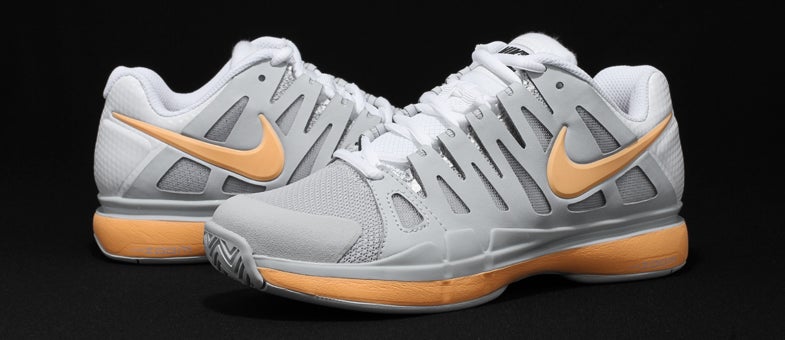 Nike Zoom Vapor 9 Tour Women's Shoe Scores
Comfort
4.6
Ventilation
4.5
Arch Support
3.9
Foot Support/Stability
4.2
Overall Sole Durability
3.4
Toe Durability
4.1
Traction
4.2
Weight
4.9
Overall
4.3
Upsides
Comfort
Lightweight
Ventilation
Stability
Summary
When it comes to tennis shoes, women want to have their cake and eat it, too. Well, the Nike Zoom Vapor 9 Tour comes closer to pulling that off than any shoe has before. There's the Adaptive Fit technology, which makes the shoe fit a range of foot types, from narrow to wide. There's the low-profile cushioning that offers comfort without weight. There's mesh to allow the shoe to breathe. There's reliable stability. There's a variety of cosmetic options to satisfy those who prefer a more traditional look and bolder color combinations for the risk takers. The one thing it didn't have was a durable sole. The durability is OK for a lightweight shoe, but it's not going to be the shoe that lasts forever. That, though, wasn't enough to stop our playtesters from loving this shoe. See, we can have our cake and eat it, too. And maybe even have some extra frosting.
Comfort - Score: 4.6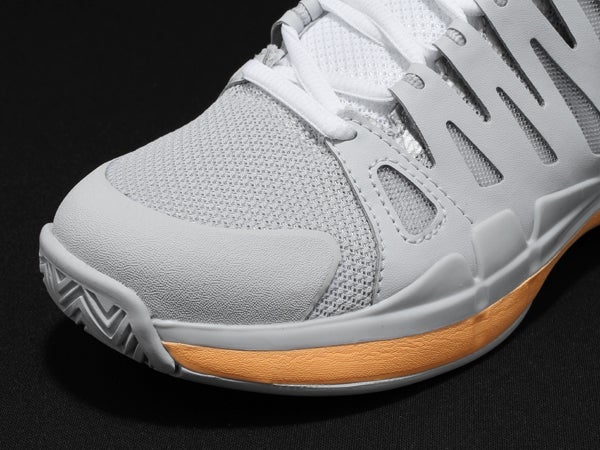 Replacing the Lunar Speed series of shoes as Nike's flagship women's "speed shoe," the Zoom Vapor 9 Tour comes fully equipped with top-notch comfort technologies. The Zoom Air is a low-profile, yet comfortable cushioning system, and the Adaptive Fit technology should make the shoe more comfortable for a wider range of foot types. In Karly's opinion, Nike scored a winner with the Vapor 9 Tour. She said, "There's no other shoe that can compare to the comfort of the Vapor 9s. With the Adaptive Fit they feel as though they were designed specifically for my feet and my feet only. Any pinching or rubbing was out the question with the custom fit; the shoes fit like a glove every time I laced up to go play in them. There was also the perfect amount of cushioning. There wasn't so much that it was overwhelming or felt like it weighed the shoe down, but there was enough to where they felt soft on my feet."
Brittany expanded on Karly's comments, saying, "I could not believe how comfortable these shoes were. There was no break-in period, and I felt very comfortable from start to end in this playtest. There was NO poking, pinching, rubbing, blistering or anything uncomfortable. The perfect amount of cushioning (not too much or too little) was right where it was supposed to be. The more I played with this shoe the more it conformed to my feet."
Count Carol as another pleased tester. She said, "It is a VERY comfortable shoe. The cushioning around the heel in particular was extremely well done by Nike. This is one of the most comfortable shoes I have ever put on. The Adaptive Fit construction was a bonus with this shoe. I loved being able to customize the wrap of this shoe around my foot. It allowed the shoe to adjust to my foot rather than my foot adjusting to the shoe."
The Adaptive Fit also played a role for Tiffani and her wider foot. She explained, "In the past I've had issues with Nike shoes feeling too narrow for my feet. The last shoe I tested, the Courtlite 3, stopped that trend. This Vapor easily beats the Courtlite 3 for me because although I could wear the Courtlite comfortably, the shoe's last was still too narrow for me. It was only the flexible uppers that made it work for me. With the Vapor, my wider forefoot comfortably sits in the shoe, and the Adaptive Fit allows me to cinch the shoe up to fit my foot. I also like sitting low to the court, and the cushioning is plenty cushy but not excessive."
Ventilation - Score: 4.5
Much to the delight of our playtesters, there is plenty of mesh on the upper of the Vapor 9 Tour, and it did its job of keeping the shoe cool. Carol noted, "Great ventilation. It allowed my foot to breath and perform without ever being overheated."
Tiffani had no worries, either. She said, "I never thought about my feet heating up in this shoe. I wouldn't say my feet felt cold air flowing in, but ventilation was not a concern. The Vapor 9 offered me better than average breathability."
"The combination of great cosmetics and comfort made me never wanted to take the shoes off," said Karly. "The ventilation also made that possible to do. My feet never felt overheated and left my socks feeling dry. I could comfortably keep them on long after play without feeling like I needed to change my socks."
Brittany noted the cool time of year, but was still pleased. She offered, "I have been playtesting the Vapor 9 shoes during the whole month of January on an indoor court. So while the playing conditions were on the cooler side, I had zero problems with ventilation. My foot was comfortable in the shoe and stayed at an optimum temperature. The mesh on the upper provided enough air circulation to keep my feet dry and happy."
Arch Support - Score: 3.9
Brittany needed some break-in time for her slightly low arches. She said, "When I first started playtesting these shoes I could definitely feel the presence of the arch when I was moving on the court. While it was not painful and did not cause any soreness, I could definitely feel it, and it was slightly annoying. Luckily, after a couple of hits (1-2 hours) the arch compressed and I didn't feel it after that."
Tiffani was on the same page as Brittany. She explained, "This might be the only area where I had an issue with the Vapor 9. I felt a little stress in my right arch, particularly the first time out. The arch height was fine, but I think I am used to shoes that are more rigid in the midfoot."
Karly had no problems. She said, "The arches felt lower than average, but that didn't bother me one bit. My arches never ached and I didn't have any problems with the support, even though the arches were on the lower side. I think the really cushioned insoles helped as well. After the first few wears it felt like the insole molded to the shape of my foot, which helped the support."
Agreeing, Carol added, "Again, the Adaptive Fit construction allowed the shoe to mold to my foot and provide excellent arch support. The arch was perfect for my foot, and I felt very confident that this shoe would support my movements all over the court."
Foot Support/Stability - Score: 4.2
Because it's a lightweight shoe, the Vapor 9 Tour relies upon the full-length TPU frame and Adaptive Fit technology to keep players' feet and ankles supported and stable. For the most part, our testers were satisfied. The performance impressed Tiffani. She said, "This shoe is surprising on this front. It's super flexible, super light, and it appears pretty minimal in terms of support and stability when just looking at it. The Adaptive Fit technology really did its job, though. I could move without the uppers flexing too much (a problem I often have with wide feet), and I played without fear of a roll-over. Though I am not moving as aggressively (due to pregnancy), staying on my feet is of utmost importance to me right now. These were my go-to shoes in the last few weeks before I hung up the sticks because I felt they had a great balance of comfort and stability."
Brittany, too, enjoyed how the shoe hugged her foot. She said, "One thing that really stood out to me with this shoe was the Adaptive Fit construction. I have a narrow foot, and this shoe's lacing system really gripped my foot and held it in place when I was moving around on court. I also used these shoes for some cross training exercises, and they were fabulous. For being on the light side, I thought these were some of the most supportive and stable shoes I have played in."
The shoes helped Karly redefine how a shoe provides stability. She said, "There's a tendency to think that heavier shoes offer more stability and support than lighter shoes, right? That's not the case with the Vapor 9s! The shoes were extremely light, but that had absolutely no effect on their support. The fit allowed me to move comfortably and confidently. The Adaptive Fit prevented any sliding within the shoe, and they came up high on my ankles so I never felt like I was going to roll them. There's no doubt that this is the lightest, most stable shoe I have ever played in."
On the flipside, the width of the toe box posed an issue for Carol, who said, "The shoe provided great support for the arch and ankle, but the toe box was a little too wide for my foot. My toes had too much wiggle room in the toe box and were subject to some stubbing on quick stops."
Overall Sole Durability - Score: 3.4
Though it's been a long time since the women's Zoom Vapor S2, the Vapor line has had a long history on the men's side, and it's reputation is that it lacks durability. Outsole durability wasn't the Zoom Vapor 9 Tour's best feature, but it sufficed for our team. Brittany explained, "Having listened to the male TW playtesters talk about the Vapor 9 for over a year now, I knew that the sole durability was an issue for them. The women's shoe is very similar. For a lightweight shoe the durability is OK. It isn't as heavy duty as an adidas Barricade or Prince T22, but it holds up well in the lightweight shoe category. I have seen some balding under my toe, but it was expected."
Carol noticed premature wear, saying, "So far, this shoe is providing below par sole durability. I have noticed considerable wear and tear along the outer part of the heels. I don't usually wear this portion of the shoe out, so this is definitely a new development for me."
It wasn't as big an issue for Karly, who said, "Oh, how I wish there was a way for lightweight shoes to last longer. Durability was not the shoe's strongest feature, but for a lightweight shoe I thought it was OK. I'd consider the durability to be fairly average, and it met my expectations for such a light shoe. I noticed the most wear on the outside of my upper foot, but that didn't seem to affect their performance, as they still played really well even when I started to notice the wear."
Tiffani wasn't playing up to full speed. She offered, "Because I haven't been playing as much -- or as hard -- lately, I can't offer a fair comparison to any of the speed-oriented shoes I've tried recently. I put a few hours on them and haven't noticed excessive wear, though."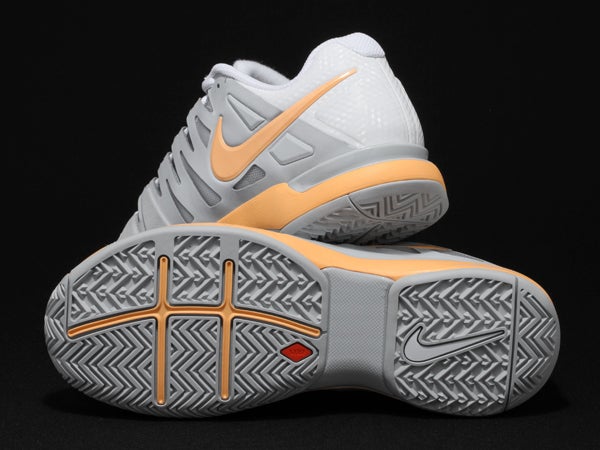 Toe Durability - Score: 4.1
The durability of the toe cap impressed our toe draggers. Karly said, "I thought the toe durability was better than the outsole durability. The coverage around the toe box seemed tougher than the sole, and I didn't have any problems wearing through that area."
As an aggressive mover -- and toe dragger -- Brittany was happy. She said, "Yes, I am a toe dragger and can do some heavy-duty damage to my toe bumper guards. I felt my Vapor 9s were well protected from any dragging, and the guard came up high enough to protect the top of the shoe from any holes. The bumper does show some smoothing and dirt, but there are many, many more hours of protection left."
Tiffani, too, has been known to destroy the toes of shoes. She noted, "I've scuffed the toe, but I haven't seen any glaring problems thus far. This does come with the caveat, though, that I'm definitely not moving like I usually do."
Traction - Score: 4.2
Nike's XDR outsole is laid out in a herringbone tread pattern to provide versatile traction, but our testers stuck to hard courts. Carol was the one tester who had an issue with the outsole's grip. She said, "Another complaint I have with this shoe is the traction. I felt very confident stopping and starting, along with forward and backward movements in this shoe, but if I was pushed side to side I noticed that I was sliding around the court a bit. Unlike many of the professional players, I do not slide well on hard courts and do not like this feature. I didn't feel confident when moving around the court."
The rest of the playtesters, including Brittany, were confident in the traction department. She said, "I thought the grip of this shoe was excellent. I was able to move around the court in complete confidence. No matter which direction I was moving I was able to start and stop or change directions with ease. The best part was that the grip was the perfect combination of grip and give. It was not so grippy that I felt stuck to the court. It had a little give, but not too much, so I was not sliding all over the court."
Tiffani agreed, adding, "The shoe gripped the courts as I would expect. I felt like I could stop and start without any issues. It also really helped that I felt light on my feet and the shoes hugged my feet."
"The traction was perfect," proclaimed Karly. "It made changing directions extremely easy, and I could start and stop so well. I loved how I was able to get a good grip on the court without the shoes feeling too sticky. Even when the shoes started to wear there wasn't enough of a decrease in traction to cause any slipping or sliding. The traction was top-notch."
Weight - Score: 4.9
These shoes are light. They may not be the lightest on paper, but the weight was still impressive. Tiffani said, "When it comes to weight, I don't like to go by what the scale says. I don't mind a heavy shoe; what really makes a difference to me is how the shoe feels on the court. Does it feel light? Does it feel streamlined? Sometimes the scale doesn't tell the whole story. This Vapor 9 feels like one of the lightest shoes I've worn and is one of those shoes that just moved with my feet. To top it off, it's also supportive."
Karly couldn't agree more. She offered, "I couldn't believe how light these shoes felt on my feet. Man, they were fast! With a great combination of weight and stability, this is one of the best shoes I've ever worn for helping my movement. They didn't weigh me down one bit, and I felt like I could cover the entire court easily because of how well I could move with them on. I give two very big thumbs up for the weight of this extremely light shoe."
Add Brittany to the chorus of happy feet. She said, "I love, love, love lightweight shoes, and these are definitely on the top of my list. Not only are they lightweight, but they also offer the stability that most other shoes lack. Weighing in at only 11.9 ounces for an 8.5, this shoe isn't the lightest shoe on the market but is definitely light enough to make moving on the court a breeze. I felt super quick on the court and the shoes felt light as a feather."
Carol also sung the shoe's praises, saying, "It's a very lightweight shoe that resembles a running shoe. I could play a five-hour match in this shoe without feeling weighed down."
Overall - Score: 4.3
Likes
Karly - "I absolutely loved how well I could move in these shoes. The combination of stability and weight was too good to be true!"
Brittany - "I liked the comfort, stability and light weight."
Carol - "I enjoyed the lightweight feel and comfort level this shoe provided. My foot felt lower to the court, almost as if I weren't wearing shoes at all. I really loved that aspect. The ventilation was great, and the Adaptive Fit construction really allowed the shoe to cater to my foot."
Tiffani - "The weight, the cosmetics (lots of options for color!) and the comfortable fit."
Dislikes
Karly - "I just wish they'd last forever! I hate to see any wear on the sole, which is bound to happen with such a lightweight shoe."
Brittany - "At the start of the playtest the arch was a little high, but it compressed shortly there after. Also, durability is on the lower side."
Carol - "Traction and durability were really disappointing to me. I didn't feel confident moving side to side, especially when I was running across the entire baseline in defense. I was sliding around, which is not a desirable feature for my game. I felt that the durability was lacking, especially on the outer toe box and heel."
Tiffani - "Nothing in terms of performance. Perhaps the price tag."
Comparing the shoe to others they've tried, our testers said:
Karly - "The custom fit was nice for a wider fit because I find Nike shoes tend to fit more on the narrow side. More specifically, the closest shoe that I can think of is the Courtlite 3 because of the weight and comfort. Both shoes were extremely lightweight and offered similar cushioning, but I would have to give the edge to the Vapor 9s. The stability of the Courtlites was nowhere near the Vapor's excellent support."
Brittany - "I would compare these shoes to the Asics Gel Solution Speed, as they are similar in weight, stability, traction and arch support. The feel of both of these shoes was very similar."
Carol - "Cushioning and fit: I would vote for this shoe, but when it comes down to durability and traction, I prefer the durability and traction of the Nike Air Max Cage, but I prefer the cushioning and fit of the Vapor 9."
Tiffani - "My favorite shoe from 2012 was the Asics Gel Solution Speed. This Vapor 9 easily pleased me as much as the Solution Speed. They're equal in the looks department and both feel super light. The traction on the Vapor 9 is better, though. As with the Solution Speed, I like the comfort and style enough to wear these to the gym, too."
Scores

(Scores are determined by averaging individual play test scores)
Playtester Foot Types:
Karly - Medium width, Medium-low arch
Brittany - Narrow width, Medium arch
Carol - Medium width, Medium arch
Tiffani - Wide width, Low arch

Review date: February 2013. If you found this review interesting or have further questions or comments please contact us.
All content copyright 2013 Tennis Warehouse.