Nike Women's Lunar Ballistec Shoe Review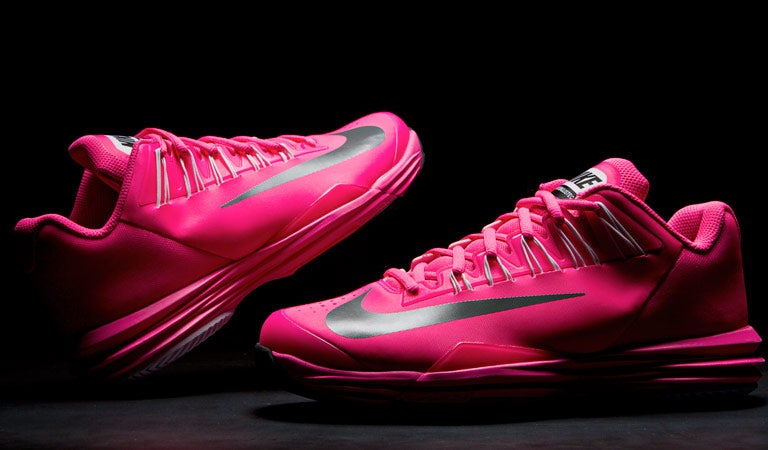 Nike Women's Lunar Ballistec Shoe Scores
Comfort
4.9
Ventilation
4.2
Arch Support
4.7
Foot Support/Stability
4.2
Overall Sole Durability
4.4
Toe Durability
3.5
Traction
4.6
Weight
4.9
Overall
4.7
Upsides
Lightweight
Comfort
Supportive
Stable
Cosmetics
Downsides
Nothing we could agree on
Summary
Magical things happen when you combine the durability and support of the Nike Air Courtballistec with the comfort and light weight of the Zoom Vapor 9 Tour, and Nike has given us the best of both worlds in the Lunar Ballistec. Our Tennis Warehouse playtesters raved about the comfort and lightweight feel of the shoe, and noted that they were able to to take them straight from the box to the tennis court. This shoe offered excellent durability after many hours of aggressive play, and as a bonus it comes with a six-month outsole durability guarantee. The sleek and stylish cosmetic of the shoe was the cherry on top for the playtesters. All in all, the Lunar Ballistec is a great choice for players seeking a high performance shoe with all the bells and whistles.
Comfort - Score: 4.9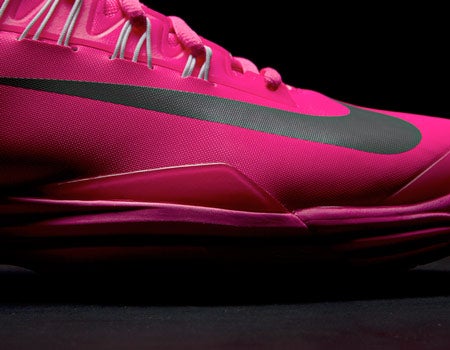 With virtually little to no break-in period and plush cushioning throughout the shoe, the Lunar Ballistec is one of the top rated shoes in the comfort category for our female playtesters. Michelle said, "From the beginning to the end of this playtest, I found the comfort of this shoe to be better than any tennis shoe I've worn! I didn't need a break-in period, I just laced them up and was good to go. They are plush and supportive and I never had any issues with rubbing or discomfort with them on, which is rare. I always have some sort of rubbing that bothers me, but not when wearing these! I wore my true size and found the sizing to be similar to the Vapor sizing."
While Brittany had a very small break-in period with these shoes, she too offered high praise, saying, "I was able to take them out of the box, lace them up and walk straight down to the court. It took only about 15 minutes to get accustomed to the shoes (about the time it took to warm up), and then it was go time. This shoe has some of the best comfort I have ever experienced. The cushioning was perfect throughout the shoe. It had a very plush feel, especially under the heel."
Ventilation - Score: 4.2
Our playtesters wore the Lunar Ballistec on an indoor court in cooler weather, and they never seemed to have any issues with overheating. Brittany took note of of the conditions, saying, "Now I want to give a warning that I playtested this shoe during fall/winter so it was cool outside. I didn't have any problems with the ventilation during the playtest. There are some ventilation holes in the upper, but I think my feet might heat up a little more if I played in the warmer months."
Michelle seemed to agree. She said, "It's not the most ventilated shoe, but I never seemed to mind too much and never felt like my feet were so hot that I needed to take them off. This was probably the one area I could knock these shoes, however, most days that I wore them I ended up wearing them home after I got off the court because I enjoyed wearing them so much (and not to mention, I loved the bright color!)."
Arch Support - Score: 4.7
Even though our playtesters have different levels of arch support needs, both were extremely happy with the Lunar Ballistec. Michelle has a high arch and didn't have any problems. She said, "I never had any issues with a sore arch or lack of arch support, so the arch support was just right for me. No complaints!"
"I had no problems with the arch support in this shoe," commented Brittany. "My arch is pretty easy to please to begin with since it measures right around medium. The support hit my arch at the perfect height and placement. I felt fully supported in my arches when moving around and had no soreness issues."
Foot Support/Stability - Score: 4.2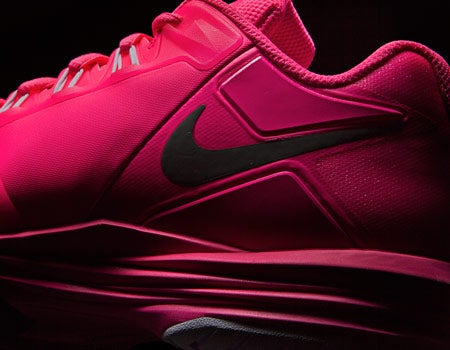 Although it's lighter than a Vapor, the Lunar Ballistec impressed our playtesters with its stable and supportive ride. Brittany credited the Adaptive Fit and Flywire technology for keeping her foot in place inside the shoe. She added, "There was no toe jamming or twisting side to side even when I was moving aggressively. I would like to note two things that contributed to my slightly lower score. The first would be that I felt that the shoe had an edge. Let me explain; If I stopped quickly to change directions I could almost feel a tipping point right around the heel area. I think this is caused from being slightly higher off the ground. However, I was never afraid that my ankle was going to roll over completely. The second issue was that I was having some slight difficulties with the lacing system. I could get the laces nice and tight at the beginning of a hitting session but found I had to readjust them one or two times during the hit as they loosened up (even when I double knotted them)."
Michelle had to make some small adjustments during her playtest but was happy overall with the shoe's performance. She said, "At the beginning of this playtest I thought the shoe felt a little big around my ankles, but I really utilized the Adaptive Fit and the Flywire lacing system to tie my shoes up tightly, and after that I had no issues. I did find the laces to be slightly long, but nothing a double knot couldn't fix! Once I got comfortable with the lacing system I felt completely confident moving aggressively in these shoes. I never felt like I was going to twist an ankle. The plush support was exactly what I like when it comes to my tennis shoes."
Overall Sole Durability - Score: 4.4
Combining the durability of the Ballistec shoe series with the lightweight Lunar technology, the Lunar Ballistec pleased our playtesters with its durability. During her month-long playtest Michelle was in competition with our male playtesters. She explained, "I was playtesting these alongside the guys and Chris seemed to wear his down fast, which was crazy to me because after 20-plus hours I am only seeing slight wear. I know Brittany and I really tried to wear out the sole of these shoes and didn't really put a major dent in them. The typical balding under my big toe isn't happening yet. Yes, the sole has smoothed, but there's no indication that the sole will become too slippery to move confidently in. These are holding up really well, which is great since I'm loving these shoes!"
"Since the Lunar Ballistec is such a lightweight shoe my expectations were lower for durability," said Brittany. "I was, however, pleasantly surprised with how well the outsoles held up. While it doesn't have the durability of some of the heavier durability-oriented shoes, it is up there for top durability for light to medium weight shoes. After 15-plus hours play there was just a small amount of smoothing under my big toe. This is pretty standard for me, so there was nothing unusual about the durability."
Toe Durability - Score: 3.5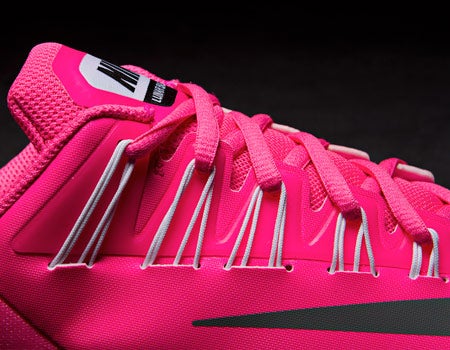 The lone toe dragger on the playtest, Brittany, wasn't thrilled with the toe durability of the Lunar Ballistec. She said, "While I am not as heavy of a toe dragger as some of our male playtesters, I definitely need all the toe durability I can get to protect my shoe. The toe bumper and the DragOn material on the upper provide protection for about 75 percent of the toe dragging area. I did start to smooth/rub off some of the midsole on the outside of both shoes that were exposed. However, this had no impact for me on the performance of this shoe."
Traction - Score: 4.6
The modified herringbone tread pattern of the Lunar Ballistec was a good fit for the slow indoor hard courts our playtesters played on. Michelle applauded the traction of this shoe, offering, "I found myself really relying pretty heavily on the traction of this shoe, and it won my trust. I've been working on my speed on the court, and while these aren't really a lightweight 'speed' shoe, I felt really stable and could recover quickly, which helped my game. I'm still enjoying the traction 20-plus hours into this playtest. It's a great blend of give and grab that will make any player feel secure in these shoes."
On the other hand, Brittany had some mixed feelings regarding the traction. She said, "The Lunar Ballistec doesn't have the low-to the-ground feel that I normally like. The plush cushioning made my feet sit up a little higher in the shoes, and I didn't feel as connected to the court. This isn't a bad thing, more of a personal preference. I didn't have any issues moving around the court in all directions. The shoes gripped the court nicely but still had enough give."
Weight - Score: 4.9
One of the standout features of the Lunar Ballistec was its (light) weight. With an overall weight that is less than a Vapor 9 Tour, both of our playtesters gave the Lunar Ballistec top marks in this category. Brittany even commented that the shoe gets some of the highest scores for her in the weight section. She noted, "This is one of the lightest shoes I have ever playtested (even lighter than the Vapor 9 Tour). While it feels light and quick on the court, it definitely does not feel flimsy. Nike did a great job of maintaining support and durability in a light weight shoe. It is one of those shoes that I forget is on my feet when playing, which is a good thing!"
Michelle echoed Brittany, saying, "Before I weighed these shoes I thought they would be slightly heavier than the Vapors but lighter than a shoe like the Babolat Propulse 4. I'm surprised that this shoe comes in lighter than a Vapor! It feels a bit bulkier than a Vapor and also a bit more substantial than a Vapor. The fact that this shoe is lighter than the Vapor AND comes back with an outsole warranty, well that's the cherry on top! I knew I felt quick in these shoes for a reason!"
Overall - Score: 4.7
Likes
Brittany - "There are so many things I liked about this shoe, but if I have to narrow it down I would say the cosmetics, comfort and light weight!"
Michelle - "Honestly, the fact that I was able to playtest the flouro pink colorway adds to my love of this shoe. So I love the color! Every time I wore these I got comments about how bright and fun they look! Aside from that, I really enjoyed the plush cushioning throughout the shoe and the traction. I felt very confident moving in this shoe and loved that it was stylish enough to wear off the court."
Dislikes
Brittany - "It's more of a personal opinion, but the shoe was higher off the ground, especially in the heel area, than I like. Plus, I had to constantly readjust the shoelaces."
Michelle- "There wasn't much I didn't like a lightweight, durable shoe in a plush package?! And fun colors to boot?! Yes, please!"
Comparing this shoe to other shoes they've worn, our testers said:
Brittany - "It is very similar to the Nike Vapor 9 Tour and the Asics Gel Solution Speed shoes. All these shoes are light weight, comfortable and have about average durability. I would say the Vapor 9 Tour is slightly lower to the ground than the Lunar Ballistec."
Michelle - "My initial comparison is to the Babolat Propulse 4, because I feel that shoe has a similar plush feel and similar traction, but the Lunar Ballistec is a lot lighter! Compared to a Vapor, this shoe feels higher off the ground and a bit bulkier. It doesn't feel as quick as the Vapor, which is OK for me because I find myself gravitating toward sturdier and more stable shoes."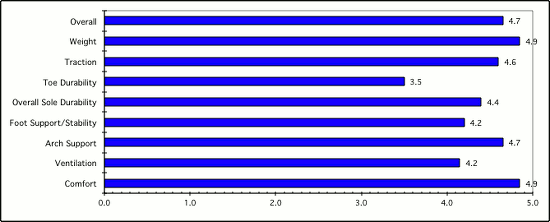 Playtester Foot Types:
Brittany - Narrow width, Medium arch
Michelle - Medium width, High arch

Review date: January 2014. If you found this review interesting or have further questions or comments please contact us.
All content copyright 2014 Tennis Warehouse.