Nike Air Court Ballistec 3.3 Shoe Review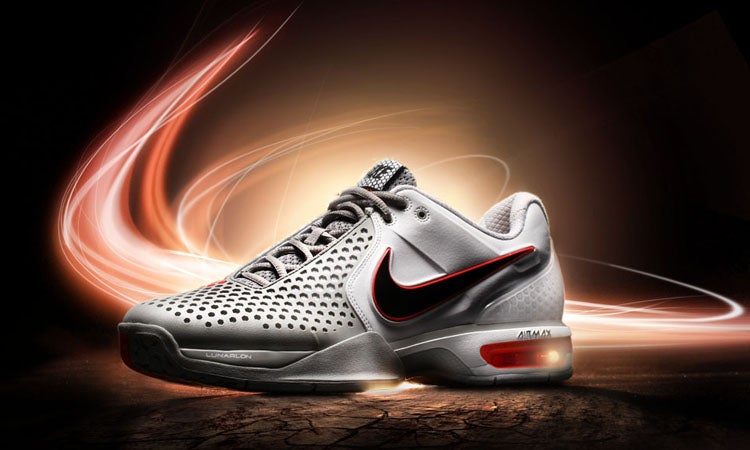 Upsides
Upsides
Stability
Durability
Traction
Narrow fit
Downsides
Break-in required
Narrow fit
Stiff upper
Nike Air Court Ballistec 3.3 Shoe Scores
Comfort
3.3
Ventilation
3.9
Arch Support
3.1
Foot Support/Stability
4.3
Overall Sole Durability
4.7
Toe Durability
4.4
Traction
4.3
Weight
3.3
Overall
3.9

Right now, Rafael Nadal is the best player in the world, as proven by his No. 1 ranking on the ATP World Tour. He needs footwear that can hold up and perform at a level that matches his intense, highly physical style of play. Nike's answer is the Air Court Ballistec 3.3.
On the heels of the highly successful Air Court Ballistec 2.3, which was an improvement from the original 1.3, Nike has set its sights on making its best Ballistec to date. Beefed up uppers add more durability for even the most extreme shoe abusers. Lunarlon and Max Air remain in the midsole for the highest level of cushioning. A foot-hugging upper with uni-tongue construction and a stiffer chassis provide rock solid support and stability. An XDR oustole rounds out the performance features and provides a combination of traction and durability. WIth the Air Court Ballistec 3.3, it seems Nike has pulled out all the stops.
Let's see if our playtesters agree.
Comfort - Score: 3.3
Unlike the previous version of the Air Court Ballistec, the 3.3s required a bit of a break-in period. Sean said, "These are the first shoes I've had truly mixed feelings about when comparing how they felt before and after being broken in. My first several sessions with these shoes were terrible, to be honest. They felt too narrow, too stiff and unforgiving when trying to move around the court. As I wore the shoes more they loosened up nicely, although I think they still fit a bit narrower than I'm used to. After break-in, I found the overall comfort I had been hoping to find right out of the box. The area around my ankle had nowhere near as much cushion as I thought it needed. When having to really stretch out and slide around the court, this ankle area kept biting into my ankle, causing pain that I couldn't find a solution to."
Also finding more comfort after break-in was Troy, who said, "When I first tried the shoe on I felt that it fit my foot well, possessing Nike's typical medium to narrow width. After my first few hours on court, I was experiencing a bit of discomfort in the arch area. After about 10 hours of court time I found that the footbed of the shoe began to contour to my foot better. Once the shoe was broken-in I began to really enjoy the comfort and fit of this shoe. Compared with the 2.3, it didn't offer as much of a glove-like fit, but when wearing two pairs of socks it gave me a nice, snug fit. Besides the break-in period, I was more than satisfied with the comfort."
Jason used aftermarket insoles to improve comfort. He said, "The 'comfort' category encompasses so many aspects of the shoe. I thought the Air Court Ballistec 3.3s shined in some regards, but also fell short in a couple of areas. The uppers of the shoes felt pretty stiff. It took 3-4 hours before the material broke in. The biggest downfall, in my opinion, was the arch. It was hitting my feet in the wrong spot and making them pretty sore. After 5+ hours they did feel better, but I eventually took out the original insole for some Superfeet, and it felt much better. However, the cushioning was still top notch. With Air Max in the heel and Lunarlon in the forefoot, there were no jarring landings for me. "
Finding the upper to be stiff was Spencer. He said, "If there were one word to describe this shoe right off the bat, it would be stiff. With a more durable upper than the previous Ballistecs, the 3.3 required a break-in for sure. Fit-wise, it ran a tad narrow and a tad long, though ironically, it was only something I noticed before and after play, not during. The cushioning was good, but I had some discomfort and soreness for the first two hours of break-in. The collar around the ankle was stiff in the beginning and caused soreness."
Granville was displeased with the fit and comfort. He said, "This is the one area of where the shoe just simply did not perform. Despite several hours of play, I just could not get past the aching feet. The shoe is simply too narrow in the midfoot. Even taking out the insoles and replacing with an orthotic, the shoe just feels like it's squeezing the outside of my foot, and I couldn't wait to take them off."
Ventilation - Score: 3.9
Though the upper was beefed up, the ventilation proved to be more than adequate for most of the testers. Troy felt his feet were kept cool. He said, "I felt the ventilation of this shoe was better than average. Underneath the DragOn 2X Cage, the mesh provided good breathability and helped keep my feet cool while playing. This is a feature that I feel Nike did a good job improving since the Air Court Ballistec 1.3, which did not have good ventilation."
Jason liked the breathable mesh. He said, "From a distance, the shoe might look like it lacks ventilation, but that wasn't the case for me. There was plenty of mesh in the uppers and tongue, so I never felt my feet over heating."
Sean felt that too many layers hurt the breathability. He said, "I would've liked to see a little more emphasis placed on ventilation rather than on cosmetics. With a bulky exterior built for durability and a more extensive sock-like tongue, ventilation definitely wasn't great. Nike used a lot of mesh along the sides and front of the shoe, but with so many layers of it between my foot and the outside, ventilation was insufficient."
Granville was happy with the amount of ventilation offered. He said, "Beneath that tough outer layer is the breathable mesh, which did an adequate job of keeping my feet from baking. I would not describe them as well ventilated, but they are comparable to most performance shoes in this category."
The ventilation was sufficient for Spencer, too. He said, "I was a bit indifferent on this one. Though I had no issues with my feet getting too hot or sweaty, they didn't necessarily have a cool feel either. I think they rank up there with many other high performing shoes that have a mesh tongue and plenty of perforations."
Arch Support - Score: 3.1
The arch support produced mixed results for our testing crew. Like in the comfort category, break-in helped. Spencer found good support in the arch. He said, "The arch hit just right. The medium height hit my arches in the right place and did its job. I didn't have to think about the arch support when playing, which is a good sign."
The support was perfect for Sean's feet. He offered, "Arch support was standard for what I've found in almost every Nike shoe I've worn, including the last couple of Air Court Ballistec models. Compared with the previous versions I actually thought this shoe had just slightly more arch support, which fit my foot shape perfectly. Like I stated before, it takes a fair amount of play and break-in before finding this shoe's true identity, but it offered great support throughout my testing."
Granville uses aftermarket insoles in all his shoes. He said, "The arch support is, again, just simply comparable to other shoes in this price range. Since I find them all less than adequate, I use Superfeet insoles to ensure comfort and reduce injury. The supplied insole wraps up and around the base of my foot. This took up room in the shoe and contributed to the tight fit."
Finding the arch to be more comfortable after break-in was Troy. He said, "I typically do not have a problem with arch support on most shoes, but during this playtest I experienced discomfort during the break-in period. During my first few hitting sessions with these shoes I experienced a cramp type feeling in the arches of my feet. I feel that this was due to the shoe being stiff out of the box, and the location of the arch putting pressure on my feet. After break-in was completed the pain that I was initially feeling started to go away. Overall, the beginning of this playtest was not comforting for arch support, but I enjoyed it more as time went on."
Jason had problems with the placement of the arch support. He said, "This is the area where it all went wrong for me. As I mentioned in the comfort section, the arches were hitting my feet in the wrong spot, making them very sore. They did feel better after many hours of break-in, but I had to eventually switch out the insole for some aftermarket ones. Once I did it, the shoe felt much better."
Foot Support/Stability - Score: 4.3
Approval was unanimous among our playtesters concerning the excellent stability. Granville felt the stability shined in this shoe. He said, "Stability is one of the highlights of this shoe. The materials, by default, offer a stiff and supportive wrap around the midfoot, providing a very stable feel on the court. I think the ankle collars could be a bit higher to accent that support (which is why I wear ankle braces)."
Liking the locked in feel was Sean, who said, "One of this shoe's better attributes is its outstanding stability. Both the sides and heel area of the shoe have a much stiffer frame, which isn't as forgiving and doesn't allow for as much foot movement. The lacing and uni-tongue system also complemented this shoe's stability, making it feel as though I was strapped in for the ride. The incredibly snug fit took some getting used to, but I do think it added to the exceptional stability."
Troy felt very stable when moving laterally. He said, "The stability was better than I initially expected. When I first tried the shoe on I felt it was higher off the ground than when I wore the 2.3s, which I figured would affect lateral support. Throughout the playtest I found myself able to move very well laterally, and I was able to change direction quickly without fear of rolling an ankle. This shoe contoured my feet well when I wore two pairs of socks. I never felt that my foot was sliding inside the shoe, nor did I have any uncomfortable rubbing."
Finding the stability to be fantastic was Jason. He said, "I thought the shoe did a solid job in overall stability and support. Lateral stability was fantastic, as I never felt my ankles roll when I had to stop and change direction. I did have a slight issue with heel slippage. It felt like my feet were sitting on top of the cushioning rather than within it."
Spencer expected good stability, and found it. He said, "Like previous Air Court Ballistecs, the 3.3s excelled in this category. With a snug fit and a rigid chassis, I never felt these shoes wouldn't support me when having to plant and change direction -- even in the most extreme situations. I'm certainly not light on my feet, so having shoes with some substance like these helps my confidence with footing when on court. Though the shoes ride a little higher because of the Max Air in the heel, they're designed and balanced to deter rollover, and I felt they more than succeeded."
Sole Durability - Score: 4.7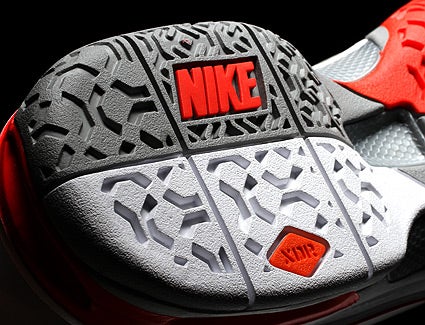 All of our testers have come to expect solid durability from the Air Court Ballistec, and the 3.3s did not disappoint. Sean was impressed with the outsole durability. He said, "As usual, I was more than impressed with the durability of the soles on the Air Court Ballistec 3.3s, just like the first and second models. I've come to expect a lot from shoes that Nike offers its six-month guarantee on, and I have yet to be disappointed. This model seems to sport a more reinforced outsole, with a deeper tread pattern and an all around bulkier sole that stands up to harsh use."
Troy was in agreement, saying, "Sole durability was top notch for this shoe, just as with the 1.3 and 2.3 versions. Nike's XDR outsole has held up well to the hard court use that I put my shoes through. I felt that the outsole of this shoe was equal to, or possibly a bit more durable, than the 2.3s. For the hard court player who is putting in a lot of hours. this is one of the most durable shoes on the market, along with the adidas Barricade 6."
Happy with the excellent longevity of the soles was Spencer. He said, "I didn't put much of a dent into the soles of these shoes. They show wear in the usual places for me, but there was less than the usual amount of wear. The XDR always seems to have an excellent balance of durability and stick to them, and this version was no exception."
Granville found the shoes to be very durable. He said, "These are tough shoes. I was seeing just a little wear after my initial sets. If you are a player who is tearing up shoes (like Rafa), this shoe is your best choice."
Feeling the shoes met his expectations of durability was Jason. He said, "There was no drop in quality from the Air Court Ballistec 2.3 to this latest version. I thought the rubber held up extremely well. I logged more than 15 hours of play on these shoes and I only can only see slight balding in the medial forefoot of both shoes."
Toe Durability - Score: 4.4
Featuring DragOn 2X around the toe tip, along with a beefed up medial side of the toe area, the Air Court Ballistec 3.3s proved to be extremely durable. Having no issues with toe durability was Troy. He said, "I felt that the DragOn 2X cage system held up well and provided good protection for toe-dragging. Though I don't drag my toes as much as I used to, the toe area felt beefed-up enough to provide good protection. The rubber sole felt a bit thicker than that of the 2.3, so that accounted for some added durability at the tip."
Sean liked the areas that were beefed up. He said, "I had no problems with durability on the front section of this shoe. Every single spot on the shoe where I might be able to wear it down has been bolstered exceptionally well. I'm by no means the worst of the toe draggers, but this shoe stood up to whatever I put it through."
Giving high marks was Granville. He said, "These are as tough as anything else out there, even for the worst toe drag offenders."
Traction - Score: 4.3
Our playtesters found the XDR outsole offered a dependable amount of tack for optimal traction. Jason relied on the traction with confidence. He said, "This was another area where this shoe stood out. What I loved about the traction was how predictable and dependable it was. When playing against players who could run me from side to side I really appreciated knowing I could plant and push off without having my feet slip out from under me. Rarely did I have an instance where I tried to stop and the shoe gave out."
Impressed with the grip was Granville, who said, "The traction was excellent in these shoes. The open and stylized herringbone-like tread pattern really grabbed the court with that sticky feel I really like."
Troy didn't have to worry about slippage. He said, "The traction proved to be really good. Toward the end of the playtest I felt that I was moving really well. I did not have to worry about slipping when making quick changes of direction. Though the rubber compound remained the same from the 2.3, I felt like this shoe was grabbing the court better. Once the shoe was broken-in I was moving strongly when tracking down balls around the baseline."
Though the traction was good, there was some worry of rollover for Sean. He said, "I felt like I needed some break in to find my footing with this newer model, but once I did the traction was good. I felt confident making aggressive cuts during rallies but also felt that my first step toward the ball was a little slow. With a bulkier sole on this shoe I noticed that my foot sat higher in the shoe and I had some close calls, almost rolling my ankle over because I felt much more top heavy. This shoe just didn't have that super low to the ground ride that I'd become accustomed to with both the 1.3s and 2.3s."
Spencer was happy with the grip. He said, "The traction on this shoe was very good. Much like the previous Air Court Ballistecs, I could rely on the outsoles to grab the court with the right amount of tack when changing directions, keeping my movements as efficient as possible."
Weight - Score: 3.3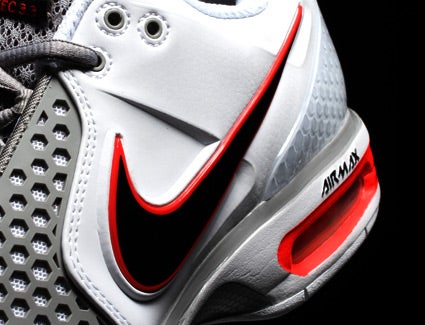 Given the durability and stability of the Air Court Ballistec 3.3s, our testers found the 17+ ounce weight to be very acceptable. Troy found the shoes to play lighter than their listed weight. He said, "The weight of the shoe came in about a half-ounce heavier than the 2.3s, but it didn't seem to affect my movement. Though this shoe appears heavy on the scale, it didn't feel that way when moving on court. I prefer a shoe higher in weight, as long as the support and cushioning is top-notch, like it was with this one."
Preferring a lighter weight shoe was Sean. He said, "This Nike model has always been a heavier shoe geared towards durability, but I still found myself wanting it to be a little less bulky and more lightweight. Luckily, the fact that it's so form fitting to the foot makes it seems lighter than it really is. I had hoped for something similar to, or possibly lighter than, the previous 2.3, but instead they decided to weigh this shoe down even more, which has it tipping the scales at over 17 ounces."
Happy with the distribution of weight was Jason. He said, "For me, as long as the weight is distributed well, I don't mind a heavy static weight. That was the case for this shoe. It didn't feel that heavy while I was running around on the court. They do, however, feel slightly heavier/clunkier than the previous model."
Granville gave them a thumbs up, saying, "This shoe is over my 'one pound per shoe' limit. Considering the emphasis of this shoe, that being performance and durability, I'll give them a thumbs up despite the heft. For me it is one of the toughest shoes on the market."
After break-in, the shoes seemed to allow better movement for Spencer. He said, "Though I felt the weight of this shoe wasn't great, it wasn't all that bad, either. Initially, I felt the shoe was bulky because the upper was so stiff. As they broke in more and became more flexible they felt more mobile on court."
Overall - Score: 3.9
With DragOn 2X placed more abundantly and strategically in the uppers, Nike has made this version of the Air Court Ballistec virtually indestructible. Along with the durable upper, the XDR outsole proved, once again, that Nike has an excellent recipe for a combination of traction and durability. When it came to fit and comfort, the Air Court Ballistec 3.3 was a bit of a letdown compared to the 2.3. A narrower fit and much stiffer upper made for a less than pleasing break-in. However, as the shoe loosened up and became more flexible, the Air Court Ballistec 3.3 showed why it is one of the top performance shoes on the market. When this test was all said and done, the characteristics that came shining through were the same ones the previous Air Court Ballistec shoes are known for: durability, support and stability.
Likes
Sean - "Great all-around durability and stability."
Troy - "Support and traction allowed me to move well. Durability is elite compared to most other shoes on the market. Nice cosmetics."
Jason - "The durability, support, traction and styling."
Granville - "Everything except the tight and painful fit."
Spencer - "Stability, durability and the cosmetics."
Dislikes
Sean - "Some major differences between this version and the previous ones. Too stiff, unforgiving and heavy."
Troy - "Never experienced a break-in period like this in any Nike I have worn before."
Jason - "I was really disappointed in the arch support, as well as the stiff upper material."
Granville - "The tight and painful fit."
Spencer - "The break-in was harsher than I'm used to with a Nike shoe."
Compared the Air Court Ballistec 3.3's to other shoes they've worn, our testers said:
Sean - "Like the adidas Barricade 6, this shoe needs some break-in time, but is very comfortable after that. The shoes felt a little bulky as well, but offered amazing traction and durability on hard court surfaces."
Troy "Overall, I liked the Air Court Ballistec 2.3s a little more. In these, durability was comparable to the adidas Barricade 6.0."
Jason "At its core, this is still an Air Court Ballistec. Which means it has a lot of great aspects, such as durability, traction and stability. For me personally, I liked the previous version for the softer upper and arch support."
Granville "As a big fan of the Air Court Ballistec line I consider this shoe is an anomaly, as the fit is just terrible."
Spencer "The durability, stability and break-in are like a Barricade, but with a tougher break-in."

Playtester Foot Types:
Sean - Medium width, medium arch
Jason - Wide width, low arch
Spencer - Medium width, medium arch
Granville - Narrow width, low arch
Troy - Narrow width/Medium arch

Review date: March 2011. If you found this review interesting or have further questions or comments please contact us.
All content copyright 2011 Tennis Warehouse.