Nike Men's Air Max Cage Shoe Review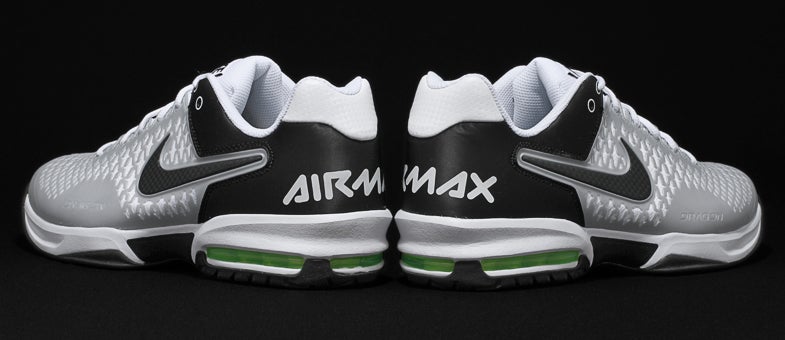 Nike Men's Air Max Cage Shoe Scores
Comfort
4.2
Ventilation
4.0
Arch Support
4.0
Foot Support/Stability
3.9
Overall Sole Durability
4.2
Toe Durability
4.4
Traction
4.3
Weight
4.2
Overall
4.2
Upsides
Comfort
Durability
Weight
Traction
Summary
The eagerly anticipated Nike Air Max Cage is finally here, and it's worth the wait. For the most part, our playtesters loved the comfort of this shoe right out of the box. The plush cushioning and the roomier fit in the toe box were instantly noticeable. We took the shoe to the courts, put it to the test and really enjoyed its all-around performance. It finds a nice balance between being a lightweight speed-oriented offering (like a Vapor 9 Tour) and a heavier durability-oriented offering (like a Courtballistec 4.3). We thought a major strength of the shoe was its durability, while at the same time it maintained a light, fast feel on court. The cage upper provides ample support in the forefoot, but a looser fit in the ankle left some testers desiring a more secure fit. All in all, this is a great new offering from Nike that can hold up to the most aggressive of movers. Give this one a try!
Comfort - Score: 4.2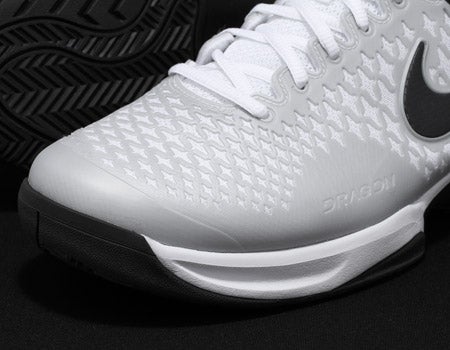 All of our playtesters found the new Air Max Cage to be quite comfortable, although all of our testers had to move down a half size to find the right fit (if you wear a size 10, order a size 9.5 in this shoe, etc). Chris found the shoe comfortable right out of the box but had a bit of a fit issue with his narrow foot. He said, "I found these shoes comfortable and ready to go on the first wear. The fit was a tad generous for me as they opened up and broke in, so I found it necessary to wear two pairs of socks to keep the fit secure and comfortable. I never felt any rubbing from the uppers, but I did have some pinching through the vamp region if I forgot to pack extra socks and had to cinch the laces extremely tightly to secure the fit. I found that when the laces were really cinched it caused the cage material above my toes to crease and pinch my feet. On the cushioning front, I thought the shoes were excellent. My feet felt very padded and cushioned on tough landings. I loved the padded tongue and ankle collar, and the general comfortable feel of the uppers."
Jason thought the shoes were very comfortable after a brief break-in period. He said, "I'd give a higher comfort score if it weren't for the stiff upper, which is caused by the cage unit. It needed a decent amount of break-in time, but once worn in, the upper flexed nicely. I thought the cushioning was more than adequate to help absorb shock from the occasional jarring landing. The fit seemed to fit my foot shape better, and I noticed a lack or rubbing on my pinky toes."
Andy had no complaints with the comfort, and he loved the plush cushioning. He said, "This new offering from Nike is comfortable right out of the box. The cushioning is plush, especially in the tongue, which feels like a big comfy pillow strapped to the top of your foot. It has a nice roomy fit through the forefoot as well. This shoe became one of my favorite shoes to just wear around the office when I'm not playing because they are so cozy and easy to slip on and off. One of the best around in this category, for sure."
Once he got the sizing right, Granville found the shoe very comfortable. He offered, "This Air Max Cage (correctly fitted) is an out of the box comfortable shoe that needs little in the way of a break-in period. While not plush in materials or fit, the entire package works as a lightweight, streamlined performance shoe. The good heel cushioning for comfort is nice, too."
Ventilation - Score: 4.0
Most of our team had little issue with ventilation and found a nice blend with the mesh and cage upper. "Don't judge a shoe by its upper," warned Jason. "With the cage it might seem like there is a serious lack of ventilation with this shoe, but in fact, there are enough perforations to keep the shoe ventilated. I had nothing to complain about here, although the colder weather during the playtest could've factored in."
Overheating was never on Granville's mind while wearing these shoes. He said, "The mesh upper is fused with the cage, so there is no denying that this shoe runs very cool on the court. Although it is winter time and the heat is not as much of a factor, I do know that I never once thought about the shoes during playtesting, which is always a good thing."
Andy thought that the shoe was well ventilated, in typical Nike fashion. He said, "I feel like Nike generally does a good job making its shoes breathable, and this one is no exception. The cage in the forefoot wraps around a huge layer of mesh that provides all the ventilation I need, even with my especially sweaty feet."
Chris wasn't in love with the breathability of the shoe but still found it adequate. He offered, "The ventilation was decent, but not great. Although these shoes look very breathable, the mesh under the cage material is pretty thick. While that makes the shoes very comfortable, it doesn't allow maximum air flow. Heat build-up was never a huge issue, but I thought the 2K11 and 2K12 shoes had better ventilation. My feet were sweaty at the end of each hitting session, but not excessively so, and I'd still pick these shoes to play in even on a very hot day."
Arch Support - Score: 4.0
Arch support was never an issue for our playtest team. "The arch was a non-issue for me, which is a good thing," said Chris. "I never found myself wanting more support or a different fit. The shank under the arch felt very solid, and my arches were completely protected during the test. I could sprint around in these shoes without worrying about straining my arches."
"Sweet!" Jason proclaimed about the fit of the arch on his flatter feet. "It's always a treat for my feet when the arch is lower! Strangely enough, I noticed it slightly on my right foot but not on my left."
Andy thought the shoe fit his arch great, explaining, "The arch of this shoe fit me perfectly, and the Ortholite insole helped me feel supported and comfortable for the entire test."
Granville typically uses aftermarket insoles in his tennis shoes for a little extra support, and this test was no exception. He explains, "If you have no arch issues, then there's no need to consider this as a feature. If you do have arch support issues, buy some insoles and put them into this Air Max Cage (as I did)."
Foot Support/Stability - Score: 3.9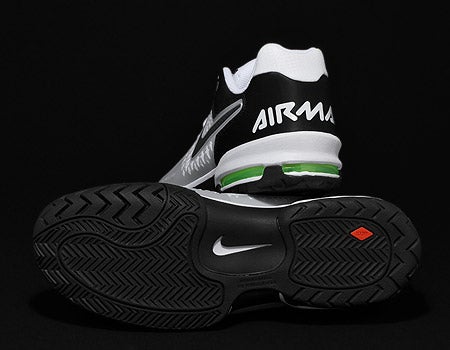 Most of our team had few complaints about the support and stability of the new Air Max Cage, although we did find it to be a little loose fitting around the heel and ankle. Chris said, "With two pairs of socks I found the fit in the forefoot to be supportive and stable. The shoes held my feet well, and they also resisted ballooning out over the midsole when making aggressive lateral cuts. However, the fit around the heel was too wide for me. I laced the shoes to the rear most eyelet, which helped, but the fit was still too generous to be ideal. The result was a little bit of heel slippage, which slightly marred an otherwise very stable and solid feeling ride."
Jason liked the way the DragOn cage provided stability for his aggressive movements on court. He found the shoe to be "very solid, very supportive. I was very impressed with how good of a job these Air Max Cage shoes did to keep my feet stable while I was making aggressive cuts and movements. My feet didn't do any sliding in the shoe because it fit so well (once I moved down a half-size). The stiff cage-like upper did a great job keeping my feet from rolling over. I did notice some slight ankle slippage when moving forward, even it didn't go away even when I cinched up the laces really tight. That would be my only complaint."
Granville thought the shoe fit great, and he had no issues with support. He said, "This new Air Max Cage (again, once fitted properly) holds my foot very comfortably without pinching and poking. I sit just deep enough inside the shoe to give me that low-to-the-ground feel. No sliding around inside the shoe, either. It seems like most of my energy is dedicated to traction, with no wasted effort or motion inside. All that gives the Air Max a very responsive feel on the court."
On the other hand, Andy thought the combination of the roomy forefoot and loose fitting heel didn't allow him to feel totally confident moving around the court. He said, "This is one area that I think can be improved in the coming generations of this shoe, although it isn't bad. The cage that wraps the forefoot helps to keep my foot feel locked in and supported when making aggressive lateral cuts. However, the fit is a bit roomy, which allows for a little bit of sliding within the shoe. The ankle collar also has a roomier fit, which (coupled with the roomy forefoot) left me wanting a little more security for my ankle. But again, I'm being picky, as there were only a few instances when I didn't feel completely confident cranking it into fifth and sixth gear."
Overall Sole Durability - Score: 4.2
Sole durability was one of the strengths of the Air Max Cage, as it held up wonderfully to the rigors of our playtest. "Nike uses a multi-patterned tread strategy to reinforce the areas of the outsole that take the most wear, and it really works," explains Andy. "The areas where I normally wear out a shoe are beefed up with some thick rubber, and I couldn't put a dent in it over the course of our playtest. There are certainly areas of the outsole that could be worn through, but they are strategically placed, making it extremely difficult to do. Durability is a strength of the Air Max Cage."
Granville loved the blend of lightweight performance and durability. He said, "The toe and reinforced areas provide good protection for this tester - I never came close to going through the toe. The light overall weight belies what seems a very generous outsole abrasion zone material. Once again, the materials seem to come together for this Air Max Cage in just the right way, providing a lightweight performance shoe that offers good durability. This shoe is a light heavyweight champion!"
"Excellent durability!" exclaimed Jason, who put these shoes right in the mix of some of the most durable shoes around. "They're very Ballistec 4.3 or Barricade-like. It took almost 20 hours before I started noticing any sort of wear and tear on the shoes. The XDR rubber does it again. There is plenty of rubber in the high wear areas, and to top it off, it even comes with a durability guarantee!"
Chris is getting longer life from these shoes than most that he playtests. He said, "The durability of this shoe was good. While I saw ample wear under my big toes, Nike has included enough material there to keep the shoes going strong. I wouldn't say the durability is as good as the Ballistec 4.3 or the adidas barricade 7, but it is very close. Aside from under my toes, the rest of the outsole held up fantastically well, and the shoes should last me well into a second month of play, which is rare for me."
Toe Durability - Score: 4.4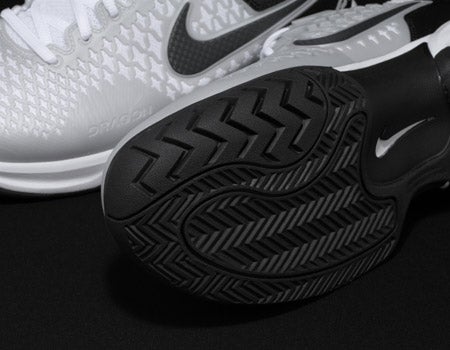 Our toe dragging playtesters found this shoe to hold up really well. Chris thought the cage upper protected the shoe exceptionally well, saying, "The toes of the shoes are very durable. I have put a lot of scuffing on the toe tip and uppers, but other than some cosmetic damage the shoes are holding up very, very well. I like how the supportive cage material makes the entire toe durable, because there are times when I scrape an odd part of the upper when making a desperate lunge for a wide ball. I would definitely recommend these shoes to toe draggers."
Granville found more than enough resilience in the toe box. He said, "There's ample material to protect your toes with good protection all the way around the shoe. No issues here."
Traction - Score: 4.3
Traction was another strength of the Air Max Cage, and our entire team found a great balance between grip and give on the hard courts. Granville liked the modified herringbone pattern, and felt the great traction didn't fade over time, like some other shoes. He explains, "One of the first benefits I discovered and enjoyed is the excellent traction. Two versions of herringbone pattern cover the outsole and offer great traction. The shoes do not have that soft, sticky rubber sensation that feels so good at the beginning and quickly fades as the outsole material disappears. This outsole material lands somewhere between soft/sticky and hard/tough, providing just the right blend of durable yet pliable material for great traction on hard courts and possibly clay."
Chris was totally confident in the traction of the shoe, saying, "The level of traction was impressive. I found I could take an aggressive plant and be confident the outsoles would grab the court with enough traction to enable me to push off with confidence. Likewise, when coming to a fast stop, the shoes offered ample grab to slow my progress. There was also enough give to let me slide out when needed, even when playing on our very sticky indoor court surface."
Andy has never found traction to be an issue with Nike shoes, and this one is no exception. He said, "Nike has traction dialed in with its XDR outsole rubber compound, which provides a great blend of stick and give on hard courts to keep you feeling confident when making hard aggressive cuts. This new Cage is no different from the rest of the Nike line. Traction is good."
Jason was able to try out an early pre-production version of the shoe and felt that traction was a big issue. However, after trying the final product he thought the problem was addressed and solved. He said, "I wore a prototype version of this shoe and the traction was not good. I was slipping around a lot. Nike seems to have addressed it with these production models. I rarely slipped on the court even while changing directions, and when I did, it wasn't much. Side to side traction seemed to be better than traction while trying to stop quickly."
Weight - Score: 4.2
Nike designed this shoe to bridge the gap between the Vapor (the speed offering) and the Ballistec (the durability offering), and the weight of the shoe fits right in line. Andy thought the shoe felt light and fast, especially given how durable it is. He said, "This shoe strikes a nice balance between speed-oriented shoes and durability-oriented shoes. It has more bulk than a Vapor or CC Feather II, but it's lighter and faster than a Courtballistec or Barricade. In addition, the weight feels somewhat hidden, in that you never feel that the shoe is heavy or bulky, especially for as durable and stable as the shoe is."
"I thought the weight of the shoes was right in line with the level of support and comfort," said Chris. "Considering how durable these shoes are, I was impressed by how fast they felt. While they are not super light, they are very agile for being so durable. They felt faster than the Ballistec 4.3 or barricade 7, mostly due to them being slightly more flexible, which allowed them to hide the weight better."
This shoe passed Granville's test for being a lightweight shoe. He said, "This shoe looks heavier than it feels AND is well under my 16 oz. per foot threshold for lightness! For such durable uppers and outsole materials, this shoe really is tough - and light."
Jason also enjoyed the lightweight feel, explaining, "With the substantial outsole and cushioning, I was pleasantly surprised at how light they felt on my feet. They are no Vapor Tour 9s, but they don't feel clunky at all. If the ride were more low-to-the-ground they'd feel even lighter."
Overall - Score: 4.2
Likes
Chris - "I liked the style, comfort, durability, traction and cushioning."
Granville - "Good fit, lightweight and very durable. Tough to beat this combo!"
Jason - "Great durability, solid traction and stability."
Andy - "This is a great all-around performing shoe. It's super comfortable, durable and well ventilated."
Dislikes
Chris - "The fit was too wide around my heels and ankles."
Granville - "As noted in our product description, I had to choose a 10.0 for my 10.5 foot size for a proper fit."
Jason - "The initial stiffness and they needed to be broken in. Slight ankle slippage."
Andy - "I'd like to see a little more support and stability in some areas, especially in the ankle area."
Comparing this shoe to other shoes they've worn, our testers said:
Chris - "I would say these bridge the gap between the 2K12 and Ballistec 4.3 models. This shoe offers some nice elements of both -- close to Ballistec durability with a close to 2K12 fast feel. The look is similar to the old Breathe Free II, but more modern looking. However, the fit is more generous than all of the Nike shoes I've mentioned here."
Granville - "The Cage shoes from Nike seems to be reducing the materials and streamlining the lines, almost blending the best of the Vapor and Ballistec lineages."
Jason - "They feel like a better version of the Nike 2K12 shoes, with a wider fit."
Andy - "I immediately put this in my list of top 5 shoes on the market. I don't think it's going to be anyone's favorite shoe they've ever worn, but it's just an awesome all-around performing shoe. It feels eerily similar to the old Breathe Free II, which is my favorite shoe of all time. The Cage has a roomier fit, with more plush cushioning, but not quite the same support. This one is definitely worth a test drive!"

Playtester Foot Types:
Chris - Narrow width / Medium arch
Granville - Narrow width / Low arch
Jason - Wide width / Low arch
Andy - Medium width / Low arch

Review date: March 2013. If you found this review interesting or have further questions or comments please contact us.
All content copyright 2013 Tennis Warehouse.