Mantis Tour 315 Racquet Review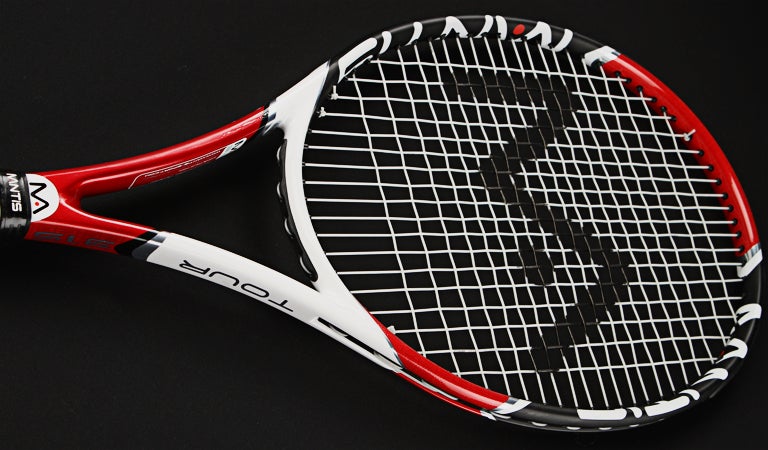 Mantis Tour 315 Scores
Comfort
84
Touch/Feel
83
Serves
78
Groundstrokes
78
Returns
71
Slice
77
Topspin
80
Volleys
78
Overall
79
Upsides
Maneuverability
Comfort
Feel
Control
Customizable for big hitters
Downsides
Little light for player's racquet
Summary
The Mantis Tour 315 offers the head light balance, plush feel and low-powered precision of a classic player's racquet, but in a very user-friendly, sub 12 ounce package. The result is that a larger number of fast swinging intermediates can reap the control benefits that have traditionally come with the burden of weight. With its dense string pattern and 95 square inch head our testers felt very connected to the ball. The ease with which they could control trajectory and depth led to high head speeds, ambitious angles and aggressive targeting. Of course, maneuverability sometimes comes with a cost. Our advanced players wanted a little more stability and mass-based power, but in the end, all of them fell prey to the charms of the Tour 315. Weighing 11.6 ounces with a 313 swingweight (RDC), this racquet will give intermediates a versatile tool for controlled shot making, while providing big hitters with loads of spin-friendly head speed or a launching pad for customization.
Groundstrokes - Score: 78
The Mantis Tour 315 swings easily from the baseline. Finding the right balance between maneuverability and plow through was Granville. He said, "The Mantis Tour 315 has that nice head-light balance and feel, making it very easy to maneuver. At 11.6 ounces it has just enough mass to get the ball where I want it to go without any modifications to my standard strokes. When strung with NRG2 16 @ 52 lbs it provided a nice, soft feel with good pocketing, a dramatic improvement over the stiff poly that was in the same demo racquet during early testing."
"Groundstrokes felt stable and powerful with the Mantis Tour 315," said Connor, who found quite a groove from the back court. "Topspin was surprisingly easy to generate despite the racquet's small headsize and closed string pattern. The racquet provided a lot of comfort and didn't feel jarring to my arm at all, even on off-center shots. The extra topspin from this racquet is ideal for hitting sharp angles. Moving my opponent around was a breeze."
Like Granville and Connor, Chris appreciated the maneuverability, despite wanting a little more mass. He said, "I really like the feel of this racquet from the baseline. It offers a smooth and comfortable response that is loaded with feel and control. I immediately felt very dialed into it and was hitting the ball with confidence. The tight string pattern is right up my alley and offered a ton of control, which allowed me to attack the ball. The racquet felt very, very maneuverable (to the point where ideally I would be adding weight), so it was easy to swing fast and get lots of spin. I was able to hit great topspin and really drive my slice with it. I used a co-poly string for the entire test and found the racquet to offer great spin, lots of control and still be plenty comfortable. I started out with Mantis Comfort Poly and tried several other polys from there -- enjoying them all in this racquet."
Troy liked the fast feel on most shots but also could have used a little more heft. He said, "Taking my first few rips, I noticed the maneuverability. Light and whippy, the racquet made it easy to generate head speed - sometimes a bit too easy. With its low power and predictable trajectory I found great control from the baseline. I really enjoyed the dense string pattern, which gave me the confidence to go for penetrating depth on both topspin forehands and backhand slices. The only liability from the baseline was during heavy exchanges, where I would have liked a bit more stability and plow through, especially on the two-handed backhand."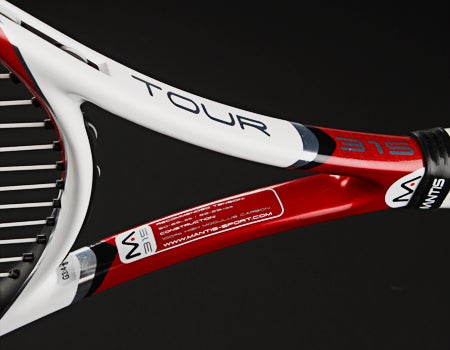 Volleys - Score: 78
Doubles specialists and all-court players will definitely notice the versatility of the Mantis Tour 315 at net. Chris appreciated the speedy response and great feel. He said, "Light and fast, this was an easy racquet to use at net. My very first hit with it was during a doubles match, and I immediately found I could snap it around quickly. I liked the touch I found at net, too. I was able to hit some nice angle and drop volleys in both singles and doubles. Again, I was impressed by the blend of comfort and feel. I felt connected to my shots, and the response felt very smooth. There was enough power to help me punch volleys away as well as push the ball deep when stretched wide."
While Granville wanted a little more mass against heavy balls, the upside prevailed. He said, "I think this racquet has the specs to handle just about everything, save super heavy balls, where a tad more weight is needed. Ultimately, though, the remarkable maneuverability and soft touch won the day. I was able to really punch those volleys or apply a soft touch for surprise placement when poaching."
Like Granville, Troy wanted a tad more weight but couldn't argue with the maneuverability and control. He said, "I found great responsiveness and feel at net, which made me want to rush in whenever I could generate a decent approach. When I found the the sweetspot the feel was top-notch, making it easy to target the lines. If I missed the sweetspot the feel was a bit jarring, but no less controllable, unlike with a more open pattern where the sweet feel is often accompanied by a more random flight pattern. The maneuverability was an asset on reaction shots or when flicking the ball back with my wrist, but there were situations when I wanted more mass, especially to help me stick my volleys deep. Overall, I found great precision and feel but a lack of stability against hard hitters."
Though not completely sold on the maneuverability, Connor found comfort and stability at net. He said, "Volleys with this racquet, for the most part, felt good. The big sweetspot gave my volleys a lot of power and stability when I was in position. The weight in the head kept the racquet stable throughout the volley, but it also made the racquet a little hard to maneuver during quick exchanges."
Serves - Score: 78
The whippy head-light balance and incredible control of the Tour 315 translated into easy, confident serving. There was little Troy couldn't do, saying "Serving came easy with this stick. I had zero problems generating the head speed necessary for heavy spins and kickers. I also found the low-powered response to help with overhitting, and it allowed me to select aggressive targets. I was able to mix it up with great confidence, typically going down the T on first serves or using heavy slice on second serves. Being able to snap my wrist with such ease added extra pop to my serve."
Granville also enjoyed some ambitious targeting, saying, "The Tour 315 gave me great confidence on serves. I could kick the serve out wide or blast it down the middle. However, with an ounce less mass I wasn't getting additional power. The big payoff of this lighter racquet, especially after a few sets, is that I feel stronger. Indeed, an ounce over the course of a match adds up to a larger energy reserve. That could make the difference between a win and a loss."
While Connor typically plays with a lighter racquet, he was able to adjust. He said, "The Tour 315 produced a ton of power and precision when I really put my weight into the serve. It took a concentrated effort to serve effectively and consistently, but only because the racquet I'm used to using is more maneuverable than this one. The Tour 315's access to spin made my wide kick serves effective, and the big sweetspot gave my flat serves a lot of power."
Though preferring a little more plow through, Chris ultimately used the maneuverability to his advantage. He said, "I would have liked a little more mass in the racquet to push through the ball on serves, but I still served very well with it. I liked the amount of spin I was getting, and my pace was decent. I would definitely weight this one up to give some additional juice to my serves. Again, comfort was great, and the feel from the stringbed was very plush."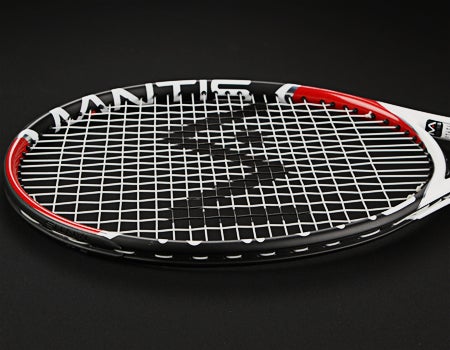 Serve Returns - Score: 71
The low power and moderate weight of the Mantis Tour 315 led to mixed reviews on service returns. Having the most success was Chris. He said, "The light and fast feel made it easy to snap this racquet around on returns. I was taking a good cut at anything that even looked remotely tasty, and I found good pace and spin when doing so. I liked the directional control I was getting on my slice backhand return. I felt like I could punch it short for a nice angle or knife it deep with equal ease. Again, the controlled feel had me swinging with confidence."
Discovering the double edged sword of maneuverability was Granville, who said, "This is perhaps the one shot where I felt like I needed a little bit more mass. I was able to get the racquet around on either side, but I didn't feel I was crushing the ball on my returns. Overall, though, it was solid at impact with good feedback. Targeting was spot on."
Like Granville, Troy wanted a little more stability, but he also appreciated the control and fast response. He said, "I had mixed results when returning with this stick. Taking a big rip against second serves set me up nicely for the next shot. Unfortunately, the racquet lacked stability against big first serves, making it a challenge to get the ball deep. In doubles, the control helped me direct the ball away from the net man. Finally, I liked how aggressively I could slice the backhand return, making it easy to follow it in and clean up weak replies."
Extolling the virtue of preparation, Connor said, "If given enough time to set up, I found it easy to step in and start the point in control. When returning against pace it was tough to get the racquet in position fast enough. A tad more maneuverability would have helped. Experienced players capable of moving the racquet around quickly will likely enjoy returning with this racquet the most."
Overall - Score: 79
Likes
Troy - "Control and feel were impressive. It provides a good platform for weight customization."
Granville - "Strung initially with a stiff poly, the results were disheartening. Once the Tour 315 was restrung, I experienced a totally different feel - soft pocketing with some added (needed) power. This is a good platform racquet for those who like to experiment with weight and balance. Nice cosmetic."
Connor - "Very soft, arm-friendly response, even with a closed string pattern and smaller head. Not prone to twisting or jerking around on off-center shots."
Chris - "I loved the comfort, the spin, the great control and the plush response. I also liked the look and overall feel of the racquet."
Dislikes
Troy - "I would have liked more mass to help with depth and stability against big hitters."
Granville - "If strung too tightly, or with an unfamiliar string, it's tough to get the right level of playability."
Connor - "The racquet did not feel very maneuverable, and this made it harder to stay engaged in quicker exchanges."
Chris - "A bit light for me in stock form. However, that leaves lots of room to dial in the perfect weight and balance with lead tape."
Comparing the racquet to others they've tried, our testers said:
Troy - "This racquet reminded me of a Dunlop 200, just a bit lighter. I also felt that the control and dense string pattern were comparable to the Gamma Tour 340X."
Granville - "Plays like a lighter Wilson 6.1. It's a good price-to-value racquet."
Connor - "This racquet can be compared to player's frames like the Wilson BLX Blade or Head YOUTEK Prestige MP, except this racquet felt far more arm-friendly."
Chris - "This racquet reminded me of a cross between my current Head YOUTEK IG Prestige Midplus and the YOUTEK IG Radical Midplus. It has the control and touch that gets it close to my Prestige, but offers a lighter and faster feel similar to the Radical."
Technical Specifications

Length
27 inches
69 centimeters
Head Size
95 square inches
613 square centimeters
Weight
11.6 ounces
329 grams
Balance Point
12.6 inches
32 centimeters
7.2pts Head Light
Construction
20mm / 20mm / 21mm Tapered Beam
Composition
High Modulus Carbon
String Pattern
18 Mains / 20 Crosses

Babolat RDC Ratings

Score

Grade

Flex Rating
66
Range: 0-100
Swing Weight
313
Range: 200-400
Scores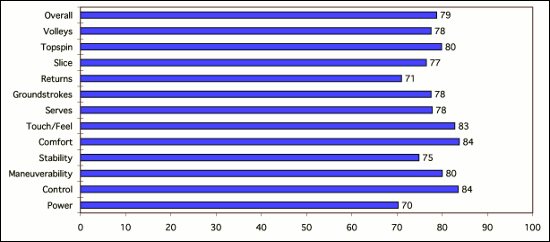 (Scores are determined by averaging individual play test scores)
Troy's Scores
Power
6.8
Serves
9.1
Control
9.2
Groundstrokes
7.5
Maneuverability
8.7
Returns
6.8
Stability
7
Slice
8.4
Comfort
8.6
Topspin
8
Touch/Feel
8.8
Volleys
7.5
Overall
8
Granville's Scores
Power
6.5
Serves
7
Control
7.5
Groundstrokes
7.5
Maneuverability
8
Returns
7
Stability
7.25
Slice
7
Comfort
8
Topspin
7.25
Touch/Feel
8
Volleys
7.5
Overall
7.5
Connor's Scores
Power
7
Serves
7
Control
8.5
Groundstrokes
8
Maneuverability
7
Returns
6.5
Stability
8
Slice
7
Comfort
8.6
Topspin
8.5
Touch/Feel
8
Volleys
8
Overall
8
Chris's Scores
Power
7.8
Serves
8
Control
8.2
Groundstrokes
8
Maneuverability
8.3
Returns
8.1
Stability
7.7
Slice
8.2
Comfort
8.3
Topspin
8.2
Touch/Feel
8.3
Volleys
8
Overall
8
Playtester Profiles
Troy: 5.0 lefty all-court player with a full Western Forehand and a two-handed backhand. Troy currently plays with a customized Head Microgel Radical Midplus.
Granville: 5.5 all-court player currently using a Wilson K Factor Six-One Tour 95. Granville is an aggressive player who uses an eastern forehand grip and goes continental on everything else, hits with a flat swing and a one-handed backhand.
Connor: 5.0 all-court player with a semi-western forehand and two-handed backhand. Current racquet of choice is a Babolat Pure Storm Ltd. racquet strung with Solinco Revolution strings at 48 pounds.
Chris: 5.0 all-court player currently using the HEAD Youtek IG Prestige Midplus. Chris uses a full-western forehand grip, has a fast swing style and hits a one-handed backhand.

Review date: June 2012. If you found this review interesting or have further questions or comments please contact us.
All content copyright 2012 Tennis Warehouse.