Luxilon 4G Rough String Review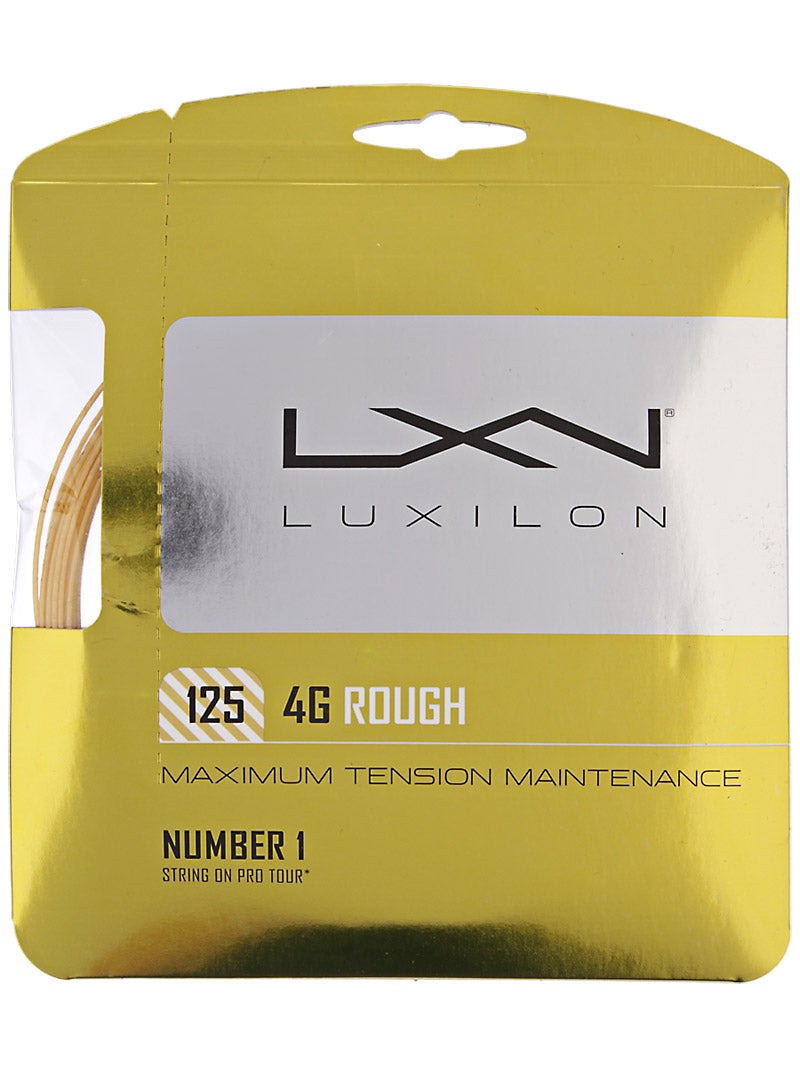 Luxilon 4G Rough String Scores
Power
48
Spin
85
Comfort
60
Control
78
Feel
79
String Movement
85
Playability Duration
68
Durability
93
Overall
83
Downsides
Too firm for beginners
Tension maintenance not as good as 4G
Summary
Luxilon 4G Rough is the textured version of the standard 4G string, a co-poly made with Luxilon's proprietary blend of seemingly magical ingredients. As with the original 4G, the textured version is designed to give strong players the needed control to unlock their top swing speed. Judging from the control score of our playtest team, the design works, but with the following caveat. One of our playtesters had to restring more frequently because this string became too lively after losing tension. As for the textured surface and its presumed spin benefits, our team reported very easy access to spin. However, we should note that 4G Rough didn't prove decisively more spin-friendly than the smooth 4G. It did, however, play softer than the original, a fact that might make this string more appealing to a wider range of players. One thing seems clear though, this textured co-poly should have more than enough spin potential and precision to satisfy big hitters.
Power - Score: 48, Control - Score: 78
Made of firm material, 4G Rough is designed to supply precision and predictability to players with long, fast strokes. Not surprisingly, Andy gave this string high marks for control, saying, "The stiffer, 'deader' response makes this a low-powered string with loads of control. I never had to think twice about unloading on a shot because I knew I'd be able to retain control of it. I did find it to be a touch livelier than regular 4G, but it's still on the lower end of the polyester power spectrum, and it's one of the lowest powered strings overall."
Finding a little more pop than Andy, Chris said, "I liked the blend of power and control this string offered right off the stringer. It felt crisp and decently lively. I was able to get all of the pace I wanted on the ball without losing any control. I was able to take a big cut at the ball when the string was fresh, and I felt confident going for the lines. It worked well in both low-powered player's racquets and higher powered 'tweener racquets. However, after the string had been in the racquet for more than a week the control dropped off rapidly and the ball launched too much."
Spin - Score: 85
With its textured surface, 4G Rough gave our team plenty of bite and easy access to spin. According to Chris, however, it takes more than texture to achieve maximum ball rotation. He said, "The spin potential of this string was decent. Again I had the best results when the string was fresh. I was able to swing aggressively at the ball and generate the racquet head speed needed to get lots of spin. It felt like the stringbed was biting pretty well, but I actually preferred regular 4G for generating spin. I think it came down to me having more confidence in the regular 4G; I was swinging faster with the regular 4G and therefore getting more spin."
Finding a little more spin than Chris, Andy said, "The textured surface of the string really bites the ball and sends it off with lots of spin. Since it's low powered I was able to swing big and generate lots of racquet head speed, thus imparting even more spin on the ball. It's much more spin friendly than regular 4G and a little bit more so than ALU Spin."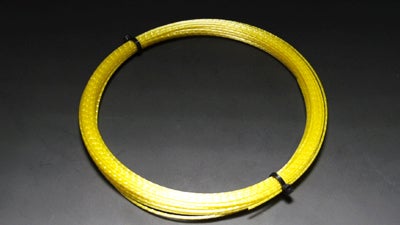 Comfort - Score: 60
In our TW University Lab, 4G Rough registered a much lower stiffness number than the standard 4G. For Chris, the lab findings were apparent on court. He said, "This string felt noticeably softer than regular 4G. It felt like the stringbed offered a deeper pocket, and it even felt comfortable in some of the stiffer racquets we have been testing lately. When we were approaching the two-week mark this string got very, very soft and livelier in its response. I preferred the firmer feel when it was fresh, and I found it to be plenty comfortable. I tend to like stiffer poly strings so this one felt pretty soft."
For Andy, that 4G Rough played firmly, but it was not uncomfortable. He said, "For as stiff and low-powered as this string is, it's still fairly comfortable. It's not the most arm-friendly poly in the world, but it certainly doesn't take the kind of toll on your arm that its stiffness rating would suggest. Also, I found that both 4G and 4G Rough play great at lower tensions (around 50 lbs, or even lower), and anytime you string that low you're going to get some comfort."
Feel - Score: 79
Our team didn't reach a consensus on the feel of 4G Rough, but it felt great to Andy. He said, "I was very impressed with the amount of feel and responsiveness this string has. You feel very connected to the ball on each and every shot. It has a deader, somewhat muted feel, but it still feels like the ball jumps off the strings. It also pockets the ball better than the original 4G. It's an interesting and difficult sensation to put into words, but just trust me, the feel and response is good."
Chris thought the 4G Rough was softer and less consistent than the original 4G. He noted, "The feel of this string was fairly soft for a co-poly and quite different from the firm and crisp feel of 4G. It only felt truly crisp to me when it was very, very fresh, and I noticed the stringbed got softer and softer with each hitting session. The feel as the string aged changed very noticeably, and with that change in feel came a significant change in playability."
Playability Duration - Score: 68
The tension maintenance and playability of 4G Rough was another source of disagreement. The 4G Rough lost tension and playability a little too quickly for Chris. He said, "I found regular 4G to last very, very well. it was one of my favorite things about the string. This Rough version was the exact opposite. I prefer a crisper feel, and that went away quickly with this string. I would be restringing this one every week to get the crisp and firm feel I like. On the second week of hitting (five or so hours of hitting per week), the string was getting too soft and lively for me, and I was having issues with the ball flying on me. I use polys to avoid that very issue, so I only really liked this string when it was fresh in my racquet."
4G Rough lasted a little longer for Andy, who liked the softer and livelier response of the string once it had bedded in. He said, "While not as good as the original 4G, this still offers long lasting playability. It does bag out a bit after a few weeks, but I was able to get some good hours out of it before I noticed a drop in playability."
Overall - Score: 83
What type of player would you recommend this to?
Chris - "Anyone looking for a string that is going to get softer and livelier as it beds in will like this one. It offers a decent blend of power, spin and feel. Those who like a firm and crisp stringbed can expect to restring frequently with 4G Rough."
Andy - "This string is definitely for big hitting, fast swinging players who can generate their own pace and have used polyester strings in the past. If you've been using 4G and want just a slight boost in power and spin, give this a try. This is a string for the serious player in mind tour level players, take note!"
Likes
Chris - "I liked this string the most when it was freshly strung. The level of power and control was solid, and I got decent spin with it."
Andy - "Loads of control and spin. It grabs the ball well and provides a nice feel. This is really a great string for hybrids, too!"
Dislikes
Andy -"I prefer a little crisper, livelier feel."
Chris -"The playability dropped too quickly for me. As the string settled in it became too lively, and the ball was flying on me."
Comparing the string to others they've tried, our testers said:
Chris - "I prefer the feel and response of Luxilon ALU Power Rough over this string. Both tend to bag out too quickly for me, but I got a little more playability out of ALU Power Rough. This string is noticeably softer than regular 4G -- especially after the first week."
Andy - "This feels very similar to original 4G, but it's a little livelier, offers better access to spin and is a little bit softer. It's also similar to Kirschbaum Spiky Shark."
Scores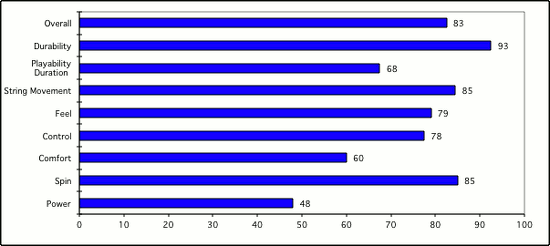 (Scores are determined by averaging individual play test scores)
Chris' Scores
Power
6.6
Playability Duration
5
Spin
8
Durability
9
Comfort
7.5
Control
7
Feel
7.8
String Movement
8.4
Overall
7.8
Andy's Scores
Power
3
Playability Duration
8.5
Spin
9
Durability
9.5
Comfort
4.5
Control
8.5
Feel
8
String Movement
8.5
Overall
8.7
Playtester String Setups
Chris:
Playtest Racquet: Babolat Pure Control Tour/Dunlop Muscle Weave 200G
Playtest Tension: 52 lbs
Typical String: Volkl Cyclone 16
Andy:
Playtest Racquet: Wilson Pro Staff 95
Playtest Tension: 52 lbs
Typical String: Luxilon ALU Power Spin 16L

Review date: March 2014. If you found this review interesting or have further questions or comments please contact us.
All content copyright 2014 Tennis Warehouse.