Luxilon 4G String Review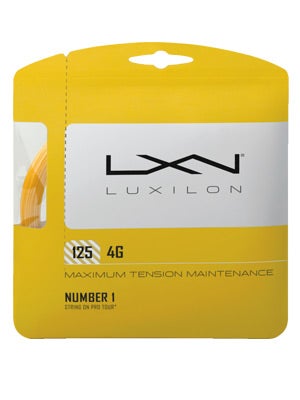 Luxilon 4G Scores
Power
65
Spin
86
Comfort
78
Control
88
Touch
87
String Movement
91
Playability Duration
82
Durability
86
Overall
84
Upsides
Control
Spin
Good comfort for a co-poly
Exceptional tension maintenance for a co-poly
Summary
From the company whose iconic Big Banger strings have become an overwhelming pro tour favorite, comes an ultra-playable co-polyester called Luxilon 4G. Given the almost otherworldly spin and control associated with Luxilon strings, our team was very excited to put 4G to the test. Not surprisingly, the testers reported massive bite and incredible control. Even the comfort level impressed our team, which is uncommon for a co-poly. As for tension loss, 4G was specifically designed to hold tension longer. This likely explains why our team continued to get great spin and control long into the playtest. Ultimately, given the uniquely high level of playability offered by 4G, it looks like Luxilon has done it again!
Power - Score: 65
Erring on the side of control, Luxilon 4G did not give our team a lot of free power. For Siobhan this proved to be both a blessing and a curse. She said, "The low power level of 4G added some much welcomed control to my Pure Drive. It allowed me to rip the ball without fear of hitting long. The power was low enough that I was able to redirect my opponent's pace with very full throated replies. On the downside, I coughed up some short balls when I was out of position or otherwise unable to max out my head speed. So while the low power wasn't perfect for my game, it definitely made it easier to swing bigger when the occasion called for it."
Though preferring multifilaments with more pop, Brittany was able to get great results from 4G. "Given my preference for powerful strings, I typically hybrid polys. As a full bed, the low powered response of 4G was in line with my expectations. Since I strung it in a powerful racquet, I ended up really liking the response of this string. I thought the combination of string and racquet gave me just enough power to get my full potential out of both."
Chris, a fan of low powered polys, had no problem getting depth with 4G. He said, "Like pretty much every monofilament (save Ashaway Zyex MonoGut), this one was low powered. It allowed me to supply more of my own power, which resulted in bigger cuts and penetrating shots. I found the string to play softer than average for a co-poly, but it was not the softest or most powerful co-poly I've hit. Still, power was decent and I was pleased with the pace I was able to generate."
Finding a little more power than the other testers was Jason. He said, "I thought this was a fairly powerful poly. It provided really nice ball pocketing along with a powerful snapback on faster swings. I'd say it ranks right up there with some of the most powerful polyester strings I've tried in the past."
Spin - Score: 86
Not surprisingly, our playtesters loved the spin potential of Luxilon 4G. Even Brittany, our resident flat ball hitter, was getting some serious ball rotation. She said, "I was actually surprised with the amount of spin I got out of 4G. One of my favorite shots to hit was the angled groundstroke. I was able to hit with enough spin to hit both forehands and backhands short and angled off the court. I was definitely able to really swing through the ball without the fear of the ball soaring out. Even though I hit mostly flat, I was able to crank up the spin with great confidence."
Enjoying the massive bite was Jason. He said, "4G is a spin monster! I felt like I was getting tons of bite on my shots. I put a good amount of spin on my forehand as it is, and this really assisted in magnifying my shots. Because of the spin I was able to take more aggressive cuts at the ball, knowing the spin would help keep it in the court. This definitely ranks up there as one of the more spin-friendly strings I've used."
Also enjoying easy access to spin was Siobhan. She said, "I really enjoyed the spin with 4G. Though I have experienced more raw kick with some other strings, I found that 4G's bite allowed me to manipulate depth, trajectory and angles across a wide variety of shots. I could toss up a soft lob, using moderate spin to bring it down, or load heavy topspin into my groundies for an explosive bounce."
"This is easily one of the better strings I've hit for generating spin," said Chris, who got an extra dose of confidence from 4G. "I could really get the ball to drop quickly with this in my racquet. In fact, the bite was so good that I was able to swing aggressively without worry. Having the confidence to swing faster resulted in even more spin, and I was loving the angles I could generate. My slice was also biting very well with this string, and I was really knifing my slice backhand."
Comfort - Score: 78
While people are not likely to confuse Luxilon 4G with natural gut or Wilson NXT, our team thought it had above average comfort for a co-poly. Chris was impressed by the softer feel. He said, "For a co-poly, 4G felt comfortable. It felt on the softer side of the polys and co-polys I've hit, and I liked how it pocketed the ball and never felt too stiff or jarring. When the ball hit on or around the sweetspot this string felt pretty plush for a poly. I played around with different tensions during the test and never found one where this string felt uncomfortable, even after going up 8 lbs above my usual tension."
Though Brittany prefers softer, more powerful strings, she had no complaints about the comfort level. She said, "I don't have any arm/elbow problems, so comfort isn't typically a big issue for me. Despite the firmness of this string I experienced zero problems. Even off-center shots felt fine. I didn't feel excessive vibration or shock."
While it wasn't the softest co-poly he has hit, Jason really liked the feel and feedback of 4G. He said, "I hit this string side by side with the Polyfibre TCS -- a uniquely comfortable co-poly. Though not as soft as TCS, I was really impressed by the feel of 4G. To put it as a racquet analogy, the TCS felt like I was playing with a dampener, where 4G felt like there was no dampener on the strings. The extra feedback was welcomed because it made me feel more connected to the ball."
"4G is very comfortable for a poly type of string," said Siobhan, whose arm got a little tired from having to supply her own power. She added, "4G seems to have less shock than comparable co-polys. The only issue I found was that the low power level forced me to swing harder, which made the racquet feel a little heavier by the end of the session."
Control - Score: 88
Our playtesters were more than a little impressed with the control of Luxilon 4G. The excellent feel helped Chris dial in his shots. He said, "Along with spin, control was my favorite aspect of this string. I loved how I could take a big rip at the ball and keep everything within the lines. Control with this string was simply excellent. For me, the low powered response combined with the spin to give me a sense of precision with power. I could swing harder due to the low power, plus get more spin from the string's bite and my faster racquet speed. It was a win win."
Brittany, who hits a hard flat ball, found all the control she needed. She said,"One of my favorite aspects of this poly was the control. Even in a powerful frame the response felt extremely precise. I found it very easy to measure depth and place my shots. I never felt tentative or that I had to decelerate or adjust my swing speed."
Even when his contact was less than optimal, Jason had good control. He said, "It is a polyester, so I expected the control to be good, and I was not disappointed. Even when my shots were hit off center the ball was still on target. Once I adjusted to the overall response I was able to control depth at will."
Finding great control on offense was Siobhan. She said, "Placement was extremely easy when I was in attack mode. I never had to worry about overhitting. I felt like I could target the lines aggressively. I loved the feel on fast swings. The only time my control suffered was on shots where I couldn't get my weight behind the ball."
Playability Duration - Score: 82
Luxilon spent two years tweaking the molecular structure of 4G to improve tension maintenance and extend the duration of playability. Siobhan's experience suggests that Luxilon might be on to something. She said, "Even after two weeks of hard hitting, 4G was crisp and playable. There was definitely some tension loss, but the spin I experienced in the first session was still there. These strings can take quite a beating!"
Chris also noticed that 4G aged gracefully. He said, "This string lasted pretty well. I cut out my polys and co-polys at the two-week mark as I find comfort to drop off, but string held up nicely over that period. Playability for the second week is rarely as good as the first week, yet 4G felt better than most toward the end of the two-week period."
Finding better playability after the first week was Brittany. She said, "I actually enjoyed this poly the more I played with it. After a week I was really starting to get into a groove with it. Interestingly, I enjoyed it the most at about two weeks in. While the playability duration was pretty impressive for a co-poly, I noticed some changes around three weeks."
Jason found that all good things come to an end. He said, "4G played well for about 2 1/2 to 3 weeks before the tension loss translated into a drop in playability. It didn't break, but after a few weeks of hard hitting I cut it out."
Overall - Score: 84
Likes
Siobhan - "The ability to rip the ball consistently combined with the feel on fast swings."
Chris - "I'm a big fan of polys and an even bigger fan of this string. It is right up there with my favorites for playability."
Brittany - "I really liked the control and the spin of 4G."
Jason - "Everything! But especially the great feel and access to spin."
Dislikes
Siobhan - "The lack of power on some shots ... (but this is exactly what kept more of my balls in the court, surprisingly)."
Chris - "None. I've hit this string in at least seven different racquets, and it has upped the performance level of each. I love this string."
Brittany - "None, but maybe a little more pop in a low-powered racquet."
Jason - "I wish it would have lasted longer before bagging out, but such is the life and hard times of a good co-poly."
Comparing the string to others they've tried, our testers said:
Siobhan - "With its low power and longer lasting playability, 4G reminded me of some of the more playable Kirschbaums."
Chris - "This string reminded me of Polyfibre Cobra for its feel off the stringer, but this one lasted longer. It also felt somewhat similar to my favored Volkl Cyclone and to MSV Focus. Tourna's Big Hitter Blue also gets close to this one in feel. Playability wise it felt a lot softer than ALU Power and even softer then the more forgiving ALU Power Rough, and I thought it had better spin, too."
Brittany - "Luxilon Adrenaline, Polyfibre TCS."
Jason - "This plays a lot like some of my favorites. Polyfibre TCS, Signum Pro Poly Plasma or Kirschbaum P2."
Scores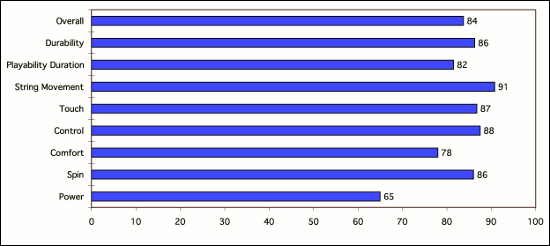 (Scores are determined by averaging individual play test scores)
Siobhan's Scores
Power
6
Playability Duration
8.8
Spin
8.3
Durability
8
Comfort
7.8
Control
8.5
Touch
9
String Movement
10
Overall
8.5
Chris's Scores
Power
6
Playability Duration
7.6
Spin
9.6
Durability
9.5
Comfort
7.4
Control
10
Touch
9.7
String Movement
9.8
Overall
9
Brittany's Scores
Power
7
Playability Duration
8.6
Spin
8
Durability
8.5
Comfort
8
Control
8.5
Touch
8
String Movement
8.5
Overall
8
Jason's Scores
Power
7
Playability Duration
7.6
Spin
8.5
Durability
8.5
Comfort
8
Control
8
Touch
8
String Movement
8
Overall
8
Playtester String Setups

Review date: July 2012. If you found this review interesting or have further questions or comments please contact us.
All content copyright 2012 Tennis Warehouse.