ALU Power 16L Ice Blue Reel Review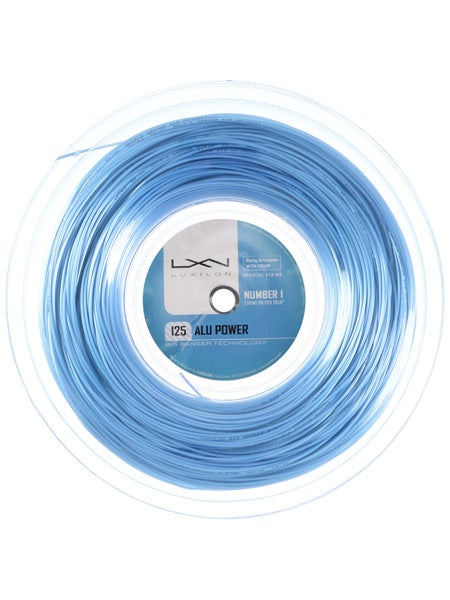 ALU Power 16L String Scores
Power
58
Spin
86
Comfort
77
Control
90
Touch
97
String Movement
94
Playability Duration
81
Durability
94
Overall
92
Upsides
Control
Spin
Durability
Feel
Downsides
Too firm and underpowered for beginners
A tad pricey for some budgets
Summary
If the tennis industry possesses something akin to the formula for Coke, it probably lies in the recipe for Luxilon ALU Power. Despite countless attempts to duplicate or improve it, this string remains the gold standard on the professional tour. When it first started popping up Pete Sampras was so fascinated by how maliciously the ball dived at his feet that he reportedly dubbed it "cheatalon." Hence the surgical precision our team experienced from the backcourt, punctuated by balls that dropped so suddenly they appeared to be in violation of the laws of physics. Contributing to this incredible precision is a quality that separates ALU Power from an earlier generation of polys, namely feel. This exceptional feel provided our team with a heightened sense of the ball, and it earned ALU Power a remarkable score for touch. This fact helps explain why ALU Power was one of the first polys to achieve mass appeal. Indeed, by greatly improving the playability and feel of co-polymer monofilaments, ALU Power has earned its reputation as one of the most iconic strings in tennis history.
Power - Score: 58
Our team tested both the Grey and Ice Blue colors of ALU Power. Though he found the Grey color to be slightly livelier, Andy experienced a remarkable blend of precision and pop with both versions. He said, "Controlled explosiveness is how I would describe the power level of this string. The ball seems to leap off the stringbed like Blake Griffin off the basketball court. However, what's different about ALU Power is that it's never too much power. You always know exactly where the ball is going. The strings just produce an extremely lively, comfortable feel that many string manufacturers have attempted to replicate. I found the Grey to have a slightly livelier response, while the Ice felt a little deader. However, when I say 'dead' I use it as a relative term; it still had the ALU Power liveliness, just not quite as much as the Grey."
Chris also found the Grey version to be a little livelier, but the upside for him lay in the fact that he was in charge of the power. He said, "While this string does not offer a ton of power, there's enough there to get the job done. I found I could get enough pop on my groundstrokes to hit winners or to force an error from my opponents. Of the two colors, Grey offers a tad more pop, while the Ice version feels a little deader. I noticed a little more hop on my shots with less effort when hitting with the grey ALU Power. Either way, the best thing about hitting with this string in any color is that it allows the player to supply the power."
Spin - Score: 86
With its crisp and controlled response, ALU Power is built for fast strokes and heavy spin. Finding the Ice version to be more spin friendly, Chris ultimately settled into a groove with both colors. He said, "The roles were reversed when it came to finding spin, and I found the Ice version of ALU Power more spin friendly. I found the Ice version of the string to pocket the ball slightly better. It felt just a little softer, and it felt like the ball was imbedding into the stringbed more. Combined with the deader response, which allowed me to swing faster, the extra grab resulted in me finding more spin. However, the difference was slight, and I was still getting a lot of spin out of the Grey colored ALU Power. Interestingly, I thought spin production was right up there with ALU Power Rough."
An unrepentant fan of shaped polys, Andy found decent bite despite the round shape of this string. He said, "The spin potential is definitely above average, but not exceptional. It doesn't have any shaped or textured features that allow it to grab the ball especially well, but the ball does seem to sink into the stringbed enough to generate a nice amount of spin. A lot of spin has to do with racquet head speed, and if a string provides enough control then the player feels confident enough to go ahead and swing their hardest. ALU Power definitely achieves this. I was able to generate a little more racquet head speed with the Ice version because it wasn't as lively as the Grey, so I could produce more spin with the Ice."
Comfort - Score: 77
Given its native firmness, ALU Power is likely to feel a tad stiff for those with short strokes and light racquets. However, for players like Andy, who has a heavier frame and sound mechanics, this string offers surprising comfort and excellent feel. He said, "This is what sets ALU Power apart from other firm monofilaments. The ball feel that it produces at impact is unmatched, to where it seems like you can feel each individual hair of the ball's fuzz. The perfect blend of power and control produces a very comfortable soft-but-not-too-soft feel that is very easy on the arm. The Grey has a comfortable, lively feel, whereas the Ice has more of a softer, plush comfort to it."
Chris also had a comfortable ride, though he cautions against wandering too far from the sweetspot. "In an old-school player's racquet like the Wilson ProStraff 6.0 95, both colors of this string felt comfortable. However, ALU Power is a fairly firm playing string, and things can get a little brassy off center in a stiffer racquet. The slightly softer response of ALU Power Ice made it the more comfortable of the two for me, but neither is a comfort string. If used in a heavy, flexible racquet, and the player finds the sweetspot more often than not, then there should be no comfort issues with this string."
Control - Score: 90
When it first started popping up on the pro tour the almost otherworldly control of ALU Power proved to be a missing link. It allowed pros to attack the ball more aggressively, which gave them the necessary spin to unlock a whole new world of angles and trajectories. It's safe to say Chris was impressed. He said, "The control I found with this string was exceptional, and was the highlight of the playtest by far. With both colors I felt absolutely dialed in on every shot. I was able to take huge cuts at the ball and still keep everything within the lines. If I had to pick a winner for control out of the two - and it is awfully close - I'd have to go with ALU Power Ice. I felt very confident with both colors, but the slightly deader Ice allowed for a more aggressive swing."
Despite the extra power he experienced, Andy didn't lose any control. He said, "Even with the excellent power ALU Power is still stiff enough to keep its shape at impact and give the desired amount of control. I found the Ice to have slightly more control than the Grey simply because the ball didn't jump off the strings as much. Usually soft and comfortable means that there's a loss of control, but not here! There are definitely stiffer strings out there that will provide more control, but for as soft and comfortable as this string is, it provides enough control to let you hit your shots with aplomb all day long!"
Playability Duration - Score: 81
Prior to the introduction of Luxilon's Big Banger series, the overall playability and tension maintenance of poly-based strings was abysmal. The launch of Big Banger Original and, subsequently, ALU Power marked a shift in the monofilament technology toward greater and longer playability. While poly-based strings still have a long way to to go to catch up with the tension maintenance of natural gut, players like Andy appreciate the improved playability. He said, "The playability duration was above average, lasting upward of two to three weeks. It's not the longest lasting string, but tension maintenance and playability duration are things that Luxilon takes pride in, and they've nailed it with ALU Power."
Chris definitely noticed some changes after the tension dropped, but the control and spin remained quite high. He said, "I found both colors to last my requisite two weeks of playability without issue. I played both through a third week, and even though tension had dropped off and the string started to feel not quite as comfortable, I was still able to find a lot of control and spin from the string."
Overall - Score: 92
What would you recommend this to?
Andy - "Like all other polys, I'd recommend this string to intermediate to advanced players with longer, faster strokes. If you're a poly player who doesn't need all the frills of a shaped, twisted or textured string, it doesn't get any better than ALU Power."
Chris - "ALU Power is hugely popular on the pro tours, and I think that speaks volumes as to whom this string best suits. Basically, if you are looking to provide your own power, want tons of control and spin, expect a high level of durability and don't mind cutting strings out and restringing every couple of weeks then this string is a great option. Comfort can be improved by hybridizing it with natural gut (also popular on tour) or a good multifilament, but if the player is looking for the highest level of control, I think it is best played as a full set."
Likes
Andy - "For a circular poly that isn't shaped, textured or twisted, it doesn't get any better than ALU Power. It has the perfect blend of power and control, is comfortable on the arm and lasts a long time. There's a reason this is one of the most popular string on the pro tour. It's the best in its class!"
Chris - "The level of control was exceptional. I was able to find lots of spin and I felt totally dialed in on my groundstrokes. Doing this playtest reminded me of just how good ALU Power really is. I love having this string in my racquets."
Dislikes
Andy - "The only thing I didn't like is that it left me wanting more."
Chris - "None."
Comparing the string to others they've tried, our testers said:
Andy - "To me, ALU Power feels a lot like Topspin Cyber Flash or the old Prince Tour poly, which have a very lively feel but are not too soft. There are many polys that try to replicate the feel of ALU Power, but in my opinion none can replicate the best."
Chris - "I would compare this to Solinco Tour Bite, Volkl Cyclone and Kirschbaum Pro Line Evolution. Babolat's RPM Blast offers a similarly firm feel, but the grab and response from RPM is slightly different."
Scores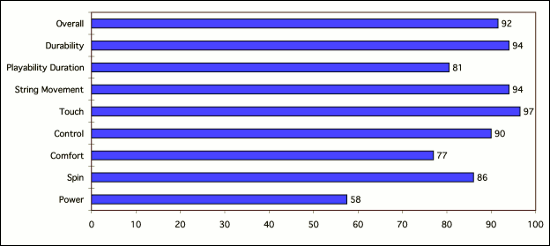 (Scores are determined by averaging individual play test scores)
Chris' Scores
Power
4
Playability Duration
7.3
Spin
9.4
Durability
9.8
Comfort
5.9
Control
10
Touch
9.5
String Movement
9.8
Overall
9
Andy's Scores
Power
7.5
Playability Duration
8.8
Spin
7.8
Durability
9
Comfort
9.5
Control
8
Touch
9.8
String Movement
9
Overall
9.3
Playtester String Setups
Chris:
Playtest Racquet: Wilson Pro Staff 6.0 95
Playtest Tension: 55 lbs.
Typical String: Volkl Cyclone 16g
Andy:
Playtest Racquet: Yonex RDiS 100 Mid (93)
Playtest Tension: 52 lbs.
Typical String: Tourna Big Hitter Black 7 17g

Review date: December 2012. If you found this review interesting or have further questions or comments please contact us.
All content copyright 2012 Tennis Warehouse.