Luxilon Adrenaline String Review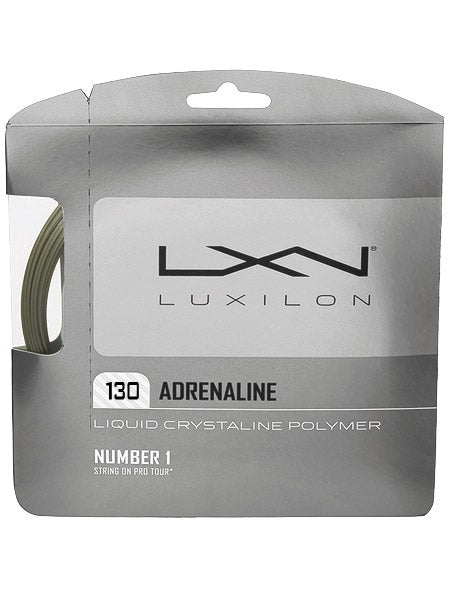 Luxilon Adrenaline String Scores
Power
66
Spin
69
Comfort
70
Control
75
Touch
71
String Movement
83
Playability Duration
78
Durability
83
Overall
78
Upsides
Durability
Spin
Control
Inexpensive for a Luxilon string
Great for big hitting advanced players
Summary
Adrenaline is a medium firm co-poly designed to deliver Luxilon's magical brew of precision, spin, durability and feel to big hitters. As with many Luxilon strings, this one not only grabs the ball well, but it also snaps it out of the stringbed with a nice blend of speed and spin (think, "heavy ball"). Needless to say, we were impressed by how effectively the ball dropped when going for cross court angles or flirting with the baseline. Even so, our team had mixed opinions about Adrenaline's control, with one player finding it a little too lively on flat strokes. On the upside, both our playtesters reported a responsive and comfortably crisp feel, with few dead hits and a minimum of off-center shock. This is not surprising given Luxilon's proven ability to enhance the performance of polyester through its heavily guarded list of patented technologies and chemical additives. Finally, no review of Adrenaline is complete without mentioning the price. As the least expensive string in Luxilon's admittedly pricey lineup, Adrenaline is simply an incredible value, especially when you consider the impressive level of playability it offers to big hitters.
Power - Score: 66
For our team, Adrenaline did not play dead like many of the stiffer, more traditional polys. In fact, Brittany experienced decent pop right off the stringer. She said, "During the first couple of hits with this string (about 2-3 hours) I found it to be pretty lively for a poly. I found some of my balls launching off my strings with some real power behind them. However, once the string settled into the racquet the power level dropped to a more typical level for a poly. What I did like was that there still was just a little bit of power remaining even toward the end of the playtest."
Michelle also discovered Adrenaline's lively side. She said, "I found this string to have above average power for a poly, with a very crisp feel. I tend to gravitate toward deader polys, so I notice just the slightest bit of liveliness in a string. Access to power was definitely easier than what I would expect from a traditional poly. However, this was OK because the string was soft and I could up the tension and get a bit more control without damaging my arm. Like a fine wine, this string got better with time for me. A lot of times I need to cut a poly out of my racquets after 2 or 3 weeks because the strings lose their playability. With Adrenaline the power became more muted the longer the playtest went on (which is typical for a poly), which was great for my personal preferences."
Spin - Score: 69
As predominantly flat ball hitters, our two playtesters didn't take full advantage of Adrenaline's spin potential. However, Brittany had zero problems cranking up the spin when she needed it, saying, "As a tennis player who tends to hit a slightly flatter ball, I always appreciate any additional spin I can get from my strings. This string did not let me down, and I got some good bite on the ball. This spin came in handy when I was hitting shorter angle shots or when I was on the run and had to throw up a more defensive ball. There was enough spin to bring the ball back down into the court."
Michelle also got plenty of bite and kick from this co-poly. She said, "I found some lively spin with Adrenaline, and I liked how the ball dove sharply in the nick of time. The spin wasn't quite as extreme as Kirschbaum Black Shark or Polyfibre TCS, but it is definitely there if you want it and when you want it."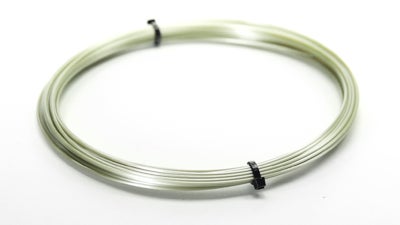 Comfort - Score: 70
Though Adrenaline is made from a stiff material, it benefits from chemical additives designed to remove some of the harshness typically found in polys. This helps explain why neither of our playtesters complained of excessive shock. Indeed, Michelle found this string to be extremely comfortable. She said, "This string was super comfortable. Again, this is new territory for me as I'm very used to the stiff and uncomfortable polys. I continue to be amazed that there are comfortable polys out there that I can use at higher tensions without destroying my body! I could easily up the tension and not feel it at all in my arm. Definitely one of the more comfortable offerings from Luxilon."
"I found Adrenaline to be fairly comfortable for a polyester string," said Brittany. "It is nowhere near as comfortable as a multi or natural gut, but I didn't experience any issues with this string. It wasn't as comfortable when I didn't hit the ball in the sweetspot, but there was no pain or discomfort."
Control - Score: 75
Our two playtesters didn't reach a consensus on Adrenaline's level of control. Brittany, with her huge strokes, felt absolutely dialed in. She said, "Control was hands down my favorite aspect of the string. I could take full, aggressive cuts at the ball and keep the ball in play. I strung Adrenaline in my Yonex VCORE 100 S and the Donnay Formula 100, which are both on the more powerful side, and found that this string complemented the racquets well. Adrenaline gave me the confidence to aim my balls closer to the lines and to go for more offensive shots."
"Control is the only thing I was missing from Adrenaline," said Michelle, who found this co-poly to launch the ball a little too far on flat strokes. "Since I hit a flat ball and don't rely on a ton of spin to bring the ball down I would have enjoyed a little less power and more control. Luckily, because it is such a comfortable string I could up the tension to get more control from the string, and it didn't hurt my arm at all, unlike traditional polys. I think the average player will find this string offers ample control."
Playability Duration - Score: 78
Unlike some polys that get brassy or unresponsive over time, Adrenaline actually improved with age. In fact, for Michelle this string never ran out of gas. She said, "Adrenaline started off lively and retained its playing characteristics well into the playtest. It held its tension well, and I felt this string had above average durability. I was still enjoying playing with Adrenaline a solid month into the playtest."
Brittany also had great playability long into the playtest. She said, "I felt the string changed for the better the longer it was in my racquet. The first couple hits felt a little lively, but after that the string started to settle in to the racquet. It felt the best at the end of the playtest, with a good combination of power, control and spin."
Overall - Score: 78
Likes
Michelle - "Comfort was my favorite feature of this string -- finding a Luxilon string that I can string comfortably into the high 50s/low 60s is a wonderful thing!"
Brittany - "The longer it sits in my racquet the more I enjoy it. Additionally, I like the feel and control, with just a touch of liveliness."
Dislikes
Michelle - " I don't love lively strings. However, I have a hard time saying I disliked this characteristic because I think it's awesome that this poly offers power and comfortable play in one lively package. It just isn't the string for me and my Pure Drive."
Brittany - "My one small dislike would be that the playing characteristics changed throughout the playtest from lively to a more control-oriented string."
Comparing the string to others they've tried, our testers said:
Michelle - "Babolat Pro Hurricane and Tecnifibre Black Code play similarly to Adrenaline, though Black Code feels a bit firmer to me than Adrenaline. I feel like Adrenaline could be the answer for anyone who wants something softer and livelier than 4G."
Brittany - "I would compare this string to Luxilon Savage. They have a similar feel, especially since they both use a Liquid Crystalline polymer. They are comparable in control and spin, but Adrenaline feels a tiny bit livelier, especially when it's first strung. I would also say that Adrenaline is slightly more comfortable."
Scores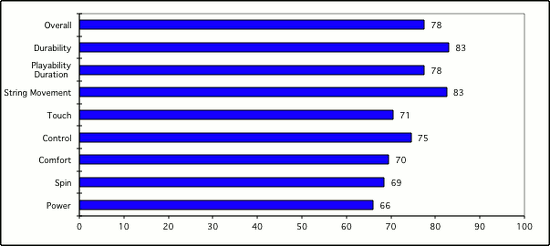 (Scores are determined by averaging individual play test scores)
Brittany's Scores
Power
7.2
Playability Duration
7.5
Spin
7.7
Durability
8.6
Comfort
7.4
Control
7.9
Touch
8.1
String Movement
8.5
Overall
8
Michelle's Scores
Power
6
Playability Duration
8
Spin
6
Durability
8
Comfort
6.5
Control
7
Touch
6
String Movement
8
Overall
7.5
Playtester String Setups
Brittany:
Playtest Racquet: Donnay Formula 100
Playtest Tension: 57 lbs
Typical String: Polyester 16g
Michelle:
Playtest Racquet: Babolat Pure Drive Roddick Plus
Playtest Tension: 60 lbs
Typical String: Polyester 16g (the stiffer, the better)

Review date: September 2013. If you found this review interesting or have further questions or comments please contact us.
All content copyright 2013 Tennis Warehouse.