Wilson KTour Review
If you know a thing or two about racquet specs, you'd think a racquet like the Wilson KTour wouldn't appeal to advanced players.
For one, it's too light at only 10.6 ounces strung. Another reason is the balance is all wrong. Player's racquets are supposed to be head light, right? Ever since the days of wood racquets, advanced players have gravitated toward racquets with a strung weight upward of 12 ounces with a head-light balance.
The Tour racquet from Wilson, now in its fifth iteration, has continually bucked this trend. From its Hammer 5.2 roots through H Tour and nTour versions, the Tour has stayed true to form and remained light-er weight with an even balance.
Since its inception, folks have been claiming it wasn't really a Hammer racquet, as it wasn't head heavy enough. Many won't see the KTour as a player's racquet, either.
So what is the KTour?
The simple answer? A very solid racquet.
We caught up with big-hitting Lindsay Davenport at the 2008 Pacific Life Open. Having used all the various Tour racquets, she explained that the Tour racquets enabled her to still find consistency -- even when unloading on powerful groundstrokes. Davenport video interview.
To find out if we could find that same Davenport-like balance of power and control, we strung several KTours with Wilson NXT 17 string at 57 lbs and hit the courts.
Groundstrokes
With the assets of control, maneuverability, spin and power, our team was impressed from the baseline with the KTour. Enjoying the versatility of the racquet was Danny. "Of the last three versions of this racquet, the Wilson KTour is my favorite. I found this racquet to have a really crisp feel from the baseline. When I say crisp, I mean firm. Generally, a firmer feel is something I stay away from, but this racquet worked out well for me. There wasn't much that I couldn't do from the baseline with this racquet. I could play just as well with the KTour as I could with any racquet. My variety of shots was something that stood out with the KTour. I was able to not only get good topspin with this racquet, but I was able to consistently flatten the ball out without making an error. I think the lighter weight was a factor as to why I was able to vary my shots so well. Testing this racquet made me think twice about the type of racquet that is good for me. Generally, I think a 12 ounce frame is good for my game, but after testing this 10.6 ounce racquet (strung), it is making me think twice. The last comment I want to add pertains to my backhand slice. It was noticeably better with this racquet than other racquets I've tested."
Spencer was impressed with the depth of his groundstrokes. "I was very comfortable hitting from the baseline with this racquet. The first thing I noticed was the solid feel. I love that. Being a fan of the nTour Two, it's no surprise I liked the KTour as well. Off both wings I was able to hit deep, penetrating shots without overswinging. I liked the stability for a lighter weight racquet, while the maneuverability was fantastic. Having hit with a couple of different string set-ups with its open 16/20 string pattern, I preferred a polyester string, as it added even more spin and control, helping keep balls from floating long."
Feeling he could swing aggressively with this racquet was Chris. "I liked the response of this racquet off the ground. I found ample power and the response was very comfortable. I was impressed with the amount of spin I was finding on my shots and felt confident swinging aggressively. While I prefer heavier, head light racquets, the lighter weight and even balance felt pretty good. This racquet definitely felt stable; considerably so considering its weight. I've hit with all versions of the Tour, including the Hammer 5.2, and this one definitely felt the most solid to me."
Tiffani liked the amount of spin she was finding. "This racquet produced some nice spin for me, but it didn't necessarily help me hit a 'heavy' ball. Because it's light, I was able to swing quickly through the ball and get plenty of topspin. I play fairly flat, but I've been working on using more spin in my game. The KTour made that easy. I also enjoyed slicing with this one. However, I found this frame difficult to control depth wise with the multifilament string we usually use for playtests. It was just too lively. I felt like I had to hold back to keep the ball in play. Put in a poly and it's a different story. I was much happier with the performance from the baseline because the poly gave me the control I seek." Ryan RS was enamored with the control from the baseline. "Right away I noticed that control was exceptional. This is the standout feature of the racquet. I was able to direct the ball on forehands and backhands with ease. A dampener in the stringbed kept the feedback very minimal, and it was quite a comfortable racquet even without one. Despite having almost identical specs, it felt a little more comfortable than its predecessor, the nTour Two. Even though it is definitely a control-oriented racquet, when I had time to set up properly the KTour delivered plenty of power. Slices came off the stringbed well and were extremely effective with the amount of backspin the racquet produced. The sweetspot felt about average size for a 95 square inch head."
Volleys
An easy racquet to wield because of its weight, our team was pleased with the KTour when volleying. Tiffani felt much more confident at net. "I usually prefer a racquet from the baseline, but I found myself liking this one at net. I was pleased with the punch available from the stringbed and found the racquet plenty maneuverable. I wasn't bothered at all by the extra quarter inch. I used to play with a 27.5 inch racquet, and one of the reasons I moved on from it was its lack of maneuverability. I didn't find that with the KTour." Impressed by the weight and balance was Chris. "I was finding lots of pop at net with this stick. It felt easy to get around, and I enjoyed the maneuverability when forced to flick a pick-up volley or make a quick stab. The racquet never felt unstable, and I was again impressed by how the weight and balance of this stick came together." Spencer was more aggressive than normal when at net. "I really enjoyed my success and prowess at net with the KTour. Once again, the mobility of the racquet was outstanding, and with the pop this stick offered, put-a-ways were a cinch. With the confidence this racquet provided, I found myself being very aggressive at net, which is not the norm for me."
Ryan RS felt the mobility of the racquet made it shine at net. "The racquet is very maneuverable at net despite its slightly extended length. However, I felt that volleys lacked 'pop'. It was easy to slice under the ball to keep shots low, but required extra work to keep volleys deep in the court. Directing volleys was fairly easy, although it was tough to consistently counter heavy shots at net." Enjoying the light weight and feel was Danny. "Crisp, solid and consistent is how I would describe this racquet at net. The lighter weight might have been a factor as to why I liked the racquet when volleying, but I found the racquet to have great maneuverability and feel. I'm not sure if it was the racquet or maybe a new type of volleying technique, but I was able to knife my volleys with great consistency with this racquet."
Serves
Spin and power seemed to be the defining features of the KTour with our playtest squad when serving. Thrilled with the combination of power and control was Spencer. "The KTour provided a nice combination of spin, control and power. I liked the depth and kick I could get, and when trying to heat one up down the T, the power was there. I was very comfortable when serving with this bat."
Ryan RS felt the extra length provided more pop. "The extra quarter inch helps with leverage and reach. Spin was fairly easy to impart, and I didn't feel like the racquet lacked anything in this category. A slightly more head light balance might have added some speed to the serves." Having great success with his first serve was Danny. "My first serve was noticeably better than my second serve with this racquet. I was surprised how consistent my first serve was. I could hit a consistent flat serve with this racquet and achieve more pop on my serve than I could with most racquets that I've tested. The downfall was my second serve. I had a hard time finding a consistent second serve. I couldn't put a finger on why I was having troubles with my second serve."
Enjoying lots of spin when serving was Chris. "I was able to serve with decent pace and get some nice action on the ball with the KTour. I wasn't finding my usual pace and weight on shots, but was able to get some decent pop out of the racquet. I found it easy to whip the racquet through the contact zone, so access to spin was solid." Tiffani felt the KTour helped her velocity on serve. "Serves were adequate for me. There was nice access to some power. During this playtest I was coming off an arm injury so I hadn't been serving for a while. This was a good racquet for me to practice the service motion because it was maneuverable. I injured my tossing arm, but it was good for my confidence to be able to swing fairly easily and still get some good pop on my serves."
Serve Returns
Having several different options when returning made the KTour effective for returning serves. Chris found the maneuverability and stability to be impressive. "As with groundstrokes and volleys, I was impressed by the combination of maneuverability and stability from the KTour. I felt like I could take a good rip at returns with this stick without taking a huge risk. The racquet felt comfortable and there was a decent amount of control to be had. When punching or blocking the ball back, the racquet felt solid and stable." Feeling more confident with defensive returns was Spencer."The combination of pop and maneuverability made this a nice racquet for returning serves defensively. Being able to get the stringbed on the ball and blocking back serves deep into the opponent's court kept me in more points. On medium to slower paced serves I could take a good cut, but I tended to miss more, as I had slight timing issues with the lighter weight of this racquet."
Danny liked the versatility the KTour provided when returning. "I find any racquet that I like from the baseline will be a good racquet for my service returns. This racquet allowed me to vary my service returns. If I needed to spin my returns in I could. If I wanted to flatten the ball out, I could do that as well."
Liking the mobility and length was Ryan RS. "It was easy to get racquet head speed because of the maneuverability, but the racquet can become a little unstable if facing a big server. The extra quarter inch helped considerably when stretched out wide."
Tiffani was partial to polyester string on returns. "As with groundstrokes, I struggled with controlling the depth of my shots when it was strung with a multifilament. I played a doubles match with it, and it was a struggle to get into points. As with groundstrokes, I found the poly a better setup for me. It was like playing with a different racquet. The result with poly was balls deep into the court rather than deep behind the baseline."
Overall
Having a very similar feel to the nTour Two, the Wilson KTour offered a nice blend of maneuverability and power, with a solid feel. Our team was impressed with the amount of spin and control the KTour offered from all areas of the court. Though the weight of the racquet was light, with a close to even balance, the KTour still allowed our testers to be successful with aggressive shots, while the open string pattern helped with spin production. We found the KTour to be very versatile from all areas of the court and a good option for a wide level of players.
The "Likes" of the racquet.
Tiffani "It has a great response at net. I felt this helped me work on diversifying my game. I found myself constructing points that would get me to the net rather than playing my usual baseline game."

Chris "I liked the combination of maneuverability and stability. I was also impressed by the level of comfort I found from all areas of the court."

Spencer "In stock form the KTour is very easy to hit with. The fact that it is lighter in weight makes it easy to modify to desired specs."

Danny "One key point of this racquet was the ability to flatten out the ball with some sort of consistency. This was something that I not only experienced from the baseline, but also at net and on my serves."

Ryan RS "The 16x20 pattern makes for great control without noticeably sacrificing anything. As a previous user of the nTour and nTour Two, I was happy with this upgrade. Nothing was lost, and a bit of comfort and feel were added. No fan of those popular models will be disappointed. The frame is also a good base for customizing with some lead weight. I recently switched to this racquet and had it customized to 12 ounces with a 6 point head light balance. I feel it became a great player's frame. The cosmetics are cool, too."
The "Dislikes" of the racquet.
Tiffani "In stock form it's lighter than I prefer. I thought it was a bit tinny sounding and unstable against big hitters. Though, because it's light, there's plenty of room to customize."

Chris "I had to work harder to find the pace and weight of shot I get from my regular stick."

Spencer "In stock form, the weight and balance."

Danny "I didn't like this racquet for my second serve. My second serve was noticeably inconsistent. This is something that I normally don't have a problem with."

Ryan RS "Since I am used to playing with heavier racquets, the main problem I had with this racquet was its weight. Against harder hitting opponents I didn't always feel in control of the pace, and off-center hits weren't terribly forgiving."
Technical Specifications

Length
27.25 inches
69 centimeters
Head Size
95 square inches
613 square centimeters
Weight
10.6 ounces
301 grams
Balance Point
13.825 inches
35 centimeters
1.5 pts Head Heavy
Construction
22 mm Straight Beam
Composition
100%[K]arophite Black
String Pattern
16 Mains / 20 Crosses

Babolat RDC Ratings

Score

Grade

Flex Rating
64
Range: 0-100
Swing Weight
331
Range: 200-400
Wilson KTour Scores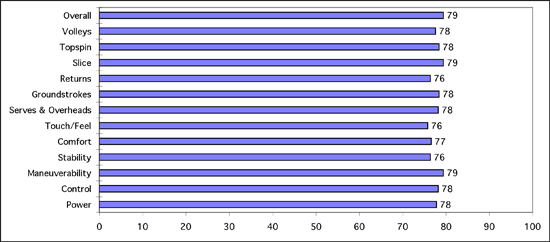 (Scores are determined by averaging individual play test scores)
Playtester Profiles

Chris
5.0 baseline player currently using the Becker Pro. Chris uses a full-western forehand grip, has a fast swing style and hits a two-handed and a one-handed backhand.
Spencer
4.5 Baseline player currently using a Wilson K-Blade Tour. Spencer uses a semi-western forehand grip, and hits with a one-handed backhand.
Tiffani
4.0 level baseliner with a semiwestern grip on the forehand and hits a two-handed backhand. Currently playing with the Yonex RDS 003(08 version).
Danny
Open baseline player currently using a Wilson K Factor KTour. Danny uses a semi-western forehand grip, a two-handed backhand and has a long swing style.
Ryan RS
4.5 baseliner with a Semi-Western Forehand and a two handed backhand. Ryan RS currently plays with a customized Wilson KTour

Review date: May 2008. If you found this review interesting or have further questions or comments please contact us.
All content copyright 2008 Tennis Warehouse.