Wilson KSurge Racquet Review
Wilson has totally revamped the Surge. Not only does this new version get the KFactor treatment, it comes in a completely new spec and offers a very different feel to previous Surge models.
The specs of the Hyper ProStaff 5.1 Surge and the nCode nPro Surge racquets were virtually identical, with a heftier 11 ounce strung weight, a head-light balance and dynamic swingweights around 320.
Wilson has trimmed the new KSurge down to 10.3 ounces, shifted the balance towards the head and given the racquet a maneuverable 301 swingweight. Unlike the previous Surge models, the KSurge only comes in standard length.
Any concerns that the reduction in weight would diminish the performance of the Surge racquet line was quickly forgotten when we initially took the KSurge out for a round of hitting. In fact, we were so impressed by the solid response this lightweight stick offered, we handed it over to our playtest team for some further analysis. Read on for the full report of our three-week playtest.
Groundstrokes
The KSurge offered our team a very light and maneuverable feel from the baseline. Our team found excellent access to spin, especially when hitting slice backhands. Finding plenty of bite from the stringbed was Chris. "I liked the response of this racquet on groundstrokes. It played incredibly light and maneuverable. I was surprised at the stability and comfort offered, considering its light weight and stiff frame flex. I was able to get lots of spin with this racquet and felt like I had excellent control on my shots. The firm response from the frame seemed to really help the stringbed dig into the ball, and I was getting lots of action when hitting topspin and slice. I found excellent control and spin when hitting slice backhands and was confident both knifing and floating these shots when needed. This racquet was not an ideal spec for my game, but I was still able to play to a high level with it."
Finding the best performance from the racquet when hitting with spin was Jason. "Groundstrokes were great if I hit with topspin. The KSurge generated a good amount of spin, which kept the ball deep and in play. I felt that when going for a big flat shot the ball would tend to fly a bit. Going up against big hitters, on balls that had a lot of pace, the racquet seemed too light and unable to handle the force. I couldn't really hit through the ball as much as I wanted. Slices with the K Surge were amazing! With a very open string pattern, the ball had a lot of action on it. Backhand slices hummed along right above the net and continued to stay low after hitting the ground. The balls didn't so much bounce, but skidded across the court. Great power and great access to spin, but I would've liked a bit more weight."
Jon found good power and spin from the baseline with the KSurge. "The KSurge felt a little light and stiff compared to my Dunlop Muscle Weave 200G and it was tough for me to get a good consistent feel. It felt like the sweetspot was lower than what I was used to so there was some adjustment there as well. I was finding good power and decent spin, but I did expect it to be more spin friendly with the 16x19 pattern."
Another player enjoying the level of spin and control on slice backhands was Ryan. "My first impression was that this racquet is a little too light on the groundies. I had trouble getting good power out of it and i also had trouble with controlling deep, well placed, hard spinning shots. But, there was tremendous access to spin with this one. Backhand slices are just awesome with this racquet. I also found that using a more western grip worked out better and was more consistent than a flatter, semi-western grip on the forehand side." Spencer found the lightweight, maneuverable feel a plus during long hitting sessions and tough three-setters. "A nice feeling racquet that was very consistent. The weight of the racquet made it relatively easy to trade groundstrokes with my opponents without getting tired. Manipulating spin from this racquet was easy off both sides, most notably the backhand slice. Unfortunately, with this racquet the weight (or lack thereof) becomes an issue when looking for a deep, penetrating shot.
Volleys
The KSurge continued to impress our playtesters at net. Chris summed it up well, saying, "This racquet felt very fast and mobile at net. The response seemed to offer more than enough stability for the intended level of player this racquet is built for. Stability was, no doubt, helped by the firm frame. Again, I was impressed with the amount of bite from the stringbed and was able to cut some nice angle volleys with this stick." Also enjoying the mobile feel of the racquet was Spencer. "Comfortable and light, this racquet provides great maneuverability at net. I enjoyed the touch and control. However, off-center volleys tended to produce a lack of stability or twisting of the racquet, especially against higher velocity shots."
Ryan would have liked a little more power at net from the KSurge. "Volleying was the other area that I had a little bit of trouble. While I had good maneuverability with the b>KSurge, there wasn't a ton of 'pop'. My volleys tended to end up a little short and really 'sticking' volleys was a little tough on low, heavy passing shots because there was a little twisting that was hard to deal with." Finding plenty of feel and control when going for the 'dropper' was Jon. "The KSurge is very maneuverable and felt comfortable at the net. The ball pushed the racquet around a little due to its light weight, but more often than not I hit very acceptable drop volleys." Finding the maneuverable response ideal for snapping away overheads was Jason. "I found nice feel and touch at the net. More heft would've helped in this area as well. Hard shots made the racquet torque and become a bit unstable. Putting away overheads was a cinch, though, as was maneuvering the racquet into place for diggers. I felt that I could put some good touch on my half volleys."
Serves
The KSurge impressed our team with lots of control and mobility on serve. Finding lots of pace and spin when serving was Jason. "Probably the biggest asset to my game when playing with the KSurge was serving. I could generate great pace with my first serves. My second serves became more of a weapon than a weakness with the amount of spin I could put on the ball." Finding some pace and control on serve was Jon. "I was able to get good power and control out of the KSurge. I could not generate a ton of spin on my kick serve but I enjoyed good control and pace. Flat serves had good pace and control. However, initially I felt like I had to make a lot of adjustments to find the sweet spot."
Finding his favorite shot with the KSurge to be the serve was Ryan. "I liked serving with this racquet. The spin I could produce was awesome. The lightness (that I didn't care for on groundstrokes and volleys) was not an issue when serving. Flat serves had plenty of power on them and the kick serve was very effective. This was one of the best aspects of the racquet for me."
Both Spencer and Chris found similar performance from the KSurge on serve. Spencer said, "I liked the control, being able to place and spin the ball well. This racquet did tend to 'max out' with power. At a certain point, it seemed no matter how hard I swung, I could not produce the plough-through, or 'heavy' ball I would have liked." Chris was in agreement. "I was able to get a ton of control and spin when serving with this one. However, it felt like the power potential of the racquet was limited, and I wasn't getting the usual court penetration. The light and mobile response offered easy access to racquet head speed and I think players seeking a mobile stick will find lots of performance here. I think I could easily bring this racquet into spec for me with a little customization as all the performance was there except the weight. However, I had all the control I could ask for and felt like I could hit my targets at will."
Serve Returns
Although a little underweight to be an ideal spec for our testers, the KSurge still managed to hold its own as our testers fended off some heavy hitting. Spencer found he could get the racquet on a lot of serves, thanks to the maneuverable response. "Much like when volleying with this one, I was happy with the maneuverability, but stability was lacking. I liked that I could make a lot of returns, especially against hard servers. That being said, mis-hits were more noticeable, due to the lighter frame twisting. " Frustrating his opponents with some nasty slice backhand returns with the KSurge was Jon. "The KSurge performed well returning serves. I had good pace, and for the most part I could hit the ball where I wanted. It's a light racquet so I had to shorten my swing some in order to control the racquet, otherwise I would get ahead of the ball. A hard backhand slice seemed especially evil with this stick."
Finding a solid blend of maneuverability, control and feel on returns was Chris. "The mobility and control made for lots of fun on returns. I was able to generate lots of racquet head speed with practically no backswing, allowing me to be aggressive and keep most contacts out in front. The firm frame offered a stable and crisp response and I was getting lots of bite and control from the stringbed. Again, comfort was surprisingly good, yet there was still ample feedback for control and feel."
Both Jason and Ryan would have liked a little more racquet mass for hitting returns. Jason had his best results when blocking returns. "Again, the lack of weight was not ideal when hitting returns off a big serve, but blocking shots back was not a problem - they landed fairly deep, even with some pace." Ryan said, "Again, the only issue I had with this racquet on serve returns was lack of stability. Just adding a little more heft would greatly benefit this racquet."
Overall
We found excellent maneuverability from the KSurge from all areas of the court. The maneuverable feel allowed for easy access to racquet head speed, which resulted in impressive pace and spin off the ground and on serve. With a high level of bite from the stringbed, we found the KSurge to be a very spin friendly racquet. When hitting topspin and slice groundstrokes and serves, our testers found good action on their shots. Placement on shots was also impressive when wielding this racquet. The firm and crisp response offered plenty of directional and depth control. Stronger players who enjoyed the mass of the previous Surge models should look at customizing this one with some weight or try the nPro Open racquets. As is, the KSurge offers lots of performance for intermediate level players seeking a blend of mobility, spin and control from their racquet.
Last Shots from our playtesters
Chris. "I thought this racquet offered a ton of performance for its spec. For such a light and mobile racquet, the level of comfort and stability was amazing. I would definitely recommend this one to a player with solid technique who was looking for maximum maneuverability - perfect for aggressive juniors and smaller adults. The light weight should also make this a fun one to customize."
Jon. "Although the KSurge was not a racquet I would consider, for the player seeking a quick and mobile racquet, this would be an excellent choice."
Jason. "Overall, a very solid stick. With the KSurge I was producing a great amount of spin on my shots. Surprisingly, control was very good - much more so than I'd expect from such a light racquet. When changing depth and hitting down the line shots, I found a level of accuracy I don't typically find with lightweight racquets. The only thing I would change would be to add an ounce or so of weight to the handle to take this from a good fit to a great fit for my game."
Spencer. "Though I could certainly play with the KSurge, it's not my ideal racquet. My consistency with this racquet was good, but the lack of weight depleted from the feel that I like. It did offer plenty of access to spin, but the hard flat groundies were tough to produce without over-swinging."
Ryan. "Overall, for my type of game and level of play this racquet just needed a touch more weight to it. It offered great access to spin and decent power, but a little bit more heft would have made it more effective from the baseline and other areas because it would be a bit more stable. In stock form, it was a little hard for me to control all of the generous spin I was finding."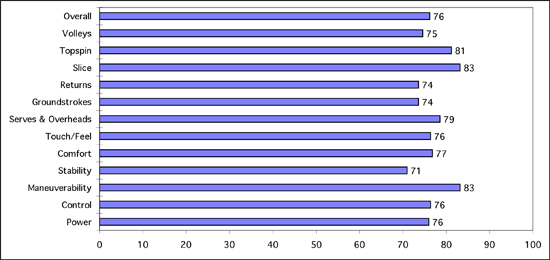 (Scores are determined by averaging individual play test scores)
Technical Specifications

Length
27 inches
69 centimeters
Head Size
100 square inches
645 square centimeters
Weight
10.3 ounces
292 grams
Balance Point
13.825 inches
35 centimeters
3 pts Head Heavy
Construction
23 mm/25 mm/22 mm Dual Taper Beam
Composition
70% [K]arophite Black / 30% Graphite
String Pattern
16 Mains / 19 Crosses

Babolat RDC Ratings

Score

Grade

Flex Rating
68
Range: 0-100
Swing Weight
301
Range: 200-400
Playtester Profiles

Chris
5.0 baseline player currently using a Babolat Pure Drive Roddick. Chris uses a full-western forehand grip, has a fast swing style and hits both a one-handed and a two-handed backhand.
Jason
4.0 baseliner currently using a Head Flexpoint Radical Midplus. Jason has a fairly aggressive semi-western topspin forehand and hits a one-handed backhand.
Jon
4.5 baseline basher with a big kick serve currently using a Dunlop Muscle Weave 200G. Jon uses a semi-western forehand grip, has a full fast swing style and hits a two-handed backhand.
Ryan
4.5 all court player currently using a Slazenger Pro Braided Henman racquet. Ryan uses a semi-western forehand grip, a one-handed backhand and has a long swing style.
Spencer
4.5 Baseline player currently using a Prince Hybrid Hornet MP. Spencer uses a full-western forehand grip, and hits with a one-handed backhand.
Review date: June 2007. If you found this review interesting or have further questions or comments please contact us.
All content copyright 2007 Tennis Warehouse.