KSwiss Big Shot Shoe Review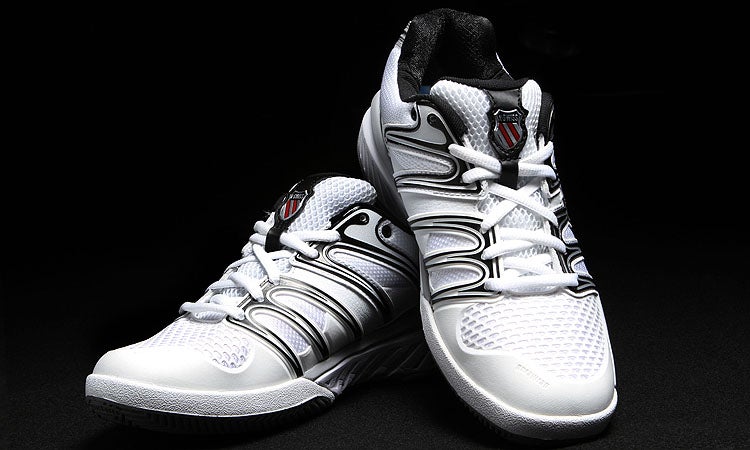 Upsides
Comfort
Breathability
Light Weight Feel
KSwiss Big Shot Shoe Scores
Comfort
4.0
Ventilation
4.2
Arch Support
3.8
Foot Suppot/Stability
3.6
Overall Sole Durability
3.7
Toe Durability
4.3
Traction
2.9
Weight
4.0
Overall
3.8

On the ATP Tour the game is faster than ever. Players are hitting the ball with tremendous power and finding the corners of the court at the same time. How is a player supposed to keep up?
Perhaps KSwiss has the answer with its all new BigShot tennis shoe.
KSwiss claims it's the fastest tennis shoe ever. To help with development they ran the shoes (pun intended) through the P3 Sports Institute in Santa Barbara, California. Under the watchful eye of P3's founder, Dr. Marcus Elliot, the BigShot proved to be the fastest shoe they've ever tested. P3 found that players in the BigShot were able to shave tenths of a second off sprints and recovery steps. While that may not sound like much, over a three-set match it can add up to a big advantage.
Aiming for outright speed, KSwiss equipped the shoe with a Ballistic Propulsion Plate to help keep you on the balls of your feet. With speed comes the needed for added stability. To answer that, KSwiss uses their Guideglide system in the midsole to keep your feet stable, even during highly aggressive movement. Mesh is utilized beneath the Dura-Wrap upper to help reduce weight (while simultaneously improving ventilation), and a lightweight heat-welded TPU support system locks in your feet from below. For prolonged performance, the shoes also come backed with a six-month guarantee and plenty of toe protection from the Dura-Wrap upper.
Our testers sped around the courts for a couple of months to see if they did indeed feel like a BigShot. Read on to find out.
Comfort - Score: 4.0
Our playtesters predominately felt the comfort to be plush and satisfying. Happy with the instant comfort was Spencer. He said, "Good comfort was evident as soon as I slipped these shoes on. A pliable upper wrapped around my feet while the supportive midsole offered an 'in the chassis' ride, as opposed to feeling like I was riding atop the midsole. It also offered good court feel. Though I didn't experience any sloppiness with foot movement within the shoe, the forefoot was a tad roomy. I generally prefer a more securely wrapped feel. The anti-slip material along the back of the heel inside the shoe was quite effective in preventing heel slippage."
Chris was impressed, saying, "I enjoyed playing in these shoes. They were pretty comfortable right out of the box. The break-in was quick and painless and I felt comfortable playing in them the first time out. There was enough cushioning for comfort, yet not so much that I felt too elevated from the court. The uppers were supple and wrapped my feet comfortably. I was able to cinch the shoes tightly for support without any poking or pinching. All in all, I was impressed when it came to the comfortable ride of the BigShots."
Finding a good fit along with comfort was Jason. He said, "They were very comfortable right out of the box. Like past K-Swiss shoes, these fit my feet very well. The toe box was wide enough so that my toes weren't being pinched or squished together. Mesh in the uppers allowed the shoe to flex in all the right areas. When it came to comfort, they were impressive."
Granville felt the BigShots didn't fit his feet well. He said, "The cushioning is adequate in both heel and forefoot, but the fit was lacking for me."
Liking the comfort for multiple activities was Ryan, saying, "These shoes were great for both serious on court play and casual wear. I never experienced blisters or the discomfort that is usually associated with switching to an entirely new shoe."
Ventilation - Score: 4.2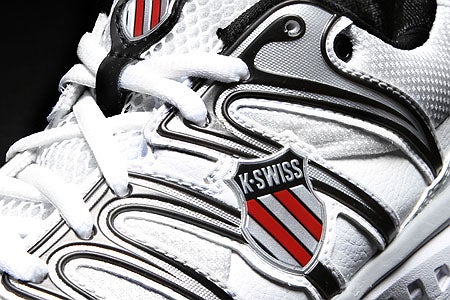 Everyone was in agreement that KSwiss did a good job in keeping this shoe well ventilated. Enjoying the breathability was Chris, saying, "The ventilation was spot on for me. My feet never got hot or overly sweaty in these shoes. There's extensive mesh on the uppers, and it did a good job of letting cool air in when I was running around."
Ryan was impressed with the balance of breathability and stability. He said, "There is ample ventilation on the top of the forefoot, and a decent amount on each side as well. There is a good blend of stability and ventilation material throughout the shoes. It never felt like heat or breathability was an issue during, or after, play."
Jason didn't experience any issues with heat. He mentioned, "Plenty of mesh in the tongue and uppers meant the shoe stayed well ventilated. It is winter, so I can't be 100% sure that the shoe will keep my foot cool, but I never had any problems with my feet getting hot during the playtest."
Spencer felt the mesh did its job. He stated, "Plenty of mesh and a screen-like protective material covering the forefoot provided more than enough breathability."
Arch Support - Score: 4.6
Our team agreed that the arch support ran a little low. For some it worked fine, while others were left wanting more support.
Finding the low arches to work well for his feet was Jason. He said, "The lower the arch, the better. This shoe definitely had a nice, low arch. I experienced absolutely no soreness in my arches."
Chris felt the arch support was lacking, saying, "The arch support was too low for me. I have a medium height arch and was left wanting for more support. If the support was any lower, I would have ditched the stock insoles for my more supportive Superfeet insoles. As it was, I was able to just get by, which was good news because I was digging the palm trees pictured on the stock insoles."
Using an insole for better support was Granville. He said, "As with most of my tennis shoes, arch support was minimal. I immediately put in an aftermarket insole."
Spencer didn't experience any issues, saying, "The arch support sat a little lower than medium, but offered enough support for me. I had no issues in this department."
Happy with the amount of arch support was Ryan. He said, "I have a fairly normal arch, so I don't have any special needs when it comes to this category. The shoe felt like it supported my arch very well."
Foot Support/Stability - Score: 3.6
Though these shoes provided a low to the ground ride with a solid and stable feel through the chassis, it seemed to be the fit that was the make or break factor for support with our team. Jason felt his wide feet helped with the fit. He said, "For the most part, the shoe handled and performed very well. Playing against players that really move me from side to side, like Brittany, put the stability of the shoe to the test. Except for one or two instances, my ankles felt secure. Slippage within the shoe was not really an issue for me, but I could see how it might be for players with a narrower foot."
Feeling confident with the low to the ground feel was Chris, stating, "I felt well-supported in these shoes. I was able to make very aggressive cuts and never felt like I was in danger of rolling an ankle. The shoe offers a low to the ground ride, and I liked that I had some court feel. I felt very confident in them and that's the most I can ask for in a shoe. Most impressively, these shoes were supportive while still being comfortable. For a better fit for my narrow feet I wore two pairs of socks every time I played in them."
Granville felt the poor fit on his feet led to less support than he would have liked. He said, "My foot did not fit very well in this Big Shot. There was a lot of sliding around inside the shoe, even with my orthotic (Superfeet) insole. It does not have that contoured feel I enjoy in most of my tennis shoes. Contrary to a contoured feel, my feet seemed to be moving around in the shoe, leading to a lack of support."
Spencer found a good amount of support and stability. He said, "As I had mentioned in the comfort section, the forefoot area was a bit roomy. I would have liked a tighter fit, but with that said, I didn't experience any lack of support or sliding around inside the shoe. The stability was excellent, in part due to the close to the court ride."
Ryan felt this shoe would have served him better with a narrower width. He explained, "This was the one area where the shoe didn't meet my high expectations. The shoe is definitely wider than average, and at first I slid around quite a bit inside them when moving laterally or changing directions quickly. I found that if I laced the shoes up to the very top holes the problem was generally solved, but this was not a comfortable setup for long term wear. When I wore the shoes when I wasn't playing tennis I would unlace the top holes and it felt fine."
Sole Durability - Score: 3.7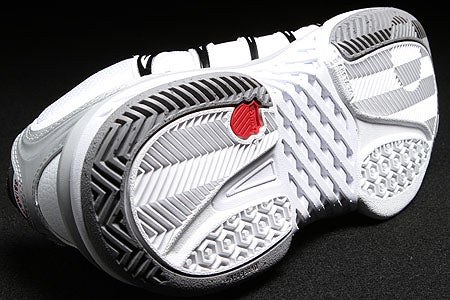 It seemed to be a 50/50 split with thoughts on durability. Half found the soles to wear prematurely, while the other half thought the durability was more than sufficient.
Spencer found the durability to be standard for a durability guaranteed shoe. He said, "The durability was what I would expect from a durability guaranteed shoe. I found no signs of premature wear. Under the big toe and the medial side of the forefoot on the bottom are where I usually show wear, and the BigShots were as durable as expected."
Finding more wear than normal was Chris, stating, "The outsoles were not very durable -- about average for me. At the end of the test I was almost through the outsole material on the right shoe (under my big toe). The left shoe is also showing excessive wear on the medial side of the outsole."
Jason had similar sentiments, offering, "To be fair, I did wear this shoe longer than typical playtests, but the amount of tread loss was quite substantial. On my left shoe, the rubber on the medial side of the forefoot was worn all the way through to the midsole. Both outsoles had a fair amount of balding in the forefoot. On the positive side, K-Swiss does offer a 6-month durability guarantee for this shoe."
Happy with the wear on the outsoles was Granville. He said, "Toe and heel showed the most wear, as they always do with me. These BigShots seem to be as durable as other shoes with regard to the outsole."
Ryan didn't see any premature wear. He offered, "The outsoles started to wear under the toe areas, but otherwise I felt the durability was good."
Toe Durability - Score: 4.3
Of the testers that drag their toes, all were in agreement that this shoe offers plenty of toe durability. Giving high marks in this areas was Chris. He said, "I thought the toe durability was excellent. The toe tip is well protected and came up high enough to stop me from hitting the mesh and thin Durawrap covering. Even though I scuffed up the toes of both shoes, the wear did not come close to going through the durable toe covering. Top marks from me."
Granville agreed, saying, "While I do not see any extra material in the toe - the rubber seems as durable as any other shoe on the market."
Also satisfied with the durability was Ryan. He said, "This is where the first signs of wear appeared, but the toe protection held up well."
Traction - Score: 2.9
If there was one area where the BigShots missed the mark, it was with traction. All the testers had problems with slippage on court. Disappointed with the traction was Spencer. He said, "In a word. Disappointing. I was pretty jazzed to get on court with these shoes when I first tried them on. I liked the looks and they felt comfortable, but in my first hitting session I had a few slips. It only happened when I made more explosive direction changes, but unfortunately this caused enough delay to make a difference in the point. I would only slip a couple of inches, but it was the loss of energy and momentum that hurt the most. I didn't get too down the first time I played in them because some outsoles need that first wear to rough up the outsole. However, every time I've hit in these shoes I've experienced slippage on the court. For the record, I tested exclusively on hard courts."
Jason agreed, saying, "For me, this is the only area of the shoe that truly disappointed. In the early stages of the playtest I was slipping on the court at least once every time I went out. As the shoe wore down, the traction got better, but I was still slipping from time to time. I experienced slippage most often when trying to take off for a shot, rather than when I was planting my feet."
Also finding a lack of tack was Chris. He said, "The level of grip out on the courts was just average for me. I would have liked more traction, as I was slipping too much. My slips when changing directions were enough to cost me a point here and there, as I was just not able to recover fast enough to make a decent next shot. Considering the outsoles wore out relatively quickly, I would have expected them to offer a high level of grip. Unfortunately, that wasn't the case."
Granville experienced a slip right away. He stated, "I still recall my first hit of the play test with these BigShots. On a dead run I planted my right foot to recover and slid 6-12 inches. It was an unintended slide and surprised me. Simply, the traction was a bit lacking."
Having a slip here and there wasn't enough to bother Ryan . He said, "I occasionally slid on the court, but no more than with any other shoe. The sole is thick and very durable. It took a long time playing on hard courts before any wear on the tread appeared, and it would take a while before any significant damage would be done to affect traction."
Weight - Score: 4.0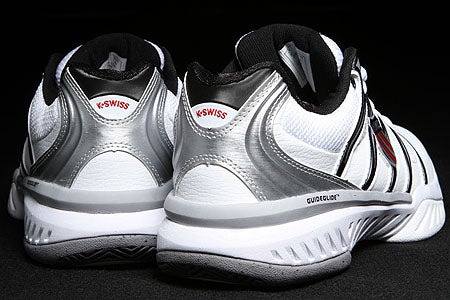 Though the BigShots had a static weight of 16-ounces (size 10.5), our playtesters agreed they felt and played lighter on court. Chris felt the weight was distributed well. He said, "These shoes felt very well balanced. What weight they do have was well hidden, and I thought they played much lighter than listed. The shoes moved well with my feet (flexing in all the right areas), and I think that further added the lightweight feel."
Enjoying the lightweight feel was Granville. He said, "These shoes feel very light on my feet. I didn't realize they weighed 16-ounces until I checked the specs for this review."
Jason had similar thoughts, saying, "Even though the shoe weighs in at 16-ounces (size 10.5), which is not considered "lightweight", the shoe felt lighter than I thought. I think it's how the weight is distributed in the shoe."
Finding the weight to be appropriate was Spencer. He said, "Given that this is a durability guaranteed shoe, I thought the weight was appropriate. It didn't feel clunky, but I wouldn't classify it as a lightweight shoe, either."
Ryan felt the BigShot was noticeably lighter than previous models. "The shoe is not bulky at all, unlike some other KSwiss models. I felt very mobile while playing. The material was nice and thin, without sacrificing anything important."
Overall - Score: 4.0
There's no doubt that KSwiss has upped the ante with the BigShot. Though the static weight didn't necessarily correlate with their claims of a "lightweight" shoe, the actual feel of the shoe on court was fast and light. The low to the ground chassis provided stable performance, while being nicely complimented by plush comfort. We found this shoe's fit to work best with a wider than medium width and a low arch. It was the traction, or lack there of, that seemed to be the BigShot's "achilles heel". All in all, the BigShot is a nice offering with many good features, but it needs a little fine tuning to be a home-run.
Likes
Chris "I liked the comfort, cushioning, low to the ground ride, support and overall feel of the shoes."
Granville "The mesh breathes well so they were very "cool" during play. The cosmetic is fairly aggressive for a KSwiss shoe, and offers a nice new look."
Jason "The fit and arch support were great! I also thought comfort and support were above par."
Spencer "The comfort, anti-slip heel, and looks."
Ryan "Excellent comfort, no real break-in period, and very good durability."
Dislikes
Chris "The arch was too low for me, the traction was a disappointing and the durability wasn't great. Although, that last point is taken care of with the guarantee."
Granville "Fit was not right for my feet. Traction was a bit lacking. The wavy shoes laces require some extra effort to get on and off (I can't stand it when that happens). They show the sweat and dirt after a bit of wear."
Jason "The traction left much to be desired. Outsole durability could use some beefing up."
Spencer "The traction was sub-par."
Ryan "The shoe has a wider fit, which requires some adjustment. Before I started lacing the shoes up to the highest hole I would slip around in the shoes during lateral movements."
Comparing the BigShot to other shoes they've worn, our testers said:
Chris "This was a very different shoe compared to other KSwiss shoes I've worn. It felt much lighter and more speed oriented. With a stickier outsole, this would have been right up there with the best from Nike and adidas in terms of court performance. Unfortunately, I could not find the level of grip I get from a Ballistec or Barricade, and that's where this shoe fell short."
Granville "One of my least favorite shoes tested. It's really in a different league compared to other performance shoes in this price range."
Jason "This is like the cooler, hipper, younger brother of the Ultrascendor."
Spencer "The Defier DS with a facelift and tummy tuck. However, in that makeover, there was a loss in traction."
Ryan "I think this is one of the better choices out there for players that want a slightly wider than average performance shoe. I would compare it to the Nike Ballistec series in terms of comfort, and close to most adidas shoes in terms of durability."

Playtester Foot Types:
Chris - Narrow width/low arch
Jason - Medium Width / Medium arch
Granville - Medium Width / Medium arch
Spencer - Medium width/Medium arch


Review date: January 2011. If you found this review interesting or have further questions or comments please contact us.
All content copyright 2011 Tennis Warehouse.