ISOSPEED Black Fire 17 String Review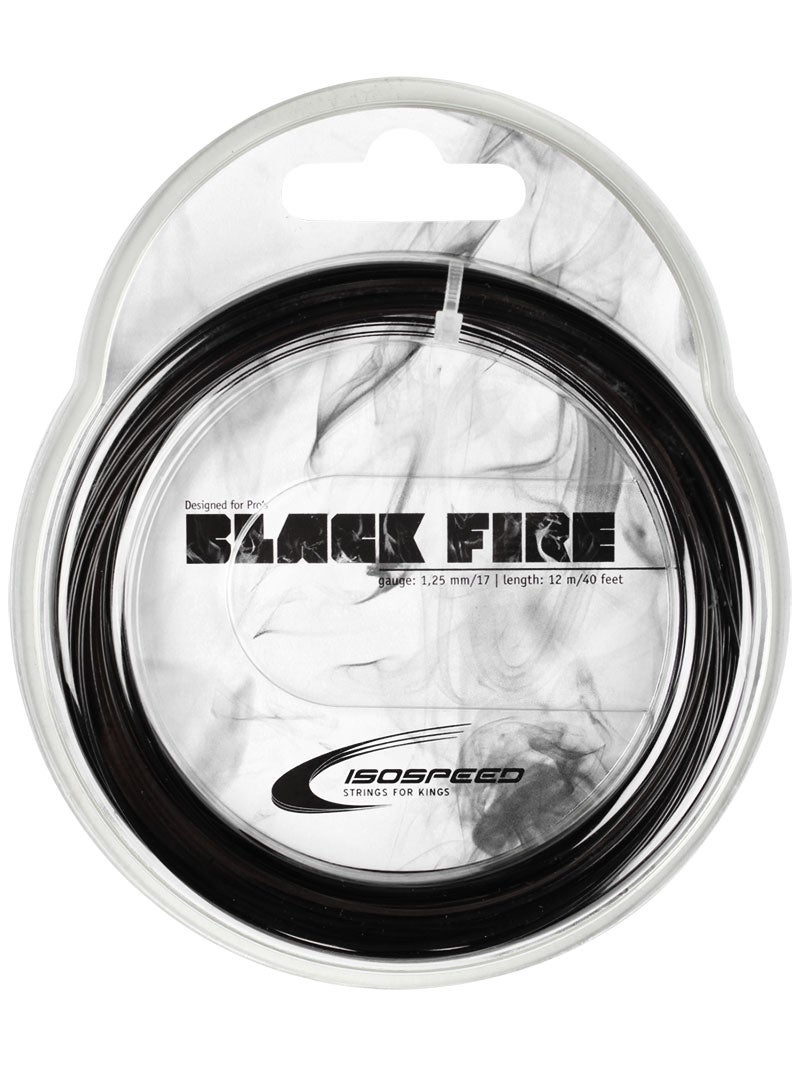 ISOSPEED Black Fire 17 String Scores
Power
33
Spin
74
Comfort
70
Control
95
Touch
82
String Movement
81
Playability Duration
72
Durability
85
Overall
78
Upsides
Durability
Control
Spin
Great value for the price
Downsides
Too firm and underpowered for some
Summary
Isospeed Black Fire is not only a firm and durable monofilament made for big hitters, but it also has an impressive level of shock-absorption for a poly-based string. Over the course of our playtest, however, the surprisingly smooth impact was trumped by this string's tremendous control. Indeed, because the power level was so manageable and the trajectory so predictable, we were able to reach maximum stroke speed without the slightest pause. This resulted in confident targeting, and it allowed us to swing big enough to generate effective spin. Ultimately, for the advanced poly player looking for a significant increase in control without decreasing comfort, Black Fire is well worth a test drive. Did we mention that this is a good option for big hitters?
Power - Score: 33
Judging from our team's comments, it's no wonder that Black Fire received the lowest power score to date. Our biggest hitter, Andy, got quite a workout. He said, "I felt like I had to slug the ball to get it to go anywhere. This is definitely a dead, low-powered string. However, low-powered isn't a bad thing for polys because it lends itself to the kind of control many of the biggest hitters require. I felt like I could be really precise with my shots because the stringbed was very consistent and predictable."
Chris, who puts a full bed of poly in his wood racquet, felt right at home with Black Fire. He said, "This was a low-powered string. It was low on power and high on control even when I dropped the tension. The response suited me just fine. It allowed me to supply the power and take a big cut at the ball. It definitely had the firm feel and low-powered response of a traditional poly, yet it pocketed the ball much better. The power level reminded me of Babolat Revenge when it is strung at low tensions (say 5 lbs below the tension of Black Fire). I'd say Solinco Tour Bite had a similar power level at a similar tension."
Spin - Score: 74
Black Fire allows a player to take huge cuts at the ball, which helps greatly with spin production. However, it isn't shaped and does not have the vicious snapback of an RPM Blast or ALU Power. These facts didn't bother Chris, who said, "I found decent spin from this string. It didn't spit the ball out with nasty spin like some co-polys, but the spin was solid and it was also very predictable. The low power level allowed me to swing aggressively, which also helped me keep my swings fast and allowed for good access to spin. This string worked well in a powerful racquet like a Volkl Organix 7 310 because it offered the firm and relatively dead response needed to utilize the power and spin potential of the racquet. In a lower powered racquet, like the ProStaff 6.0 95 that I used for the majority of the test, it allowed me to swing very aggressively. Even when I was slightly off and not hitting the ball as cleanly as I'd like, I found I was getting enough spin to have the ball hook and stay inside the lines."
Andy was decidedly less enthusiastic about the spin potential. He said, "I felt the spin potential was pretty average for a poly, but because it's so dead feeling I had to use a lot of racquet head speed, which then leads to spin. The ball bite was pretty average; there's good ball feel and pocketing but not as much bite as I get from a shaped poly."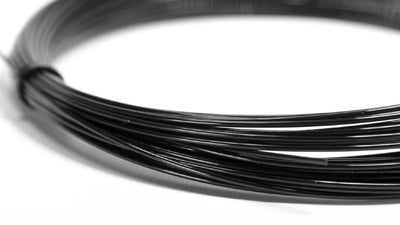 Comfort - Score: 70
Players often have to trade some comfort to get the desired firmness offered by the more control-oriented polys. According to Chris, Black Fire manages to sidestep this trade-off. He said, "Black Fire is somewhat unique on the comfort front. It felt firm, yet it pocketed the ball well. Pocketing without a soft feel is a rare combination, but this string has it. The result was a string that played with a firm and stiff feel when it came to power, but actually had a pretty comfortable response. It played much like a traditional poly in many ways, but I could tell there was something added to the mix to increase the elasticity of the string, and that made it feel more comfortable than I expected. I tried this string in many racquets, and had it close to 60 lbs in more powerful racquets with absolutely no comfort issues. Very impressive considering its firm response."
Andy also noticed the friendlier response. He said, "Though the string feels dead, it is quite soft and comfortable, similar to a Luxilon ALU Power Ice. Though I really had to slug the ball with this string, it's not jarring or painful at all. It's dead but soft, thus comfortable."
Control - Score: 95
One area of absolute agreement between our testers was the outstanding control they got from Black Fire. Andy was impressed, saying, "Even though I like a little more zip in my polys, I can definitely see why Big Foot would put this string in his shopping cart. Let's face it, there is nothing like the feeling that comes with not having to worry about over hitting. Attention stringers: Keep this string in the bag for the customer whose strokes are too long for the court."
Also very impressed with the control was Chris, who said, "By far the best aspect of this string for me was its control. I loved the feel and response. I felt like I could get the ball exactly where I wanted and the response of the string felt very predictable. I was able to swing away and have confidence the ball would stay within the lines. It added a useful level of control to every racquet I tried it in. I found good ball pocketing, which gave the perception of some added dwell time. The result was a high level of confidence on drop shots, touch volleys and topspin lobs. I felt like I could hold the ball well and disguise my passing shots and direction changes during points. I liked the overall feel and response of the string, and that upped the control level even more for me."
Playability Duration - Score: 72
Many of the newer, more elastic co-polys have a short racquet-life because they lose resilience and power too quickly. According to Chris, Black Fire solves this problem by having nothing to lose in the first place. He said, "I have a set in one of my racquets that is three weeks old as I write this, and that puts it well beyond my usual two-week benchmark. I think that because the string is so low powered there isn't much room for it to change in playability. It starts out feeling low powered and as the tension drops out it continues to feel low powered. You should find that you can keep it in your sticks a little longer than other polys."
Andy's experience was closer to what you would expect with a polyester. He said, "The playability duration was pretty standard, about two weeks, for a polyester. After that I lost quite a bit of control as it lost tension."
Overall - Score: 78
What type of player would you recommend this to?
Andy - "This is a nice control-oriented polyester for players with long, fast strokes. You really need to provide your own power with this one, so it's more for the high-level player who really slugs the ball. However, it's a nice option for players who like a dead poly because of the comfort it offers."
Chris - "I like the feel of traditional polys, and this string definitely checks the right boxes when it comes to offering that firm and low powered response. I think Black Fire suits the traditional poly player who is seeking a more comfortable option or a string which will last longer."
Likes
Andy - "I liked the control I received from the strings, along with the soft, comfortable feel."
Chris - "I like the control, the firm feel and the fact I don't have to cut it out every two weeks. This has become one of my go-to strings."
Dislikes
Andy - "I would have liked a little more liveliness and a little more ball grab to add even more spin, but I tend to gravitate toward a little crisper, livelier string."
Chris - "None, really."
Comparing the string to others they've tried, our testers said:
Andy - "It felt similar to Luxilon ALU Power Ice, being soft and dead, but I think this feels even more dead. It's also quite similar to Solinco Revolution."
Chris - "The power level is just a tad lower and the feel not quite as sweet as my usual string, Volkl Cyclone, but this one is very, very close. This string plays like the black Gosen Polylon, but it lasts longer on the playability front and pockets the ball slightly better. However, the playability difference is slight, unlike the price difference, which is a shame. I also think players who like the firm feel of Kirschbaum strings will like this one, although it doesn't offer quite the elasticity of a Pro Line Evolution or Touch Turbo."
Scores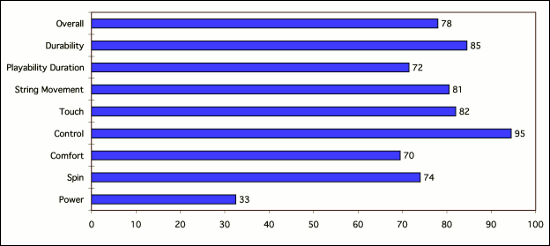 (Scores are determined by averaging individual play test scores)
Andy's Scores
Power
3
Playability Duration
7
Spin
6.5
Durability
7.5
Comfort
7.5
Control
9.3
Touch
7.5
String Movement
8
Overall
7
Chris' Scores
Power
3.5
Playability Duration
7.3
Spin
8.3
Durability
9.4
Comfort
6.4
Control
9.6
Touch
8.9
String Movement
8.1
Overall
8.6
Playtester String Setups
Andy:
Playtest Racquet: Wilson Hyper Pro Staff 6.1
Playtest Tension: 52 lbs.
Typical String: Volkl Cyclone 18
Chris:
Playtest Racquet: Wilson Original Pro Staff 95
Playtest Tension: 55 lbs.
Typical String: Volkl Cyclone 16

Review date: February 2013. If you found this review interesting or have further questions or comments please contact us.
All content copyright 2013 Tennis Warehouse.