Head YouTek Speed Pro Racquet Review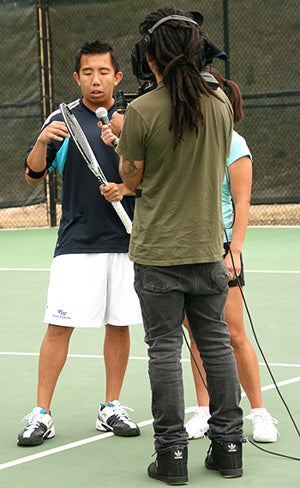 By naming a racquet the Speed Pro, one would expect it to offer a professional level of speed to every swing.
But how fast can a racquet feel when its strung weight is 12.3 ounces and its swingweight measures 345 on the Racquet Diagnostic Center (RDC)?
In the case of the YouTek Speed Pro, it can feel pretty fast. Our testers were able to utilize that racquet head speed for some healthy spin generation. However, stability and plow through* proved to be the name of the game for our testers.
At about this point in the review we were going to mention that this is the current racquet of choice for Novak Djokovic as it features his signature on its beam. However, in the midst of writing this review, Djokovic has switched racquets. After using the Youtek Speed Pro from the beginning of 2009 through Wimbledon, he has since switched to the Youtek Speed Midplus 18/20 for the 2009 US hard court season.
Read on for our full review of the YouTek Speed Pro and see what our testers had to say after a month-long playtest.
* Plow through refers to the ability of a racquet to stay stable and penetrate through the hitting zone at impact. Racquets offering plow through offer greater access to pace, weight and depth of shot. Another benefit is often greater spin potential. Plow through is often associated with heavier racquets.
Groundstrokes - Score: 81
The Head Youtek Speed Pro rated highly with our playtesters at the baseline. The weight and stiffness made "plow through" the reoccurring theme with our testers. Chris felt he could really hit through the ball. "This was a very solid and crisp racquet off the ground. It had a firm feel, which had me feeling very connected to my shots. The plow through was excellent. I could really feel the weight and stiffness of this racquet pushing through the ball. My shots had both pace and depth, and I was able to get plenty of weight on my shots. I was able to hit plenty of spin with this stick, which helped me stay aggressive when I had to get the approach shots up and over the net quickly. This one wasn't quite as whippy as the Youtek Speed Midplus sticks when I had to deal with shots hit deep to my feet, but it was still pretty fast for a racquet weighing 12.3 ounces."
Enjoying the specs of the racquet was Spencer. "This racquet was extremely solid from the baseline. The plow through was nice. Being able to swing smoothly with good control was a huge plus. I was particularly fond of the 98 square inch head size. The forgiveness and stability helped me get away with some off-center shots where a lighter, less stable racquet, or smaller headed racquet, would have penalized me. The 16/19 string pattern (in addition to the wider head shape) helped me produce plenty of spin. I also liked the grip shape, as it was squarer than the usual more rectangular shape Head racquets are known for. As much as I liked how well it performed from the baseline, it's still a lot of racquet to swing."
Jason used the heft of the racquet to his advantage. "I really enjoyed this racquet off the ground. It did take me a while to get used to the weight and swingweight, but once I did, I was able to really take advantage of the great plow through this racquet provided. I found myself hitting shots with tons of pace and spin, and landing them deep and close to the baseline. With the heft of this stick, I was able to be aggressive and offensive with my game, which I love. I've been working on my slice as of late, and I loved this racquet for it, even more so than my own stick. I'd say the only drawback for me were the shots where I had to use a lot of wrist to try to pick up shots near my feet. In those instances, the racquet felt sluggish."
Danny found the racquet to be a good fit. "This racquet was surprisingly powerful from the baseline. It had good plow through due to the heavy weight and stiff RDC rating. I usually prefer a racquet to be slightly more flexible, but it still worked out well for my game. I had good control, consistency and accuracy from the baseline with this stick. Thumbs up for me!"
Volleys - Score: 79
For the most part, our TW playtesters really enjoyed the Head Youtek Speed Pro up at net. The weight made this stick an asset on our volleys. Trying to find his groove at net was Jason. "The weight of this racquet was great for neutralizing hard hit shots and putting away sitters. I was struggling with getting the racquet where it needed to be on the reaction volleys. I need all the help I can get up at net, and I was wishing for a more maneuverable stick on most occasions."
Danny felt comfortable at net. "This was a great racquet for volleys. I was surprised by how consistent I was with the Youtek Speed Pro. I think that I was more impressed with the stick I was getting on my volleys than the amount of feel. If you want a crisp feeling stick at the net, this is the one." Thrilled with the stability was Chris. "This racquet really was rock solid at net. The stability at impact was exceptional. I was able to get a lot of stick behind the ball and punch volleys deep with pace. I continued to find that same crisp feel I found at the baseline, which had me feeling well-connected to the direction and depth of my shots."
Spencer was in agreement. "I liked the Youtek Speed Pro at net for many of the same reasons I liked it at the baseline. First and foremost, the stability was excellent. This stick handled hard paced shots very well, as it didn't get pushed around. I also liked the rounder head shape. It seemed to open up the sweetspot, making it wider, which seemed to work for me."
Serves - Score: 79
Our team loved the added power and access to spin they found when serving with the Head Youtek Speed Pro. Danny was serving like a pro. "The 12.3 oz weight made it harder to get up to speed when serving, however, when I did get that racquet head moving I was serving like a pro. Again, the plow through with this racquet was noticeable."
Spencer was able to impart tons of spin on serve. "One thing I like about player's sticks is how they come through the ball when serving. The Youtek Speed Pro is no exception. The mass of the racquet helps produce a heavier ball. If I focused on a smooth swing, letting the weight of the stick do a lot of the work, the result was a ball that was harder to handle. It had more action on it." Chris also found some good kick on serves. "This racquet offered some heft, but once I got it moving I was getting lots of pace. As with other shots, I was hitting a penetrating ball on serve. I was getting enough bite from the stringbed to find some added lift on spin serves. I was also finding plenty of stability and consistency on serve. The thing that stood out for me the most was my ability to stay aggressive and still be confident when serving with this stick, even in tight situations."
Jason found some added pop on his serves. "Unlike some of our big hitting playtesters who have a cannon for an arm, I love any racquet that can help me add some MPHs to my serve. I felt that this racquet gave me that extra pop. Slicing the ball with this racquet produced tons of spin, especially when we put in a co-poly. But more importantly, I felt a level of consistency that put me at ease every time I stepped up to the baseline."
Serve Returns - Score: 79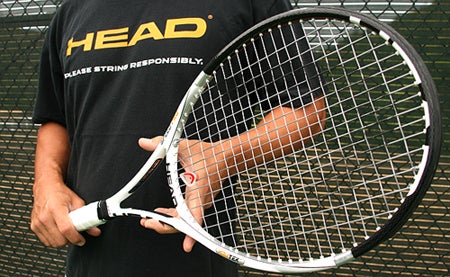 Whether our TW playtesters were looking to play aggressively or needed to react defensively, the Head Youtek Speed Pro met the challenge on service returns. Having success with his returns was Spencer. "Short and compact swings with this racquet produced effective, deep returns. I'm not normally a big fan of returning with a heavier stick, but I enjoyed it with the Youtek Speed Pro. I loved the solid feel I was getting."
Jason found some solid results on returns. "I was pleasantly surprised with the success I had from simply blocking back shots with this racquet. It was stable on the big serves and put the ball deep enough that my opponent wasn't able to come in and hit a winner. I expected solid results when taking a rip at returns, and it didn't disappoint. In my concerted effort to work on my slice, this racquet felt like an asset. The weight made it really easy to knife the ball." Danny was left looking for a softer response on returns. "I didn't like the stiff feel on service returns as much as I did with the other parts of my game. I didn't have any accuracy or consistency problems with my service returns, I just didn't like the stiffer feel."
Mixing up his returns was Chris. "I found excellent power and control when being aggressive and when just blocking the ball back. The only times I had trouble was when the serve came in differently than anticipated. This wasn't the easiest stick to maneuver quickly, and I found it tough to make those last second adjustments."
Overall - Score: 79
The Head Youtek Speed Pro departs from HEAD's traditional player's style of racquet like the Prestige by offering a stiffer beam and a rounder head shape. There's no doubt this new direction impressed our playtesters. As with most player's racquets, a level of skill and technique is needed to successfully utilize the Youtek Speed Pro. However, as we found out, this racquet can be quite rewarding. Plow through was the main storyline here, as the racquet was impressively stable from all areas of the court. The open string pattern (16x19) allowed our testers to impart tons of spin on the ball, making shots heavy and penetrating. The solid and stable response made this racquet well suited to volleying. Putting away easy volleys and nullifying the big passing shots was accomplished with ease. The Youtek Speed Pro is well worth a demo for intermediate through advanced level players. Those with the skill to handle this player's racquet will find a crisp feeling stick with a nice blend of power and control.
The "Likes" of the racquet.
Chris "I liked the plow through, power, control and consistency. I was also impressed by the amount of spin I could generate with this stick."

Spencer "The plow through, solid feel, head shape and head size."

Jason "I personally prefer a stiffer racquet, and this stick meets that mold. I loved the feel, the access to spin and the plow through."

Danny "I probably liked the plow through the most. I was surprised to see how much power I could get with the Youtek Pro. Besides the plow through, I would have to say that I liked this racquet the most for volleys."
The "Dislikes" of the racquet.
Chris "A tad tough to get it moving on pick-ups around my feet, both from the baseline and at net. I also had some trouble on returns when the serve didn't come off the court as expected."

Spencer "The weight is heavier than I prefer, but what can I say? It's a players stick."

Jason "Took some time to get used to the weight. Would've liked it to be more maneuverable and whippy."

Danny "If I could change anything, I would change the stiffness. The Youtek Pro has a noticeably stiff feel to it. Some players look for that type of feel, and if you are one of those players I think this racquet would be great for you."
Technical Specifications

Length
27 inches
69 centimeters
Head Size
98 square inches
613 square centimeters
Weight
12.3 ounces
349 grams
Balance Point
12.4 inches
31 centimeters
8.8pts Head Light
Construction
18mm Straight Beam
Composition
Graphite/D30
String Pattern
16 Mains / 19 Crosses

Babolat RDC Ratings

Score

Grade

Flex Rating
70
Range: 0-100
Swing Weight
345
Range: 200-400
Head Youtek Speed Pro Scores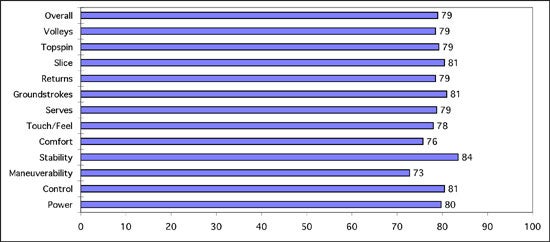 (Scores are determined by averaging individual play test scores)
Chris' Scores
Power
7.8
Serves
7.7
Control
7.9
Groundstrokes
7.8
Maneuverability
7.2
Returns
7.5
Stability
8.4
Slice
7.9
Comfort
7.7
Topspin
7.9
Touch/Feel
7.8
Volleys
8
Overall
7.8

Jason's Scores
Power
8.1
Serves
7.5
Control
8.3
Groundstrokes
7.9
Maneuverability
7.1
Returns
7.8
Stability
8.5
Slice
7.7
Comfort
7.6
Topspin
7.4
Touch/Feel
7.7
Volleys
7.9
Overall
7.5

Danny's Scores
Power
7.7
Serves
7.5
Control
8
Groundstrokes
7.9
Maneuverability
7.6
Returns
7.8
Stability
8.1
Slice
7.7
Comfort
7.2
Topspin
7.4
Touch/Feel
7.7
Volleys
7.9
Overall
7.5

Spencer's Scores
Power
8.3
Serves
8.3
Control
8
Groundstrokes
8.3
Maneuverability
7.2
Returns
8.1
Stability
8.4
Slice
8.6
Comfort
7.8
Topspin
8.2
Touch/Feel
8
Volleys
8.2
Overall
8.3
Playtester Profiles

Chris
5.0 All court player currently using the Becker Pro. Chris uses a full-western forehand grip, has a fast swing style and hits a one-handed backhand.
Spencer
4.5 Baseline player currently using a Wilson K-Blade Tour. Spencer uses a semi-western forehand grip, and hits with a one-handed backhand.
Danny
Open baseline player currently using a Wilson K Factor [K]Tour. Danny uses a semi-western forehand grip, a two-handed backhand and has a long swing style.
Jason
4.0 baseliner currently using a Wilson K Blade Tour. Jason has a fairly aggressive semi-western topspin forehand and hits a one-handed backhand

Review date: July 2009. If you found this review interesting or have further questions or comments please contact us.
All content copyright 2009 Tennis Warehouse.