Head YOUTEK Prestige Mid Racquet Review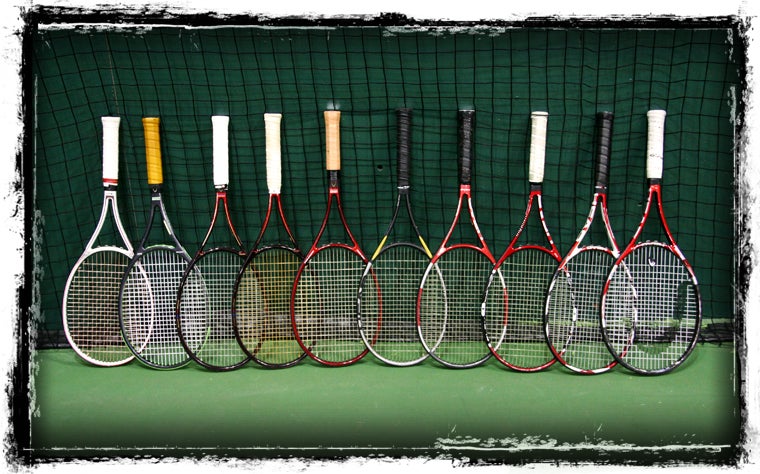 When getting ready for this review we managed to gather 10 different versions of the HEAD Prestige. The oldest stick of the bunch, a TXP Pro, had its grommets fail during stringing. No problem, we just grabbed a set of CAP grommets from a MicroGEL Prestige Mid, and we were good to go.
So close has the Prestige stayed to its roots that the grommet sets will fit right onto the original. That's right — the headsize, the shape, the drill pattern and the beam have all remained true to form throughout the Prestige's evolution. That kind of consistency can't be found in many racquet lines, and few have endured like the Prestige.
To see how the latest Prestige Mid measured up, we hit the courts for a month-long test of the Youtek Prestige Mid.
Groundstrokes - Score: 77
The dense 18x20 string pattern combined with the 93 square inch head to make this a very control-oriented -- if somewhat demanding – racquet for our testers. One tester was also impressed by the stability of the Youtek Prestige Mid. "I found a solid feel off the ground with this racquet," said Chris. "The amount of spin and control I was finding reminded me of the Prestige Classic 600. If it was missing anything, it was maybe just a tad underpowered compared to the Classic. I hit this one side by side with 10 different versions of the Prestige. Although the feel was unique to each, what I could do with the ball remained remarkably similar from the baseline. I liked working the ball around the court and picking my targets. The more I went after the ball, the better the racquet felt. It was the most control-oriented of the three Youtek Prestiges, and rewarded me the most when I was really on it. All in all, I felt very connected to my shots."
Danny said, "The headsize on this puppy felt very small and low powered. It felt like a great racquet for someone looking for one of the most control-oriented racquets out there. For me, it was a little jarring outside of the sweetspot. It didn't have the plow-through of something like a Wilson KSix-One Tour 90. Compared to the previous version, I didn't find much difference except for a more dampened feel. My shots were falling shorter than normal due to the low power. I was able to make the adjustment and hit decently with the Mid, but my biggest issue was how the racquet felt outside of the sweetspot."
Spencer also struggled with the demanding nature of the racquet, saying, "I had a difficult time dialing this one in. Though the headsize is a 'massive' 93 square inches, it felt much smaller. The sweetspot on this racquet felt very limited. I had many balls contacting the stringbed just outside of that limited sweetspot, and the results showed with shots hitting the net or landing very short in the opponent's court. I was also disappointed in the lack of plow-through. I expected a player's stick, especially one of this particular heritage, to have a bit more oomph when coming through the ball. I had a tough time getting into any kind of groove with this stick."
"Groundstrokes with the new Prestige Mid were a delight," said Granville. "I was reminded that the racquet weighs considerably more than the ball on every swing. I could feel the ball flattening out on the strings, with excellent feel and control. My shots were landing a bit short, and a small adjustment was in order. Lastly, I struggled a bit on high backhands due to the tight feeling sweetspot and added weight."
Volleys - Score: 80
The feel and control our testers found from the Youtek Prestige Mid came to the forefront at net. Spencer felt in control of his volleys. He said, "The touch at net with this stick was very good. The feel is excellent when going for an angle volley or bleeding some pace off the ball to neatly drop one just over the net. However, the margin of error is small so put-away punch shots must be more precise."
Granville was ready for surgery with the Youtek Prestige Mid, saying, "Oh yeah, the scalpel has arrived! That flattening of the ball remains evident on the volleys and gave me the sense I could place the ball on a dime anywhere on the court. The enhanced sense of control was immediately evident. The head light balance just accentuated the control with added maneuverability."
"At the net is where I liked the Mid the most," said Danny. "I was able to stick and swing at my volleys more than normal, which was a good and bad thing - good for this model, but a bad habit to develop. I found the touch to be the best with the Mid compared to the other two Youtek Prestiges due to its low power."
Chris was also in control of his net game with the Youtek Prestige Mid. He said, "I loved the placement I was getting at net. I played a lot of singles and doubles during the test and felt confident with this racquet. When punching the ball deep I was finding excellent depth control. I was able to be really aggressive, yet also found the touch needed for drop volleys and angles."
Serves - Score: 76
Our testers found a slight lack of power marred an otherwise impressive offering on serve. Granville found serving to be a slight challenge, saying, "OK, this is where the real work began. I still need some time to adjust to the smaller headsize. It offered a very nice and tight sweetspot, but I really had to focus on keeping the racquet speed up. Only on my best serves could I feel the shaft flexing. I just don't hit big enough to take full advantage of this true player's spec racquet."
Danny said, "I found this a very tough racquet to serve with. I had a really hard time finding the range, and I was dumping my serve into the net. For me, it was one of the hardest racquets I've served with in a while. It wasn't a hard racquet to swing, but the power level felt low, and the sweetspot was so small that my precision had to be spot on."
Chris would have liked more pop on serve, saying, "I served OK with this racquet. I don't know why, as the spec is so close, but I was serving better with the Prestige Classic 600 or the even older Prestige Pro 600. My serves didn't quite have the zing to them with this version. I was still serving with good consistency and placement, it just felt like I was missing a little off the top end."
"I didn't feel I could get a whole lot on the ball when serving -- either with velocity or spin," said Spencer. "I didn't feel I was serving lollipops per se, but I didn't feel my serves were as effective as usual."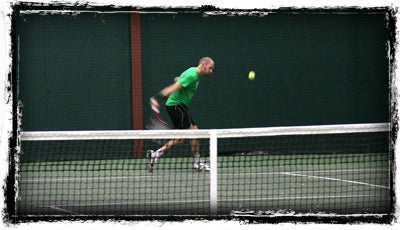 Serve Returns - Score: 76
The Youtek Prestige Mid proved to be a demanding racquet for our testers when returning serve. Finding the best results was Chris. He said, "I liked the blend of power and control I found on returns. When driving the ball, I used the mass of the racquet for depth and power. The mid head offered ample feel and control. Outside the sweetspot, things weren't forgiving, so with that in mind, I did my best to stay on it."
"When planted, with my weight moving forward, the racquet did much of the work for me," said Granville. "Short swings could suffice and a more volley-like return worked best -- at least until I get my body in shape to play with this racquet."
Danny continued to find the Mid the most demanding of the three Prestige models, saying, "I don't want to sound like a broken record, but the Mid was my least favorite of the Youtek Prestiges when returning serves. High kick serves to my backhand were tough for me due to the low power. I was able to get away with it on my forehand, just not on my backhand."
"I didn't find much effectiveness with returns," said Spencer. "If the ball didn't find the sweetspot then the loss of power left my shots very short, and I was very disadvantaged at the start of the point."
Overall - Score: 78
As expected, our testers found the Youtek Prestige Mid to be the most demanding of the three new Prestige offerings. The demanding feel of a 93 square inch headsize combined with a tight 18x20 string pattern seemed to be exacerbated by a tight and small feeling sweetspot. All our testers found precise hitting was required with this one -- more so than with some of the previous versions. When on the sweetspot, however, our testers found excellent feel, control and decent pace off the stringbed. The mass of this racquet favors those who take a solid cut at the ball, yet it also offers a high level of stability and feel on softer hit touch shots. As far as the specifications go, this latest version of the Prestige stays very close to its roots, so users of previous models should not have too many surprises making the switch. The feel from this one, though, is unique. We recommend you take it for a demo to see how it works for your game.
Likes
Chris "I liked the feel and control, as well as the power level. Another solid addition to the Prestige line."
Danny "I liked the Mid the most when at the net."
Spencer "The specs and feel in the hand."
Granville "The feel when struck properly puts a smile on my face and reminds me of some other player's sticks with that X-factor. Truly a niche racquet of the highest order. I thought it had a vastly improved grip shape - the older grip shape was a reason not to play HEAD racquets for me."
Dislikes
Chris "I had to work a tad harder on serves. It wasn't much, but serves weren't as effortless as with the Prestige Classic 600."
Danny "I didn't like the low power level that the Youtek Prestige Mid offered. I would like to try the 93 in a 16X19 pattern."
Spencer "The lack of power and tiny sweetspot."
Granville "Just requires me to be in my best shape to really play with it. Not for the meek. Unless I am committed to a tournament schedule, I will need to look at the other versions for a better fit to my current stage of play."
Technical Specifications

Length
27 inches
69 centimeters
Head Size
93 square inches
600 square centimeters
Weight
12.2 ounces
346 grams
Balance Point
12.625 inches
32 centimeters
7pts Head Light
Construction
19mm Straight Beam
Composition
Graphite/d3o
String Pattern
18 Mains / 20 Crosses

Babolat RDC Ratings

Score
Grade
Flex Rating
63
Range: 0-100
Swing Weight
328
Range: 200-400
Head YOUTEK Prestige Mid Scores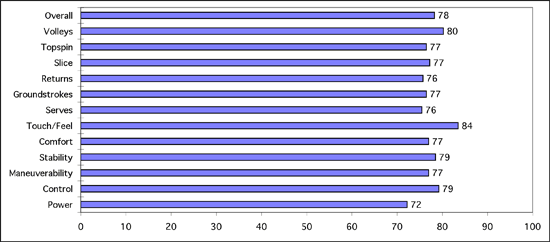 (Scores are determined by averaging individual play test scores)
Chris' Scores
Power
7.7
Serves
7.7
Control
8.1
Groundstrokes
7.8
Maneuverability
7.8
Returns
7.9
Stability
8
Slice
8
Comfort
7.8
Topspin
7.8
Touch/Feel
8
Volleys
8
Overall
7.8
Danny's Scores
Power
7.4
Serves
7.2
Control
7.3
Groundstrokes
7.6
Maneuverability
7.8
Returns
7.7
Stability
7.6
Slice
7.3
Comfort
7.5
Topspin
7.2
Touch/Feel
7.9
Volleys
7.7
Overall
7.5
Granville's Scores
Power
6.9
Serves
8.3
Control
8.3
Groundstrokes
8
Maneuverability
8
Returns
7.8
Stability
8.3
Slice
7.8
Comfort
8.3
Topspin
8
Touch/Feel
9
Volleys
8.5
Overall
8.3
Spencer's Scores
Power
6.9
Serves
7
Control
8
Groundstrokes
7.2
Maneuverability
7.2
Returns
6.9
Stability
7.5
Slice
7.8
Comfort
7.2
Topspin
7.6
Touch/Feel
8.5
Volleys
7.9
Overall
7.7
Playtester Profiles
Chris: 5.0 All court player currently using the Volkl Power Bridge 10 Mid. Chris uses a full-western forehand grip, has a fast swing style and hits a two-handed backhand.
Danny: Open baseline player currently using a Volkl Power Bridge 10 Mid. Danny uses a semi-western forehand grip, a two-handed backhand and has a long swing style.
Granville: 5.5 all-court player currently using a Wilson K Factor Six-One Tour 95. Granville is an aggressive player who uses an eastern forehand grip and goes continental on everything else, hits with a flat swing and a one-handed backhand.
Spencer: 4.5 Baseline player currently using a Wilson K-Blade Tour. Spencer uses a semi-western forehand grip, and hits with a one-handed backhand.

Review date: January 2010. If you found this review interesting or have further questions or comments please contact us.
All content copyright 2010 Tennis Warehouse.