Head YOUTEK IG Prestige S Racquet Review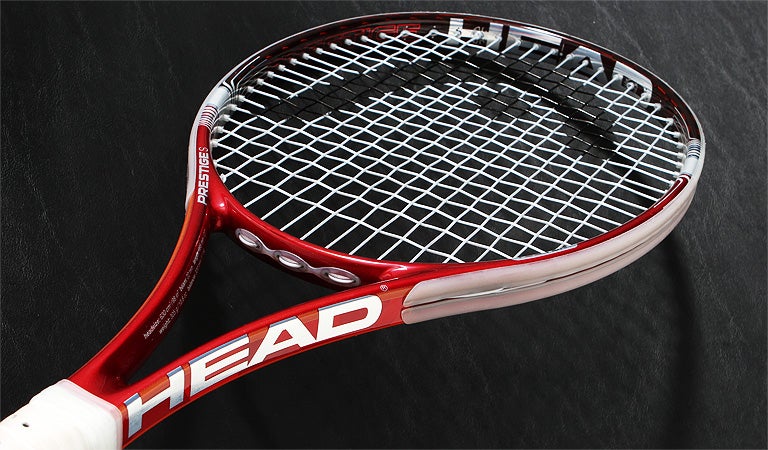 Head Youtek IG Prestige S Scores
Comfort
79
Touch/Feel
79
Serves
79
Groundstrokes
79
Returns
80
Slice
81
Topspin
83
Volleys
80
Overall
79
Upsides
Access to spin
Feel
Forgiving response
Downsides
Doesn't have Prestige-like plow through
Summary
Head introduces an all new racquet to the Prestige line with the Youtek IG Prestige S. Exceptionally light and fast for a Prestige, the Prestige S proved to be both spin-friendly and forgiving. But what about the Prestige feel? While this racquet lacks the mass to plow through the ball in typical Prestige fashion, it does offer a very precise and control-oriented feel. After a month-long test our team agreed that this racquet was worthy of the Prestige name. The comfort and mobility were impressive from all areas of the court. This is a great option for the player looking to step up to a Prestige like racquet, as well as for players who find the heavier Prestige models a little too demanding. This one offers feel and control without the heft. Stronger players will also find this a great platform racquet for weight and balance customization. However, as you'll soon discover, our team liked it just fine in stock form.
Groundstrokes - Score: 79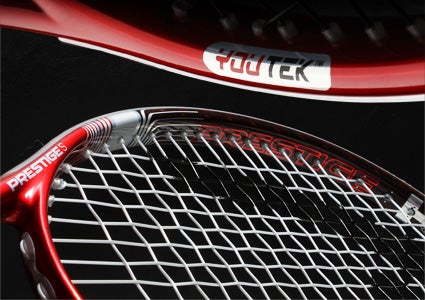 From the baseline, our testers found the Prestige S to offer a fast feel. Finding he could hit groundstrokes with ease was Chris. He said, "This was a very light and fast-feeling Prestige. While the specs are un-Prestige-like, Head has managed to dial in some Prestige-like feel into this racquet. The response is smooth and plush, and the sweetspot felt very forgiving. This was a very easy racquet to use, and I didn't feel like I made any sacrifices in precision for that added user-friendliness. Spin was very easy to get both on topspin and slice groundstrokes. I was moving the ball around very well and playing some solid and consistent tennis. At the end of the day, I'd be looking to add some lead tape to increase mass and plow through, but apart from that, this was an impressive racquet."
Spencer agreed, saying, "I really enjoyed the ease of swing from the baseline. On forehands and backhands, both slice and topspin were very controllable, and I had great control with direction. Spin was easy to come by with the combination of the low swingweight and generously open string pattern. I had issues with this stick from the baseline when hitting shots in defensive positions or on the run. There was no extra oomph with this racquet. If I couldn't get my body behind my shots they would end up very short and compromising. I noticed this the most when trying to hit a running cross court forehand."
Noting the comfort and solid feel was Jason. He said, "I was comfortable with this racquet from the very first hit. It didn't matter what type of string I had in there, I just really enjoyed the solid feedback. For the record, I did prefer a poly (no surprise there). Strung at a couple pounds below mid, the ball pocketing was great and I was hitting my shots with great depth. It was easy enough to swing from both wings, but it was especially whippy on the forehand side. I was surprised at some of the angles I was able to pull off when pulled off the court. That was a plus for a racquet only a few points head light. For some reason, and it's most likely user error, I was having some trouble finding the touch I needed to hit a good drop shot, and they tended to sail a bit on me."
Brittany had to adjust to the weight. She said, "I had a bit of an adjustment period moving to this racquet from the lighter racquets I am used to. I had a hard time creating racquet head speed with this racquet, but found success when I took shorter, more compact swings. In addition, I wasn't able to create a lot of power but was able to return pace with ease. Slice was great with this racquet. The mass of the racquet allowed the ball to stay low to the ground."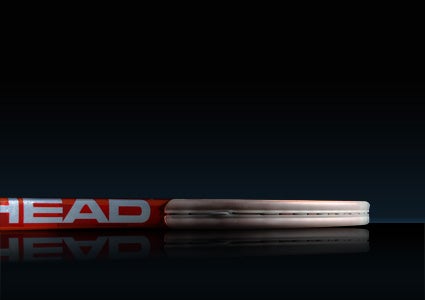 Volleys - Score: 80
At net, this stick offered excellent mobility and a comfortable response. "My favorite shot to hit with this racquet was the volley," said Brittany. "It felt exceptionally stable at net. I loved this racquet in doubles because I could punch my volleys with a lot of control, whether I was in a defensive or offensive position. The feel was exceptional on angle and touch volleys as well."
Chris noted the comfort and forgiving stringbed, saying, "Being very maneuverable, this racquet was easy to use at net. I found it very quick and easy to position, and the comfort impressed me at contact. The sweetspot was big, and the racquet just felt very forgiving. Again, a little bit of weight would have helped me get some additional snap, but otherwise this one played great."
Spencer liked the maneuverability, but wanted more mass. He said, "Again, the fast feel and easy maneuverability made it easy to position the racquet. But the fast feel came at a price, especially when volleying hard-hit passing attempts. The lack of mass was evident when hitting slightly off center, as there was noticeable torsional twisting."
Jason had success when sticking to the basics. He said, "As long as I didn't try to do too much, I found success. I made a conscious effort to try to keep my volleys as compact as possible, and it worked out well for the most part. Stability was solid throughout, even when I was stretched out wide and the ball hit around the perimeter of the stringbed. As for overheads, they were easy to hit because of the great maneuverability."
Serves - Score: 79
Everyone enjoyed the control and spin they found on serve, though for some, pace was lacking. Jason found plenty of consistency. He said, "For some reason, I couldn't get the power I was finding on my groundstrokes to carry over to my serves. But don't get me wrong, I still really enjoyed serving with it. My main focus when serving is always consistency, and I felt like I could achieve it because the racquet didn't drag through the contact point. Duplicating the service motion and timing was easy. I like that."
Also finding consistency was Chris. He added, "One of my favorite shots with this racquet was the serve. I enjoyed the easy access to spin and found some nice pace. While I wasn't going to blow anyone away with a really heavy serve -- but I seldom do -- I thought the consistency I had with this racquet more than made up for it slightly lacking some mass."
Brittany had to make adjustments because of the weight. She said, "I had to put a lot of effort in to hitting first serves. I found my arm would get tired after a set of singles hitting flat first serves. I was able to take a little pace off my first serve and focus on hitting more heavy, spin-oriented first and second serves."
Not finding his usual pace and penetration on serve, Spencer said, "I enjoyed the control and spin, which gave me confidence in going for my spots. Again, the lack of mass and frame stiffness didn't give me the added pace I was hoping for."
Serve Returns - Score: 80
The fast feel of the Youtek IG Prestige S allowed most of our testers, including Spencer, to hit a variety of returns. He said, "I really loved the mobility when returning. I was never late on shots and felt I could hit a variety of returns. The downside to returning was the lack of penetration. Even when I took a healthy cut at the ball, it wasn't going through the court as much as it would if I hit it with a stick that had more mass. That said, overall, I liked the consistency."
Chris was able take the offensive on returns. He said, "Light, fast and just solid enough to get the job done, this was a fun racquet to return with. I found I could be very aggressive and still find my targets. I really enjoyed returning with it in doubles, as I found it easy to hit angles or mix in pace when needed."
Brittany had to adjust her timing due to the weight. She said, "Similar to groundstrokes, I had to adjust my strokes to find consistent returns. I ended up taking a step back and taking an even shorter backswing than normal. I enjoyed returning serves that came at me with more pace as the racquet felt extremely stable."
Finding good depth was Jason. He said, "I loved returning with the Prestige S. Strung with a polyester, I was able to get some good depth on my returns. That open string pattern certainly helped generate enough spin, so even when the ball wasn't struck cleanly it would still land in. When I had to block back shots, which was mostly on my backhand side, there was enough mass in the hoop to push the return deep."
Overall - Score: 79
Likes
Chris - "I liked the access to spin, the forgiving response, the large sweetspot and the maneuverability."
Brittany - "I liked the stability on my volleys and slice."
Spencer - "The ease of mobility and the racquet head speed."
Jason - "The combination of spin, power, control and feel, but probably the biggest joy is the fact that I can actually play with a racquet with the word 'Prestige' printed on it."
Dislikes
Chris - "It seems odd to me to have a more demanding Radical than a Prestige, but such is the case if you compare the new Radical Pro and this new Prestige S. This is a unique offering from Head and one that shouldn't be overlooked."
Brittany - "I struggled with maneuverability on my serves and groundstrokes."
Spencer - "The lack of power and penetration."
Jason - "Not much. I'd prefer the balance to be just a bit more head light."
Technical Specifications

Length
27 inches
69 centimeters
Head Size
98 square inches
632 square centimeters
Weight
11.4 ounces
323 grams
Balance Point
13.125 inches
33 centimeters
3pts Head Light
Construction
22mm Straight Beam
Composition
d30 / Innegra / Graphite
String Pattern
16 Mains / 19 Crosses

Babolat RDC Ratings

Score

Grade

Flex Rating
63
Range: 0-100
Swing Weight
315
Range: 200-400
Scores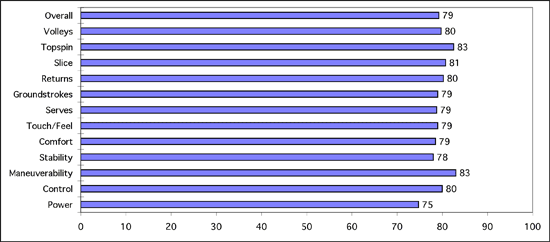 (Scores are determined by averaging individual play test scores)
Chris's Scores
Power
7.9
Serves
8.3
Control
8
Groundstrokes
8
Maneuverability
8.6
Returns
8.3
Stability
7.8
Slice
8.2
Comfort
8.3
Topspin
8.4
Touch/Feel
8
Volleys
7.8
Overall
8
Brittany's Scores
Power
7.2
Serves
7.3
Control
7.8
Groundstrokes
7.3
Maneuverability
7.1
Returns
7.4
Stability
8.2
Slice
8.1
Comfort
7.3
Topspin
7.8
Touch/Feel
8.1
Volleys
8.3
Overall
7.7
Jason's Scores
Power
7.8
Serves
8.4
Control
8
Groundstrokes
8.5
Maneuverability
8.8
Returns
8.4
Stability
8.2
Slice
8
Comfort
8
Topspin
8.5
Touch/Feel
7.7
Volleys
8
Overall
8.3
Spencer's Scores
Power
7
Serves
7.5
Control
8.2
Groundstrokes
7.8
Maneuverability
8.7
Returns
8
Stability
7
Slice
8
Comfort
7.8
Topspin
8.3
Touch/Feel
7.8
Volleys
7.8
Overall
7.7
Playtester Profiles
Chris: 5.0 all court player currently using the Volkl Power Bridge 10 Mid. Chris uses a full-western forehand grip, has a fast swing style and hits a one-handed backhand.
Brittany: Open level player with a semi-western forehand and a two handed backhand. She currently plays with the Yonex V-Core 100S.
Jason: 4.0 baseliner with a semi-western forehand and two handed backhand. Currently using a Boris Becker Delta Core London.
Spencer: 4.5 baseline player currently using the Prince EXO3 Tour 100 16x18. Spencer uses a semi-western forehand grip, and hits with a one-handed backhand.

Review date: December 2011. If you found this review interesting or have further questions or comments please contact us.
All content copyright 2011 Tennis Warehouse.