Head Youtek IG Radical Pro Racquet Review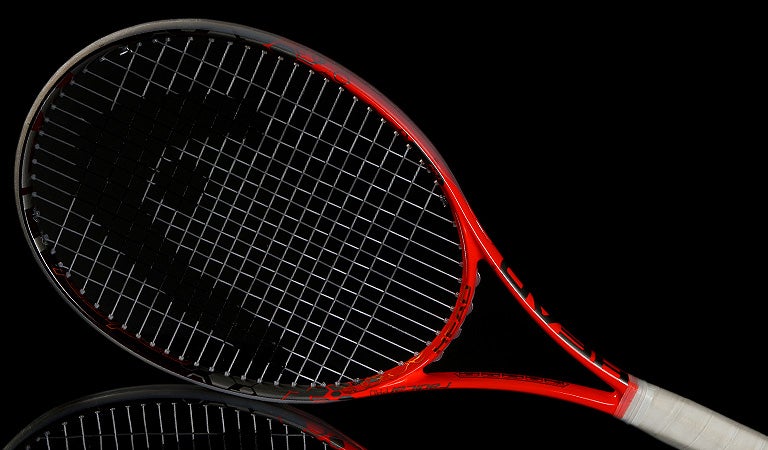 Head Youtek IG Radical Pro Scores
Comfort
83
Touch/Feel
82
Serves
83
Groundstrokes
78
Returns
79
Slice
77
Topspin
82
Volleys
83
Overall
81
Upsides
Power
Spin
Plow Through
Stability
Comfort
Downsides
Nothing we could agree on
Summary
Packing some major fire power and plow through, this latest Radical Pro is a serious player's racquet. The characteristics of the Youtek IG Radical Pro would seem to make it the perfect choice for ATP player Andy Murray. The addition of CAP grommets has added some useful mass to the head, and our testers were very impressed by its stability. From the baseline to the net, our testers found it easy to generate depth and pace, with the generous swingweight helping to push the ball deep. Spin also came easily, thanks to the open string pattern. Providing power when needed and ample stability to assist with touch and feel, this versatile racquet is the perfect complement to a creative game style such as Murray's. Our testers all agreed that the large and generous sweetspot made the Youtek IG Radical Pro feel both comfortable and forgiving. Those of you who are used to a more traditional head light balance might want to consider tail weighting this frame, but even in stock form our testers found ample maneuverability. With crushing power, great spin, ample comfort and a solid and stable feel, the Youtek IG Radical Pro provides everything the creative player needs to control the court.
Groundstrokes - Score: 78
Power and depth came easy with the IG Radical Pro, catching most of our testers by surprise. Chris enjoyed the power he found with the racquet. He said, "I found a lot of easy power with this racquet from the baseline. It really encouraged me to be creative because I didn't have to work to get the ball deep. With pace and depth taken care of, I could focus on moving the ball around and being the biggest pain in the rump for my opponent. This racquet swung with a lot of mass, and it felt like there was plenty of mass up in the hoop. While I really liked the results of all that mass, I would actually add more weight to the grip to make it more head light -- just so the balance felt more to my liking. When swinging the racquet, the swingweight felt spot on. With easy access to spin and pace, I could really crush the ball when I wanted or just sit back and rally."
Spencer found much more power than anticipated. He said, "Though the racquet only weighed in around 11.5 ounces strung, it felt pretty beefy. I'm sure the balance and swingweight had a say in that. I was surprised with the power and plow through of this racquet. The open string pattern and heft helped create a heavy ball on groundies. Finding depth off both wings was rather easy -- maybe even too easy. I had to adjust to the lively feel and power, toning it down to find the range. Once I got used to it, I really enjoyed the solid feel and how the ball reacted off the stringbed."
Sean needed time to adjust to the power and flex. "Adjusting to this flexible frame was by far the hardest transition I've had to make to date," said Sean. "After having to re-time my groundstrokes, especially my wristy forehand, I found this racquet to play pretty well from the baseline. I was able to control my backhands well on both cross-court and down-the-line shots, with both slice and topspin. My forehand had all sorts of issues, unfortunately. If I failed to catch my forehand at the perfect contact point the ball was hitting the fence, which happened too often with my open stance shots. On the upside, everything seemed to sail extremely deep into the court without much effort, which made it easy to move forward into the court and take control of the net."
Troy also needed some fine tuning, saying, "Initially I was having problems dialing in my shots from the baseline, but as time went on I became more and more comfortable. I felt like I was having to put some added topspin on my shots to keep them in the court, which may be because I'm used to a dense string pattern and this racquet has an open pattern. The overall weight and balance felt right at home for me, and I really enjoyed the swingweight and the plow through it provided when I was attacking with my two-handed cross court backhand. Overall, I felt that once I was comfortable with my depth control I was able to generate a pretty heavy ball."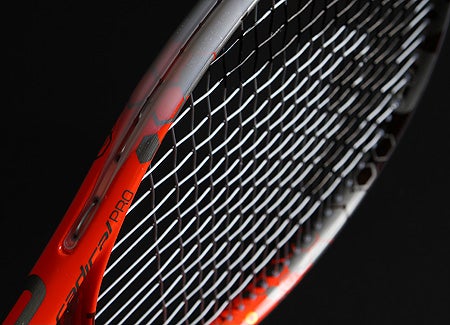 Volleys - Score: 83
A stable feel with easily achieved depth made volleying effective for our test crew. Sean brimmed with confidence when wielding this racquet at net. He said, "I was extremely impressed with the versatility that this racquet offered at the net. Just like my other shots, I had no trouble keeping my volleys deep in the court and making it difficult for my opponent to hit a good passing shot. I really felt improvement over other frames I've used when it came to precision shots. This racquet gave me a lot of confidence while at net, and I found myself using a variety of drop shots and sharp angle volleys to keep my opponents off balance. Net play was definitely where this racquet excelled for me."
Finding good mobility and stability, Troy said, "I felt that this racquet provided a good blend of maneuverability and stability when hitting volleys. I felt that the distribution of mass in the racquet's head helped with stability and helped me keep my volleys deep in the court. While playing doubles I found the racquet fairly easy to maneuver and get into place when I had to react quickly. The best part of being at net with this stick was the feel when hitting drop volleys and short angles. The classic Radical flex in the frame was evident on the touch shots and made it really fun to hit the droppers."
Spencer noted the solid feel and stable response. He offered, "Again, the heft gave this stick a solid feel on impact. It offered excellent stability, which was especially noticeable when volleying hard-hit balls from my opponent. Because of the balance and swingweight, the maneuverability wasn't as great as I'd like it to be, but the solid feel and forgiving string bed made up for it."
Enjoying the crisp feel and power was Chris. He said, "I liked the solid response of this racquet at net. The level of power was good and the response felt crisp. While not quite as precise as the new Prestige line we are also playtesting, this racquet got the job done at net. I felt confident punching volleys deep and liked the power level when I was hitting off balance or when dealing with low shoestring volleys. There was also enough mass to allow for a very light grip of the handle for maximum touch, without having to worry about the racquet twisting in my hand."
Serves - Score: 83
Most of our testers welcomed the extra power offered from the Radical Pro. Spencer felt this racquet gave him more power and spin on his serves. He said, "The action and pace were two things I noticed when serving with the Radical Pro. I really enjoyed the few extra free points I seemed to garner when serving. The lively feel and good spin production helped keep my opponents from making aggressive returns, giving me opportunities to control the points. This was definitely my favorite aspect of this racquet."
Having similar sentiments was Chris. He added, "The power and spin potential in this racquet really impressed me on serve. I was finding Pure Drive Roddick-like power and spin, and that is about as good as it gets for me. Serving was my favorite shot, and I just loved the power and spin I was getting. It is always fun to serve with a racquet that allows one to be aggressive without sacrificing consistency, and the Radical Pro did just that. I was very impressed."
Troy liked the consistency and variety. He said, "Serving with this racquet was enjoyable because of the spin and control I was getting out of it. My lefty slice serve was consistent, and I was going for the kick serve with more confidence than usual. The maneuverability helped me when hitting my flat serve down the T. I felt like I was serving pretty consistently with a variety of serves, and this was helping me keep my opponents guessing."
Seanhad difficulty finding his range. He said, "This racquet made it tough for me to find any sort of consistency on my serves. I had to make a conscious effort not to overhit and go for too much on my first serves, otherwise my control went out the door pretty quickly. The open string pattern allowed me to find more consistency on my second serves, but I still had trouble finding my range throughout my testing. The flexibility of this racquet was great for comfort, and I felt like the sweetspot was larger than I expected for a midplus frame. "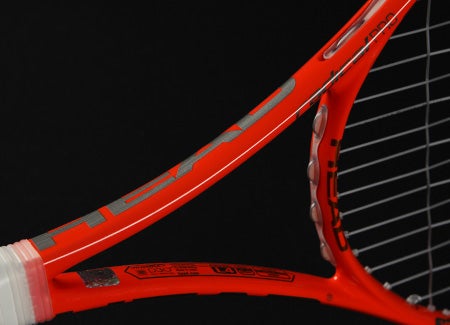 Serve Returns - Score: 79
Our testers had to make adjustments to their return games with the Radical Pro. Troy found plenty of depth when returning. He said, "I was returning consistently with good depth. This racquet was pretty stable against heavy serves, and the swingweight was helping me keep the ball deep in the court. However, sometimes when I tried to be aggressive returning second serves the return would fly long. Because I'm used to dense string patterns, I felt the open pattern may have been the reason for some of my aggressive returns landing about a foot long."
Having better success when taking the ball earlier was Sean. He said, "As with my groundstrokes, I was forced to concentrate on catching everything a little earlier than I typically do to make sure my shots were going where I wanted. This tactic actually enabled me to hit more aggressive returns and force my opponent to hit better shots, since they had less time to react to the ball. When I found myself sitting back and waiting, I had problems finding the right depth on my returns, as most would fly long. This racquet responded nicely as long as I kept myself moving into the court."
Chris would have preferred a more head light balance. He said, "The balance of this racquet bothered me slightly when waiting to return serve, and the racquet felt better for me in motion than when static. A simple addition of some lead tape under the grip would easily cure the static feel and eliminate my only dislike. I loved the pace and spin I found when I was actually swinging the racquet. I hit several really punishing forehand returns with this racquet. Even against strong serving opponents it simply felt like I was swinging the bigger axe, and that made it easy to draw first blood."
Finding the racquet a little too weighty on returns was Spencer. He said, "This is where the higher swingweight hurt me. Though the stability was great, the mobility wasn't as good as I'd prefer, especially on returns. It wasn't a factor when blocking or chipping, but it made it tougher to find the range when trying to be more aggressive."
Overall - Score: 81
Likes
Chris - "I loved the power, spin, control, stability and plow through. If you want to try and break the sound barrier with your next forehand, this is one of the better racquets to get you there."
Sean - "This is a great all-court racquet with a forgiving feel."
Troy - "This racquet possesses good stability during hard-hitting rallies, but at the same time is fairly maneuverable for a player's frame. I also like the addition of CAP grommets!"
Spencer - "The power and action, and the stable, solid feel."
Dislikes
Chris - "I really liked the racquet in play, but the balance was off for me when just holding the racquet. I would tail weight this one just to make it a little more head light."
Sean - "It felt ridiculously flexible."
Troy - "Getting used to the open string pattern took some time, but wasn't a major setback."
Spencer - "It's not as head light as I'd like."
Technical Specifications

Length
27 inches
69 centimeters
Head Size
98 square inches
632 square centimeters
Weight
11.4 ounces
323 grams
Balance Point
13.1 inches
34 centimeters
3pts Head Light
Construction
22mm Straight Beam
Composition
d3o / Innegra / Graphite
String Pattern
16 Mains / 19 Crosses

Babolat RDC Ratings

Score

Grade

Flex Rating
62
Range: 0-100
Swing Weight
330
Range: 200-400
Scores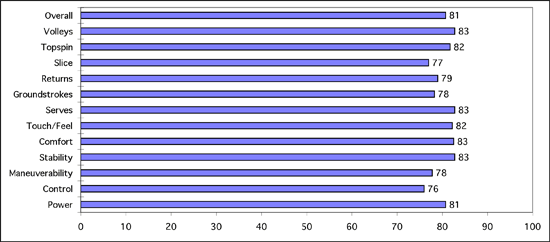 (Scores are determined by averaging individual play test scores)
Chris's Scores
Power
8.6
Serves
8.7
Control
8
Groundstrokes
8.3
Maneuverability
7.6
Returns
8.1
Stability
8.5
Slice
8.2
Comfort
8
Topspin
8.6
Touch/Feel
8
Volleys
8.1
Overall
8.2
Sean's Scores
Power
7.5
Serves
7.3
Control
6.8
Groundstrokes
7.2
Maneuverability
7.8
Returns
8
Stability
7.7
Slice
7.6
Comfort
9
Topspin
7.7
Touch/Feel
8.6
Volleys
8.4
Overall
7.8
Troy's Scores
Power
7.7
Serves
8.2
Control
8
Groundstrokes
8
Maneuverability
8.5
Returns
7.8
Stability
8.5
Slice
7
Comfort
8.2
Topspin
7.9
Touch/Feel
8.5
Volleys
8.3
Overall
8
Spencer's Scores
Power
8.5
Serves
8.9
Control
7.6
Groundstrokes
7.8
Maneuverability
7.2
Returns
7.7
Stability
8.4
Slice
8
Comfort
7.8
Topspin
8.5
Touch/Feel
7.8
Volleys
8.3
Overall
8.3
Playtester Profiles
Chris: 5.0 all court player currently using the HEAD Youtek IG Prestige Midplus. Chris uses a full-western forehand grip, has a fast swing style and hits a one-handed backhand.
Sean: 4.5 baseliner using the HEAD Youtek Prestige Pro. Sean has a semi-western forehand, 1 handed backhand.
Troy: 5.0 lefty all-court player with a full Western Forehand and a two handed backhand. Troy currently plays with a customized Wilson KBlade 98.
Spencer: 4.5 baseline player currently using the Prince EXO3 Tour 100 16x18. Spencer uses a semi-western forehand grip, and hits with a one-handed backhand.

Review date: December 2011. If you found this review interesting or have further questions or comments please contact us.
All content copyright 2011 Tennis Warehouse.