Head Youtek IG Radical OS Racquet Review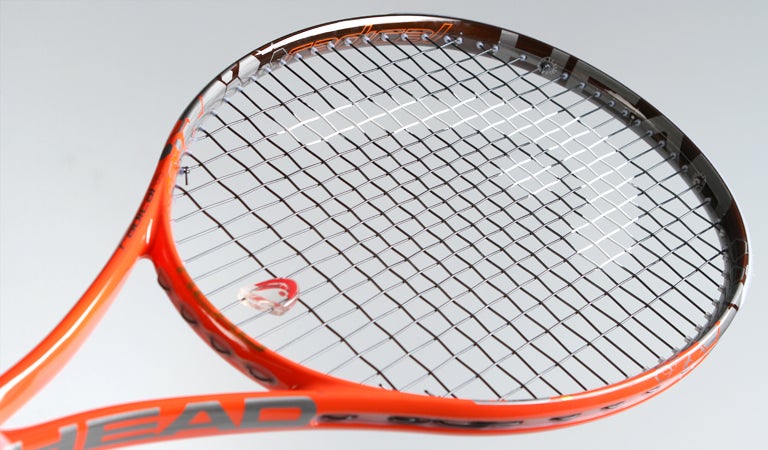 Head Youtek IG Radical OS Scores
Comfort
82
Touch/Feel
81
Serves
75
Groundstrokes
80
Returns
80
Slice
81
Topspin
79
Volleys
80
Overall
80
Upsides
Generous sweetspot
Maneuverable
Feel
Downsides
Nothing we could agree on
Summary
A solid choice for all court players, baseliners, doubles players and everybody in between, the Youtek IG Radical Oversize is one versatile racquet. No matter where our testers found themselves on the court, they found a comfortable response. Spin was easy to generate. Those who like to hit with slice found enough mass to punch through the ball, while the racquet also proved maneuverable enough for hitting heavy topspin. At net our testers found a blend of comfort, control, maneuverability and touch. All of our testers volleyed well with this racquet -- a major factor in the racquet's versatility. While oversize heads have fallen behind the popular 100 sq. inch midplus headsizes in recent years, this one proves a 107 square inch racquet is still well worth a look. If you are a 3.5+ NTRP league or tournament player seeking control, maneuverability and comfort, coupled with some useful power, the Youtek IG Radical Oversize should be on your demo list.
Groundstrokes - Score: 80
With a 107 square inch headsize, the Youtek IG Radical Oversize offered the testing squad plenty of pop off the ground. Chris also noted the spin potential, saying, "I was surprised by how much I liked this racquet from the baseline. While it is very different from the Radicals I grew up playing, which weighed in around 12 ounces, this one seemed to pack some of the punch that's been missing from recent versions. There was enough heft for me to drive my slice backhand, and I liked the stability on my forehand. Spin was very easy to create, and I was hitting some very nice angles with this racquet. I also liked the plush feel from the stringbed. The oversize head definitely seemed to allow for a deep pocket at impact, and I was finding lots of feel on touch shots. Couple the feel with the spin I was finding and I quickly got into the groove of doing my best Fabrice Santoro impression."
Tiffani also noted the racquet's performance on slice. She said, "I really enjoyed this racquet off the ground. It took a few minutes for me to get used to swinging an oversize racquet, but once I did, I enjoyed the comfort, power and spin, particularly on my backhand slice. There was some good dwell time, and I felt like I could control the direction pretty well and keep the ball low. Though not the heaviest racquet, I felt like I was getting some nice plow through. The only drawback for me was that, though maneuverable enough, the Radical OS wasn't whippy enough. If I got caught late it was harder for me to flick the ball over the net."
"For being an oversized racquet, I thought the IG Radical OS was very maneuverable," said Karly, who usually plays with midplus racquets. "It had the feel of a lightweight racquet, which made it easy to swing. I was able to change the direction of my shots quickly, which was nice, especially when trying to create sharp angles. I prefer playing with a smaller headsize, so I had a little more difficulty controlling my shots. I wasn't able to get the precision I wanted, but the oversize head made it very forgiving, and it had a generous sweetspot."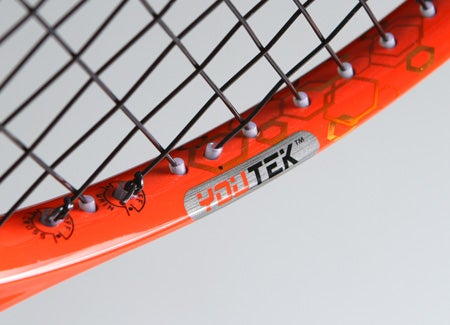 Volleys - Score: 80
As with other racquets in the Radical family, the Oversize provided good feel and touch at net. Karly said, "I preferred this racquet the most while playing up at net. The lightweight feel of the frame made it extremely fast on volleys. I felt I could swing the racquet swiftly with little effort. Not only was it very maneuverable, but it also had a great amount of feel and touch. It was a very soft and comfortable racquet that made it easy to control the depth of my volleys naturally."
"The touch and feel I found from the baseline was also present at net," said Chris, who plays an all-court game. "While an oversize may not typically be considered a volley racquet, this one is. I was able to control my volleys very well both when punching the ball and when dropping it short. There was enough mass to keep the racquet stable, yet it felt very fast and mobile. I played a lot of doubles with this racquet, and I was very happy with my level of play."
Tiffani offered, "There was both good pop and good touch from the stringbed while I was volleying. The sweetspot felt ample, so there was also good feel and stability. One thing I noticed, perhaps because I'm not the strongest volleyer, is that I really had to stick my volleys or they tended to sit up when I was trying to send them deep into the court."
Serves - Score: 75
The team had mixed reviews on the racquet's performance on serve. Tiffani prefers midplus headsizes while serving. She said, "At first I was struggling on serve, and I attribute that to the oversize head. At 107 square inches it's not the biggest out there, but there's enough difference between my usual racquet's 95 square inch headsize to require some adjustments. I enjoyed some decent pace once I settled in. It was a little more difficult for me to consistently hit spin on my serve, I think because I had some difficulties maneuvering the racquet overhead. However, when I was clicking and able to achieve the spin, I was shocked to see my ball jumping higher than it usually does."
Chris said, "I was able to get some solid spin from this racquet on serve. My consistency was off the charts, but I was lacking pace. I'm not a huge server anyway, so while I would have liked a bit more pop, it was not too low powered. With a little bit more weight I could get this one to where I wanted on serve, but even in stock form I served pretty well. I was able to move the ball around to a variety of different targets, as well as mix in slice or topspin."
Unlike Chris, Karly had issues with control. She noted, "One of the biggest drawbacks for me with this racquet was the stability. Though I thought the racquet was extremely comfortable on the arm, it felt unstable, and I seemed to notice it the most while serving. I also had difficulty controlling my serves and changing directions. For me, the racquet worked best when hitting flat serves."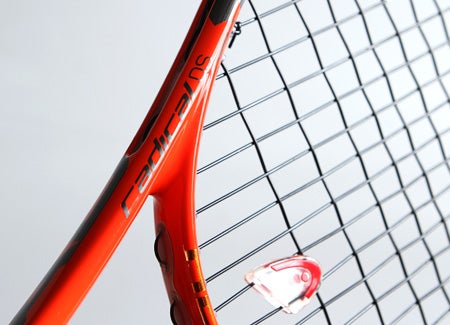 Serve Returns - Score: 80
The Youtek IG Radical Oversize had our playtesters returning with power. Chris said, "I really, really liked this racquet on returns. I could take a huge cut at the ball and stay on target. Both when hitting deep, aggressive returns or when rolling an angle, I felt like I knew exactly where my shot was heading. Again, the blend of stability and maneuverability was working for me. I found just enough mass in the racquet to keep it feeling solid on defensive returns, but would definitely beef it up more to suit my tastes."
Also being aggressive on returns was Karly. She said, "I thought the great maneuverability of this racquet enabled me to swing the it effortlessly. Its lightness made it easy to be aggressive, and I hardly tired out my arm when playing in a long match. This fast paced racquet also allowed me to create sharp angles with ease. I really enjoyed being able to quickly change the direction of the ball. However, like the serves, I thought it needed improved stability."
Tiffani, though, had her ups and downs. She offered, "The racquet has good mobility but it isn't whippy, so I was having some problems putting topspin on my returns. I sent the ball long on more than a few occasions. However, I liked to block back returns, as I felt I could get good power from the racquet. At times it felt torsionally unstable, but that was only when I came up against a hard hit first serve. Even then, the racquet would respond just fine but had some flutter."
Overall - Score: 80
Likes
Chris - "I liked the plush response, spin, forgiving feel, the response at net and the consistency I found when playing with the racquet. I have some very memorable wins with this racquet, both in singles and doubles, from this playtest. Once the test is done and the other playtesters don't need the racquet in stock form to test, I'm definitely going to customize it to see what else I can coax from it."
Karly - "My favorite qualities about this racquet were the comfort and how easy it was to maneuver."
Tiffani - "I've always liked how the Radical line slices through the ball, and this is no different. Also, there was good feel and decent plow through."
Dislikes
Chris - "Nothing, really. It is just a tad light for me, and I intend to try it with a leather grip and some weight at 3 & 9 to bring it up to around 12 ounces."
Karly - "I felt it lacked stability, especially when serving. I also would've like to have more control on groundstrokes and serves."
Tiffani - "The racquet is maneuverable, but not whippy. Overall, not too many dislikes."
Technical Specifications

Length
27 inches
69 centimeters
Head Size
107 square inches
690 square centimeters
Weight
11.1 ounces
315 grams
Balance Point
13 inches
33 centimeters
4pts Head Light
Construction
21.5mm Straight Beam
Composition
Graphite / Innegra / d3o
String Pattern
18 Mains / 19 Crosses

Babolat RDC Ratings

Score

Grade

Flex Rating
58
Range: 0-100
Swing Weight
315
Range: 200-400
Scores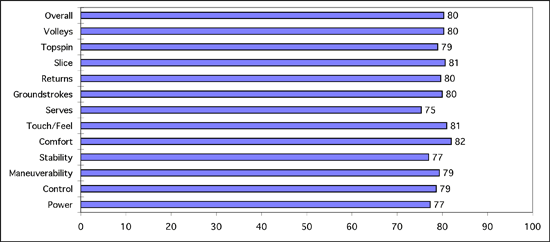 (Scores are determined by averaging individual play test scores)
Chris's Scores
Power
7.8
Serves
7.5
Control
8.4
Groundstrokes
8.4
Maneuverability
8.3
Returns
8.6
Stability
7.8
Slice
8.3
Comfort
8.5
Topspin
8.3
Touch/Feel
8.3
Volleys
8.3
Overall
8.2
Karly's Scores
Power
7.4
Serves
7.3
Control
7.3
Groundstrokes
7.5
Maneuverability
7.7
Returns
7.7
Stability
7.5
Slice
7.6
Comfort
8.1
Topspin
7.5
Touch/Feel
8
Volleys
8
Overall
7.9
Tiffani's Scores
Power
8
Serves
7.8
Control
7.9
Groundstrokes
8.1
Maneuverability
7.8
Returns
7.6
Stability
7.8
Slice
8.3
Comfort
8
Topspin
7.9
Touch/Feel
8
Volleys
7.8
Overall
8
Playtester Profiles
Chris: 5.0 all court player currently using the HEAD Youtek IG Prestige Midplus. Chris uses a full-western forehand grip, has a fast swing style and hits a one-handed backhand.
Karly: 4.0 baseline player currently playing with the Wilson nCode nTour. She hits with a semi-western forehand grip and uses a two-handed backhand.
Tiffani: 4.0 level baseliner with a semiwestern grip on the forehand and hits a two-handed backhand. Currently playing with the Tecnifibre Rebound Pro.

Review date: December 2011. If you found this review interesting or have further questions or comments please contact us.
All content copyright 2011 Tennis Warehouse.