Head Youtek IG Prestige Pro Racquet Review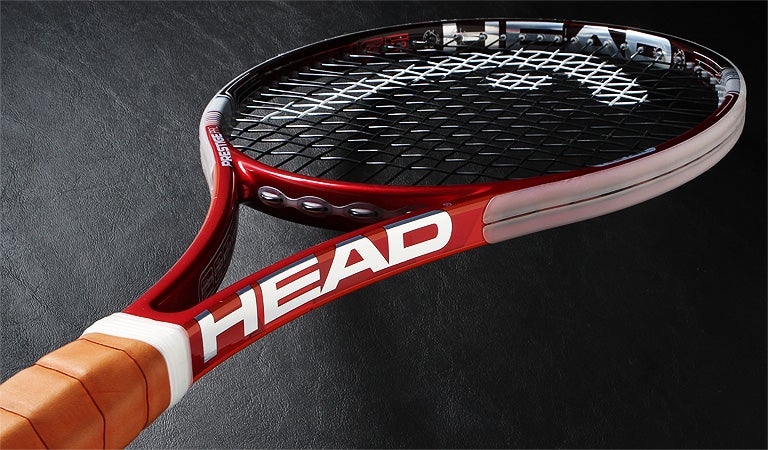 Head Youtek IG Prestige Pro Scores
Comfort
86
Touch/Feel
85
Serves
87
Groundstrokes
84
Returns
81
Slice
79
Topspin
83
Volleys
83
Overall
84
Upsides
Plow through
Stability
Precision
Downsides
Nothing we could agree on
Summary
Robin Soderling swings the Head Prestige Pro on tour, and with this latest Youtek IG version we can see why. Offering an open string pattern, solid feel and ample heft, the Youtek IG Prestige Pro creates a union between hitting heavy spin and precise feel. Players strong enough to handle the mass will find they really can have their cake and eat it too with this racquet. Our team found they could hit with power, consistency and spin from the baseline, all while feeling dialed in to their targets -- pretty impressive stuff. The precise feel continued at net, where our testers once again found they had the option to finish with power or finesse. A great option for 4.0+ level players, the Youtek IG Prestige Pro provides that rare combination of plow through power with a maneuverable feel.
Groundstrokes - Score: 84
The IG Prestige Pro had our testers hitting their targets with power from the baseline. Chris said, "I really liked this racquet from the baseline, so much so that I seriously considered switching to it. I was able to generate all the pace and spin I wanted. I was taking a big cut, hitting a heavy ball and had no fear of overhitting. Strung up with a nice co-poly like Kirschbaum Pro Line Evolution, I found excellent spin and control on my shots. Everything was really clicking for me with this racquet. My forehand felt very strong with this racquet, and I got the most out of it when hitting with topspin. I felt so confident with it that I would be happy to use it in a tournament. I can't really compliment a racquet more than that."
This racquet had Granville dialed in. He said, "No surprises here -- the heritage of the Prestige was evident as soon as I picked this racquet up. It took three or four swings to dial in my depth on groundies. After that the racquet became an extension of my arm. Targeting was startling at times. I could bleed pace from a strong baseline shot or step in and knock off a cross court winner."
"With some added weight, compared to the previous Prestige Pro, one word describes this racquet's feel: solid," said Sean, who loves to play an aggressive baseline game. "This frame was amazingly stable on every shot and produced some serious plow through from the baseline. Without fear of overhitting, I loved sitting back on the baseline and waiting for my chance to reel off a big shot and take control of the point. My backhand seemed to be the shot that benefitted the most, as I was able to make it more of a weapon with more mass behind it."
Troy would tinker with customization to fit his tastes. He said, "This racquet possessed a pretty maneuverable feel on groundstrokes. I found good control from the baseline, mixing up my shots well. I felt like my cross court shots were consistent with a lot of spin. The head light balance was providing a lot of control, although to get more plow through I would have liked the balance to be slightly less head light. I felt like my topspin forehand and backhand were very effective with this racquet, as I was hitting some pretty heavy shots. I felt that my slice backhand, on the other hand, wasn't penetrating like it does with my own stick of choice. Overall, it's a solid baseline racquet, but for my preferences I would have liked it to be a bit more head heavy."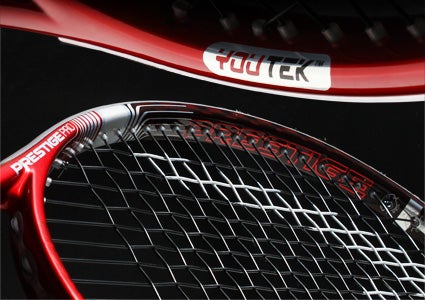 Volleys - Score: 83
Stability and accuracy were the name of the game at net for our testers, who were once again impressed by the IG Prestige Pro. All-court player Granville said, "It was crisp and solid with decisive targeting. I was able to maneuver this frame at the net a bit more aggressively than my regular stick. The nice soft feel is evident on the volleys, and at 98 square inches it offers plenty of stringbed. The racquet is compelling, and I'm looking closely at it for my 2012 tournament schedule."
Troy found put-away power on tap. He offered, "Volleys were very precise with this racquet. I was surprised at how stable this racquet felt at net and how easy it was to get the ball to land deep and penetrate the court. The maneuverability was evident while serving and volleying in doubles, where I found it user friendly when I came into the net to finish off the point quickly. I was placing my volleys well, and I found it easy to set the racquet against hard returns."
Chris agreed, adding, "This racquet felt great at net. It was just rock solid, with plenty of pop to help me put the ball away. I found ample feel for hitting touch volleys, and I enjoyed the grip I was getting from the stringbed. The racquet felt very comfortable and was more forgiving than the Mid and Midplus versions, but not quite as precise. I am splitting hairs here (obviously not my own if you watch the video) because this Pro version is a very precise racquet on volleys, just not quite up there with the Mid and Midplus."
For baseliner Sean, the racquet was on the demanding side. He said, "I'm not used to wielding a frame with this much mass, so my net play took some getting used to. Again, I was impressed with how solid everything felt upon impact, and how my volleys found their way deep into the court even if I couldn't put a solid hit on the ball. On the other hand, I had some serious problems with maneuverability around the net, especially when dealing with tough volleys directed at my body. Although it felt a little clunky around the net, it more than made up for that fact with a stable feel and the ability to put a volley away if given the chance."
Serves - Score: 87
When it came to serves, power came to the forefront. Sean, however, didn't solely rely on power. He said, "It was easy to generate a lot of pace with this frame, especially on my first serves. I had no trouble pinpointing serves, whether going for power or using a well placed second serve to get myself into the point. I wasn't able to generate as much spin with this frame because of my slower swing speeds, but I could still generate enough spin to make my serves effective. This racquet also had a good sized sweetspot for a player's frame, which helped me hit my targets when I hit slightly off center. Overall it was a great serving racquet, though the weight made my arm and shoulder fatigue a little quicker than usual."
"I noticed some added power to my serve, especially the first serve," said Troy, who likes to use his lefty slice serve. "I liked the ease of generating racquet head speed, which allowed me to hit some heavy spin serves and get some added pop on the flat serves. In contrast to how I felt on groundstrokes, I really enjoyed the head light feel on serve, where there isn't much worry about racquet stability. I felt I was serving at my best during doubles with this racquet, and overall this was one of my best serving racquets of the year."
Granville also noted the power by saying, "Thwap. Thwap. Thwap. This iteration of the Prestige has some significant benefits, including some added head speed for extra pace. Depending on string type and tension, I think I can get this racquet to do just about everything I would expect from a heavier, player spec'd racquet."
Mixing it up came easily for Chris, who said, "This was a really nice racquet to serve with. The same access to power and spin I found from other areas of the court came through on serve. I felt comfortable hitting flat, slice and topspin serves, and that enabled me to constantly mix things up -- a good thing for me as I'm not the biggest server."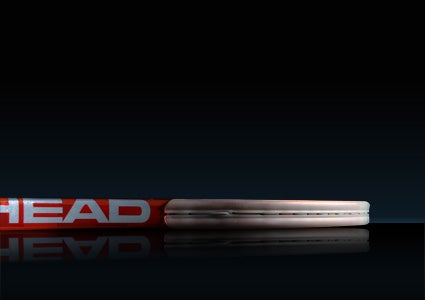 Serve Returns - Score: 81
The Youtek IG Prestige Pro didn't let the testing team down when returning. Troy, though, sought a little something extra. He said, "I was able to get a lot of serves back due to the maneuverability of this stick. Though I was able to consistently get returns back, they weren't landing deep enough for my liking, especially on the backhand slice return. When serves were landing a little short I was playing defense early in the point. I think this racquet would be a real weapon on returns and groundstrokes with some added plow through. The control of my returns was good when playing doubles. I was finding I could move the ball side-to-side with ease, I was just lacking the depth I would have liked."
Granville added, "This IG Prestige Pro is a very nice blend of specs, especially in balance, allowing this heavier frame to play with similar feel and maneuverability to lighter weight racquets. That's a nice feeling to have while returning."
Chris was please all around. He said, "The weight and balance of this racquet was right in my wheelhouse, especially on returns. There was enough mass in the racquet for comfort, stability and plow through, yet it was also head light enough to feel fast and maneuverable. Just like from the baseline, I was taking aggressive cuts at the ball whenever the opportunity presented itself. Spin, pace, control, depth and angles were all easy to find on returns."
Sean took note of the racquet's weight, saying, "As long as I was able to get my racquet on the ball I could produce a decent return, thanks to the pure mass of this frame. The added weight definitely improved my ability to deal with bigger first serves and redirect them back with precision. As was the case with my volleys, any type of body serve was incredibly difficult to deal with, as I couldn't get the racquet into the correct position. I liked being able to put the ball back in play without needing a lot of time to take a full swing at the ball."
Overall - Score: 84
Likes
Chris - "I liked pretty much everything -- especially how the racquet felt maneuverable yet still offered good plow through. I've not found any of the recent racquets that carry the Prestige Pro name to play as good as this one. This is a bloody good stick."
Granville - "Overall, it feels slightly (repeat, slightly) lighter than specs would indicate."
Sean - "Stable and solid feel."
Troy - "Good control and spin potential from all areas of the court. I like that it comes stock with a leather grip."
Dislikes
Chris - "Nothing. I'd be switching to this racquet if there wasn't another one in the line I like better."
Granville - "If strung too tightly or string is spent, the sweetspot felt small. You'll need to stay up on on your restringing."
Sean - "A little bit too heavy."
Troy - "Ideally I would have liked the balance to be slightly less headlight, providing a higher swingweight for added stability and plow through on groundstrokes and returns."
Technical Specifications

Length
27 inches
69 centimeters
Head Size
98 square inches
632 square centimeters
Weight
12.2 ounces
346 grams
Balance Point
12.75 inches
32 centimeters
6pts Head Light
Construction
21mm Straight Beam
Composition
Graphite / Innegra / d3o
String Pattern
16 Mains / 19 Crosses

Babolat RDC Ratings

Score

Grade

Flex Rating
66
Range: 0-100
Swing Weight
321
Range: 200-400
Scores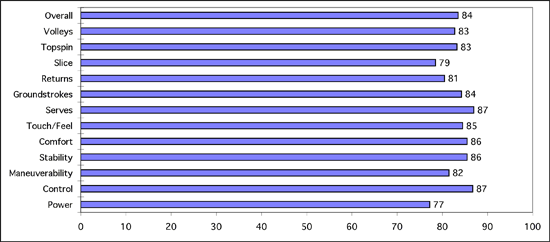 (Scores are determined by averaging individual play test scores)
Chris's Scores
Power
8.2
Serves
8.5
Control
8.4
Groundstrokes
8.5
Maneuverability
7.8
Returns
8.4
Stability
8.2
Slice
8
Comfort
8.4
Topspin
8.5
Touch/Feel
8.3
Volleys
8.3
Overall
8.3
Granville's Scores
Power
7.5
Serves
9.3
Control
9.3
Groundstrokes
8.5
Maneuverability
9
Returns
8.5
Stability
8.8
Slice
8.5
Comfort
8.8
Topspin
8.3
Touch/Feel
9.3
Volleys
9
Overall
8.8
Sean's Scores
Power
7.2
Serves
8
Control
8.5
Groundstrokes
8.2
Maneuverability
7
Returns
7.6
Stability
9
Slice
7.9
Comfort
9
Topspin
7.8
Touch/Feel
7.7
Volleys
7
Overall
8
Troy's Scores
Power
8
Serves
9
Control
8.5
Groundstrokes
8.5
Maneuverability
8.8
Returns
7.7
Stability
8.2
Slice
7
Comfort
8
Topspin
8.7
Touch/Feel
8.5
Volleys
8.8
Overall
8.3
Playtester Profiles
Chris: 5.0 all court player currently using the HEAD Youtek IG Prestige Midplus. Chris uses a full-western forehand grip, has a fast swing style and hits a one-handed backhand.
Granville: 5.5 all-court player currently using a Wilson K Factor Six-One Tour 95. Granville is an aggressive player who uses an eastern forehand grip and goes continental on everything else, hits with a flat swing and a one-handed backhand.
Sean: 4.5 baseliner using the HEAD Youtek Prestige Pro. Sean has a semi-western forehand, 1 handed backhand.
Troy: 5.0 lefty all-court player with a full Western Forehand and a two handed backhand. Troy currently plays with a customized Wilson KBlade 98.

Review date: December 2011. If you found this review interesting or have further questions or comments please contact us.
All content copyright 2011 Tennis Warehouse.