Head Youtek IG Prestige Mid Racquet Review

Head Youtek IG Prestige Mid Scores
Comfort
86
Touch/Feel
87
Serves
82
Groundstrokes
87
Returns
80
Slice
86
Topspin
84
Volleys
88
Overall
86
Upsides
Solid feel
Stability
Control
Precise
Has that Prestige mystique
Downsides
Don't expect it to be forgiving
Summary
It is tough to update a legendary racquet. Change the racquet too much and there's the risk of losing some of its familiarity, or worse still, some of its greatness. While recent iterations of the Head Prestige Mid have struggled to replicate the performance of the venerable Prestige Classic 600, the all-new Youtek IG Prestige Mid has it nailed. The silky smooth response from the stringbed is back. The sweetspot feels livelier and more forgiving, and the response is plusher than the Youtek Prestige Mid, the racquet the Youtek IG Prestige Mid replaces. The same great heft, headsize and head light balance combine to offer a magical combination of stability and maneuverability. The racquet feels fast when it needs to, yet remains stable even in the toughest conditions. Feel and touch are exceptional from all areas of the court. When it comes to connecting the player to the ball, this Prestige is in a class shared by few. While best suited to advanced players, those with the required skill set will find this a truly rewarding racquet.
Groundstrokes - Score: 87
The Prestige is a familiar stick in the hands of many players. Our testers couldn't be happier with this version. Chris made comparisons to models past. He said, "The Prestige is back! This is the Prestige Mid I've been waiting for. A racquet that plays much closer to the original, and offers that plush and silky smooth feel that, for me, defines a Prestige -- and what I thought was lacking in the previous version. I loved the solid feel, power and absolute precision offered from this racquet. It was my favorite of the four new Prestige racquets for just hitting. However, during match play I found myself having to work just a little harder to win sets than I did with the Midplus. This is close to being one of my all time favorite racquets for hitting my slice backhand, but my forehand was where the extra work came in. The racquet just wasn't as forgiving as the Midplus or the Pro."
The racquet put some extra zip, and confidence, into Granville's swing . He offered, "At 52 years old I'm at that point where, in the back of my mind, there is that little voice wondering when it's time to go to a lighter frame, or maybe a racquet with a larger headsize. Something more "age appropriate". And just about when I'm convinced it's time to make such a move, I pick up a racquet like the Prestige Mid. Suddenly that little voice changes its tune and says things like 'man, this stick feels so good!' and 'did that ball really go there, exactly where I wanted it?', or better yet, 'I've still got it!'. That little voice is now enjoying the Prestige Mid. This Prestige Mid is butter. Sometimes a racquet just sparkles at impact. Such is the case with this Prestige Mid. As soon as I hit my first forehand I knew I had a scalpel in my hands. It was soft enough to give me that feeling of holding the ball, yet firm enough where I could really impart my will on the ball. It was perfect for both crushing the ball deep in the corners or whipping over a short angle cross court."
Jose, who has used past Prestige racquets, said, "Back in high school the Liquidmetal Prestige Mid was my racquet of choice. The main difference between that racquet and this one are the comfort and stability. The new Prestige Mid had less vibration, and it feels like I could swing the racquet as hard as I could without sacrificing control. It was really easy to generate racquet speed on both forehands and backhands because the racquet has such a small headsize and thin beam width. With a strung weight of over 12 ounces, the racquet felt solid, and it was a breeze to put away shots."
"Groundstrokes off either side, and from almost anywhere in the court, were effective and predictable with the Youtek IG Prestige Mid," said Mark. "The beam felt firm, which provided me with some power off the stringbed, even with a full set of a low tensioned poly. I then replaced the full set of the poly with my favorite hybrid configuration, and the ball pocketing was amazing."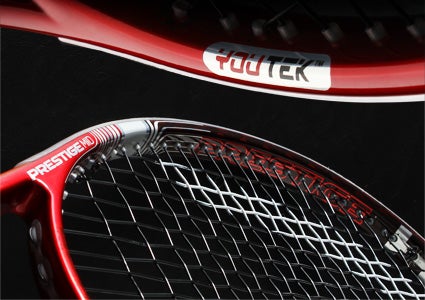 Volleys - Score: 88
Our team of testers couldn't have been happier heading to the net than they were with the Prestige in their hands. Granville said, "It's always rewarding going after a ball with a racquet that seems to do just what it is you want it to do, and that is never more evident than when attacking a volley with this racquet. The balance of this racquet made it perfect for volleying. It has it all: soft touch, crisp reply and power on demand."
The Youtek IG Prestige Mid helped Mark do it all at the net. He said, "Volleying with the Youtek IG Prestige Mid was a stable, predictable and control-oriented experience, which is exactly how a more traditionally constructed player's racquet should behave at net. From mid-court volleys to short touch volleys, everything felt pretty dialed in from my first trip to the net."
Chris added, "This was an absolute scalpel at net. We have tested some great volleying racquets over the last several months, such as the Pro Staff 85 and Dunlop Biomimetic 200 Tour, and this version of the Prestige Mid is right up there. It offered me the mass to drive the ball and the stability to be able to loosen my grip on touch shots. There was a ton of feel from the stringbed, and I loved the plush response off the sweetspot."
"With the racquet feeling so maneuverable it was easy to hit volleys, especially at high speeds," said Jose. "The weight and stability made it feel like I could do a lot more with my volleys than just place the ball back in the court."
Serves - Score: 82
Our testers were pleased with the racquet's performance while serving. Jose, who likes to start off points with a big serve, offered, "I had to crank it up a little to keep the same speed on my serve, but the racquet did provide enough control to allow me to place the ball anywhere I wanted in the service box. I thought I lost a little bit of power, but the control made up for it."
The IG Prestige Mid surprised Chris with its maneuverable feel. He said, "There's something about the way a midsize head comes through the contact zone that I love. I don't know if it's aerodynamics, but this racquet swung extremely quickly on serve, considering its weight. I was getting a lot of pace and felt like I was serving a heavy ball. On the consistency front, there were times that I struggled, but that is a reflection of my abilities, not the racquet. While I could serve harder with this racquet, I was more consistent with both the Midplus and the Pro."
Mark agreed, adding, "On both groundstrokes and serves I noticed that this Prestige Mid cut through the air very easily. With the swingweight around 320 and a smaller head size, the 12.2 ounce static weight was unusually easy to handle. The results on my serve were immediate and favorable. Pace and spin were pretty easy to generate on my serve, and the firm beam helped a little with the pace of the ball."
It was easy for Granville to hit his spots. He offered, "While I was not getting any extra power (nor was I expecting it with this style of racquet), I got pinpoint control and good spin potential. This racquet does what I ask of it."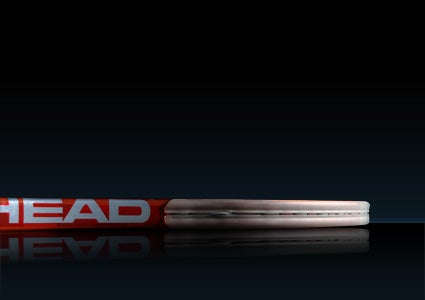 Serve Returns - Score: 80
There were no surprising twists in the Youtek IG Prestige Mid review as our testers again came off the court pleased. Mark had glowing comments, saying, "The overall mass kept the racquet stable at contact on the return, and the lower swingweight made it maneuverable enough to get in place on time. An A+ on returns for me."
"I really enjoyed this racquet on returns," said Chris, who always likes to play with variety. "I was driving slice and topspin backhands, and I was taking a good crack at forehand returns. I loved the stability and precise response of the racquet. No matter the situation, offensive or defensive, this racquet delivered what I needed to get the job done. I simply loved it."
Granville offered, "I loved the soft feel at impact and my ability to drive the ball. The racquet felt like a weapon, and it gave me confidence knowing it was in my hand."
The racquet's specs were a double-edged sword for Jose. He said, "I have always struggled with my return game, so having a small headsize made it really challenging for my return game to be effective. However, the racquet's maneuverability made it easier for me to get into points."
Overall - Score: 86
Likes
Chris - "What an awesome racquet. I really, really enjoyed this playtest and I thought I had found my next racquet. I think Head has managed to get closer to the classic Prestige feel with this one."
Granville - "Great feel at impact. Being slightly lighter makes it a bit 'friendlier' to some who are looking to step up."
Jose - "I love the weight, maneuverability and stability of the racquet. It was really easy to be aggressive and put away shots.
Mark - "When someone describes a racquet as feeling like an extension of the player's arm, I admittedly chuckle. However, every once in a while you come across one that really does come close to that feeling. This is one of about five racquets that keep me from 'the chuckle.' The combination of the weight, balance, beam firmness, string pattern, head size, etc. is a home run for me in terms of overall performance, feel and comfort."
Dislikes
Chris - "I don't really have any dislikes. I thought I had found my next racquet in this one, but side to side set play with the Midplus told the story. While I love the feel of this one the most, I win more easily with the Midplus."
Granville - "I'd put leather on the grip for feel (which would also benefit my head light balance preferences)."
Jose - "I like dense string patterns, but with a small headsize of 93 sq. in. the 18x20 string pattern was too dense for me. I like trying to generate heavy topspin, but with this set-up I had to flatten out my shots."
Mark - "None."
Technical Specifications

Length
27 inches
69 centimeters
Head Size
93 square inches
600 square centimeters
Weight
12.3 ounces
349 grams
Balance Point
12.6 inches
32 centimeters
7pts Head Light
Construction
19mm Straight Beam
Composition
Graphite / Innegra / d3o
String Pattern
18 Mains / 20 Crosses

Babolat RDC Ratings

Score

Grade

Flex Rating
63
Range: 0-100
Swing Weight
317
Range: 200-400
Scores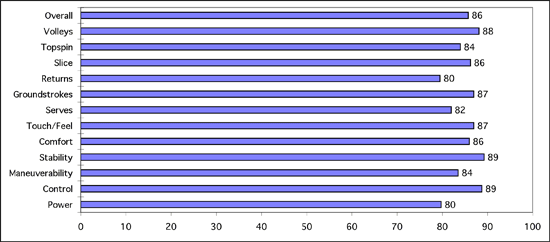 (Scores are determined by averaging individual play test scores)
Chris's Scores
Power
8.4
Serves
8
Control
8.7
Groundstrokes
8
Maneuverability
7.6
Returns
8.3
Stability
8.7
Slice
9
Comfort
8.4
Topspin
7.8
Touch/Feel
9
Volleys
9
Overall
8.3
Granville's Scores
Power
7.5
Serves
8.8
Control
8.8
Groundstrokes
8.8
Maneuverability
8.8
Returns
8
Stability
9
Slice
8.5
Comfort
9
Topspin
9
Touch/Feel
8.8
Volleys
9.25
Overall
9
Jose's Scores
Power
7.5
Serves
7
Control
9
Groundstrokes
9
Maneuverability
8.5
Returns
7
Stability
9
Slice
8
Comfort
8
Topspin
7.8
Touch/Feel
8
Volleys
8
Overall
8
Mark's Scores
Power
8.5
Serves
9
Control
9
Groundstrokes
9
Maneuverability
8.5
Returns
8.5
Stability
9
Slice
9
Comfort
9
Topspin
9
Touch/Feel
9
Volleys
9
Overall
9
Playtester Profiles
Chris: 5.0 all court player currently using the HEAD Youtek IG Prestige Midplus. Chris uses a full-western forehand grip, has a fast swing style and hits a one-handed backhand.
Granville: 5.5 all-court player currently using a Wilson K Factor Six-One Tour 95. Granville is an aggressive player who uses an eastern forehand grip and goes continental on everything else, hits with a flat swing and a one-handed backhand.
Jose: 5.0 baseliner with a semi-western forehand with a 2 handed backhand. Currently using the Prince EXO3 Tour 18x20.
Mark: 5.0 lefty all-court player with a one-handed backhand. He currently plays with the Dunlop Aerogel 4D 200.

Review date: December 2011. If you found this review interesting or have further questions or comments please contact us.
All content copyright 2011 Tennis Warehouse.