Head Youtek IG Instinct MP Review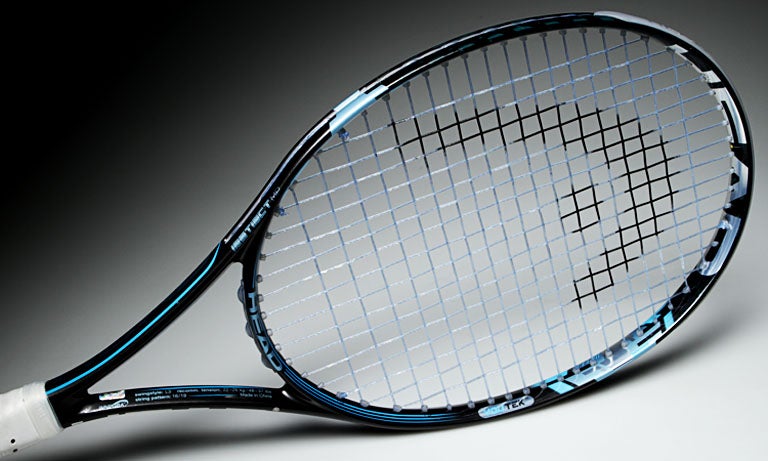 Head Youtek IG Instinct MP Scores
Comfort
74
Touch/Feel
77
Serves
82
Groundstrokes
76
Returns
78
Slice
77
Topspin
82
Volleys
75
Overall
78
Upsides
Fast
Maneuverable
Spin-friendly
Blends power and control
Stable for its weight
Downsides
A tad stiff feeling for some
Summary
Though the specs don't differ all that much from previous Instincts, our testers noticed a different feel, with a more solid response from this latest version of the Instinct. A more open string pattern gave this stick a boost in both power and spin. All of our testers noted the fast feel with control from the baseline, along with easy maneuverability at net. Most impressively, this racquet offered surprising stability considering its light weight. When serving, spin and power were two recurring characteristics commonly referenced by our squad. All in all, the Youtek IG Instinct MP provided game benefitting aspects from all areas of the court, not to mention plenty of room for modification for players seeking more heft. We found this versatile racquet to be a must demo for the 4.0+ player.
A resurgent Maria Sharapova. A new racquet in the Head Youtek IG Instinct MP. Coincidence? I think not.
This is a new Instinct and it is Sharapova's racquet of choice. If you're expecting the gold color Instincts are known for, think again. This version features a new, eye catching cosmetic to match a completely revamped design.
Apart from the cosmetics, one of the updates that is easiest to spot is the new string pattern. Head has livened up the stringbed with a more open 16x19 string pattern, in contrast to the 18x19 of previous versions. The Youtek IG Instinct MP also features Head's latest Innegra technology, and is designed to offer a fast, light weight feel through the air, while also improving stability. Improving both maneuverability and stability may sound impossible, but this latest Instinct features a very different frame. The shape of its beam, the lines of the racquet from tip to throat, throat to shaft and shaft to handle all look radically different. Although the weight and balance falls within a similar range to previous Instincts, our instincts told us this latest version would offer a different feel.
To see how the new Youtek IG Instinct performed on court, we took it out for a month-long playtest. Were we right to trust our instincts?
Groundstrokes - Score: 76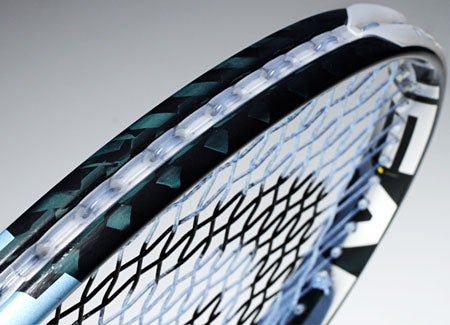 Because the Youtek IG Instinct MP is light weight with a head light balance, our testers found racquet speed and spin production easy to come by from the baseline. Chris found a different feel, but familiar results. He said, "I liked the combination of power, comfort and spin I found with this racquet. While it offered a different hitting experience with its feel -- most notably more speed off the stringbed -- the end results of power, spin, depth, etc., remained consistent with what I have found from previous Instincts. In other words, it was easy to find all of those attributes with minimum effort invested. It was light and easy to maneuver, making it a breeze to swing quickly to add both pace and spin. I was able to stay in the point when on the run by using the racquet's maneuverable feel and lively response to push the ball back deep. What impressed me most was the solid and comfortable feel from such a light and mobile racquet."
Carol found it easy to swing from the baseline. She said, "The racquet felt very light with a good sized sweetspot. It was very easy to swing due to its low weight, but I found it to be slightly heavy through the neck. With that said, I thought it gave some stick to the ball and didn't sacrifice control."
Jason noticed the fast feel, saying, "What the racquet lacked in weight, it made up for in swing speed. This is one fast racquet! Because I was able to generate so much speed on my groundstrokes, my shots were landing with tons of spin. Hitting sharp angles was easier to do with this racquet than my own. Slice shots were pretty decent. I did find myself floating a few from time to time, but that's probably more user error than anything. The sub 11-ounce weight was most noticeable while hitting defensive shots. If I wasn't cognizant of making sure to "over hit" my shot, it would land short and be an easy put away for my opponent. "
Spencer liked the power and spin. He said, "Hitting with this racquet was very easy. It's very fast coming through the ball, allowing for good power and spin. I tried playing with a full bed of multi as well as a full bed of polyester, and I preferred the polyester. It seemed to work well with this racquet, producing plenty of control and spin. The downside to a full polyester setup was a bit of elbow tenderness toward the end of the testing period. Also, I was pleasantly surprised with the stability I found in this racquet, considering its lack of heft. "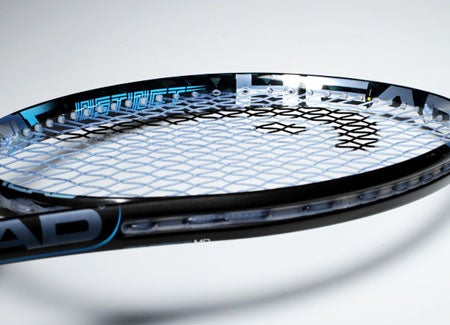 Volleys - Score: 75
Most of the team felt this racquet was forgiving and mobile at net. Jason liked the forgiving feel when volleying. He said, "I was surprised at how forgiving this racquet was considering it only weighs 10.9 ounces. The sweetspot seemed larger than usual and it was pretty stable during my many off-center shots. I loved the touch and feel I was able to get up at net. Because it was so maneuverable, getting the racquet in place to hit the shot was not a problem."
Enjoying the comfort of this racquet at net was Chris, who said, "I found just the right amount of firmness from this racquet at net for a precise feel. I was punching volleys with confidence. When it came to touch volleys, the feel and light weight made it easy to kill pace by simply softening the wrist. No matter the type of volley I was hitting, I continued to be impressed by the comfort of this racquet."
Spencer felt the mobility helped with quick volley exchanges. He said, "The maneuverability was apparent at net, and really excelled during quick exchanges. It was quite easy to get the racquet head where it needed to be. I felt the stability was better than what I would normally expect from a racquet of this weight."
There was a bit left to be desired, according to Carol. She said, "I thought this racquet was lacking in this department. My volleys didn't stick, it was hard to change the speed of the volley and the sweetspot gave out a little bit here."
Serves - Score: 82
The two characteristics that shined on serve were the power and the spin. All of our testers enjoyed one or the other, if not both. Spencer enjoyed the options at hand. He said, "I was happy with the combination of power and spin. There was ample power when going for a flat serve, yet the racquet also responded well when I went for a more controlled serve with some kick. So much so, that I was looking to serve and volley with an out wide kicker on the ad side, as I was getting some weaker returns."
Finding more similarities with previous Instincts was Chris. He said, "This was the shot where my results were most similar to the previous Instincts, and I have hit them all. I was able to get the same pace and spin that I loved when hitting the other versions. Before this test, the Liquidmetal Instinct was my favorite version, but this racquet takes everything that one had to offer and adds in a more solid feel and better spin."
Carol was fond of the control. She said, "My serves felt really good with this racket. It had little impact on my arm, which I loved. I did feel that power was lacking on my serve, but control was good."
Taking advantage of some free points was Jason. He said, "This racquet has some nice power. When I serve out wide I like to flatten out my serve, and with this stick it was easy to do, which earned me some free points. What I really enjoyed was the spin I was able to generate on my serves. Because of the combination of characteristics this racquet has I was able to hit a variety of shots well. At my playing level consistency is key, and I was very consistent with this racquet."
Serve Returns - Score: 78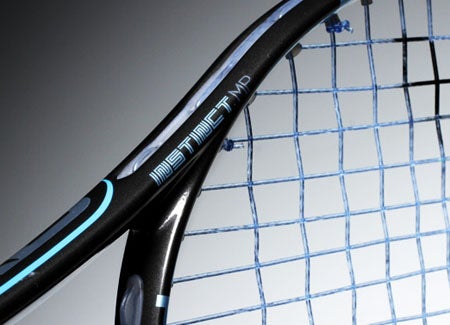 Again, the maneuverability and fast feel allowed our playtesters to be aggressive on serve returns. Garnering good results when taking aggressive cuts was Jason. He said, "Predictably, I liked this racquet when I was able to hit aggressive returns, but not as much for defensive returns. The low swingweight made it nice and easy to take big cuts at the ball. I was able to go either down the line or cross-court with similar results. However, I was definitely wishing for more weight when I was pulled out wide or when I only had time to block a shot back. My returns landed short and left me scrambling."
Chris was immediately able to attack. He said, "This was the perfect racquet for attacking the ball right off the return. I was able to take aggressive cuts without fear of hitting long. All of the spin I was finding helped me stay very aggressive and still keep my returns on target. There was also just enough pop to help me push the ball deep when stretched wide or forced to hit defensively."
Taking advantage of the control was Carol. She said, "Just like on groundstrokes, the return of serve felt good with this racket. I did think it lacked in the "pop" department, but control was good."
Spencer was confident returning with this racquet, saying, "I could definitely go on the offensive when returning with this stick. the mobility, power and spin helped me gain the confidence to take some calculated risks."
Overall - Score: 78
Likes
Chris - "I liked the blend of power and control. It was also very comfortable, and by far offered the most solid feel at contact of any Instinct so far. While I would tip my hat to the Liquidmetal version when hitting slice, this one beats all previous versions for topspin."
Carol - "I like the fact that the racquet is so light, and the control is pretty good."
Jason - "Very fast feel. Very maneuverable. Nice access to spin. Feels comfortable during the hit. "
Spencer - "The fast feel and open string pattern combine for some nice spin."
Dislikes
Chris - "None. I could easily add some weight with lead tape and a leather grip to bring this one up to spec for my game."
Carol - "I didn't like the feel on the volleys, and I need a heavier racquet that will give me some extra power or a little stick to my ball."
Jason - "Too light for my taste. I could feel tenderness in my shoulder and elbow after a hit when using poly strings because of the stiff frame. "
Spencer - "It was a bit stiff, causing some tenderness in my arm with poly strings."
Technical Specifications

Length
27 inches
69 centimeters
Head Size
100 square inches
645 square centimeters
Weight
10.9 ounces
309 grams
Balance Point
12.875 inches
33 centimeters
5pts Head Light
Construction
23mm/25mm/24mm Tapered Beam
Composition
d3o / Innegra / Graphite
String Pattern
16 Mains / 19 Crosses

Babolat RDC Ratings

Score

Grade

Flex Rating
69
Range: 0-100
Swing Weight
303
Range: 200-400
Scores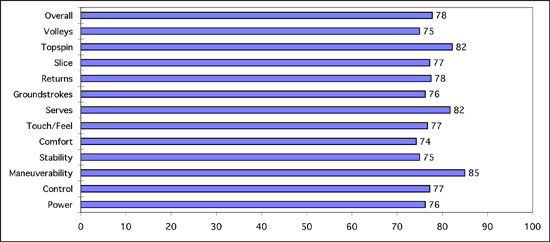 (Scores are determined by averaging individual play test scores)
Chris's Scores
Power
8
Serves
8.1
Control
7.9
Groundstrokes
7.9
Maneuverability
8.4
Returns
8.2
Stability
7.7
Slice
8
Comfort
7.9
Topspin
8.4
Touch/Feel
7.8
Volleys
8
Overall
7.9
Carol's Scores
Power
7
Serves
7.5
Control
7.5
Groundstrokes
7
Maneuverability
8
Returns
7.3
Stability
7
Slice
7.3
Comfort
7
Topspin
8
Touch/Feel
7
Volleys
7
Overall
7.5
Jason's Scores
Power
7.5
Serves
8.5
Control
7.8
Groundstrokes
7.9
Maneuverability
9.1
Returns
7.5
Stability
7.5
Slice
7.5
Comfort
7.8
Topspin
8.3
Touch/Feel
8.3
Volleys
7.4
Overall
7.9
Spencer's Scores
Power
8
Serves
8.6
Control
7.7
Groundstrokes
7.7
Maneuverability
8.5
Returns
8
Stability
7.8
Slice
8.1
Comfort
7
Topspin
8.2
Touch/Feel
7.6
Volleys
7.6
Overall
7.8
Playtester Profiles
Chris: 5.0 all court player currently using the Volkl Power Bridge 10 Mid. Chris uses a full-western forehand grip, has a fast swing style and hits a one-handed backhand.
Carol: Open level baseliner currently using a Wilson BLX Six.One 95 (16x18). Carol is an aggressive player who uses an eastern forehand grip and a two handed backhand.
Jason: 4.0 baseliner with a semi-western forehand and two handed backhand. Currently using a Boris Becker Delta Core London.
Spencer: 4.5 baseline player currently using the Prince EXO3 Tour 100 16x18. Spencer uses a semi-western forehand grip, and hits with a one-handed backhand.

Review date: October 2011. If you found this review interesting or have further questions or comments please contact us.
All content copyright 2011 Tennis Warehouse.