Head Intellitour String Review

Head Intellitour String Scores
Power
68
Spin
66
Comfort
88
Control
78
Touch
74
String Movement
65
Playability Duration
66
Durability
74
Overall
76
Upsides
Comfort
Great for light, stiff frames
Control
Downsides
Too muted for some
Less durability than a typical hybrid
Summary
If we had to condense our playtest report of Head Intellitour into one word, it would be "comfortable," with the word "muted" being a close second. Both these words are apt since Head designed this hybrid in part to lessen the shock and vibration of today's lighter, stiffer frames. The exceptional comfort our team reported comes partly from the fact that Head omits the heavy-duty durability string altogether, preferring instead to construct both the firmer main string and softer cross with shock absorbing polyolefin ribbons. Of course, there's still the matter of control, which fared quite well with our team. Spin potential was a different story, as it left some of our big hitters wanting a firmer, crisper response. Ultimately, while Intellitour is not likely to win over advanced poly players, it should work quite well for non-string breakers looking to add comfort to their game.
Power - Score: 68
Though recommended by Head as a control string, Intellitour is far from dead. In fact, we found the coreless RIP Feel cross string a tad springy, especially at lower tensions. This helps explain why Karly got some nice pop. She said, "I was surprised with the amount of power this string offered, especially because of the extra wrap in the RIP Tour multifilament which makes it slightly stiffer. I wouldn't say it's as powerful as Wilson NXT or Tecnifibre X-One Biphase, but I thought it offered higher than average power. I also think the dampened feel of the string made it seem less lively, but I could still get a decent amount of pace behind the ball."
Tiffani also got decent power. She said, "There was some nice zing off the stringbed. You're not going to see me blow the ball by anyone no matter the string, no matter the racquet, but I liked the lively feel of Intellitour. I'm used to hybrids that combine a co-poly and a multifilament or natural gut, and I did enjoy more power from Intellitour than a setup like that."
After some adjustments to the muted feel, Siobhan settled in. She said, "It gave me a nice amount of pop when I swung fast, but nothing especially significant. It took me a while to get into this playtest because of the comfortable and muted feel."
"I found this string to have average power," said Brittany, who prefers a little more pop from her stringbed. She added, "I definitely had to create my own power with this string and put extra effort in to get the ball to go deep. Since I am generally more of a flat ball hitter, this was a slight negative for me. I had this strung in a fairly powerful racquet and didn't feel the string gave me any extra power."
Spin - Score: 66
With its cushiony response, Head Intellitour isn't designed to grip and rip the ball like a sharp edged polyester. Of course, this did not stop Siobhan and her seasoned topspin mechanics from getting enough spin. She said, "Comfortable spin is how I would describe it. Nothing excessive, but enough to allow me to play my topspin game. I was able to hit higher balls, and I was getting a good combination of spin and power when I wanted to hit it harder."
"As with power, I found the spin to be about average with this string," said Brittany, who had to make some adjustments. She added, "I did think I could access spin better than I could power. I found that when I was hitting groundstrokes with more spin they were landing short due to the slight lack of power. Therefore, my favorite shots were short angles off both sides that would pull my opponent off court."
Like Brittany, Tiffani also found average spin. She said, "The Intellitour 16 didn't strike me as a spin machine. I'm a pretty flat hitter, but I only managed moderate topspin off my strokes. The ball bite was OK and I could get my backhand slices to stay low. I felt that comfort and power were the strengths of this hybrid, not spin."
Karly struggled to get enough rotation on the ball. She said, "I wouldn't consider this a very spin-friendly string, as I thought it lacked in that area. I had a hard time generating spin, even when stringing it at a lower tension. I felt like most of my shots had less topspin than usual."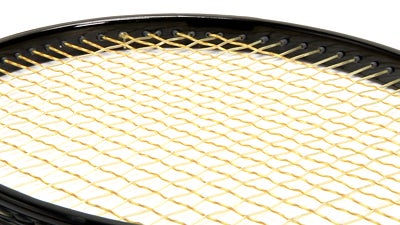 Comfort - Score: 88
More than any other feature, our team was impressed with the comfort of Head Intellitour. The RIP Feel cross is one of the softest strings in its class, and it helps explain why Brittany got such a plush response. She said, "The standout feature of this string was the comfort. I found this string very comfortable to play with. I had zero arm pain. With the comfort, I found the string came with a more muted feel. There was no vibration, and I felt the string did a great job in dampening shock, especially when I hit off-center shots."
Even more enthusiastic than Brittany was Tiffani, who found Intellitour to be one of the most comfortable strings she's ever hit. She said, "I strung this up and headed to the court, and the comfort was the very first thing I noticed. I noticed the plush feel even when I was warming up with short court hitting. Dare I say I found this as comfortable as a full bed of natural gut? It's been a long time since I've hit a full bed of gut, but I really liked Intellitour for its comfort factor. It definitely ranks up there among the most comfortable setups I've hit. I generally like to use dampeners because I dislike the noise of string vibrations, but I liked Intellitour more without a dampener for increased feedback and ball feel. It felt that soft."
Karly was also excited about the comfort. She said, "These strings provided great comfort for a control-oriented string setup. This hybrid was a lot more comfortable than I was expecting because of the firmer RIP Tour main string. I didn't have any issues with comfort."
"It's a very comfortable string," said Siobhan, who used Intellitour exactly how it was intended. "In a stiffer racquet, the Babolat Pure Drive, Intellitour felt great and added some nice comfort!"
Control - Score: 78
Head Intellitour gave the majority of our team surprisingly good control for such a comfortable string. Siobhan had full command of the court. She said, "I liked this aspect of it, as it probably what stood out the most along with comfort. I really felt like I had control of the ball every time I hit it, and I liked how I could change my depth and hit my angles really easily."
Karly was also impressed. She said, "I thought the string generated very good control for a soft multifilament setup. I would even compare it to having about the same amount of control as a soft polyester string. I was very pleased with the control from this comfortable string."
Finding excellent directional control was Tiffani. She said, "Even though I felt this hybrid was more comfort oriented than geared for massive spin hitters, I liked the control. Though the string moves around a bit, there was plenty of dwell time, so I could hit with good targeting. Swing one cross court? No problem. Hit behind someone going up the line? Again, no problem."
"I thought the control was slightly better than power or spin," said Brittany, who was not quite as enthusiastic as the other testers. "I was able to guide the ball fairly accurately anywhere I wanted on the court. The control and muted feel didn't quite mesh well with my power game. The control was the first thing I felt started to decrease during the playtest."
Playability Duration - Score: 66
Like all strings, Head Intellitour loses tension, and with it playability. The expected tension loss didn't bother Siobhan, who said, "I put a lot of hours in with this string in my racquet and I felt like it lasted fine. There may have been some loss in playability, but there was no significant drop-off."
Brittany got a solid two weeks of hard hitting before the playability tapered off. She said, "I think this string lasted around two weeks for me. After two weeks I felt like I lost some control and spin. Unlike most polys I play with, I liked this string the best the first two or three days after it was strung. When the string was fresh I found the most power and spin and was able to achieve my best results."
"The durability was great for a softer string," said Karly, who noticed only slight changes over time. She added, "There was only a little bit of fraying on the RIP Feel crosses, but it frayed much less than other multifilaments. Over time I thought the feel decreased, but these strings are fairly muted from the beginning, so there isn't a ton of feel to lose."
Intellitour held up great for Tiffani. She said, "I was happy with this throughout the time I hit with it, which was about three weeks. The tension didn't drop off dramatically and fraying was minimal, so I didn't notice much change in playability. For me the most distinguishable characteristic of the string was its comfort, and this was evident from first hit to last. Though I didn't break the string, I think it would last me about a month, which is generally the length of time time it would take me to snap a multifilament or synthetic gut."
Overall - Score: 76
Likes
Siobhan - "The comfort of playing with this string. Nothing was excessive, but it had comfortable spin, comfortable power and comfortable control."
Brittany - "It was a very comfortable string to play with."
Karly - "I really liked the combination of power and control. I could hit the ball hard and deep without losing control. Not to mention it was very comfortable for a string that helped produce more control."
Tiffani - "This is a very soft, comfortable hybrid. I felt like there was very little vibration coming from the stringbed."
Dislikes
Siobhan - "Just to be picky, it didn't give me any extra power or spin."
Brittany - "There were no standout features, and I wish the playability duration was a little bit longer."
Karly - "I experienced very little spin potential, even when stringing it at a lower tension. I also thought the feel was a little too dampened, to the point where some powerful shots felt dead. I could produce power, but the setup didn't feel lively."
Tiffani - "Not much for me, but I sense that a big hitter would go through this pretty quickly."
Comparing the string to others they've tried, our testers said:
Siobhan - "This felt sort of like an arm-friendly poly hybrid with a really comfortable cross string."
Brittany - "This was an interesting string. Nothing really stood out to me in terms of spin, control or power. I found this string to be very comfortable and easy to play with, so I guess I would compare it to a comfortable multi."
Karly - "I'm having a hard time comparing it to other strings because it is so unique. It has the control of a soft polyester but the comfort of a multifilament."
Tiffani - "Typically, when I use a hybrid I'm used to having the mains be some sort of polyester string, so in comparison, Intellitour was more comfortable and more powerful. I recently put in a hybrid of Volkl V-Twist 17 in the mains and Cyclone (pink) 17 in the crosses. This offered more comfort than my typical hybrid, but Intellitour was still more forgiving, even with the slightly thicker gauge."
Scores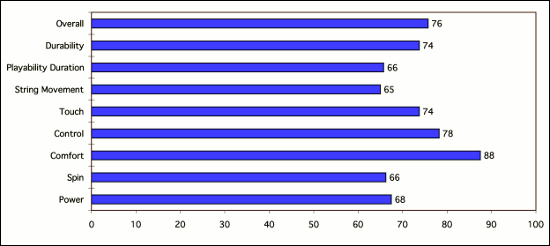 (Scores are determined by averaging individual play test scores)
Siobhan's Scores
Power
6
Playability Duration
7
Spin
7
Durability
7.5
Comfort
9
Control
8.8
Touch
8
String Movement
8
Overall
7.8
Brittany's Scores
Power
6.5
Playability Duration
5.5
Spin
7
Durability
7.5
Comfort
8.5
Control
7.5
Touch
7
String Movement
4
Overall
7.2
Karly's Scores
Power
7
Playability Duration
6
Spin
5
Durability
7
Comfort
8
Control
7
Touch
6
String Movement
7
Overall
7
Tiffani's Scores
Power
7.5
Playability Duration
7.8
Spin
7.5
Durability
7.5
Comfort
9.5
Control
8
Touch
8.5
String Movement
7
Overall
8.3
Playtester String Setups

Review date: September 2012. If you found this review interesting or have further questions or comments please contact us.
All content copyright 2012 Tennis Warehouse.